(Interview by Kathryn Senior. Originally published in
Development
)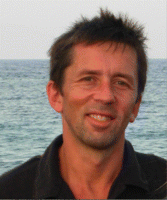 Stephen Wilson is Professor of Developmental Genetics at University College, London, UK. He was recently awarded the Remedios Caro Almela Prize for Research in Developmental Neurobiology. We interviewed Steve to find out about how he started on the road to developmental biology research, how he got interested in the brain, his achievements and future challenges.
What originally set you on the road towards a career in science?
I dropped biology at school and was all set to study metallurgy at University for no good reason at all. Luckily I realized this just before starting. The fact that the course was entirely populated by male students helped my decision-making… I took a year off, worked in a school lab and realized that I loved biology – that was the start.
You have chosen to focus on the most complex organ – the brain – what prompted that choice?
I went to Steve Easter's lab as a post-doc to work on the developing eye and retino-tectal projection. You might say it was serendipity but the first time I tried to label retinal axons, I stuck the needle through the back of the eye and into the brain. I labelled lots of neurons that were not supposed to be there. My time as a post-doc was spent trying to find out more about these very early forebrain neurons – I'm still on the same mission.
What is the most frustrating challenge that you have had in your research and how did you tackle it?
Perhaps 'frustrating' is not the right adjective but a challenge that taught me a lot arose during my time as a post-doc. My closest friend at the time (with whom I shared an apartment) was working on essentially the same project as me but in a competing, neighbouring lab. This was quite a challenge for us to cope with. We both learned that friendship is far more important than the transient troubles one faces in the lab – most of which resolve and fade from memory in a few months.
Read the rest of this entry »
GD Star Rating
loading…