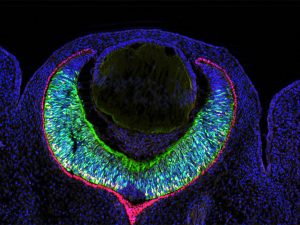 One fully funded postdoctoral position is available immediately in the laboratory of Dr. Nadean Brown, Department of Cell Biology & Human Anatomy at UC Davis. Highly motivated candidates are sought to join our investigation of Notch and Shh signal integration during mouse ocular morphogenesis, using cutting edge imaging, protein biochemical and in vivo genetic technologies.  Details about the lab can be found at:
https://basicscience.ucdmc.ucdavis.edu/Brown_Lab/index.html
A Ph.D. in the life sciences is required. Strongest consideration will be given to applicants who have recently completed a PhD, with at least one first author publication. Candidates with experience in genetics and/or embryology (any model organism), imaging, or molecular cell profiling are highly desirable. Must be independent, productive, able to develop and implement new experimental approaches and enjoy working in a highly collaborative, team environment. The city of Davis is ideally situated a short distance from San Francisco, the Pacific Ocean and Lake Tahoe.
Email (nlbrown@ucdavis.edu) and include a cover letter describing your research accomplishments and why you are interested in joining this lab, a CV, and the contact information for three references.