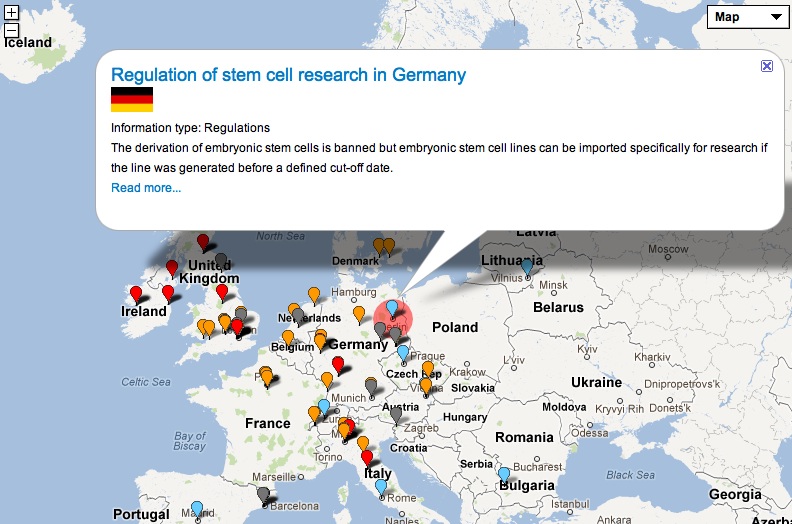 EuroStemCell
is an EC-funded project that aims to help European citizens make sense of stem cells, by providing reliable, independent information and road-tested educational resources on stem cells and their impact on society.
We've recently launched an interactive
stem cell map of Europe
– featuring stem cell news, events, regulations, research centres and more. Take a look, have a play, and
let us know what you think
. And if you would like a guided tour, social scientist
Emma King
will be exploring the map this week, and posting some of her highlights 
on Twitter
.
One aim of the map is to build up a picture of stem cell research in Europe, and we'd like your help to fill in some of the blanks. We have published summaries of how stem cell research is regulated in 15 European countries so far, and we would now like to extend this information with some personal stories by researchers working in the field.
Would you like to appear on the map, and write for us about your work with stem cells? We're interested in exploring questions like:
* Where do the cells you work with come from?
* How do you get permission to use them?
* What guidelines do you have to follow?
* How do cell lines move between labs and around Europe?
Interested? Contact 
Kate
 or 
Emma
 to find out more about what's involved, or for inspiration, take a look at blogs other researchers have written for us: 
Beate Roese-Korner's blog
; 
Anestis Tsakiridis' blog
; 
Selina Wray's blog
.
GD Star Rating
loading…