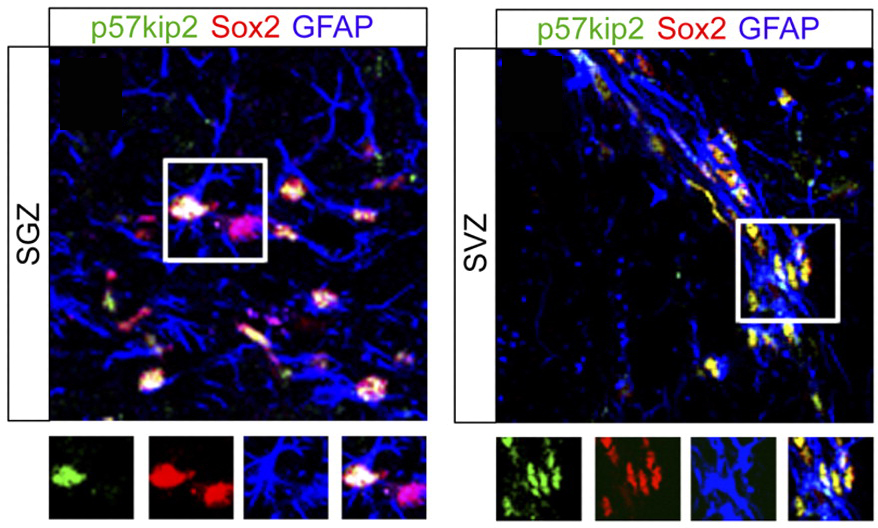 Stem cells are not just for the (super) young!  As I get older, I've come to grips that my body needs some help…some more yoga, some more salads, some more brain-stretching Sudoku.  Thankfully, my adult stem cells are pulling their weight too, by replacing old or damaged cells.  A recent paper in
Development
describes the importance of p57kip2 in regulating the cell fate decisions in adult neural stem cells.
The adult brain has two stem cell niches—one in the subventricular zone (SVZ) and one in the subgranular zone (SGZ).  Within these niches are neural stem cells (NSCs) that can self-renew and differentiate into neurons and glia.  The nervous system has limited regeneration abilities, as seen in patients with traumatic injuries or degenerating diseases like multiple sclerosis (MS).  MS patients experience myelin loss and axon degeneration, and can experience some phases of recovery due to remyelination.  Understanding the regulation that drives NSCs towards different glial cell fates should help guide the development of treatment for MS patients.  A recent
Development
paper describes the importance of p57kip2 (Cdkn1) in regulating NSC cell fate decisions.  Jadasz and colleagues found that suppression of p57kip2 in cultured adult NSCs skewed the resulting cell fates away from astroglial fates, and toward oligodendroglial fates.  Oligodendrocytes are the glial cells that produce myelin.  The resulting cells also showed an induction of BMP antagonists, in line with the knowledge that the BMP pathway normally promotes astroglial differentiation.  When p57kip2-suppressed NSCs were transplanted into adult spinal cords, markers for oligodendroglial cells increased.  The images above show the stem cell niches in the SVZ and SGZ.  Sox2 (red) and GFAP (blue) double-positive cells have been proposed to be NSCs in these niches.  These cells also show p57kip2 (green) immunostaining.
For a more general description of this image, see my
imaging blog
within
EuroStemCell
, the European stem cell portal.
Jadasz JJ, Rivera FJ, Taubert A, Kandasamy M, Sandner B, Weidner N, Aktas O, Hartung HP, Aigner L, & Küry P
(2012). p57kip2 regulates glial fate decision in adult neural stem cells.

Development (Cambridge, England), 139

(18), 3306-15 PMID: 22874918
GD Star Rating
loading…