This is my personal report on the second of three laboratory projects which I have undertaken during the rotation year of my 4-year Wellcome Trust PhD. I studied how yeast come in more shapes and sizes than you might have imagined.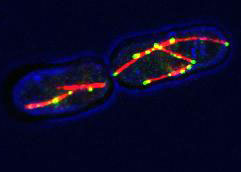 How do cells know which way is up? This is one of the most fundamental and important questions in biology. Almost every living cell has some degree of polarity, it has a front and a back or a top and a bottom, and they are very different from each other. In my second lab rotation I have been investigating how cells establish and maintain polarity, these distinct domains which do different things.
I have been working with a simple polarity model, the fission yeast Schizosaccharomyces pombe, which is not the same as the yeast you'd use to make bread. This yeast forms rod-shaped cells with growth zones at both ends that are very different from the sides of the cells, which don't grow (Sawin and Tran, 2006). Yeast have cell walls, much like plants, and growth requires weakening of the cell wall and delivery of new components for cell expansion. This is dependent upon growth promoters, called polarity factors, such as the Tea complex in this yeast (Le Goff et al., 2006).
The delivery of polarity factors to the cell ends depends on the microtubule cytoskeleton, an array of protein polymers that exist in cells and provides transport routes for the controlled delivery of cell components to specific locations. My project has focused on the organisation of the microtubule cytoskeleton itself.
Microtubule polymers in S. pombe form bundles. Bundling is effected by two types of protein in the cell, one that actively slides fibres past each other (a 'motor' protein) and another that keeps microtubules attached to one another (Carazo-Salas, 2005). Previous experiments suggested that for the motor to organise microtubules in cells it concentrates at the outer ends of microtubules. However, how it gets there remained until now obscure. Using genetic techniques we were able to identify the protein that likely targets the motor protein to microtubule ends. Our finding is in agreement with work from a separate group of researchers who recently presented data at the 2011 British Yeast Group meeting.
Screening image
An example of an automatically captured image used to find strains with unusual cell shapes (grey regions) or microtubule organisation (white lines)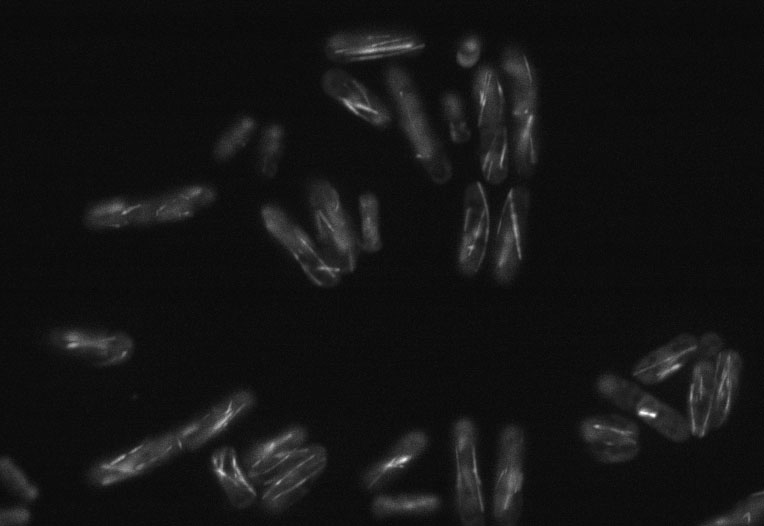 The lab has also begun systematically looking for genes which, when removed from the genome, affect the organization of the microtubule cytoskeleton or cellular shape and polarity. The regular rod shape of this yeast allows one to easily identify mutants that have altered morphology – in the past several well-known shape variants have been identified including bent, orb and T-shaped mutants (Hayles and Nurse, 2001). We have a collection of yeasts, each missing one gene from the genome, and have been systematically filming all of them using an automated microscope to see which ones have altered microtubules or cell polarity. This is something we've only just started and there is a lot of analysis to do with so many images – we are looking at over 3000 different strains – so there aren't any exciting results yet. However, there are a lot of unanswered questions regarding cell polarity, and we are hopeful that our findings will help to address them.
What I have really enjoyed about working on this project is the involvement of computing in the work, because of how much data there is to analyse. I have been able to make useful contributions to the work the lab is doing, in the short time I have worked with them, by using my small amount of programming experience to develop several really useful software tools. When studying so many similar strains there are a lot of repetitive tasks to perform, which I have been able to automate, hence making everyone's lives easier and improving productivity.
This post, and others about my PhD are also available on the Wellcome Trust blog here, here and here. I also hope to get back to doing some personal blogging now that the academic year is drawing to a close, so look out for new stuff here. For more about science in Cambridge checkout the science magazine, BlueSci.
References
# Carazo-Salas RE, Antony C, & Nurse P (2005). The kinesin Klp2 mediates polarization of interphase microtubules in fission yeast. Science (New York, N.Y.), 309 (5732), 297-300 PMID: 16002618
# Hayles J, & Nurse P (2001). A journey into space. Nature reviews. Molecular cell biology, 2 (9), 647-56 PMID: 11533722
# La Carbona S, Le Goff C, & Le Goff X (2006). Fission yeast cytoskeletons and cell polarity factors: connecting at the cortex. Biology of the cell / under the auspices of the European Cell Biology Organization, 98 (11), 619-31 PMID: 17042740
# Sawin, K.E., & Tran, P.T. (2006). Cytoplasmic microtubule organization in fission yeast Yeast, 23 (13), 1001-1014 DOI: 10.1002/yea.1404