The newly established Collaborative Research Center 1348 "Dynamic Cellular Interfaces: Formation and Function" at the University of Münster, Germany, invites applications for a
PhD Position
(salary level 13 TV-L, 65%)
in the area of
Membrane trafficking dynamics during epithelial polarization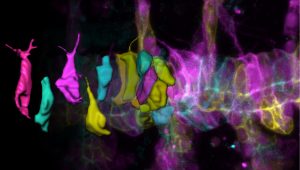 This fixed-term position is available from the earliest possible date for three years.
The CRC 1348, funded by the German Research Foundation, aims to understand the dynamic organization and decision-making processes at cellular interfaces using an integrated research approach. The CRC 1348 Graduate School offers an interdisciplinary structured training program including lectures, practical courses, skill building activities, and career support.
The position is in the group of Prof. Stefan Luschnig at the Institute of Neurobiology. The Luschnig group investigates developmental, cellular, and molecular aspects of epithelial biology using a broad spectrum of techniques, including modern imaging approaches. Possible PhD projects are focused on the dynamics of tricellular junctions (Byri et al. 2015 Dev Cell 33(5) 535) or epithelial tube morphogenesis in Drosophila (Caviglia et al. 2016 Nat Cell Biol 18, 727).
The prerequisite for this appointment is a MSc or equivalent degree in biology or biochemistry or related fields. We are looking for a highly motivated individual with a strong background in cell or developmental biology, molecular biology, or biochemistry. Experience with Drosophila genetics is not an essential requirement. Applications from candidates interested in quantitative imaging and biophysical approaches are especially welcome.
The University of Münster is an equal opportunity employer and is committed to increasing the proportion of women academics. Consequently, we actively encourage applications by women. Female candidates with equivalent qualifications and academic achievements will be preferentially considered within the framework of the legal possibilities. We also welcome applications from candidates with severe disabilities. Disabled candidates with equivalent qualifications will be preferentially considered.
Application documents should include a motivation letter, a curriculum vitae, and a grade transcript. Additionally, two letters of recommendation should be sent to the address below. The application deadline is 1 June 2018. Applications should be sent electronically as one single file in PDF format to
Prof. Dr. Stefan Luschnig, Institute of Neurobiology, Badestr. 9, D-48149 Münster, Germany
Email: holkerh@uni-muenster.de
For more information please visit http://luschnig.uni-muenster.de