In the middle of the worst political and financial turmoil Spain is experiencing since the return of its young democracy, the 1st Spanish Conference on the Molecular, Cellular and Developmental Biology of Drosophila emerges as an example of how science in Spain can and should be done. The history of Spanish Drosophila research started in the late 60s and has since then been very intense. In 1968 Antonio García Bellido started the first lab working on Drosophila where he set up a long term research project on the analysis of development in terms of genes and cell behaviour. Ideas and frameworks developed in his lab influenced the field of Developmental Biology across the world. Since then and for the last 45 years, the Spanish Drosophila research community has expanded both geographically and scientifically.
The conference, organized by Jordi Casanova and Tano González in the idyllic site of Aiguablava (Girona), gathered principal investigators from several parts of Spain (Alicante, Barcelona, Bilbao, Madrid, Sevilla) working on very different research areas, all using Drosophila as a model system. Unfortunately, due to the brutal budget cuts that have taken place in the last years (a decrease of more than 30% in the public science budget in the last 2 years), a few groups using Drosophila as a model system could not attend the meeting. But most made it to be there (more than 40 research groups were represented) and made it clear that they are part of a very active and fruitful community that has lots to contribute to the global science and to society in general.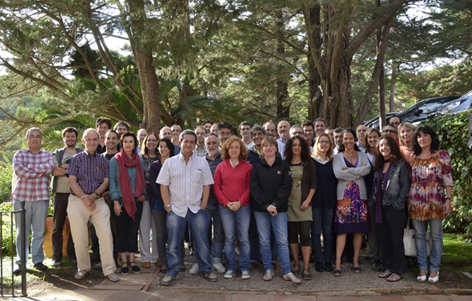 Topics discussed at the meeting covered several research fields including the analysis of the gene regulatory networks and signaling pathways underlying organ growth and regeneration, the emergence of collective behaviour during morphogenesis and organogenesis as well as evolutionary aspects to understand the generation of diversity. One of the major questions that was raised several times during the workshop is how organ size is controlled both in normal development and in disease. This question is being approached by different groups using a variety of experimental systems and from different perspectives. The group of Tano González (IRB, Barcelona) has a long-standing interest in understanding the basic principles underlying asymmetric cell division using neuroblasts as a model system and how failures in this process can give rise to malignant transformation. He presented novel results from his lab showing very dynamic patterns of gene expression during tomour growth. During neuroblast asymmetric division, Manuel Mendoza (CRG, Barcelona) is investigating how chromosome condensation adjusts to spindle length, a crucial process to ensure proper segregation that could be affected in malignancies. The control of tumour growth is also being studied by the group of Andreu Casali (IRB, Barcelona), who is using a model system for colorectal cancer by generating mutant clones for Apc and an activated form of Ras in the gut, while Manuel Calleja (CBM, Madrid) is studying cytoneme-mediated communication of tumour cells with their microenvironment. In the female germline, Acaimo González Reyes (CABD, Seville) is interested in the role of the physical environment in the control of germ cell proliferation and differentiation.
Using a different framework but asking the same basic question of how proper organ size is achieved, the groups of Antonio Baonza (CBM, Madrid), Ginés Morata (CBM, Madrid) and Florenci Serras (University of Barcelona) are studying the cellular and molecular mechanisms that regulate tissue regeneration in imaginal discs and how the balance between proliferation and differentiation is achieved in this situation. Ernesto Sánchez Herrero´s lab (CBM, Madrid) is also investigating how the final size of an organ is achieved and he presented data on how homeotic and sex-determination genes regulate the growth of sex-specific organs. From a more organismal perspective, the question of how the growth of different organs is coordinated in an organism to bring about well proportioned adult organs is being tackled by the group of Marco Milán (IRB, Barcelona), who reported a key role for bantam miRNA in both organ-autonomous and systemic growth. The control of systemic growth is very linked to the maintenance of the organismal homeostasis and this is being studied in the  group of Joaquín Culi (CABD, Seville) by analysing of the role of lipophorin receptors in the maintenance of the germ line, while the group of Rosa Barrio (CIC bioGUNE, Bilbao) focusses on how sumoylation regulates steroid hormone synthesis by regulating lipid intake in the ring gland and ovary and hence controlling animal size and viability.
Another important question raised in the meeting is how the collective behaviour of tissues emerges from the coordinated activity of individual cells. The molecular, cellular and mechanical basis of epithelial sheet movements is being investigated using a variety of experimental systems such as the embryonic epidermis, in Marta Llimargas' lab (IBMB, Barcelona), who showed a role for the apical determinant Crumbs in cell shape and tissue organization. Nicole Gorfinkiel (CBM, Madrid) and Jerome Solon (CRG, Barcelona) are using Dorsal Closure to understand the interplay between cell activity and mechanics during morphogenesis. Collective cell migration is a process that also receives very much attention. Enrique Martin-Blanco´s group (IBMB, Barcelona) has undertaken a multi-scale analysis from signaling pathways to cell behaviour and tissue mechanics applied to the growth and expansion of the histoblasts nests of the abdomen. Lola Martín-Bermudo's (CABD, Seville) lab is interested in cell migration and showed impressive movies of the collective movement of the follicular epitelium which depends on the composition of the extra-cellular matrix. The extra-cellular matrix is also important for both the formation of muscle-tendon junction and for the maintenance of muscle viability throughout adult life, as shown by Beatriz Estrada (CABD, Seville). Sara Ricardo (IBMB, Barcelona) is using the migration of the primordial germ cells to understand the complex interactions between the cells and their substrate for proper directed migration to occur. The genetic basis of cell migration, pathfinding and branching in both tracheal formation and axon guidance is being approached by the group of Sofía Araújo (IBMB, IRB, Barcelona). Jordi Casanova's lab (IBMB, IRB, Barcelona) has been also studying tracheal formation for several years with the aim to understand the link between genes, cells and tissues. He presented new data showing the existence of a novel epithelial-mesenchymal transition pathway driven by the activity of the Serpent GATA factor that impinges directly on apico-basal polarity. How cell polarity influences signaling is being studied by Sonsoles Campuzano's lab (CBM, Madrid) who showed data on how apico-basal polarity determinants controls intra-cellular trafficking and thus signaling in the follicular epithelium. Alberto Ferrús (Instituto Cajal, Madrid) presented novel data on the non-muscle functions of Troponin as a nuclear polarity marker.
The genetic basis of pattern formation and differentiation is being studied in different organs such as the wing imaginal disc where Jose Felix de Celis lab (CBM, Madrid) is identifying new genes involved in mediating the activity of the main regulators of the wing morphogenesis. In the nervous system, the group of Fernando Díaz-Benjumea (CBM, Madrid) is investigating the genetic combinatorial code that generates neuronal diversity and the mechanisms that control the entrance into quiesence of embryonic neuroblasts. Ana Carmena's lab (Instituto de Neurociencias, Alicante) focusses on the function of Canoe, a key protein that integrates the different signaling pathways in the nervous system, while Francisco Tejedor (Instituto de Neurociencias, Alicante) studies the role of the gene minibrain in controlling the balance between cell proliferation and differentiation in the same system.
The molecular and biochemical mechanisms of trascriptional control during development are being investigated by Gerardo Jiménez´s lab (IBMB, Barcelona) who showed data on how Capicua, an effector of the RTK-Ras-MAPK pathway, represses its downstream genes. Natalia Azpiazu (CBM, Madrid) showed data from his group on the molecular basis of the transcriptional activity of the Hth/Meis family of proto-oncogenes and Fátima Gebauer's lab (CRG, Barcelona) uses Drosophia to understand translational control. Whole genomic analysis presented by Montserrat Corominas and Roderic Guigó are starting to reveal unexpected chromatin arrangements at the level of house-keeping and developmental regulated genes, which may have strong implications for the understanding of epigenetics.
To understand how the architecture of gene regulatory networks controls organ architecture Fernando Casares (CABD, Seville) is developing software to quantitatively analyze protein expression levels with single nucleus resolution using confocal stacks in imaginal discs. A quantitative approach to infer the gene regulatory interactions has also been presented by Yogi Jaeger (CRG, Barcelona), whose lab is interested in understanding how the wiring of the gap gene network evolved accross different species of dipterans. Evolutionary approaches are also been undertaken by Xavier Franch-Marro's lab (Institut de Biologia Evolutiva, Barcelona), who is interested in how the signaling pathways underlying organ formation evolve to generate morphological innovations during evolution. The study of gene regulatory networks that lead to organ formation done in James C.-G. Hombría's lab (CABD, Seville) revealed that tracheal and endocrine organs arose through divergent evolution of a common segmentally repeated precursor. Finally, the genetic control of insect metamorphosis is being explored by David Martin (Institut de Biologia Evolutiva, Barcelona) with an emphasis in how this key process to insect success evolved accross the insect group.
Examples of translational research projects were presented by María Domínguez (Instituto de Neurociencias, Alicante), who is using genetically modified Drosophila as a tool to prescreen anti-cancer drugs in vivo and Mar Ruiz (CBM, Madrid), who has set up the Garland nephrocytes as a system to study the function of the filtration diaphragm in vertebrates. David Gubb (CIC bioGUNE, Bilbao) presented recent results on the function and specificity of the serpin family of proteins involved in the regulation of the immune response, that can have broad implications for the function of these proteins in humans.
On a different note, Matthieu Louis (CRG. Barcelona) showed data from his lab on how flies compute odorant stimuli and make decisions at the level of motor behaviour, in a very integrative project that uses genetics and optogenetics, and automated and high-resolution quantification of olfactory input and behavioural output.
The meeting has confirmed that the Spanish Drosophila community has very much grown in strength since it has first been established more than 40 years ago and that it has much to contribute to the global scientific project. There are now several active and innovative research hubs spread accross the whole Spanish geography showing that research in Drosophila is an extremely powerful tool to study basic biological processes that are at the basis of the advances in biomedicine. It would be of great interest if the Spanish government and policy makers understand that basic research in the fruitfly is one of the driving forces for biomedical reseach in Spain and lead them to design long-term scientific policies supporting and encouraging this global project.