What happens when you apply developmental biology to patients? Regenerative medicine!
Now, here are some more difficult questions: Who owns a cell-based therapy? What is a 'minimally manipulated' product, and should they be administered to patients if they haven't been approved by the FDA?
In 2015, RegMedNet, the network for regenerative medicine, was launched to provide insight into the questions above, unite the diverse regenerative medicine community, and educate, inspire and move the field forward.
Regenerative medicine therapies aim to replace or regenerative human cells, tissues or organs to restore normal function where it has been lost. Every step in the regenerative medicine and cell therapy pipeline is covered on RegMedNet, from development, clinical trial and manufacture to regulation and commercialization.
Working closely with our sister journal, the award-winning Regenerative Medicine, RegMedNet provides free educational webinars, expert opinion and insight, and covers the latest news and insight. RegMedNet members also get free access to selected articles from Future Science Group titles such as Regenerative Medicine.
What can you find on RegMedNet?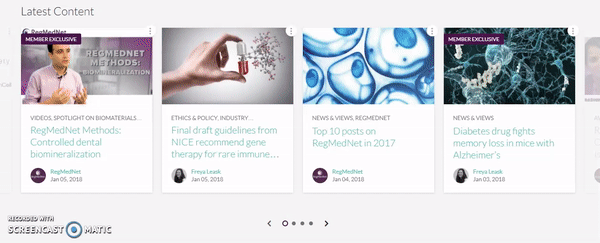 You find a range of posts on RegMedNet, covering regenerative medicine, and cell and gene therapy, from 'bench to bedside', from top tips for culturing iPSCs, to industry reactions to the latest FDA approval.
In #TalkingRegMed episode 5, Aidan Maartens discusses how developmental biology can inform regenerative medicine.
How can you contribute?
Get published, without the wait: like the Node, members of RegMedNet can post their own content, such as news, opinions, conference posters and more. We're currently commissioning contributions on organoids and regenerative cardiology, but you can post about anything that's relevant.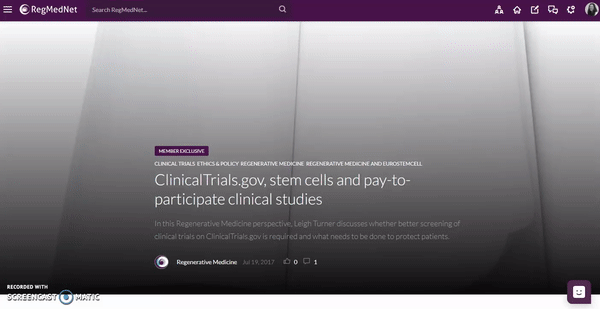 RegMedNet members have free access to selected Future Science Group titles, such as this article from Regenerative Medicine that was featured in the Washington Post.
You can also comment on posts and upvote the posts you enjoyed the most.
If you have any questions about contributing to RegMedNet or upcoming topics, please contact us today.
Where can you find us?
Visit the network at RegMedNet.com. You can also sign up to receive editorial emails with the latest topic content straight to your inbox every week.
On Twitter, LinkedIn or Facebook? So are we, posting news, running polls and sharing our favourite posts from elsewhere on the internet.
Want to meet us in person? We also travel around the world attending stem cell and regenerative medicine events, large and small. Below, you can watch our report from ISSCR 2017, or visit our interactive 2018 events calendar to find an event you might not know about. Interested in reporting from a conference for us? Please contact us today!
In #TalkingRegMed episode 2, Regenerative Medicine commissioning editor Adam Price-Evans shares his highlights from ISSCR 2017
New: the Award for Cultivating Excellence
Last year, we launched the Award for Cultivating Excellence to recognize achievement in other areas, such as career development and scientific outreach. We had over 50 nominations from around the world, and our first ever winner was the lab of Professor Julie Daniels, Cells for Sight, University College London (UK). You can read their lab profile and watch interviews with members of the lab on their Winner's Spotlight page.
We haven't opened nominations for the 2018 Award yet, but you can register your interest using the form below so you're the first to hear!
Create your own user feedback survey
So, that's RegMedNet in a nutshell! Come and visit us at RegMedNet.com and sign up free for complete access to all our content and to start learning about the wonderful, and sometimes controversial, world of regenerative medicine.
Any comments, questions or suggestions? Contact the Editor today!