Forgotten classics
Developmental biology has a long and rich history which has generated a vast and often daunting literature. In this series, we asked prominent researchers to recommend their favourite hidden gems from history – papers that are, for whatever reason, unjustly overlooked today.
Recent posts
Posted by the Node, on 30 August 2022
Are you just starting out in your career as a developmental biologist (or feeling nostalgic for those times)? The vast amount of literature can feel a bit daunting when you …
Posted by the Node, on 17 October 2017
T. Thomson Flynn and J.P. Hill. 1939. The Development of the Monotrema – Part IV. Growth of the Ovarian Ovum, Maturation, Fertilisation and Early Cleavage. Transactions of the Zoological Society …
Posted by the Node, on 2 February 2017
Hörstadius, S. 1939. The mechanics of sea urchin development, studied by operative methods. Biological Reviews 14(2):132-179. Recommended by Bob Goldstein, University of North Carolina at Chapel Hill Sven Hörstadius …
Posted by the Node, on 11 November 2016
R. S. P. Beddington (1981). An autoradiographic analysis of the potency of embryonic ectoderm in the 8th day postimplantation mouse embryo. Journal of Experimental Embryology and Morphology. 64: 87-10. Open Access R. …
Posted by the Node, on 17 August 2016
de la Cruz, M.V., Sánchez-Gómez, C. & Palomino, M.A. (1989) The primitive cardiac regions in the straight tube heart (Stage 9–) and their anatomical expression in the mature heart: an …
Posted by the Node, on 11 May 2016
Bryant, P.J., Schneiderman, H. A. (1969). Cell lineage, growth, and determination in the imaginal leg discs of Drosophila melanogaster. Developmental Biology 20, 263–290 Recommended by Peter Lawrence (University of …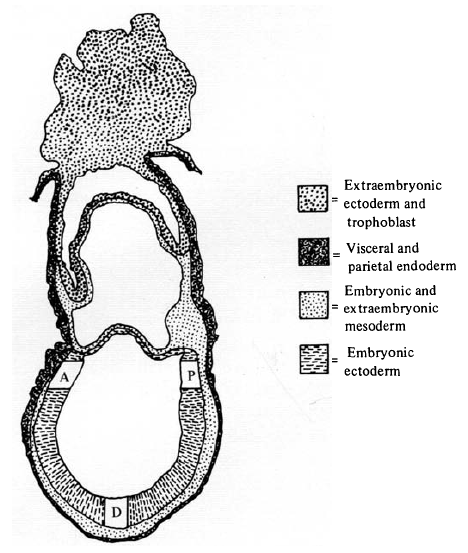 A mouse embryo schematic from Rosa Beddington, as featured in the forgotten classic recommended by Patrick Tam.
Do you have a forgotten classic you'd like to share with the community? We'd love to hear from you