Welcome to the Node
The Node is a place to read, write and interact with a global community of developmental and stem cell biologists. This is your site: once you've registered, you can freely share your blog post, job advert or event notice with the community.
Recent posts
Posted by the Node, on 24 November 2023
How was the most famous long noncoding RNA in mammals discovered? This was the subject of the round-table session "30 years of Xist/XIST discovery", held during the 2023 X-inactivation conference …
Posted by the Node, on 23 November 2023
In the recent BSDB-the Node virtual art exhibition, Oliver Anderson's 'The Maw at Etna' was selected as the Judges' Choice in the 'Scientific images' category. We briefly caught up with …
Posted by the Node, on 22 November 2023
Catch up on the talks on metabolism and development from Mauricio Rocha-Martins, Nicole Edwards and Cecilia Arriagada.
Posted by the Node, on 20 November 2023
Find out more about Lauren Moon, a PhD student in developmental biology who enjoys creating science-themed calligraphy and hand-painted ceramic plates.
Posted by Kat Arney, on 16 November 2023
In the latest episode of the Genetics Unzipped podcast, author and science journalist Rebecca Coffey chats with us about some amazing adaptations and Darwinian delights from her book, Beyond Primates. …
Posted by the Node, on 14 November 2023
Our next Development presents… webinar is on the topic of germ cell development and will be chaired by Development Editor, Swathi Arur (MD Anderson Cancer Center). Tuesday 5 December 2023 …
Posted by Margherita Perillo, on 13 November 2023
Margherita Perillo, Zak Swartz and Jamie MacKinnon from the MBL describe a day in the life of working with the sea star.
Posted by Amy Kerr, on 9 November 2023
Come join us next year in France to discuss all things Neural Crest: From patient to model system and back agan.This conference is organised by the Ph.D students of the …
Writing ideas for the Node
From behind the paper stories, meetings reports, to featured resources, we have a few ideas for you to get started with writing for the Node.
Subscribe to our mailing list
Weekly digests highlighting our latest blog posts and job adverts
Most-read posts in October
Grants from The Company of Biologists
Development presents…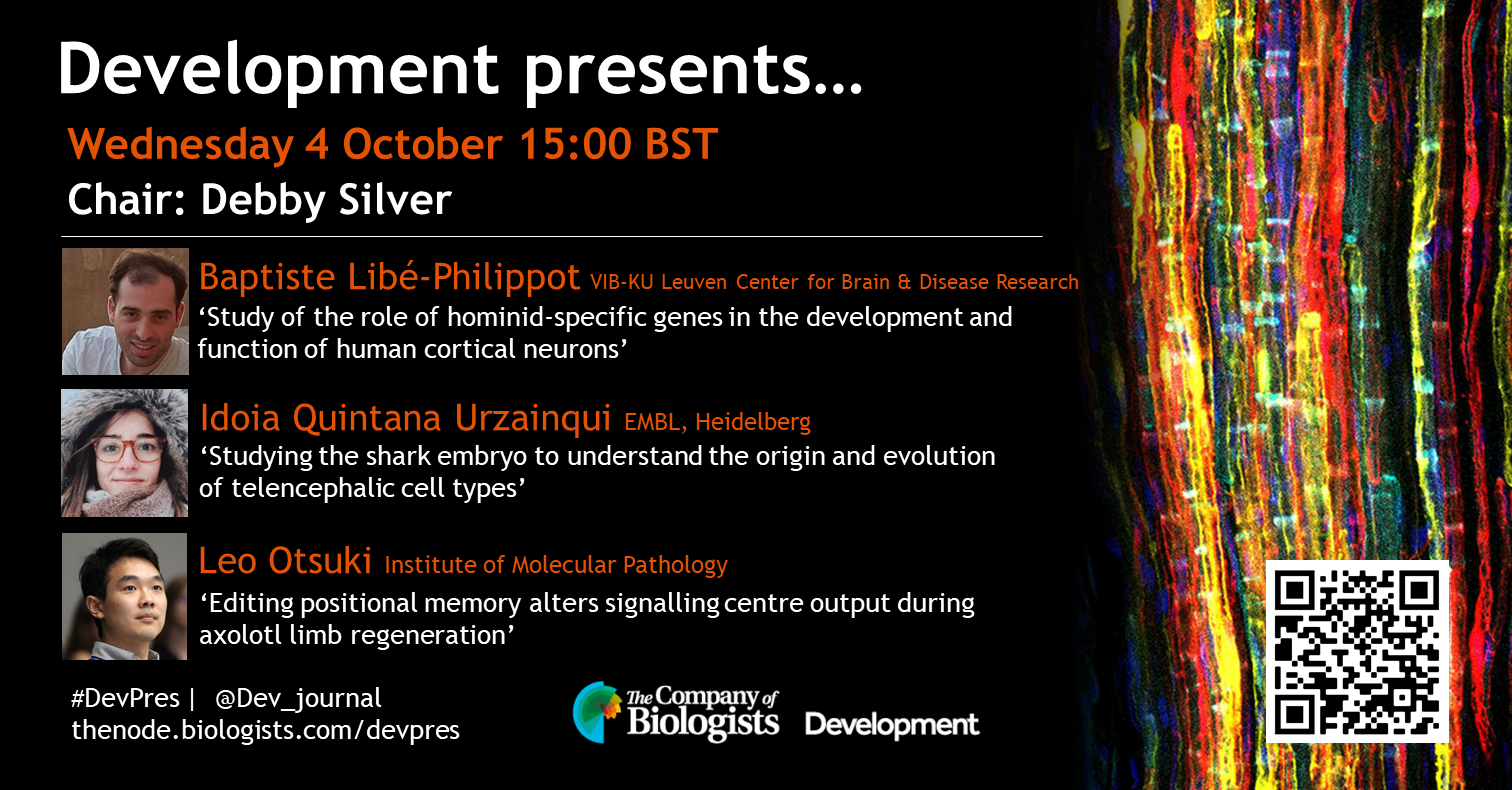 On 4 October 2023, Development hosted a webinar featuring talks on the topic of neurodevelopment and regeneration from three early career researchers, chaired by Development's Editor Debby Silver (Duke University). Watch the recordings of the talks.
Development presents… webinars
You can view all the previous Development presents… talks on-demand
Development presents… mailing list
Subscribe to the Development presents… mailing list to receive details about upcoming webinars as they are announced.