Forgotten classics
Developmental biology has a long and rich history which has generated a vast and often daunting literature. In this series, we asked prominent researchers to recommend their favourite hidden gems from history – papers that are, for whatever reason, unjustly overlooked today.
Recent posts
Posted by the Node, on 6 April 2016
Snow, M. H. L., Tam, P. P. L. (1979) Is compensatory growth a complicating factor in mouse teratology? Nature 279, 555-557 Lewis, N. E., Rossant, J. (1982) Mechanism of …
Posted by the Node, on 10 March 2016
Gustafson, T., Wolpert, L. (1967) Cellular movement and contact in sea urchin morphogenesis. Biological reviews of the Cambridge Philosophical Society 42, 442-498. Recommended by Thomas Lecuit (IBDM- Developmental Biology …
Posted by the Node, on 16 February 2016
Morgan, T.H. (1898) Experimental studies of the regeneration of Planaria maculata. Archiv für Entwicklungsmechanik der Organismen 7, 364-397 Recommended by Alejandro Sánchez Alvarado (Stowers Institute) Some classic papers …
Posted by the Node, on 12 January 2016
Satina, S., Blakeslee, A.F., and Avery, A.G. (1940) Demonstration of the Three Germ Layers in the Shoot Apex of Datura by Means of Induced Polyploidy in Periclinal Chimeras. American …
Posted by the Node, on 12 January 2016
You just started your research career, or maybe you just moved fields. The first thing on your to-do list is to catch up with the literature. What has been the …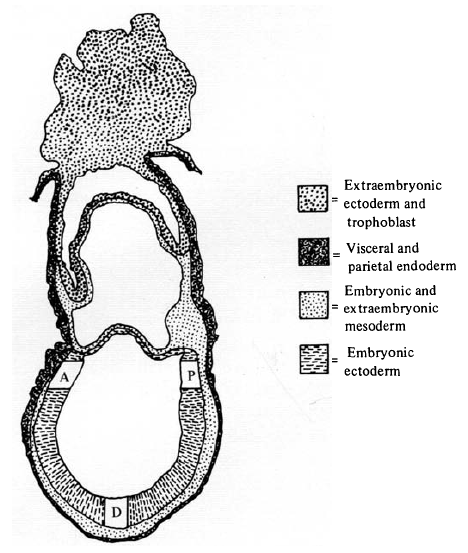 A mouse embryo schematic from Rosa Beddington, as featured in the forgotten classic recommended by Patrick Tam.
Do you have a forgotten classic you'd like to share with the community? We'd love to hear from you