One of my (many) geeky passions is the overlap between art and science: Science as art (think of the Nikon image competition) or art inspired by science. That last category includes these lecture announcement posters from UNC Chapel Hill.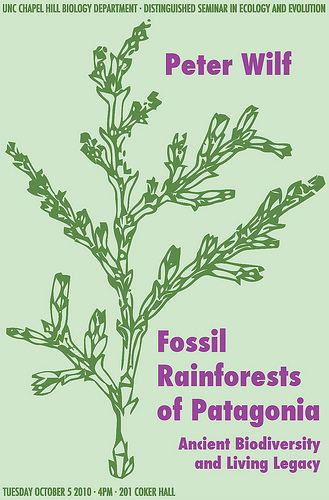 Poster for a recent lecture by Peter Wilf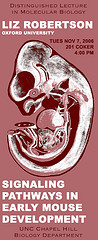 The posters are designed by developmental biologist Bob Goldstein, and printed by The Merch in Carrboro, who normally print posters for dance parties rather than biology lectures!
If you've seen the posters online before, I may have been responsible for that as well… I wrote about them on my old blog in early 2009, and the link got picked up by BoingBoing and subsequently by The Scientist, who interviewed Bob by phone about his posters (see video below).
In an additional small world connection, Bob's former graduate student Erin started writing for the Node, featuring pretty images from papers. That brings us full circle from "art inspired by science" to "science as art".