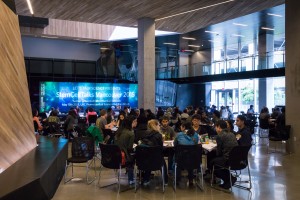 StemCellTalks is a Canadian high school outreach initiative that has been running in 7 Canadian cities since 2010. This symposium was established to facilitate knowledge transfer between academia and high school students pertaining to the science and practical ethics of stem cells. To date, over 500 graduate student and trainee volunteers have reached over 5000 high school students.
This year, the Vancouver chapter of StemCellTalks partnered with the biotechnology company STEMCELL Technologies Inc. to offer three talented student bloggers – Danielle Cohen, Julie Cui, and Ryan Scott – the chance to blog about their experience at StemCellTalks Vancouver. Furthermore, they won the opportunity to visit STEMCELL Technologies Inc.'s Vancouver headquarters on June 19, 2015. Over the next few weeks, you will be able to find their blog posts about StemCellTalks Vancouver appearing on Let's Talk Science's website Curiocity, as well as another version of this blog post at the stem cell blog Signals. We are happy to share Julie's post here on the Node!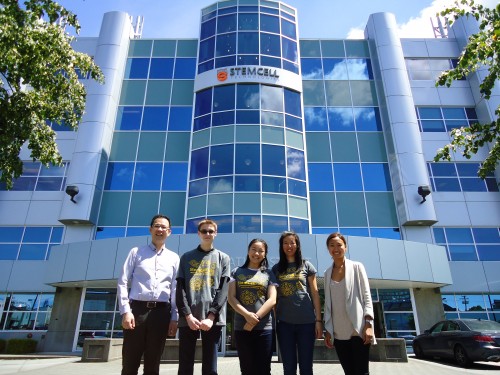 By Julie Cui (Lord Byng Secondary School, Vancouver, British Columbia, Canada)
Dr. Bruce Verchere pulled up a slide of a not-too-flattering depiction of Dr. Timothy Kieffer on the overhead screens and the room full of high school students erupted in laughter. It was a good-humored and very academic debate about stem cell vs. pig islet treatments for diabetes, I assure you, and seeing their passion for their field was one of those truly inspirational moments that I knew would stay with me for a long time.
8 o'clock earlier that Friday morning found me among a group of sleepy but excited high schoolers huddled in the foyer of the Pharmaceutical Sciences Building at UBC. It was the StemCellTalks Vancouver Symposium!
Armed with just pen, reading glasses, and basic Biology 12 knowledge of how stem cells worked in differentiating into different types of body cells, I was ready to absorb all the information I could about stem cell research findings and how they could be applied to diabetes treatment specifically. In the following hours, through the wonderfully informative talks by Dr. Fabio Rossi (UBC Biomedical Research Centre) and Dr. Francis Lynn (Child & Family Research Institute) and of course, the passionate debate between Dr. Bruce Verchere (Child & Family Research Institute) and Dr. Tim Kieffer (UBC Life Sciences Institute), we learned all about the different types of stem cells and how already-specialized body cells could be turned back into induced pluripotent stem cells, which could then specialize into a different type of body cell that we want. We also learned about alternatives to stem cell treatments of diabetes, including transplanting functioning donor islets and pig islets into patients with diabetes to help them produce the insulin they need to regulate their blood sugar levels. But I took away from StemCellTalks so much more than my new-gained knowledge of stem cell biology and stem cell-based treatments.
As a high school student, I find that we rarely have the chance to hear about professionals in science-related fields other than academic researchers. hile learning about academic research is very cool and inspiring in itself, it was the range of professional perspectives that we were exposed to at StemCellTalks that allowed me to see the bigger picture of the whole process of research and treatment development. Science professionals are not just the lab workers, but also the ethics board members, the regulation makers and the industry officials. For me, the various speakers' perspectives really drove home the point that only through the combined efforts of all the different professionals involved can a treatment be discovered, tested, and eventually approved for clinical application. They encouraged me not to feel limited to just one idea of a career, but to continue exploring the many different types of careers in science, opening a whole other world of opportunity.
The passion of everyone at the symposium was so wonderful and inspiring as well. Although I am from the City of Vancouver, during the small group discussions, I met peers who had travelled from outside of Vancouver to be there, from as far away as Abbotsford and Vancouver Island. Many of them had personal connections to diabetes, and every one of them was eager to learn more and make a difference. It was such a pleasure to talk to like-minded peers and university mentors and feel that, in a few years, we could be part of this effort to improve stem cell treatments for diseases such as diabetes. I was genuinely inspired at the symposium, and am very eager to learn more about real-world applications of the treatments. As one of the winners for StemCellTalks' blogging contest, I'm very excited to have the chance to visit STEMCELL Technologies Inc. to learn the role of such a successful biotechnology corporation in bringing treatments and technologies to life. I very much look forward to meeting the people involved in this biotechnology company, experiencing the real biotechnology industry work environment, and sharing that experience in a blog post with my peers and science-professionals-to-be, of course. In closing, I just wanted to say thank you to everyone who made the truly memorable experience that was StemCellTalks possible!
@StemCellTalks
#StemCellTalksVan