Welcome to our monthly trawl for developmental biology (and other related/just plain cool) preprints. 
---
In one of the most contentious (at least on Twitter!) pieces of preprint news in July, Tom Sheldon, Senior Press Manager at the Science Media Center in London, voiced his concerns about the impact of preprints on public understanding of science in his 'World View' in Nature. Sheldon, building on an earlier SMC blog post, pictured the harm that could be done if bad science were to be deposited on preprint servers and picked up by journalists, and wondered how rigorous science would fare in a journalistic ecosystem which prioritises breaking the story first (i.e. giving credence to the preprint, not the peer reviewed article). Here's a completely unscientific selection of the mainly negative Twitter responses to the piece, from Michael Eisen (who in fact has 3 preprints in this month's haul!), James Fraser, Leslie Vosshall and Alejandro Sanchez Alvarado. The arguments swirled around the legitimacy of peer review, the responsibility of journalists to vet their stories properly, and the responsibility of scientists and university press offices not to oversell their results.
Away from the tumult, there was so much beautiful research deposited as preprints in July, from the molecular drivers of neurogenesis to the derivation of platypus pluripotent stem cells, cephalopod limb patterning to fern shoot development (and, right at the bottom, a truly humungous humdinger of a fungus!).
The preprints were hosted on bioRxiv, PeerJ, and arXiv. Let us know if we missed anything, and use these links to get to the section you want:
| Stem cells, regeneration & disease modelling
Developmental biology
| Patterning & signalling
Synthetic mammalian pattern formation driven by differential diffusivity of Nodal and Lefty
Ryoji Sekine, Tatsuo Shibata, Miki Ebisuya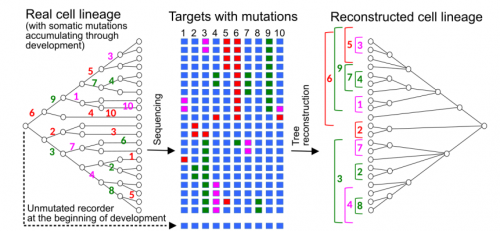 Is it possible to reconstruct an accurate cell lineage using CRISPR recorders?
Irepan Salvador-Martínez, Marco Grillo, Michalis Averof, Maximilian J Telford
Positional information encoded in the dynamic differences between neighbouring oscillators during vertebrate segmentation.
Marcelo Boareto, Tomas Tomka, Dagmar Iber
Activin signaling informs the graded pattern of terminal mitosis and hair cell differentiation in the mammalian cochlea
Meenakshi Prajapati-DiNubila, Ana Benito-Gonzalez, Erin J Golden, Shuran Zhang, Angelika Doetzlhofer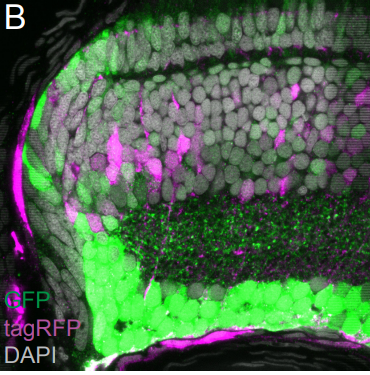 Notch signalling patterns retinal composition by regulating atoh7 during post-embryonic growth
Alicia Perez Saturnino, Katharina Lust, Joachim Wittbrodt
Otx2 signals from the choroid plexus to regulate adult neurogenesis
Anabelle Planques, Vanessa Oliveira Moreira, Chantal Dubreuil, Alain Prochiantz, Ariel A Di Nardo

AKT, NOTCH and GSK3β interact to trigger early myogenesis in vertebrate embryos.
Diane Lebrun, Pamela Rahal, Valerie MORIN, Christophe Marcelle
Positive-feedback defines the timing and robustness of angiogenesis
Donna J Page, Raphael Thuret, Lakshmi Venkatraman, Tokiharu Takahashi, Katie Bentley, Shane P Herbert
Thyroid hormone signaling specifies cone subtypes in human retinal organoids
Kiara C Eldred, Sarah E Hadyniak, Katarzyna A Hussey, Boris Brennerman, Pingwu Zhang, Xitiz Chamling, Valentin M Sluch, Derek S Welsbie, Samer Hattar, James Taylor, Karl Wahlin, Donald J Zack, Robert J Johnston Jr.
Spontaneous symmetry breaking and pattern formation of organoids
Keisuke Ishihara, Elly M. Tanaka
A transition from SoxB1 to SoxE transcription factors is essential for progression from pluripotent blastula cells to neural crest cells
Elsy Buitrago-Delgado, Elizabeth Schock, Kara Nordin, Carole LaBonne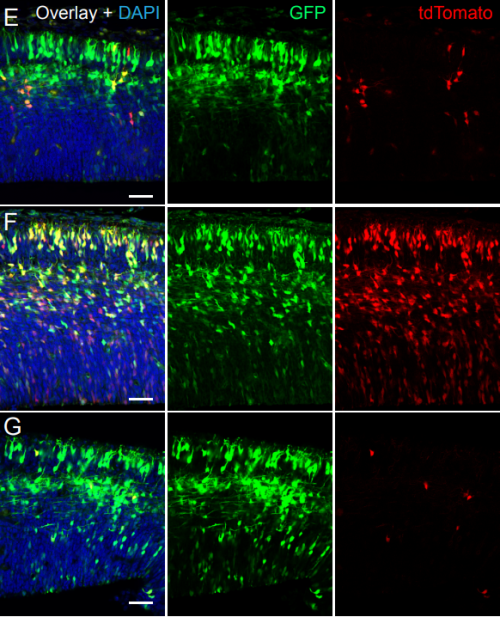 Lmx1a drives Cux2 expression in the cortical hem through activation of a conserved intronic enhancer.
Santiago P Fregoso, Brett E Dwyer, Santos J Franco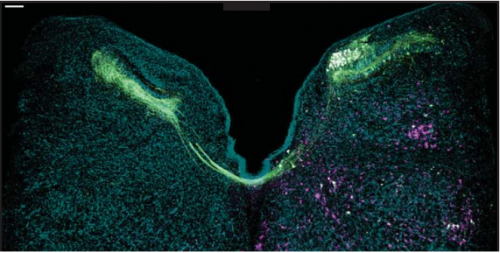 Conserved and divergent development of brainstem vestibuloacoustic nuclei
Marcela Lipovsek, Richard JT Wingate
Tissue-specific actions of Pax6 on proliferation-differentiation balance in the developing forebrain are Foxg1-dependent
Idoia Quintana-Urzainqui, Zrinko Kozić,, Soham Mitra, Tian Tian, Martine Manuel, John O. Mason, David J. Price
Proteolytic processing of LRP2 on RPE cells regulates BMP activity to control eye size and refractive error
Ross F Collery, Brian A Link
Single-Cell Analysis Identifies Thymic Maturation Delay in Growth-Restricted Neonatal Mice
Wendi A Bacon, Russell S Hamilton, Ziyi Yu, Jens Kieckbuscha, Delia Hawkesa, Ada Krzaka, Christopher Abell, Francesco Colucci, D. Stephen Charnock-Jones

G protein-coupled estrogen receptor is not required for sex determination or ovary function in zebrafish
Camerron M Crowder, Shannon N Romano, Daniel A Gorelick
Nuclear polymorphism and non-proliferative adult neurogenesis in human neural crest-derived cells.
Carlos Bueno, Marta Martinez-Morga, Salvador Martinez

Expression and role of Galectin-3 in the postnatal development of the cerebellum
Ines Gonzalez-Calvo, Fekrije Selimi
Ral signals through a MAP4 Kinase-p38 MAP kinase cascade in C. elegans cell fate patterning.
Hanna Shin, Rebecca E.W. Kaplan, Tam Duong, Razan Fakieh, David J Reiner
Multiple Mechanisms Inactivate the LIN-41 RNA-Binding Protein to Ensure A Robust Oocyte-to-Embryo Transition in Caenorhabditis elegans
David I. Greenstein, Caroline Spike, Gabriela Huelgas-Morales, Tatsuya Tsukamoto
A re-inducible gap gene cascade patterns the anterior-posterior axis of insects in a threshold-free fashion
Alena Boos, Jutta Distler, Heike Rudolf, Martin Klingler, Ezzat El-Sherif
Drosophila ovarian germline stem cell cytocensor projections dynamically receive and attenuate BMP signalling
Scott G Wilcockson, Hilary L Ashe
Choline Transporter in α/β core neurons of Drosophila mushroom body non-canonically regulates pupal eclosion and maintains neuromuscular junction integrity
Runa Hamid, Nikhil Hajirnis, Shikha Kushwaha, Sadaf Saleem, Vimlesh Kumar, Rakesh K Mishra
Blimp-1 mediates tracheal lumen maturation in Drosophila melanogaster
Arzu Ozturk-Colak, Camille Stephan-Otto Attolini, Jordi Casanova, Sofia J. Araujo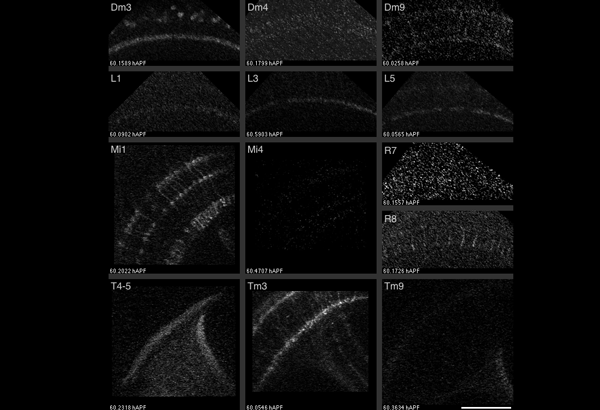 Cell-type specific patterned stimulus-independent neuronal activity in the Drosophila visual system during synapse formation
Orkun Akin, Bryce T. Bajar, Mehmet F. Keles, Mark A. Frye, S. Lawrence Zipursky
The Mediator CDK8-Cyclin C complex modulates vein patterning in Drosophila by stimulating Mad-dependent transcription
Xiao Li, Mengmeng Liu, Xingjie Ren, Nicolas Loncle, Qun Wang, Rajitha-Udakara-Sampath Hemba-Waduge, Muriel Boube, Henri-Marc G Bourbon, Jian-Quan Ni, Jun-Yuan Ji
Drosophila ZDHHC8 palmitoylates scribble and Ras64B and controls growth and viability
Katrin Strassburger, Evangeline Kang, Aurelio A Teleman
The Drosophila chromodomain protein Kismet activates steroid hormone receptor transcription to govern axon pruning and memory in vivo.
Nina K Latcheva, Jennifer M Viveiros, Daniel R Marenda
High JNK following Ras/Rpr/Tak1 over-expression in imaginal discs of Drosophila reduces post-pupariation ecdysone via Dilp8 resulting in early pupal death
Mukulika Ray, Subhash C. Lakhotia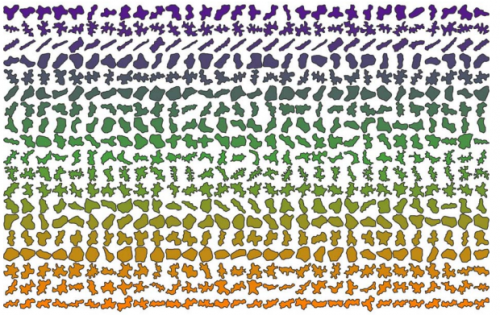 Of puzzles and pavements: a quantitative exploration of leaf epidermal cell shape
Roza V Vofely, Joseph Gallagher, Grace D Pisano, Madelaine Bartlett, Siobhan A Braybrook
High-resolution 4D spatiotemporal analysis reveals the contributions of local growth dynamics to contrasting maize root system architectures
Ni Jiang, Eric Floro, Adam L Bray, Benjamin Laws, Christopher N Topp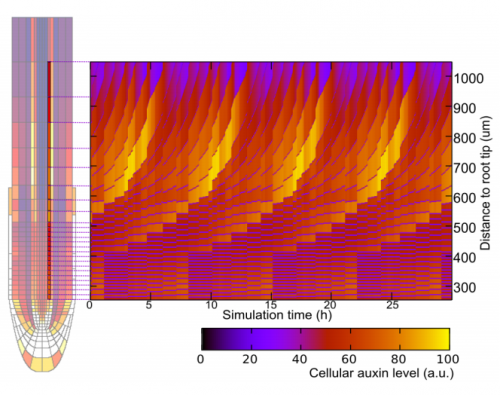 Lateral root priming synergystically arises from root growth and auxin transport dynamics
Thea van den Berg, Kirsten H. ten Tusscher
Selective auxin agonists induce specific AUX/IAA protein degradation to modulate plant development
Thomas Vain, Sara Raggi, Noel Ferro, Deepak Kumar Barange, Martin Kieffer, Qian Ma, Siamsa Melina Doyle, Mattias Thelander, Barbora Pařízková, Ondřej Novák, Alexandre Ismail, Per Anders Enquist, Adeline Rigal, Małgorzata Łangowska, Sigurd Ramans Harborough, Yi Zhang, Karin Ljung, Judy Callis, Fredrik Almqvist, Stefan Kepinski, Mark Estelle, Laurens Pauwels, Stéphanie Robert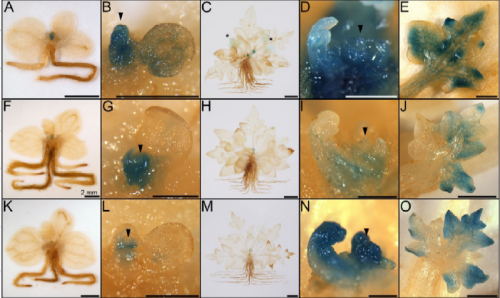 LEAFY maintains apical stem cell activity during shoot development in the fern Ceratopteris richardii
Jane Langdale, Veronica S Di Stilio, Andrew R.G. Plackett, Stephanie J Conway, Kristen D Hewett Hazelton, Ester H Rabbinowitsch
Ethylene inhibits stem trichome formation in Arabidopsis
Susan I Gibson
The role of UV-B light on small RNA activity during grapevine berry development
Sukumaran Sunitha, Rodrigo Loyola, Jose Antonio Alcalde, Patricio Arce-Johnson, Tomas Matus, Christopher Dale Rock
| Morphogenesis & mechanics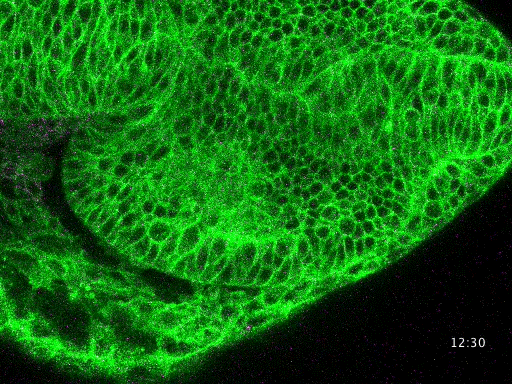 Neural crest cells regulate optic cup morphogenesis by promoting extracellular matrix assembly
Chase Dallas Bryan, Rebecca Lynne Pfeiffer, Bryan William Jones, Kristen Marie Kwan
YAP/TAZ-TEAD Activity Links Mechanical Cues To Specific Cell Fate Within The Hindbrain Boundaries
Adria Voltes, Covadonga F Hevia, Chaitanya Dingare, Simone Calzolari, Javier Terriente, Caren Norden, Virginie Lecaudey, Cristina Pujades
Tissue flow induces cell shape changes during organogenesis
Gonca Erdemci-Tandogan, Madeline J Clark, Jeffrey D Amack, M. Lisa Manning
N-Cadherin Provides a Cis and Trans Ligand for Astrotactin that Functions in Glial-Guided Neuronal Migration
Zachi Horn, Hourinaz Behesti, Mary E. Hatten
Blood flow-induced Notch activation and endothelial migration enable embryonic vascular remodeling.
Bart Weijts, Edgar Gutierrez, Semion K Saikin, Ararat J Ablooglu, David Traver, Alex Groisman, Eugene Tkachenko
Positive-feedback defines the timing and robustness of angiogenesis
Donna J Page, Raphael Thuret, Lakshmi Venkatraman, Tokiharu Takahashi, Katie Bentley, Shane P Herbert
mRNA localisation in endothelial cells regulates blood vessel sprouting
Guilherme Costa, Nawseen Tarannum, Shane Herbert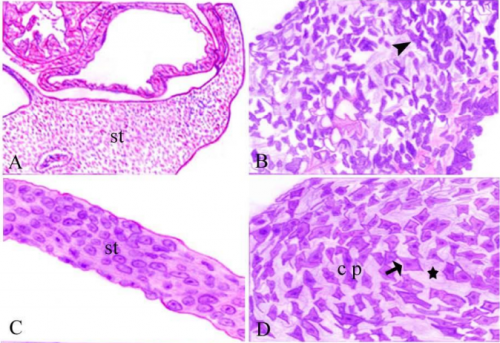 Morphogenesis of the Sternum in Quail Embryos
Nashwa Araby, Soha Soliman, Eman Abdel Raheem, Yasser Ahmed
Radial F-actin Organization During Early Neuronal Development
Durga Praveen Meka, Robin Scharrenberg, Bing Zhao, Theresa Koenig, Irina Schaefer, Birgit Schwanke, Oliver Kobler, Sergei Klykov, Melanie Richter, Dennis Eggert, Sabine Windhorst, Carlos G. Dotti, Michael R. Kreutz, Marina Mikhaylova, Froylan Calderon de Anda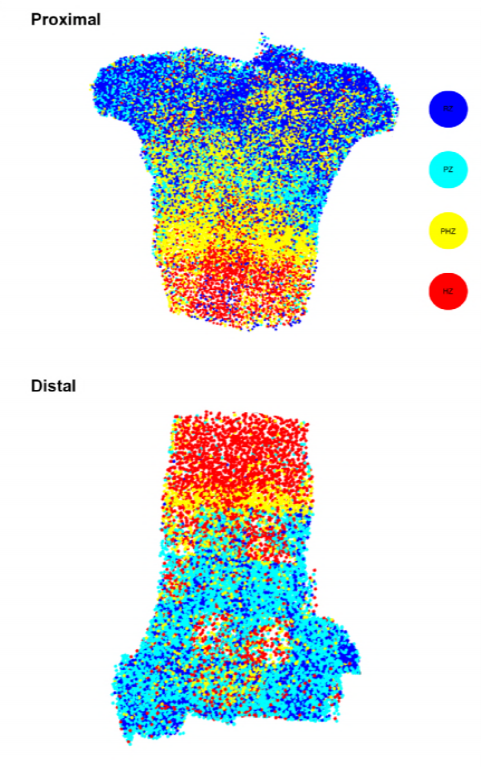 Multiscale analysis of 3D nuclear morphology reveals new insights into growth plate organization in mice
Sarah Rubin, Tomer Stern, Paul Villoutreix, Johannes Stegmaier, Yoseph Addadi, Elazar Zelzer
Modulation of corneal tissue mechanics influences epithelial cell phenotype
Ricardo M Gouveia, Guillaume Lepert, Suneel Gupta, Rajiv R Mohan, Carl Paterson, Che J Connon
Pkd2l1 is required for mechanoception in cerebrospinal fluid-contacting neurons and maintenance of spine curvature
Jenna Sternberg, Andrew E Prendergast, Lucie Brosse, Yasmine Cantaut-Belarif, Olivier Thouvenin, Adeline Orts-Del'Immagine, Laura Castillo, Lydia Djenoune, Shusaku Kurisu, Jonathan R McDearmid, Pierre-Luc Bardet, Claude Boccara, Hitoshi Okamoto, Patrick Delmas, Claire Wyart
Balance of Mechanical Forces Drives Endothelial Gap Formation and May Facilitate Cancer and Immune-Cell Extravasation
Jorge Escribano, Michelle Chen, Emad Moeendarbary, Xuan Cao, Vivek Shenoy, Jose Manuel Garcia-Aznar, Roger Kamm, Fabian Spill

CBD-1 scaffolds two independent complexes required for eggshell vitelline layer formation and egg activation in C. elegans
Delfina P González, Helen V. Lamb, Diana Partida, Zachary T. Wilson, Marie-Claire Harrison, Julián A. Prieto, James J. Moresco, Jolene K. Diedrich, John R. Yates III, Sara K. Olson
Excitable RhoA dynamics drive pulsed contractions in the early C. elegans embryo.
Jonathan B Michaux, Francois B Robin, William M McFadden, Edwin M Munro
Extracellular matrix regulates morphogenesis and function of ciliated sensory organs in Caenorhabditis elegans
Maureen M. Barr, Deanna M De Vore, Karla M Knobel, Ken C.Q. Nguyen, David H Hall
Novel exc Genes Involved in Formation of the Tubular Excretory Canals of C. elegans
Hikmat Al-Hashimi, Travis Chiarelli, Erik A. Lundquist, Matthew Buechner
Curvature Dependent constraints drive remodeling of epithelia
Florian Maechler, Cedric Allier, Aurelien Roux, Caterina Tomba
The C-type lectin Schlaff ensures epidermal barrier compactness in Drosophila
Renata Zuber, Khaleelula Saheb Shaik, Frauke Meyer, Hsin-Ning Ho, Anna Speidel, Nicole Gehring, Slawomir Bartoszewski, Heinz Schwarz, Bernard Moussian
microRNA-dependent regulation of biomechanical genes establishes tissue stiffness homeostasis
Albertomaria Moro, Tristan Driscoll, William Armero, Liana C. Boraas, Dionna Kasper, Nicolas Baeyens, Charlene Jouy, Venkatesh Mallikarjun, Joe Swift, Sang Joon Ahn, Donghoon Lee, Jing Zhang, Mengting Gu, Mark Gerstein, Martin Schwartz, Stefania Nicoli
| Genes & genomes

Long non-coding RNAs are largely dispensable for zebrafish embryogenesis, viability and fertility
Mehdi Goudarzi, Kathryn Berg, Lindsey M Pieper, Alexander F Schier

Compensatory mechanisms render Tcf7l1a dispensable for eye formation despite its requirement in eye field specification
Rodrigo M Young, Florencia Cavodeassi, Thomas A Hawkins, Heather L Stickney, Quenten Schwarz, Lisa M Lawrence, Claudia Wierzbicki, Gaia Gestri, Elizabeth Mayela Ambrosio, Allison Klosner, Jasmine Rowell, Isaac H. Bianco, Miguel L Allende, Stephen W Wilson
Early genome activation in Drosophila is extensive with an initial tendency for aborted transcripts and retained introns
Jamie C Kwasnieski, Terry L Orr-Weaver, David P Bartel
Brd4 and P300 regulate zygotic genome activation through histone acetylation
Shun Hang Chan, Yin Tang, Liyun Miao, Hiba Darwich-Codore, Charles E. Vejnar, Jean-Denis Beaudoin, Damir Musaev, Juan P. Fernandez, Miguel A. Moreno-Mateos, Antonio J. Giraldez
A cell cycle-coordinated nuclear compartment for Polymerase II transcription encompasses the earliest gene expression before global genome activation
Yavor Hadzhiev, Haseeb Qureshi, Lucy Wheatley, Ledean Cooper, Aleksandra Jasiulewicz, Huy Van Nguyen, Joseph Wragg, Divyasree Poovathumkadavil, Sacha Conic, Sarah Bajan, Attila Sik, Gyorgy Hutvagner, Laszlo Tora, Agnieszka Gambus, John S Fossey, Ferenc Mueller
Heterogeneity of transposon expression and activation of the repressive network in human fetal germ cells
Boris Reznik, Steven A. Cincotta, Rebecca G. Jaszczak, Leslie J. Mateo, Joel Shen, Mei Cao, Laurence Bascin, Ping Ye, Wenfeng An, Diana Laird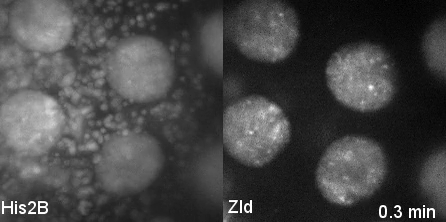 Dynamic multifactor hubs interact transiently with sites of active transcription in Drosophila embryos
Mustafa Mir, Michael R Stadler, Stephan A Ortiz, Melissa M Harrison, Xavier Darzacq, Michael B Eisen
Zelda potentiates transcription factor binding to zygotic enhancers by increasing local chromatin accessibility during early Drosophila melanogaster embryogenesis.
Xiao-Yong Li, Michael B Eisen
Mutation of sequences flanking and separating transcription factor binding sites in a Drosophila enhancer significantly alter its output
Xiao-Yong Li, Michael Eisen
cis-regulatory architecture of a short-range EGFR organizing center in the Drosophila melanogaster leg.
Susan Newcomb, Roumen Voutev, Aurelie Jory, Rebecca K Delker, Matthew Slattery, Richard S Mann
Drosophila small ovary encodes a zinc-finger repressor required for ovarian differentiation
Leif Benner, Elias A Castro, Cale Whitworth, Koen JT Venken, Haiwang Yang, Brian Oliver, Kevin R Cook, Dorothy A Lerit
The mirtron miR-1010 functions in concert with its host gene SKIP to maintain synaptic homeostasis
Christopher Amourda, Timothy E Saunders
Transposon silencing in the Drosophila female germline ensures genome stability in progeny embryos
Anne Ephrussi, Zeljko Durdevic, Ramesh S Pillai
Muscleblind regulates Drosophila Dscam2 cell-type-specific alternative splicing
Joshua Shing Shun Li, S Sean Millard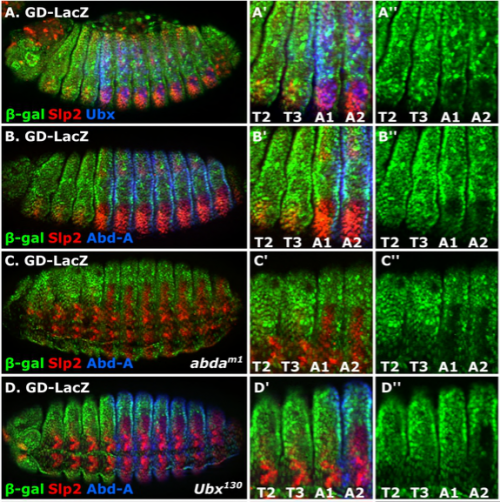 The cis-regulatory logic underlying abdominal Hox-mediated repression versus activation of regulatory elements in Drosophila
Arya Zandvakili, Juli Uhl, Ian Campbell, Yuntao Charlie Song, Brian Gebelein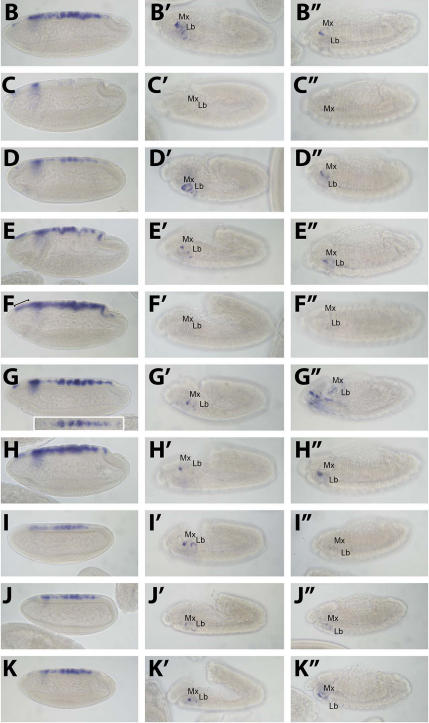 Disparate expression specificities coded by a shared Hox-C enhancer
Steven W Miller, James W. Posakony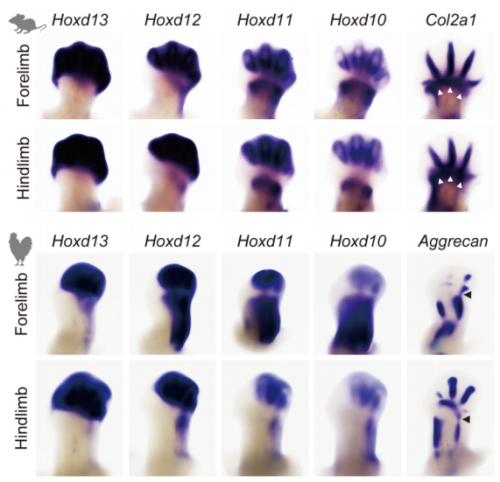 CONSERVATION AND VARIATIONS OF BIMODAL HoxD GENE REGULATION DURING TETRAPOD LIMB DEVELOPMENT
Nayuta Yakushiji-Kaminatsui, Lucille Lopez-Delisle, Christopher Chase Bolt, Guillaume Andrey, Leonardo Beccari, Denis Duboule
Ectopic expression of Hoxb1 induces cardiac and craniofacial malformations
Stéphane Zaffran, Gaëlle Odelin, Sonia Stefanovic, Fabienne Lescroart, Heather C Etchevers
Tbx1 and Foxi3 genetically interact in the third pharyngeal pouch endoderm required for thymus and parathyroid development
Erica Hasten, BERNICE E MORROW
Single-cell transcriptome analysis during cardiogenesis reveals basis for organ level developmental anomalies
Tarja Yvanka de Soysa, Sanjeev Ranade, Satoshi Okawa, Srikanth Ravichandran, Yu Huang, Hazel Salunga, Amelia Schricker, Antonio del Sol, Casey Gifford, Deepak Srivastava
Specific histone modifications associate with alternative exon selection during mammalian development
Qiwen Hu, Casey Greene, Elizabeth Heller
Rewiring of transcription factor binding in differentiating human embryonic stem cells is constrained by DNA sequence repeat symmetry
Matan Goldshtein, David B. Lukatsky
Genome-wide maps of distal gene regulatory regions active in the human placenta
Joanna Zhang, Corinne N. Simonti, John Anthony Capra
Molecular Diversity of Intrinsically Photosensitive Ganglion Cells
Daniel Berg, Katherine Kartheiser, Megan Leyrer, Alexandra Saali, David Berson
The Nucleome of Developing Murine Rod Photoreceptors
Issam Al Diri, Marc Valentine, Beisi Xu, Daniel Putnam, Lyra Griffiths, Marybeth Lupo, Jackie Norrie, Jiakun Zhang, Dianna Johnson, John Easton, Abbas Shirinifard, Ying Shao, Victoria Honnell, Sharon Frase, Shondra Miller, Valerie Stewart, Xiang Chen, Michael Dyer
Comprehensive analysis of retinal development at single cell resolution identifies NFI factors as essential for mitotic exit and specification of late-born cells
Brian Clark, Genevieve Stein-O'Brien, Fion Shiau, Gabrielle Cannon, Emily Davis, Thomas Sherman, Fatemeh Rajaii, Rebecca James-Esposito, Richard Gronostajski, Elana Fertig, Loyal Goff, Seth Blackshaw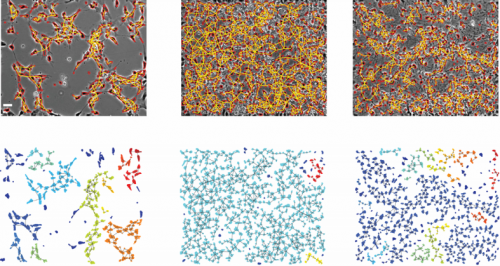 Living Neural Networks: Dynamic Network Analysis of Developing Neural Progenitor Cells
Arun S Mahadevan, Nicolas E Grandel, Jacob T Robinson, Kevin R Francis, Amina A Qutub
Quantitative, real-time, single cell analysis in tissue reveals expression dynamics of neurogenesis
Cerys S Manning, Veronica Biga, James Boyd, Jochen Kursawe, Bodvar Ymisson, David G Spiller, Christopher M Sanderson, Tobias Galla, Magnus Rattray, Nancy Papalopulu
Simultaneous production of diverse neuronal subtypes during early corticogenesis
Elia Magrinelli, Robin Jan Wagener, Denis Jabaudon
Transcriptome analysis of early stage of neurogenesis reveals temporal-specific gene network for preplate neuron differentiation and Cajal-Retzius cell specification
Jia Li, Lei Sun, Xue-Liang Peng, Xiao-Ming Yu, Shao-Jun Qi, Zhi John Lu, Jing-Dong J. Han, Qin Shen
Bcl6 promotes neurogenic conversion through transcriptional repression of multiple self-renewal-promoting extrinsic pathways.
Jerome Bonnefont, Luca Tiberi, Jelle van den Ameele, Delphine Potier, Zachary Gaber, Xionghui Lin, Angeline Bilheu, Adele Herpoel, Fausto Velez Bravo, Francois Guillemot, Stein Aerts, Pierre Vanderhaeghen
Fine-scale excitatory cortical circuits reflect embryonic progenitor pools
Tommas J Ellender, Sophie V Avery, Kashif Mahfooz, Alexander von Klemperer, Sophie L Nixon, Matthew J Buchan, Joram J van Rheede, Aleksandra Gatti, Cameron Waites, Sarah E Newey, Colin J Akerman
Single-cell transcriptomics characterizes cell types in the subventricular zone and uncovers molecular defects underlying impaired adult neurogenesis
Vera Zywitza, Aristotelis Misios, Lena Bunatyan, Thomas E. Willnow, Nikolaus Rajewsky
Regulation of cell fate in neurodevelopment and oligodendroglioma by the transcriptional repressor Capicua
Sheikh Tanveer Ahmad, Alexandra D Rogers, Myra J Chen, Rajiv Dixit, Lata Adnani, Luke Frankiw, Samuel O Lawn, Michael D Blough, Mana Alshehri, Wei Wu, Stephen M Robbins, Gregory Cairncross, Carol Schuurmans, Jennifer Chan
The regulatory control of Cebpa enhancers and silencers in the myeloid and red-blood cell lineages
Andrea Repele, Shawn Krueger, Michelle Y. Tuineau, Manu Manu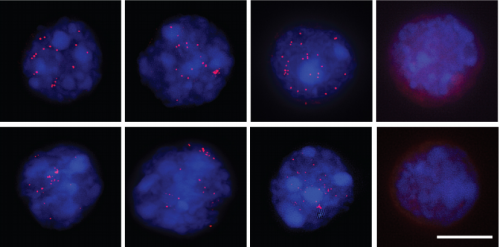 Characterization of Telomeric Repeat-Containing RNA (TERRA) localization and protein interactions in Primordial Germ Cells of the mouse
Miguel Angel Brieno-Enriquez, Stefannie L. Moak, Anyul Abud-Flores, Paula Elaine Cohen
Role of Cnot6l in maternal mRNA turnover
Filip Horvat, Helena Fulka, Radek Jankele, Radek Malik, Jun Ma, Katerina Solcova, Radislav Sedlacek, Kristian Vlahovicek, Richard M Schultz, Petr Svoboda
Global DNA methylation remodeling during direct reprogramming of fibroblasts to neurons
Chongyuan Luo, Qian Yi Lee, Orly L Wapinski, Rosa Castanon, Joseph R Nery, Sean M Cullen, Margaret A. Goodell, Howard Chang, Marius Wernig, Joseph R. Ecker
Gene-regulatory independent functions for insect DNA methylation
Adam J. Bewick, Zachary Sanchez, Elizabeth C. Mckinney, Allen J. Moore, Patricia J. Moore, Robert J. Schmitz
PIF transcription factors link a neighbor threat cue to accelerated reproduction in Arabidopsis
Vinicius Costa Galvao, Anne-Sophie Fiorucci, Martine Trevisan, Jose Manuel Franco-Zorrilla, Anupama Goyal, Emanuel Schmid-Siegert, Roberto Solano, Christian Fankhauser
A single cis-element that controls cell-type specific expression in Arabidopsis
Jana Knerova, Patrick J Dickinson, Marek Szecowka, Steven J Burgess, Hugh Mulvey, Anne-Maarit Bagman, Allison Gaudinier, Siobhan M Brady, Julian M Hibberd
Differences in firing efficiency, chromatin and transcription underlie the developmental plasticity of Arabidopsis originome
Joana Sequeira-Mendes, Zaida Vergara, Ramon Peiro, Jordi Morata, Irene Araguez, Celina Costas, Raul Mendez-Giraldez, Josep Casacuberta, Ugo Bastolla, Crisanto Gutierrez
Loss of CG methylation in Marchantia polymorpha causes disorganization of cell division and reveals unique DNA methylation regulatory mechanisms of non-CG methylation.
Yoko Ikeda, Ryuichi Nishihama, Shohei Yamaoka, Mario A. Arteaga-Vazquez, Adolfo Aguilar-Cruz, Daniel Grimanelli, Romain Pogorelcnik, Robert A Martienssen, Katsuyuki T Yamato, Takayuki Kohchi, Takashi Hirayama, Olivier Mathieu
Isolation and characterization of mutants with altered seminal root numbers in hexaploid wheat
Oluwaseyi Shorinola, Ryan Kaye, Stefan Kepinski, CRISTOBAL UAUY
Many rice genes are differentially spliced between roots and shoots but cytokinin has minimal effect on splicing
Nowlan H Freese, April R. Estrada, Ivory C. Blakley, Jinjie Duan, Ann E. Loraine
The USTC complex co-opts an ancient machinery to drive piRNA transcription in C. elegans
Chenchun Weng, Asia Kosalka, Ahmet C. Berkyurek, Przemislaw Stempor, Xuezhu Feng, Hui Mao, Chenming Zeng, Wen-Jun Li, Yong-Hong Yan, Meng-Qiu Dong, Cecilia Zuliani, Orsolya Barabas, Julie Ahringer, Shouhong Guang, Eric Miska
| Stem cells, regeneration & disease modelling
Platypus Induced Pluripotent Stem Cells: the Unique Pluripotency Signature of a Monotreme
Deanne J Whitworth, Ioannis Limnios, Maely Gauthier, Prasanna Weeratunga, Dmitry Ovchinnikov, Gregory Baillie, Sean Grimmond, Jennifer Graves, Ernst J Wolvetang
Regulating prospero mRNA Stability Determines When Neural Stem Cells Stop Dividing
Lu Yang, Tamsin J. Samuels, Yoav Arava, Francesca Robertson, Aino I. Järvelin, Ching-Po Yang, Tzumin Lee, David Ish-Horowicz, Ilan Davis
Axin proteolysis by Iduna is required for the regulation of stem cell proliferation and intestinal homeostasis in Drosophila
Yetis Gultekin, Hermann Steller
The creation of sexual dimorphism in Drosophila gonad stem cell niches
Nicole Camara, Cale Whitworth, Mark Van Doren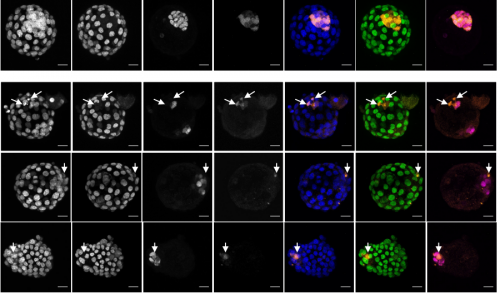 Subunit redundancy within the NuRD complex ensures fidelity of ES cell lineage commitment
Thomas Burgold, Michael Barber, Susan Kloet, Julie Cramard, Sarah Gharbi, Robin Floyd, Masaki Kinoshita, Meryem Ralser, Michiel Vermeulen, Nicola Reynolds, Sabine Dietmann, Brian Hendrich
The molecular logic of Nanog-induced self-renewal
Victor Heurtier, Nick Owens, Inma Gonzalez, Florian Mueller, Caroline Proux, Damien Mornico, Philippe Clerc, Agnes Dubois, Pablo Navarro
Signalling pathways drive heterogeneity of ground state pluripotency
Kirsten R McEwen, Sarah Linnett, Harry G Leitch, Prashant Srivastava, Lara Al-Zouabi, Tien-Chi Huang, Maxime Rotival, Alex Sardini, Thalia E Chan, Sarah Filippi, Michael Stumpf, Enrico Petretto, Petra Hajkova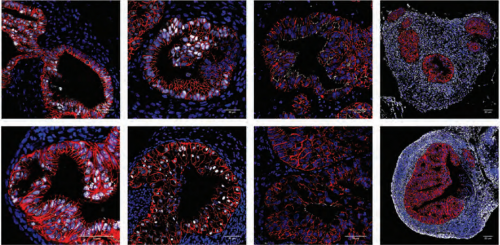 Non-adhesive alginate hydrogels support growth of pluripotent stem cell-derived intestinal organoids
Meghan M. Capeling, Michael Czerwinski, Sha Huang, Yu-Hwai Tsai, Angeline Wu, Melinda S. Nagy, Benjamin Juliar, Yang Song, Nambirajan Sundaram, Shuichi Takayama, Eben Alsberg, Michael Helmrath, Andrew J. Putnam, Jason R Spence
In Vitro Assay for the Detection of Network Connectivity in Embryonic Stem Cell-Derived Cultures
Jeffrey R Gamble, Eric T Zhang, Nisha Iyer, Shelly Sakiyama-Elbert, Dennis L. Barbour
Towards an autologous iPSC-derived patient-on-a-chip
Anja Patricia Ramme, Leopold Koenig, Tobias Hasenberg, Christine Schwenk, Corinna Magauer, Daniel Faust, Alexandra K. Lorenz, Anna-Catharina Krebs, Christopher Drewell, Kerstin Schirrmann, Alexandra Vladetic, Grace-Chiaen Lin, Stephan Pabinger, Winfried Neuhaus, Frederic Bois, Roland Lauster, Uwe Marx, Eva-Maria Dehne
Need for high-resolution Genetic Analysis in iPSC: Results and Lessons from the ForIPS Consortium
Bernt Popp, Mandy Krumbiegel, Janina Grosch, Annika Sommer, Steffen Uebe, Zacharias Kohl, Sonja Ploetz, Michaela Farrell, Udo Trautmann, Cornelia Kraus, Arif B Ekici, Reza Asadollahi, Martin Regensburger, Katharina Guenther, Anita Rauch, Frank Edenhofer, Juergen Winkler, Beate Winner, Andre Reis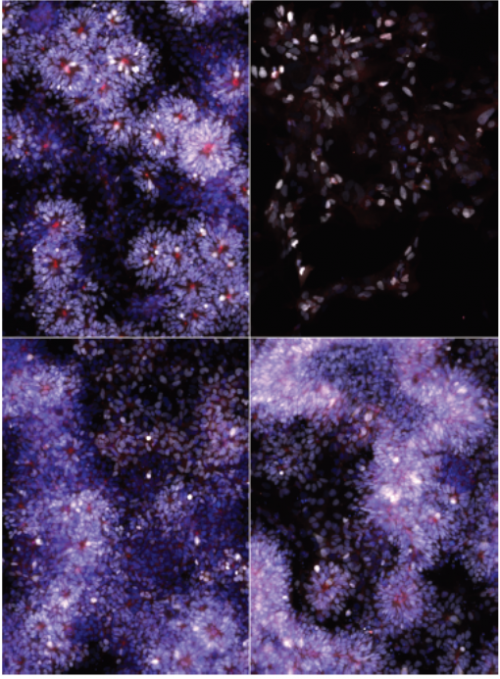 Dissecting transcriptomic signatures of neuronal differentiation and maturation using iPSCs
Emily E Burke, Joshua G Chenoweth, Joo Heon Shin, Leonardo Collado-Torres, Suel Kee Kim, Nicola Micali, Yanhong Wang, Richard E Straub, Daniel J Hoeppner, Huei-Ying Chen, Alana Lescure, Kamel Shibbani, Gregory R Hamersky, BaDoi N Phan, William S Ulrich, Cristian Valencia, Amritha Jaishankar, Amanda J Price, Anandita Rajpurohit, Stephen A Semick, Roland Bürli, James C Barrow, Daniel J Hiler, Stephanie Cerceo Page, Keri Martinowich, Thomas M Hyde, Joel E Kleinman, Karen F Berman, José A Apud, Alan J Cross, Nick J Brandon, Daniel R Weinberger, Brady J Maher, Ronald DG McKay, Andrew E Jaffe
Continuous single cell transcriptome dynamics from pluripotency to hemangiogenic lineage
Haiyong Zhao, Kyunghee Choi
Alternative splicing links histone modifications to stem cell fate decision
Yungang Xu, Weilling Zhao, Scott D. Olson, Karthik S. Prabhakara, Xiaobo Zhou
Soft Substrate Maintains Proliferative and Multi-lineage Potential of Human Mesenchymal Stem Cells on Long Term Expansion
Sanjay Kumar Kureel, Pankaj Mogha, Akshada Khadpekar, Vardhman Kumar, Rohit Joshi, Siddhartha Das, Jayesh Bellare, Abhijit Majumder
Dynamic Distribution Decomposition for Single-Cell Snapshot Time Series Identifies Subpopulations and Trajectories during iPSC Reprogramming
Jake Taylor-King, Asbjorn Riseth, Manfred Claassen
Gfi1-expressing Paneth cells revert to stem cells following intestinal injury
Min-Shan Chen, Yuan-Hung Lo, Joann Butkus, Winnie Zou, Yu-Jung Tseng, Hsin-I Jen, Shreena Patel, Andrew Groves, Mary Estes, Ergun Sahin, Mark Frey, Peter Dempsey, Noah Shroyer
JNK-mediated spindle reorientation in stem cells promotes dysplasia in the aging intestine
Daniel Hu, Heinrich Jasper
Regeneration of dopaminergic neurons in adult zebrafish depends on immune system activation and differs for distinct populations
Lindsey J. Caldwell, Nick O. Davies, Leonardo Cavone, Karolina S. Mysiak, Svetlana A. Semenova, Pertti Panula, J. Douglas Armstrong, Catherina G. Becker, Thomas Becker
Damage-induced reactive oxygen species enable regenerative signalling by the rapid repositioning of Hedgehog expressing cells.
Henry Roehl, Montserrat Garcia Romero, Gareth McCathie, Philip Jankun
Regeneration of the zebrafish retinal pigment epithelium after widespread genetic ablation
Nicholas Hanovice, Lyndsay Leach, Kayleigh Slater, Ana Gabriel, Dwight Romanovicz, Enhua Shao, Ross Collery, Edward Burton, Kira Lathrop, Brian Link, Jeff Gross
CNTN5-/+ or EHMT2-/+ iPSC-Derived Neurons from Individuals with Autism Develop Hyperactive Neuronal Networks
Eric Deneault, Muhammad Faheem, Sean H White, Deivid C Rodrigues, Song Sun, Wei Wei, Alina Piekna, Tadeo Thompson, Jennifer L Howe, Leon Chalil, Vickie Kwan, Susan Walker, Peter Pasceri, Frederick P Roth, Ryan KC Yuen, Karun K Singh, James Ellis, Stephen W Scherer
TUBA1A mutations identified in lissencephaly patients dominantly disrupt neuronal migration and impair dynein activity
Jayne Aiken, Jeffrey Moore, Emily Anne Bates
APP-induced patterned neurodegeneration exacerbated by APOE4 in C. elegans
Wisath Sae-Lee, Luisa L Scott, Aliyah J Encarnacion, Pragati Kore, Lashaun O Oyibo, Congxi Ye, Jonathan T. Pierce
Zebrafish duox mutations provide a model for human congenital hypothyroidism
Kunal Chopra, Shoko Ishibashi, Enrique Amaya
Intracellular calcium dysregulation precedes muscle decline in C. elegans modeling Duchenne muscular dystrophy
Anjelica Rodriguez, Kiley Hughes, Andrew Schuler, Brian Rodemoyer, Chance Bainbridge, Lucas Barickman, Kori Cuciarone, Alex Kullman, Calis Lim, Neha Gutta, Yazmine Giliana, Lavanya Sathyamurthy, Sruthi Singaraju, Samantha Vemuri, Victoria Andriulis, Dana Niswonger, Andres G Vidal-Gadea
PRSS56 is required for the developmental positioning of ocular angle structures
Cassandre Labelle-Dumais, Nicholas G Tolman, Seyyedhassan Paylakhi, Simon WM John, K Saidas Nair
The mechanical impact of col11a2 loss on joints; col11a2 mutant zebrafish show changes to joint development and function which lead to early onset osteoarthritis
Elizabeth A Lawrence, Erika Kague, Jessye A Aggleton, Robert L Harniman, Karen A Roddy, Chrissy L Hammond
Evo-devo & evo
Evolution of limb development in cephalopod mollusks
Oscar A. Tarazona, Davys H. Lopez, Leslie A Slota, Martin J. Cohn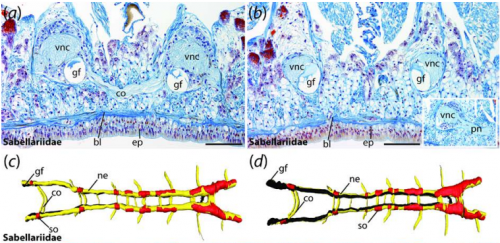 Breaking the ladder: Evolution of the ventral nerve cord in Annelida
Conrad Helm, Patrick Beckers, Thomas Bartolomaeus, Stephan H. Drukewitz, Ioannis Kourtesis, Anne Weigert, Guenter Purschke, Katrine Worsaae, Torsten H. Struck, Christoph Bleidorn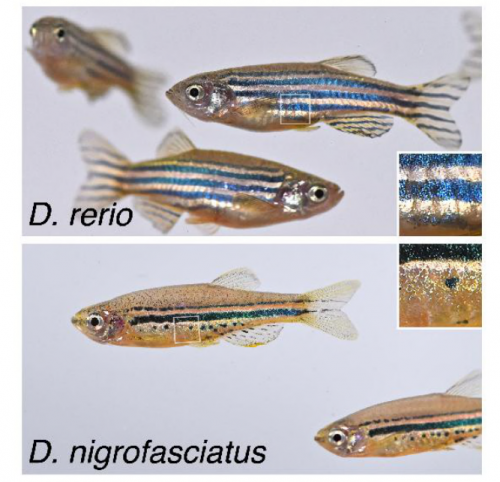 Evolution of Endothelin signaling and diversification of adult pigment pattern in Danio fishes
Jessica Spiewak, Emily Bain, Jin Liu, Kellie Kou, Samantha Sturiale, Larissa Patterson, Parham Diba, Judith Eisen, Ingo Braasch, Julia Ganz, David M. Parichy
Quantitative comparison of the anterior-posterior patterning system in the embryos of five Drosophila species
Zeba Wunderlich, Charless C. Fowlkes, Kelly B. Eckenrode, Meghan D. J. Bragdon, Arash Abiri, Angela H. DePace
Zelda and the evolution of insect metamorphosis
Alba Ventos-Alfonso, Guillem Ylla, Xavier Belles
Myoglianin triggers the pre-metamorphosis stage in hemimetabolan insects
Orathai Kamsoi, Xavier Belles
A test of the general occurrence and predictive utility of isochronal, equiproportional, 'variable proportional', and 'mixed' development among arthropods
Brady Quinn
Divergent genetic mechanisms lead to spiny hair in mammals
Gislene L. Goncalves, Renan Maestri, Gilson R.P. Moreira, Marly A.M. Jacobi, Thales R.O. Freitas, Hopi E. Hoekstra
Sexually dimorphic gene expression and transcriptome evolution provides mixed evidence for a fast-Z effect in Heliconius
Ana Pinharanda, Marjolaine Rousselle, Simon H Martin, Joseph J Hanly, John W Davey, Sujai Kumar, Nicolas Galtier, Chris D Jiggins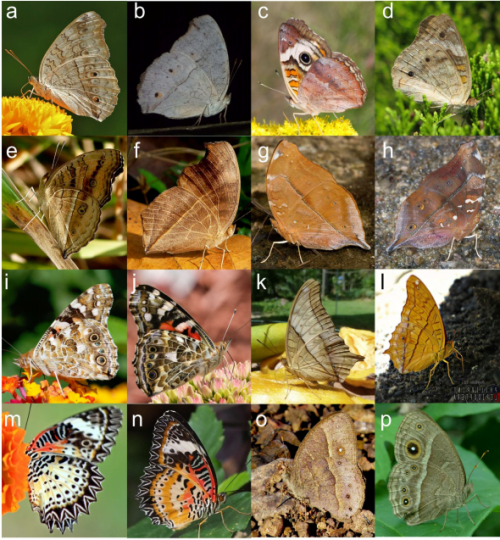 Step-wise evolution of temperature-mediated phenotypic plasticity in eyespot size across nymphalid butterflies
Shivam Bhardwaj, Lim Si Hui Jolander, Markus R. Wenk, Jeffrey C. Oliver, H. Frederik Nijhout, Antonia Monteiro

Evolution of the embryonic cis-regulatory landscapes between divergent Phallusia and Ciona ascidians.
Alicia Madgwick, Marta Silvia Magri, Christelle Dantec, Damien Gailly, Ulla-Maj Fiuza, Leo Guignard, Sabrina Hettinger, Jose Luis Gomez-Skarmeta, Patrick Lemaire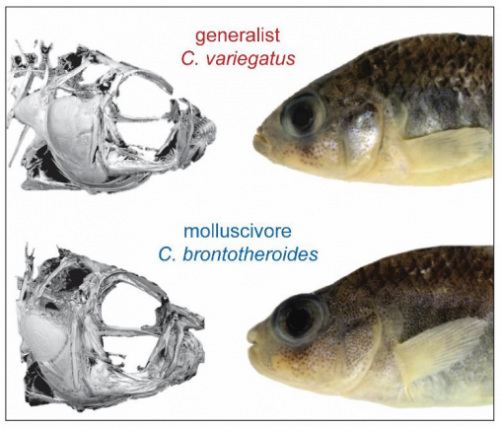 Rampant hybrid misexpression in craniofacial tissues within a recent adaptive radiation of Cyprinodon pupfishes
Joseph Alan McGirr, Christopher Herbert Martin
Did position-effect guide the evolutionary dynamics of developmental gene expression?
Meenakshi Bagadia, Keerthivasan Raanin Chandradoss, Yachna Jain, Harpreet Singh, Mohan Lal, Kuljeet Singh Sandhu
Correlated Evolution of two Sensory Organs via a Single Cis-Regulatory Nucleotide Change
Olga Nagy, Isabelle Nuez, Rosina Savisaar, Alexandre Erwan Peluffo, Amir Yassin, Michael Lang, David L. Stern, Daniel Matute, Jean R. David, Virginie Courtier-Orgogozo
Evolution of salivary glue genes in Drosophila species
Jean-Luc Da Lage, Gregg W. C. Thomas, Magalie Bonneau, Virginie Courtier-Orgogozo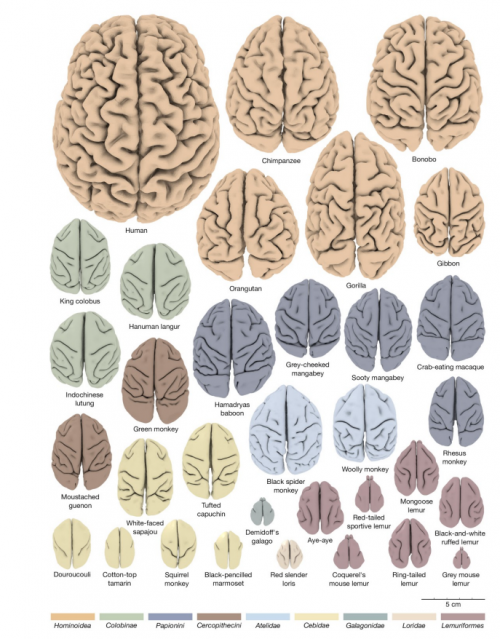 Evolution of neocortical folding: A phylogenetic comparative analysis of MRI from 33 primate species
Katja Heuer, Omer Faruk Gulban, Pierre-Louis Bazin, Anastasia Osoianu, Romain Valabregue, Mathieu Santin, Marc Herbin, Roberto Toro
Evolutionary parallelisms of pectoral and pelvic network-anatomy from fins to limbs
Borja Esteve-Altava, Stephanie E Pierce, Julia L Molnar, Peter Johnston, Rui Diogo, John R Hutchinson
Subdivision of ancestral scale genetic program underlies origin of feathers and avian scutate scales
Jacob M Musser, Gunter P Wagner, Cong Liang, Frank A Stabile, Alison Cloutier, Allan J Baker, Richard O Prum
Climate, habitat, and geographic range overlap drive plumage evolution
Eliot T Miller, Gavin M Leighton, Benjamin G Freeman, Alexander C Lees, Russell A Ligon
Base-pairing requirements for small RNA-mediated gene silencing of recessive self-incompatibility alleles in Arabidopsis halleri.
Nicolas Burghgraeve, Samson Simon, Simon Barral, Isabelle Fobis-Loisy, Anne-Catherine Holl, Chloe Ponitzki, Eric Schmitt, Xavier Vekemans, Vincent Castric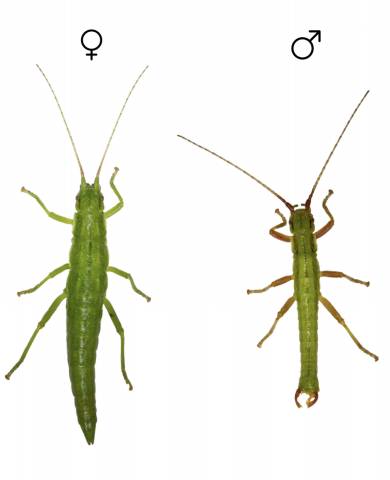 Genes involved in the convergent evolution of asexuality in stick insects
Darren J Parker, Jens Bast, Kirsten Jalvingh, Zoé Dumas, Marc Robinson-Rechavi, Tanja Schwander
The many nuanced evolutionary consequences of duplicated genes
Ashley I Teufel, Mackenzie M Johnson, Jon M Laurent, Aashiq H Kachroo, Edward M Marcotte, Claus O Wilke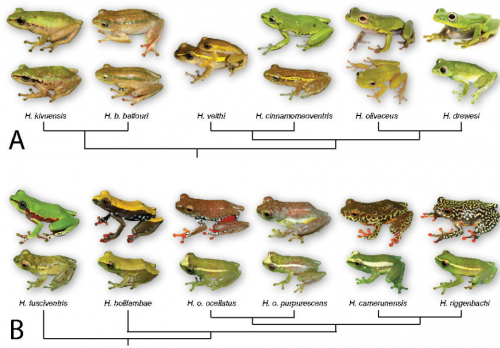 Sexual Dichromatism Drives Diversification Within a Major Radiation of African Amphibians
Daniel M Portik, Rayna C Bell, David C Blackburn, Aaron M Bauer, Christopher D Barratt, William R Branch, Marius Burger, Alan Channing, Timothy J Colston, Werner Conradie, J. Maximillian Dehling, Robert C Drewes, Raffael Ernst, Eli Greenbaum, Václav Gvoždík, James Harvey, Annika Hillers, Mareike Hirschfeld, Gregory Jongsma, Jos Kielgast, Marcel T Kouete, Lucinda P Lawson, Adam D Leaché, Simon P Loader, Stefan Lötters, Arie van der Meijden, Michele Menegon, Susanne Müller, Zoltán T Nagy, Caleb Ofori-Boateng, Annemarie Ohler, Theodore J Papenfuss, Daniela Rößler, Ulrich Sinsch, Mark-Oliver Rödel, Michael Veith, Jens Vindum, Ange-Ghislain Zassi-Boulou, Jimmy A McGuire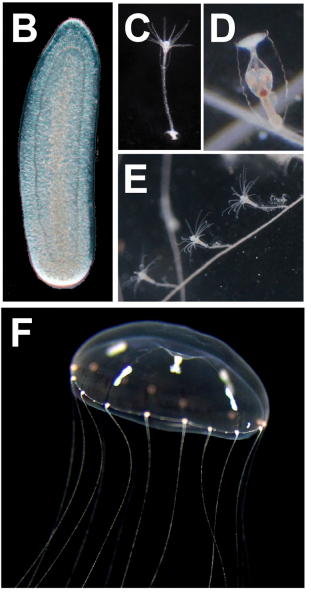 The genome of the jellyfish Clytia hemisphaerica and the evolution of the cnidarian life-cycle
Lucas Leclère, Coralie Horin, Sandra Chevalier, Pascal Lapébie, Philippe Dru, Sophie Peron, Muriel Jager, Thomas Condamine, Karen Pottin, Séverine Romano, Julia Steger, Chiara Sinigaglia, Carine Barreau, Gonzalo Quiroga-Artigas, Antonella Ruggiero, Cécile Fourrage, Johanna Kraus, Julie Poulain, Jean-Marc Aury, Patrick Wincker, Eric Quéinnec, Ulrich Technau, Michaël Manuel, Tsuyoshi Momose, Evelyn Houliston, Richard Copley
The draft genome sequence of mandrill (Mandrillus sphinx)
Ye Yin, Ting Yang, Huan Liu, Ziheng Huang, Yaolei Zhang, Yue Song, Wenliang Wang, Karsten Kristiansen
De Novo assembly of the goldfish (Carassius auratus) genome and the evolution of genes after whole genome duplication
Zelin Chen, Yoshihiro Omori, Sergey Koren, Takuya Shirokiya, Takuo Kuroda, Atsushi Miyamoto, Hironori Wada, Asao Fujiyama, Atsushi Toyoda, Suiyuan Zhang, Tyra G Wolfsberg, Koichi Kawakami, Adam M. Phillippy, NISC Comparative Sequencing Program, James C Mullikin, Shawn M Burgess
A Chromosome-Scale Assembly of the Enormous (32 Gb) Axolotl Genome
Jeramiah J. Smith, Nataliya Timoshevskaya, Vladimir A. Timoshevskiy, Melissa C. Keinath, Drew Hardy, S. Randal Voss
A hybrid de novo genome assembly of the honeybee, Apis mellifera, with chromosome-length scaffolds
Andreas Wallberg, Ignas Bunikis, Olga Vinnere Pettersson, Mai-Britt Mosbech, Anna K Childers, Jay D Evans, Alexander S Mikheyev, Hugh M Robertson, Gene E Robinson, Matthew T Webster
Stout camphor tree genome fills gaps in understanding of flowering plant genome and gene family evolution
Shu-Miaw Chaw, Yu-Ching Liu, Han-Yu Wang, Yu-Wei Wu, Chan-Yi Ivy Lin, Chung-Shien Wu, Huei-Mien Ke, Lo-Yu Chang, Chih-Yao Hsu, Hui-Ting Yang, Edi Sudianto, Ming-Hung Hsu, Kun-Pin Wu, Ning-Ni Wang, James Leebens-Mack, Isheng Jason J Tsai
Genome sequence of the wheat stem sawfly, Cephus cinctus, a primitive hymenopteran and wheat pest, illuminates evolution of hymenopteran chemoreceptors
Hugh M Robertson, Robert M Waterhouse, Kimberly KO Walden, Livio Ruzzante, Maarten JMF Reijnders, Brad S Coates, Fabrice Legeai, Joanna C Gress, Sezgi Biyiklioglu, David K Weaver, Kevin W Wanner, Hikmet Budak
Cell biology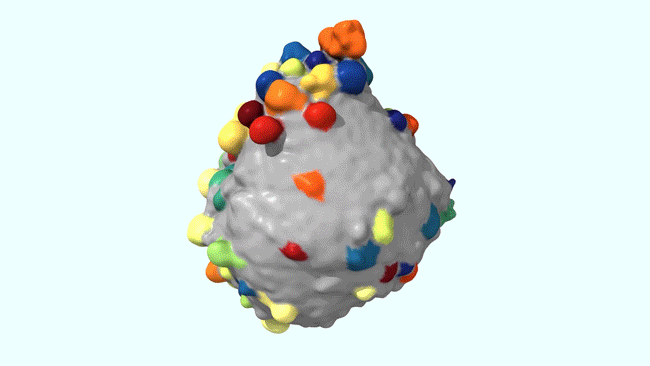 Cell morphological motif detector for high-resolution 3D microscopy images
Meghan K Driscoll, Erik S Welf, Kevin M Dean, Reto Fiolka, Gaudenz Danuser

Extreme nuclear branching in healthy epidermal cells of the Xenopus tail fin
Hannah E. Arbach, Marcus Harland-Dunaway, Jessica K. Chang, Andrea E. Wills
Analysis of P granules in vivo and ex vivo
Andrea Putnam, Madeline Cassani, Jarrett Smith, Geraldine Seydoux
Live tracking of inter-organ communication by endogenous exosomes in vivo
Frederik J Verweij, Celine Revenu, Guillaume Arras, Florent Dingli, Loew Damarys, Gautier Follain, Guillaume Allio, Jacky Goetz, Philippe Herbomel, Filippo Del Bene, Graca Raposo, Guillaume van Niel
Filopodome mapping identifies p130Cas as a mechanosensitive regulator of filopodia stability
Guillaume Jacquemet, Rafael Saup, Hellyeh Hamidi, Mitro Miihkinen, Johanna Ivaska
Tissue-specific degradation of essential centrosome components reveals distinct microtubule populations at microtubule organizing centers
Maria D Sallee, Jenny C Zonka, Taylor D Skokan, Brian C Raftrey, Jessica L Feldman
Ancestral Roles of the Fam20C Family of Secreted Protein Kinases Revealed by Functional Analysis in C. elegans
Adina Gerson-Gurwitz, Carolyn A Worby, Kian-Yong Lee, Renat Khaliullin, Jeff Bouffard, Dhanya Cheerambathur, Erin J Cram, Karen Oegema, Jack E Dixon, Arshad Desai
Exocyst subunit Sec6 is positioned by microtubule overlaps in the moss phragmoplast prior to the arrival of cell plate membrane
Han Tang, Jeroen de Keijzer, Elysa Overdijk, Els Sweep, Maikel Steentjes, Joop Vermeer, Marcel Janson, Tijs Ketelaar
EphB2 and ERK signaling are required for heterotypic contact inhibition of locomotion to drive cell sorting
Simon Brayford, Eduardo Serna-Morales, Andrei Luchici, Toru Hiratsuka, Brian Stramer
Developmental Regulation of an Organelle Tether Coordinates Mitochondrial Remodeling in Meiosis
Eric Sawyer, Pallavi Joshi, Luke Berchowitz, Elcin Unal
Loss of vimentin intermediate filaments decreases peri-nuclear stiffness and enhances cell motility through confined spaces
Alison Elise Patteson, Katarzyna Pogoda, Fitzroy J. Byfield, Elisabeth E. Charrier, Peter A. Galie, Piotr Deptuła, Robert Bucki, Paul A. Janmey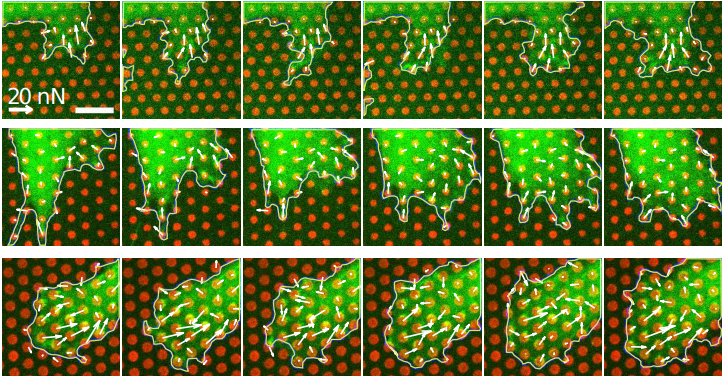 p130Cas contributes to cellular mechanosensing and force exertion.
Hedde van Hoorn, Dominique M Donato, H. Emrah Balcioglu, Erik H Danen, Thomas Schmidt
Functional characterization of peroxisome biogenic proteins Pex5 and Pex7 of Drosophila
Francesca Di Cara, Richard A Rachubinski, Andrew J Simmonds
A positive feedback loop drives centrosome maturation in flies
Ines Alvarez Rodrigo, Paul T Conduit, Janina Baumbach, Zsofia A Novak, Mustafa G Aydogan, Alan Wainman, Jordan W Raff
Mechanisms of Kinesin-1 activation by Ensconsin/MAP7 in vivo
Mathieu Metivier, Brigette Monroy, Emmanuel Gallaud, Renaud Caous, Aude Pascal, Laurent Richard-Parpaillon, Antoine Guichet, Kassandra Ori-McKenney, Regis Giet
A centrosome calcium signal is essential for mammalian cell mitosis
Nordine Helassa, Charlotte Nugues, Robert D Burgoyne, Lee P Haynes
Drosophila kinesin-8 stabilises kinetochore-microtubule interaction
Tomoya Edzuka, Gohta Goshima
Atypical septate junctions maintain the somatic enclosure around maturing spermatids and prevent premature sperm release in Drosophila testis.
Pankaj Dubey, Tushna Kapoor, Samir Gupta, Seema Shirolikar, Krishanu Ray
The Drosophila Cortactin Binding Protein 2 homolog, Nausicaa, regulates lamellipodial actin dynamics in a Cortactin-dependent manner.
Meghan E O'Connell, Divya Sridharan, Tristan Driscoll, Ipsita Krishnamurthy, Wick G Perry, Derek A Applewhite
Lysosome exocytosis is required for mitosis
Charlotte Nugues, Nordine Helassa, Lee Haynes
Nuclear pore density controls heterochromatin reorganization during senescence
Wendy Bickmore, Charlene Boumendil, Priya Hari, Karl Olsen, Juan-Carlos Acosta
Mother centrioles are dispensable for deuterosome formation and function during basal body amplification
Huijie Zhao, Qingxia Chen, Qiongping Huang, Xiumin Yan, Xueliang Zhu
Mechanosensitive clathrin platforms anchor desmin intermediate filaments in skeletal muscle
Agathe Franck, Jeanne Laine, Gilles Moulay, Michael Trichet, Christel Gentil, Anais Fongy, Anne Bigot, Sofia Benkhelifa-Ziyyat, Emmanuelle Lacene, Mai Thao Bui, Guy Brochier, Pascale Guicheney, Sabrina Sacconi, Vincent Mouly, Norma Beatriz Romero, Catherine Coirault, Marc Bitoun, Stephane Vassilopoulos
The cytoskeleton as a smart composite material: A unified pathway linking microtubules, myosin-II filaments and integrin adhesions
Nisha Mohd Rafiq, Yukako Nishimura, Sergey V. Plotnikov, Visalatchi Thiagarajan, Zhen Zhang, Meenubharathi Natarajan, Shidong Shi, Virgile Viasnoff, Gareth E. Jones, Pakorn Kanchanawong, Alexander D. Bershadsky
Rudhira/BCAS3 couples microtubules and intermediate filaments to promote cell migration for angiogenic remodeling
Divyesh Joshi, Maneesha S Inamdar
Modelling
Predicting division planes of three-dimensional cells by soap-film minimization
Pablo Martinez, Lindy Allsman, Kenneth A Brakke, Christopher Hoyt, Jordan Hayes, Hong Liang, Wesley Neher, Yue Rui, Allyson Roberts, Amir Moradifam, Bob Goldstein, Charles Anderson, Carolyn G Rasmussen
Dynamics of PAR proteins explain the oscillation and ratcheting mechanisms in dorsal closure
Clinton H. Durney, Tony J. C. Harris, James J. Feng
Tensional homeostasis in multicellular clusters: effects of geometry and traction force dynamics
Dimitrije Stamenovic, Juanyong Li, Paul E. Barbone, Michael L. Smith
Pulling in models of cell migration
Christian A. Yates, George Chappelle
Modifying Reaction Diffusion: A Numerical Model for Turing Morphogenesis, Ben Jacob Patterns, and Cancer Growth
Kai Trepka
Toward deciphering developmental patterning with deep neural network
Jingxiang Shen, Feng Liu, Chao Tang
Long-range memory of growth and cycle progression correlates cell cycles in lineage trees
Erika E Kuchen, Nils Becker, Nina Claudino, Thomas Hofer
Noise-driven Cell Differentiation and the Emergence of Organization
Hadiseh Safdari, Ata Kalirad, Cristian Picioreanu, Rouzbeh Tusserkani, Bahram Goliaei, Mehdi Sadeghi
Tools & resources
| Imaging etc.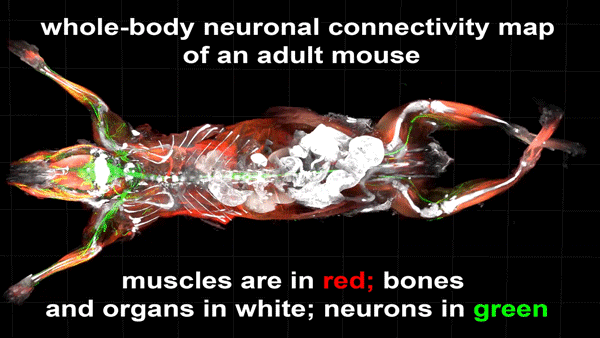 se
Panoptic vDISCO imaging reveals neuronal connectivity, remote trauma effects and meningeal vessels in intact transparent mice
Ruiyao Cai, Chenchen Pan, Alireza Ghasemigharagoz, Mihail I. Todorov, Benjamin Foerstera, Shan Zhao, Harsharan S. Bhatia, Leander Mrowka, Delphine Theodorou, Markus Rempfler, Anna Xavier, Benjamin T. Kress, Corinne Benakis, Arthur Liesz, Bjoern Menze, Martin Kerschensteiner, Maiken Nedergaard, Ali Erturk
Cortical Column and Whole Brain Imaging of Neural Circuits with Molecular Contrast and Nanoscale Resolution
Ruixuan Gao, Shoh M Asano, Srigokul Upadhyayula, Igor Pisarev, Daniel E Milkie, Tsung-Li Liu, Ved Singh, Austin Graves, Grace H Huynh, Yongxin Zhao, John Bogovic, Jennifer Colonell, Carolyn M Ott, Christopher Zugates, Susan Tappan, Alfredo Rodriguez, Kishore R Mosaliganti, Sean G Megason, Jennifer Lippincott-Schwartz, Adam Hantman, Gerald M Rubin, Tom Kirchhausen, Stephan Saalfeld, Yoshinori Aso, Edward S Boyden, Eric Betzig
Content-Aware Image Restoration: Pushing the Limits of Fluorescence Microscopy
Martin Weigert, Uwe Schmidt, Tobias Boothe, Andreas Müller, Alexandr Dibrov, Akanksha Jain, Benjamin Wilhelm, Deborah Schmidt, Coleman Broaddus, Siân Culley, Maurício Rocha-Martins, Fabián Segovia-Miranda, Caren Norden, Ricardo Henriques, Marino Zerial, Michele Solimena, Jochen Rink, Pavel Tomancak, Loic Royer, Florian Jug, Eugene W. Myers
Tiling light sheet selective plane illumination microscopy using discontinuous light sheets
Liang Gao
MemBright: a Family of Fluorescent Membrane Probes for Advanced Cellular Imaging and Neuroscience
Mayeul Collot, pichandi ashokkumar, Halina Anton, Emmanuel Boutant, Orestis Faklaris, Thierry Galli, Yves Mely, Lydia Danglot, Andrey S. Klymchenko
Self-healing dyes for super-resolution microscopy
Jasper van der Velde, Jochem Smit, Michel Punter, Thorben Cordes
Accelerated FRET-PAINT Microscopy
Jongjin Lee, Sangjun Park, Sungchul Hohng
Commonly-used FRET fluorophores promote collapse of an otherwise disordered protein.
Joshua A Riback, Micayla A Bowman, Adam M Zmyslowski, Kevin W Plaxco, Patricia L Clark, Tobin R Sosnick
Solid immersion microscopy readily and inexpensively enables 12 nm resolution on plunge-frozen cells
Marisa Luisa Martin-Fernandez, Lin Wang, Benji Bateman, Laura Carolina Zanetti-Domingues, Amy Moores, Sarah Rebecca Needham, Daniel Rolfe, Sam Astbury, Christopher Spindloe, Michelle Darrow, Maria Romano, Konstantinos Beis, David Clarke
Super-resolution fight club: A broad assessment of 2D & 3D single-molecule localization microscopy software
Daniel Sage, Thanh-An Pham, Hazen Babcock, Tomas Lukes, Thomas Pengo, Jerry Chao, Ramraj Velmurugan, Alex Herbert, Anurag Agrawal, Silvia Colabrese, Ann Wheeler, Anna Archetti, Bernd Rieger, Raimund Ober, Guy M. Hagen, Jean-Baptiste Sibarita, Jonas Ries, Ricardo Henriques, Michael Unser, Seamus Holden
Development of a genetically encoded sensor for endogenous CaMKII activity
Goli Ardestani, Megan West, Thomas J Maresca, Rafael A Fissore, Margaret M Stratton
Systematic assessment of GFP tag position on protein localization and growth fitness in yeast
Dan Davidi, Uri Weill, Gat Krieger, Zohar Avihou, Ron Milo, Maya Schuldiner
3D-printable tools for developmental biology: Improving embryo injection and screening techniques through 3D-printing technology
Marta Truchado-Garcia, Richard M Harland, Michael J Abrams
Coherent-hybrid STED: a tunable photo-physical pinhole for super-resolution imaging at high contrast
Antonio J Pereira, Mafalda Sousa, Ana C Almeida, Luisa T Ferreira, Ana Rita Costa, Marco Novais-Cruz, Cristina Ferras, Monica Mendes Sousa, Paula Sampaio, Michael Belsley, Helder Maiato
| Genome tools
Super-Mendelian inheritance mediated by CRISPR/Cas9 in the female mouse germline
Hannah A. Grunwald, Valentino M. Gantz, Gunnar Poplawski, Xiang-ru S. Xu, Ethan Bier, Kimberly L. Cooper
SANe: The Seed Active Network for Discovering Transcriptional Regulatory Programs of Seed Development.
Chirag Gupta, Arjun Krishnan, Andrew Schneider, Cynthia Denbow, Eva Collakova, Pawel Wolinski, Andy Pereira
Short hairpin RNAs artifactually impair cell growth and suppress clustered microRNA expression.
John Powers, Edrualdo da Rocha, Daniel Pearson, Pavlos Missios, Tarja Yvanka de Soysa, Jessica Barragan, Patrick Cahan, George Daley
RNAlater and flash freezing storage methods nonrandomly influence observed gene expression in RNAseq experiments
Courtney N. Passow, Thomas J. Y. Kono, Bethany A. Stahl, James B. Jaggard, Alex C. Keene, Suzanne E. McGaugh
CRISPR-Cas9 human gene replacement and phenomic characterization in Caenorhabditis elegans to understand the functional conservation of human genes and decipher variants of uncertain significance
Troy A McDiarmid, Vinci Au, Aaron Loewen, Joseph J.H. Liang, Kota Mizumoto, Donald G Moerman, Catharine H Rankin
Optimizing guide RNA selection and CRISPR/Cas9 methodology for efficient generation of deletions in C. elegans.
Vinci Au, Erica Li-Leger, Greta Raymant, Stephane Flibotte, George Chen, Kiana Martin, Lisa Fernando, Claudia Doell, Federico Rosell, Su Wang, Mark Edgley, Ann Rougvie, Harald Hutter, Donald G. Moerman
Unsupervised correction of gene-independent cell responses to CRISPR-Cas9 targeting
Francesco Iorio, Fiona M Behan, Emanuel Goncalves, Shriram Bhosle, Elisabeth Chen, Rebecca Shepherd, Charlotte Beaver, Rizwan Ansari, Rachel Pooley, Piers Wilkinson, Sarah Harper, Adam P Butler, Euan Stronach, Julio Saez-Rodriguez, Kosuke Yusa, Mathew J Garnett
A total synthetic approach to CRISPR/Cas9 genome editing and homology directed repair
Sara E. DiNapoli, Raul Martinez-McFaline, Caitlin K. Gribbin, Courtney A. Balgobin, Isabel Nelson, Abigail Leonard, Darya Mailhiot, Clara Kao, Sean McDonnell, Jill L.O. de Jong, Yariv Houvras
Up, down, and out: optimized libraries for CRISPRa, CRISPRi, and CRISPR-knockout genetic screens
Kendall R Sanson, Ruth E Hanna, Mudra Hegde, Katherine F Donovan, Christine Strand, Meagan E Sullender, Emma W Vaimberg, Amy Goodale, David E Root, Federica Piccioni, John G Doench
Highly efficient scarless knock-in of reporter genes into human and mouse pluripotent stem cells via transient antibiotic selection
Valentin M Sluch, Xitiz Chamling, Claire Wenger, Yukan Duan, Dennis S Rice, Donald J Zack
CRISPR/Cas9 Targeted Capture Of Mammalian Genomic Regions For Characterization By NGS
Alexei Slesarev, Lakshmi Viswanathan, Yitao Tang, Trissa Borgschulte, Katherine Achtien, David Razafsky, David Onions, Audrey Chang, Colette Cote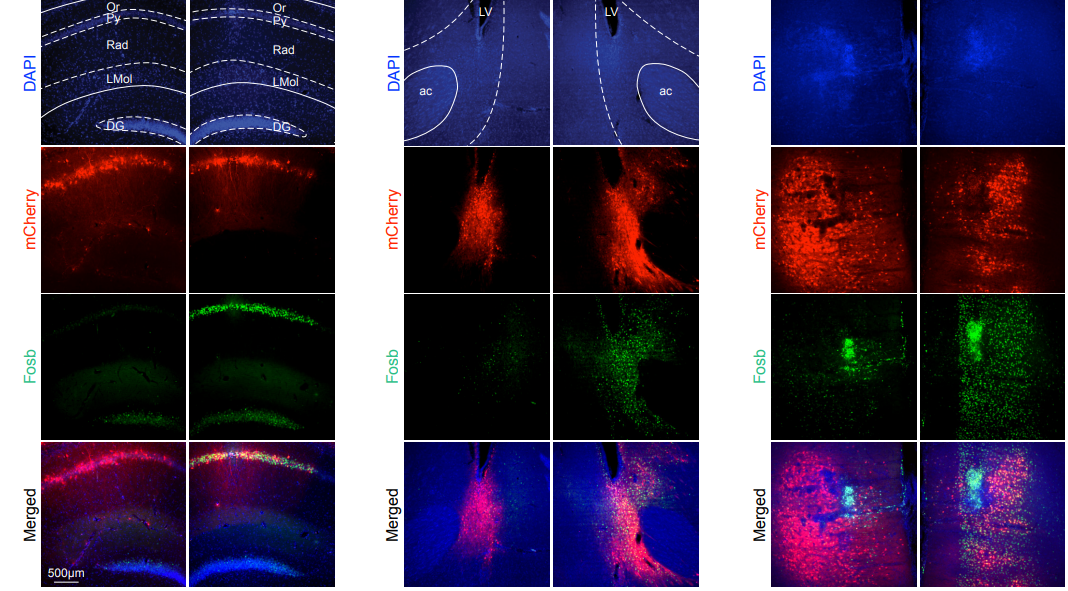 A neuron-optimized CRISPR/dCas9 activation system for robust and specific gene regulation
Katherine E. Savell, Svitlana V. Bach, Morgan E. Zipperly, Jasmin S. Revanna, Nicholas A. Goska, Jennifer J. Tuscher, Corey G. Duke, Faraz A. Sultan, Julia N. Burke, Derek M. Williams, Lara Ianov, Jeremy J Day
Gene-expression profiling of single cells from archival tissue with laser-capture microdissection and Smart-3SEQ
Joseph W Foley, Chunfang Zhu, Philippe Jolivet, Shirley X Zhu, Peipei Lu, Michael J Meaney, Robert B West
Web-based design and analysis tools for CRISPR base editing
Gue-ho Hwang, Jeongbin Park, Kayeong Lim, Sunghyun Kim, Jihyeon Yu, Sang-Tae Kim, Roland Eils, Jin-Soo Kim, Sangsu Bae
DoubletFinder: Doublet detection in single-cell RNA sequencing data using artificial nearest neighbors
Christopher S McGinnis, Lyndsay M Murrow, Zev J Gartner
CRISPR-bind: a simple, custom CRISPR/dCas9-mediated labeling of genomic DNA for mapping in nanochannel arrays
Denghong Zhang, Saki Chan, Kenneth Sugerman, Joyce Lee, Ernest T Lam, Sven Bocklandt, Han Cao, Alex R Hastie
A simple and effective method to isolate germ nuclei from C. elegans for genomic assays.
Mei Han, Guifeng Wei, Catherine E McManus, Valerie Reinke
Panoramic stitching of heterogeneous single-cell transcriptomic data
Brian L Hie, Bryan Bryson, Bonnie Berger
Ultra-sensitive proteome profiling of FACS-isolated cell populations by data-independent acquisition-MS: Application to human hematopoietic stem and progenitor cells
Sabine Amon, Fabienne Meier-Abt, Ludovic C Gillet, Slavica Dimitrieva, Alexandre PA Theocharides, Markus G Manz, Ruedi Aebersold
High-throughput yeast two-hybrid library screening using next generation sequencing
Alain Goossens, Marie-Laure Erffelinck, Bianca Ribeiro, Maria Perassolo, Laurens Pauwels, Jacob Pollier, Veronique Storme
A GAL80 collection to inhibit GAL4 transgenes in Drosophila olfactory sensory neurons
Jessica Eliason, Ali Afify, Christopher Potter, Ichiro Matsumura
CellFishing.jl: an ultrafast and scalable cell search method for single-cell RNA-sequencing
Kenta Sato, Koki Tsuyuzaki, Kentaro Shimizu, Itoshi Nikaido
Research practice & education
High cost of bias: Diminishing marginal returns on NIH grant funding to institutions
Wayne P. Wahls
The GRE Over the Entire Range of Scores Lacks Predictive Ability for PhD Outcomes in the Biomedical Sciences
Linda Sealy, Christina Saunders, Jeffery Blume, Roger Chalkley
Long term impact of intensive post graduate laboratory training at the Cold Spring Harbor Neurobiology of Drosophila summer course
Sarah Ly, Karla Kaun, Chi-hon Lee, David Stewart, Stefan R Pulver, Alex C Keene
Manipulating the alpha level cannot cure significance testing
Trafimow D, Amrhein V, Areshenkoff CN, Barrera-Causil C, Beh EJ, Bilgiç Y, Bono R, Bradley MT, Briggs WM, Cepeda-Freyre HA, Chaigneau SE, Ciocca DR, Carlos Correa J, Cousineau D, de Boer MR, Dhar SS, Dolgov I, Gómez-Benito J, Grendar M, Grice J, Guerrero-Gimenez ME, Gutiérrez A, Huedo-Medina TB, Jaffe K, Janyan A, Karimnezhad A, Korner-Nievergelt F, Kosugi K, Lachmair M, Ledesma R, Limongi R, Liuzza MT, Lombardo R, Marks M, Meinlschmidt G, Nalborczyk L, Nguyen HT, Ospina R, Perezgonzalez JD, Pfister R, Rahona JJ, Rodríguez-Medina DA, Romão X, Ruiz-Fernández S, Suarez I, Tegethoff M, Tejo M, van de Schoot R, Vankov I, Velasco-Forero S, Wang T, Yamada Y, Zoppino FC, Marmolejo-Ramos F
Inferential statistics are descriptive statistics
Valentin Amrhein, David Trafimow, Sander Greenland
Making headlines: An analysis of US government-funded cancer research mentioned in online media
Lauren A Maggio, Chelsea L Ratcliff, Melinda Krakow, Laura L Moorhead, Asura Enkhbayar, Juan Pablo Alperin
Why not…
The humungous fungus of Michigan three decades on
James B Anderson, Johann N Bruhn, Dahlia Kasimer, Hao Wang, Nicolas Rodrigue, Myron L Smith
How do your genetics compare to the world's elite marathoners?
Gregory E Sims, Xiang-Pei Zheng, Jeffrey Falk, Michael Nova