Welcome to our monthly trawl for preprints in developmental biology (plus those hopefully relevant for developmental biologists).
May featured the usual catch of fascinating and beautiful work across the spectrum in the field, from Hox in mice and beetles, doublesex in beetles and bees, and three spinal cord regeneration preprints (incuding one using lampreys!). Our most prolific preprinter was Didier Stainier with four – a productive month for the Bad Nauheim-based biologist.
The preprints were hosted on bioRxiv, PeerJ, and arXiv. Use these links to get to the section you want:
| Stem cells, regeneration & disease modelling
Developmental biology
| Patterning & signalling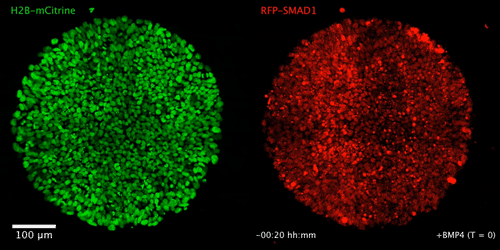 WNT signaling memory is required for ACTIVIN to function as a morphogen in human gastruloids
Anna Yoney, Fred Etoc, Albert Ruzo, Jakob J Metzger, Iain Martyn, Shu Li, Christoph Kirst, Thomas Carroll, Eric D Siggia, Ali H Brivanlou
Molecular mechanism of symmetry breaking in a 3D model of a human epiblast
Mijo Simunovic, Jakob J. Metzger, Fred Etoc, Anna Yoney, Albert Ruzo, Iain Martyn, Gist Croft, Ali H. Brivanlou, Eric D. Siggia

Emergence of a node-like population within an in vitro derived Neural Mesodermal Progenitors (NMPs) population
Shlomit Edri, Penelope Hayward, Wajid Jawaid, Alfonso Martinez Arias
An Epiblast Stem Cell derived multipotent progenitor population for axial extension
Shlomit Edri, Penelope Hayward, Peter Baillie-Johnson, Benjamin Steventon, Alfonso Martinez Arias
Extracellular Vesicle-delivered Bone Morphogenetic Proteins: A novel paracrine mechanism during embryonic development
Thomas Draebing, Jana Heigwer, Lonny Juergensen, Hugo Albert Katus, David Hassel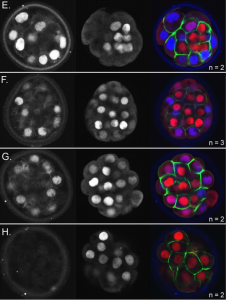 HIPPO signaling provides a fail-safe for resolving embryonic cell fate conflicts during establishment of pluripotency in vivo
Tristan Frum, Amy Ralston
The effector of Hippo signaling, Taz, is required for formation of the micropyle and fertilization in zebrafish
Xiaogui Yi, Jia Yu, Chao Ma, Guoping Dong, Wenpeng Shi, Li Li, Lingfei Luo, Karuna Sampath, Hua Ruan, Honghui Huang
Nr5a1 suppression during the fetal period optimizes ovarian development by fine-tuning of Notch signaling
Risa Nomura, Kenichi Kashimada, Hitomi Suzuki, Liang Zhao, Atsumi Hosokawa Tsuji, Hideo Yagita, Masatoshi Takagi, Yoshiakira Kanai, Josephine Bowles, Peter Koopman, Masami Kanai-Azuma, Tomohiro Morio
Presence of midline cilia supersedes the expression of Lefty1 in forming the midline barrier during the establishment of left-right asymmetry
Natalia A Shylo, Dylan A Ramrattan, Scott D Weatherbee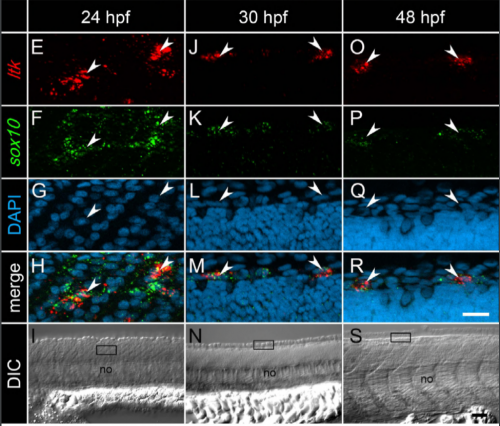 A systems biology approach uncovers the core gene regulatory network governing iridophore fate choice from the neural crest.
Kleio Petratou, Tatiana Subkhankulova, James A Lister, Andrea Rocco, Hartmut Schwetlick, Robert N. Kelsh
The gene regulatory basis of genetic compensation during neural crest induction
Christopher M Dooley, Neha Wali, Ian M Sealy, Richard J White, Derek L Stemple, John E Collins, Elisabeth M Busch-Nentwich
Examining the Role of the Surfactant Family Member SFTA3 in Interneuron Specification
Christopher Chen, Nickesha Anderson, Sandy Becker, Martin Schicht, Christopher Stoddard, Lars Bräuer, Friedrich Paulsen, Laura Grabel
Loss of YAP/TAZ impaired the proliferation and differentiation ability of neural progenitor cells
Shanshan Kong
Molecular determinants of WNT9b responsiveness in nephron progenitor cells
Kyle K Dickinson, Leah C Hammond, Courtney M Karner, Nicholas D Hastie, Thomas J Carroll, Paul R Goodyer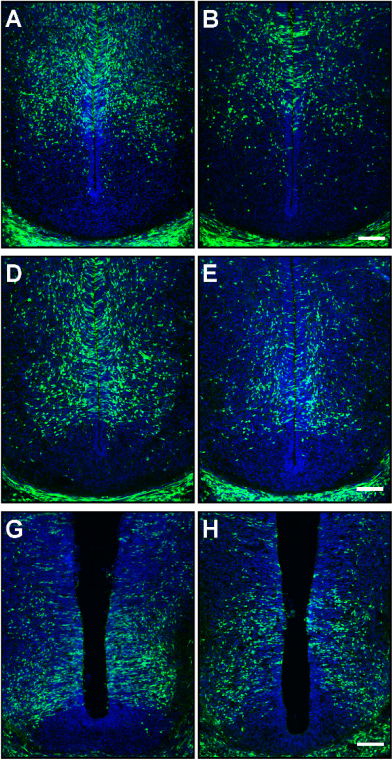 Distinct temporal requirements for Sonic hedgehog signaling in development of the tuberal hypothalamus
Douglas Epstein, Tanya Corman, Solsire Zevallos
A stochastic epigenetic switch controls the dynamics of T-cell lineage commitment
Kenneth K.N. Ng, Mary A Yui, Arnav Mehta, Sharmayne Siu, Blythe Irwin, Shirley Pease, Satoshi Hirose, Michael B Elowitz, Ellen V. Rothenberg, Hao Yuan Kueh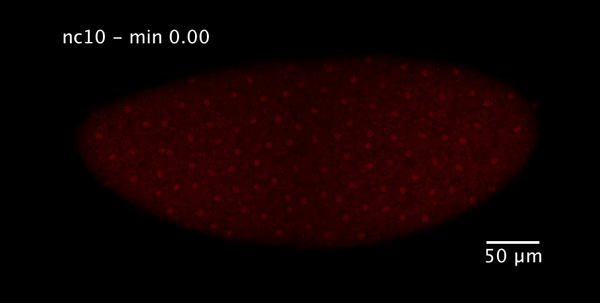 Kinetic sculpting of the seven stripes of the Drosophila even-skipped gene
Augusto Berrocal, Nicholas C Lammers, Hernan G Garcia, Michael B Eisen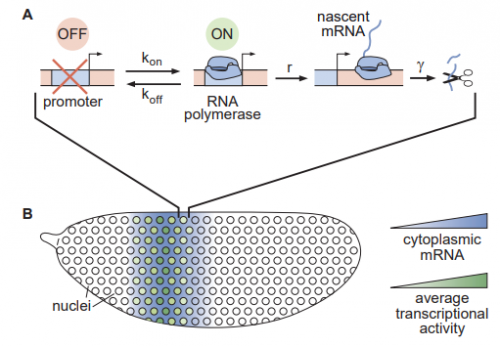 Binary transcriptional control of pattern formation in development
Nicholas C Lammers, Vahe Galstyan, Armando Reimer, Sean A Medin, Chris H Wiggins, Hernan G Garcia
The JNK signaling links the CNS architectural organization to motor coordination in the Drosophila embryo
Katerina Karkali, George Panayotou, Timothy E Saunders, Enrique Martin-Blanco
Hmgcr promotes a long-range signal to attract germ cells which is aided by Wunens but independent of hh
Kim Kenwrick, Amrita Mukherjee, Andrew Renault
Determination of novel members in the Drosophila melanogaster anterior-posterior patterning system using natural variation
Ashley A Jermusyk, Sarah E Gharavi, Aslesha S Tingare, Gregory T. Reeves
Dorsal/NF-κB exhibits a dorsal-to-ventral mobility gradient in the Drosophila embryo
Hadel Al Asafen, Natalie M Clark, Thomas Jacobsen, Rosangela Sozzani, Gregory Reeves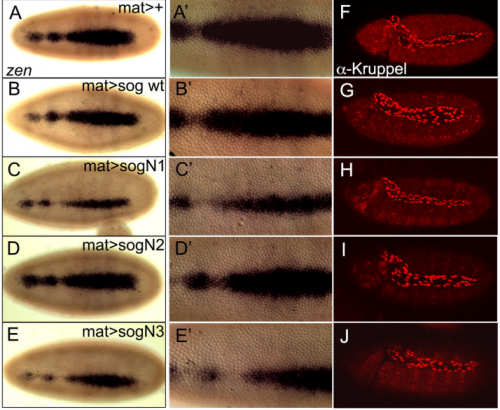 N-linked glycosylation of the antagonist Short gastrulation increases the functional complexity of BMP signals
Erika Negreiros, Sophie Herszterg, Kyung-Hwa Kang, Amanda Camara, Wagner Dias, Katia Carneiro, Ethan Bier, Adriane Todeschini, Helena Araujo
Planar cell polarity: the prickle gene acts independently on both the Ds/Ft and the Stan systems
Jose Casal, Beatriz Ibanez-Jimenez, Peter A. Lawrence
Spatio-temporal regulation of Dachsous proteins expressed during Drosophila development
Eva Revilla Yates, Javier Sierra, Isabel Rodriguez
Combinations of DIPs and Dprs control organization of olfactory receptor neuron terminals in Drosophila
Scott Barish, Sarah Nuss, Ilya Strunilin, Suyang Bao, Sayan Mukherjee, Corbin D Jones, Pelin C Volkan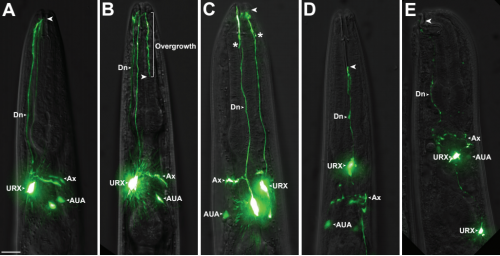 A neuronal MAP kinase constrains growth of a C. elegans sensory dendrite throughout the life of the organism
Ian G. McLachlan, Isabel Beets, Mario de Bono, Maxwell G Heiman
Ordered arrangement of dendrites within a C. elegans sensory nerve bundle
Zhiqi Candice Yip, Maxwell G Heiman
ZAG-1/ZEB and EGL-44/TEAD form a negative feedback loop to safeguard the choice of cell fate
Chaogu Zheng, Felix Qiaochu Jin, Brian Loeber Trippe, Martin Chalfie
Physiological starvation increases EGF-Ras-MAPK pathway activity during C. elegans vulval induction
Christian Braendle, Stéphanie Grimbert, Amhed Missael Vargas Velazquez
An insulin, AMPK, and steroid hormone-mediated metabolic switch regulates the transition between growth and diapause in C. elegans
Sider Penkov, Cihan Erkut, Jana Oertel, Roberta Galli, Daniela Vorkel, Jean-Marc Verbavatz, Edmund Koch, Karim Fahmy, Teymuras V. Kurzchalia
The Emergent Connectome in Caenorhabditis elegans Embryogenesis
DevoWorm Group, Bradly J. Alicea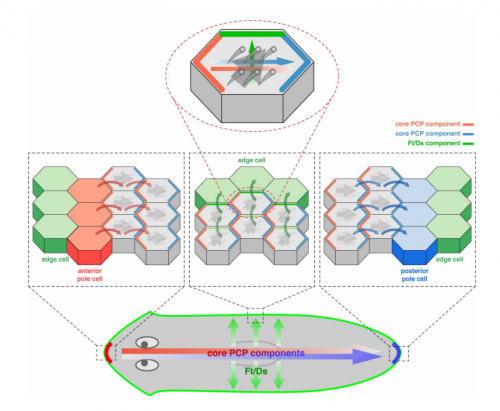 Multi-scale coordination of planar cell polarity in planarians
Hanh Thi-Kim Vu, Sarah Mansour, Michael Kuecken, Corinna Blasse, Cyril Basquin, Juliette Azimzadeh, Eugene Wimberly Myers, Lutz Brusch, Jochen Christian Rink
Complexity of ABA signaling for stomatal development and aperture regulation
Pirko Jalakas, Ebe Merilo, Hannes Kollist, Mikael Brosche
Auxin regulates endosperm cellularization in Arabidopsis
Duarte D. Figueiredo, Rita A. Batista, Claudia Kohler
Nucleus- and plastid-targeted annexin 5 promotes reproductive development in Arabidopsis and is essential for pollen and embryo formation
Malgorzata Lichocka, Wojciech Rymaszewski, Karolina Morgiewicz, Izabela Barymow-Filoniuk, Aleksander Chlebowski, Miroslaw Sobczak, Marcus Samuel, Elmon Schmelzer, Magdalena Krzymowska, Jacek Hennig
| Morphogenesis & mechanics

Anisotropic growth is achieved through the additive mechanical effect of material anisotropy and elastic asymmetry
Firas Bou Daher, Yuanjie Chen, Behruz Bozorg, Jack Heywood Clough, Henrik Jönsson, Siobhan A Braybrook
Cellular heterogeneity in pressure and growth emerges from tissue topology and geometry
Yuchen Long, Ibrahim Cheddadi, Vincent Mirabet, Mathilde Dumond, Christophe Godin, Arezki Boudaoud
Week-long imaging of cell divisions in the Arabidopsis root meristem
Ramin Rahni, Kenneth D Birnbaum
PRX9 and PRX40 are extensin peroxidases essential for maintaining tapetum and microspore cell wall integrity during Arabidopsis anther development
Joseph Jacobowitz, Jing-Ke Weng
Body size-dependent energy storage causes Kleiber's law scaling of the metabolic rate in planarians
Albert Thommen, Steffen Werner, Olga Frank, Jenny Philipp, Oskar Knittelfelder, Yihui Quek, Karim Fahmy, Andrej Shevchenko, Benjamin M. Friedrich, Frank Julicher, Jochen C. Rink
Probing the origin of matching functional jaws: roles of Dlx5/6 in cranial neural crest cells.
Miki Shimizu, Nicolas Narboux-Nême, Yorick Gitton, Camille de Lombares, Anastasia Fontaine, Gladys Alfama, Taro Kitazawa, Yumiko Kawamura, Eglantine Heude, Lindsey Marshall, Hiroki Higashiyama, Youichiro Wada, Yukiko Kurihara, Hiroki Kurihara, Giovanni Levi
Synchronized mesenchymal cell polarization and differentiation shape the formation of the murine trachea and esophagus
Keishi Kishimoto, Masaru Tamura, Michiru Nishita, Yasuhiro Minami, Akira Yamaoka, Takaya Abe, Mayo Shigeta, Mitsuru Morimoto
The potassium channel KCNJ13 is essential for smooth muscle cytoskeletal organization during mouse tracheal tubulogenesis
Wenguang Yin, Hyun-Taek Kim, ShengPeng Wang, Felix Gunawan, Lei Wang, Keishi Kishimoto, Hua Zhong, Dany Roman, Jens Preussner, Stefan Guenther, Viola Graef, Carmen Buettner, Beate Grohmann, Mario Looso, Mitsuru Morimoto, Graeme Mardon,Stefan Offermanns, Didier Y.R. Stainier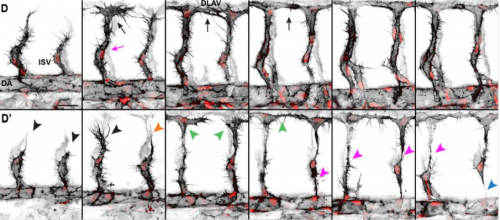 Endothelial and non-endothelial responses to estrogen excess during development lead to vascular malformations
Silvia Parajes, Sophie Ramas, Didier Y.R. Stainier
Hhex regulates the specification and growth of the hepatopancreatic ductal system
Alethia Villasenor, Sebastien Gauvrit, Michelle M Collins, Silvia Parajes, Hans-Martin Maischein, Didier Stainier
Generation of the squamous epithelial roof of the 4th ventricle
Florent Campo-Paysaa, Jonathan D.W. Clarke, Richard J.T. Wingate
On the Development of Sesamoid Bones
Shai Eyal, Sara Rubin, Sharon Krief, Lihi Levin, Elazar Zelzer
Bone Morphology is Regulated Modularly by Global and Regional Genetic Programs
Shai Eyal, Shiri Kult, Sara Rubin, Sharon Krief, Kyriel M. Pineault, Deneen Wellik, Elazar Zelzer
Actomyosin dynamics, Bmp and Notch signaling pathways drive apical extrusion of proepicardial cells
Nadia Mercader
Integrin and ligand-independent PDGFr signaling synergistically contribute to directional migration of Xenopus mesendoderm
Crystal M. Richardson, Bette J. Dzamba, Pooja R. Sonavane, Douglas W. DeSimone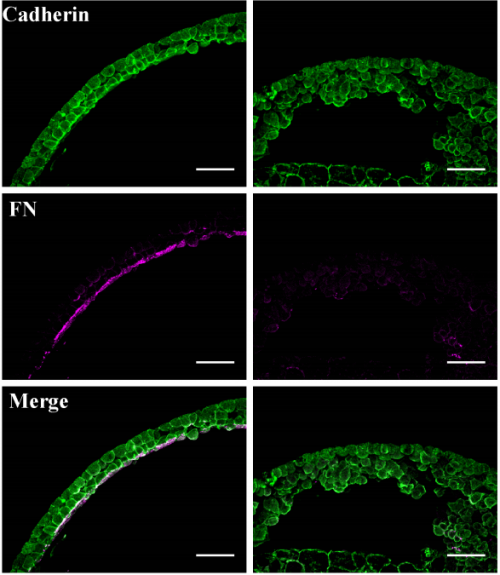 Multiple functions for the catenin family member plakoglobin in cadherin-dependent adhesion, fibronectin matrix assembly and Xenopus gastrulation movements
Glen D. Hirsh, Bette J. Dzamba, Pooja R. Sonavane, David R. Shook, Claire M. Allen, Douglas W. DeSimone
Simultaneous in vivo time-lapse stiffness mapping and fluorescence imaging of developing tissue
Amelia J Thompson, Eva K Pillai, Ivan B Dimov, Christine E Holt, Kristian Franze
Frequency and synchrony of actomyosin oscillation during PCP-dependent convergent extension
Asako Shindo, Yasuhiro Inoue, Makoto Kinoshita, John B. Wallingford
Par3 regulates Rac1 signaling and microtubule organization during planar polarization of auditory hair cells
Xiaowei Lu, Andre Landin Malt, Zachary Dailey, Julia Holbrook-rasmussen, Yuqiong Zheng, Quansheng Du
Isotropic myosin-generated tissue tension is required for the dynamic orientation of the mitotic spindle
Maxine SY Lam, Ana Lisica, Nitya Ramkumar, Yanlan Mao, Guillaume Charras, Buzz Baum
Spatiotemporally controlled Myosin relocalization and internal pressure cause biased cortical extension to generate sibling cell size asymmetry
Tri Thanh Pham, Arnaud Monnard, Jonne Helenius, Erik Lund, Nicole Lee, Daniel Mueller, Clemens Cabernard
Type IV collagen is essential for proper function of integrin-mediated adhesion in Drosophila muscle fibers
Andras A. Kiss, Nikoletta Popovics, Kiss Marton, Zsolt Boldogkoi, Katalin Csiszar, Matyas Mink
The ubiquitin ligase CRL3Kelch targets HtsRC to organize the Drosophila ring canal cytoskeleton
Andrew M. Hudson, Katelynn M. Mannix, Julianne A. Gerdes, Molly C. Kottemann, Lynn Cooley
Rap2 and TNIK control Plexin-dependent synaptic tiling in C. elegans
Xi Chen, Akihiro CE Shibata, Ardalan Hendi, Mizuki Kurashina, Ethan Fortes, Nicholas L Weilinger, Brian MacVicar, Hideji Murakoshi, Kota Mizumoto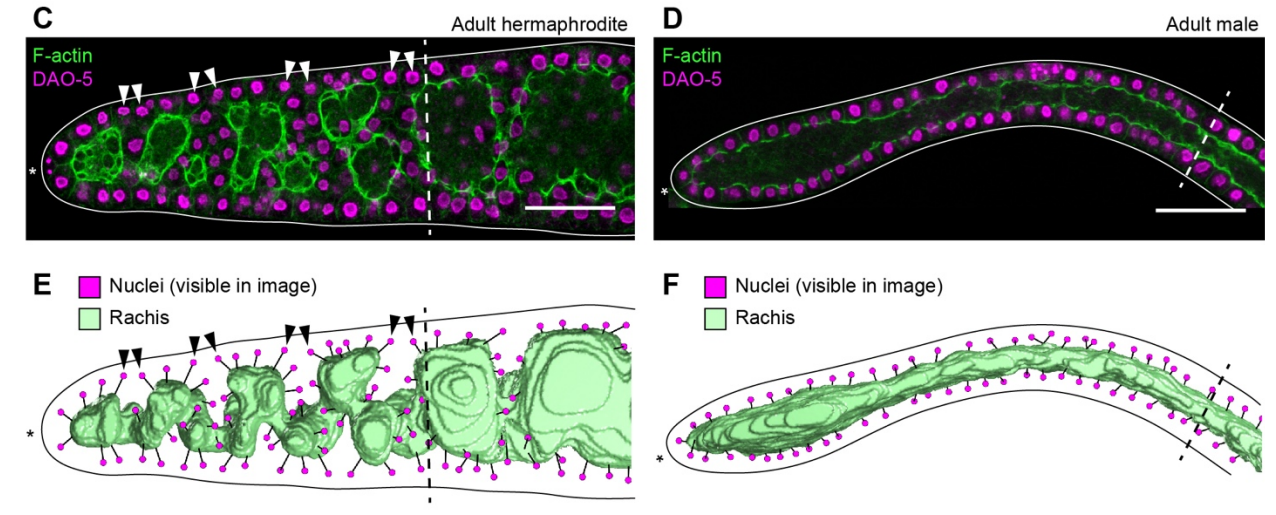 C. elegans germ cells divide and differentiate along a folded epithelium
Hannah S Seidel, Tilmira A Smith, Jessica K Evans, Jarred Q Stamper, Thomas G Mast, Judith Kimble
The RhoGAP myosin 9/HUM-7 integrates membrane signals to modulate Rho/RHO-1 during embryonic morphogenesis in C. elegans
Andre G. Wallace, Hamidah Raduwan, John Carlet, Martha C. Soto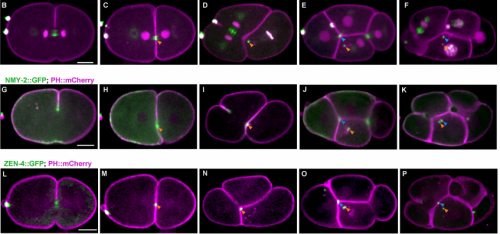 Programmed Variations of Cytokinesis Contribute to Morphogenesis in the C. elegans embryo
Xiaofei Bai, Po-Yi Lee, Chin-Yi Chen, James R. Simmons, Benjamin Nebenfuehr, Diana Mitchell, Lindsey R Klebanow, Nicholas Mattson, Christopher G Sorensen Turpin, Bi-Chang Chen, Eric Betzig, Joshua N Bembenek
Comparison of the 3-D patterns of the parasympathetic nervous system in the lung at late developmental stages between mouse and chicken
Tadayoshi Watanabe, Ryo Nakamura, Yuta Takase, Etsuo A Susaki, Hiroki R Ueda, Ryosuke Tadokoro, Yoshiko Takahashi
| Genes & genomes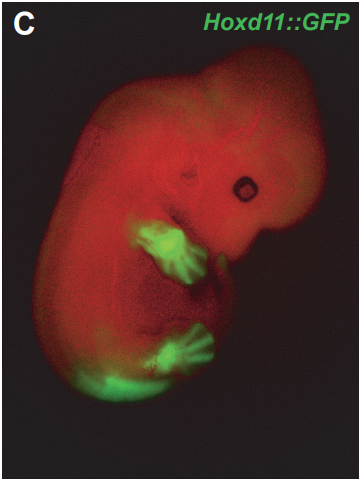 Single-cell mRNA profiling reveals heterogeneous combinatorial expression of Hoxd genes during limb development
Pierre J Fabre, Marion Leleu, Benedicte Mascrez, Quentin Lo Giudice, John Cobb, Denis Duboule
Control of Hox transcription factor concentration and cell-to-cell variability by an auto-regulatory switch
Dimitrios K. Papadopoulos, Kassiani Skouloudaki, Ylva Engstrom, Lars Terenius, Rudolf Rigler, Christoph Zechner, Vladana Vukojevic, Pavel Tomancak
Genetic compensation is triggered by mutant mRNA degradation
Mohamed El-Brolosy, Andrea Rossi, Zacharias Kontarakis, Carsten Kuenne, Stefan Guenther, Nana Fukuda, Carter Takacs, Shih-Lei Lai, Ryuichi Fukuda, Claudia Gerri, Khrievono Kikhi, Antonio Giraldez, Didier Y.R. Stainier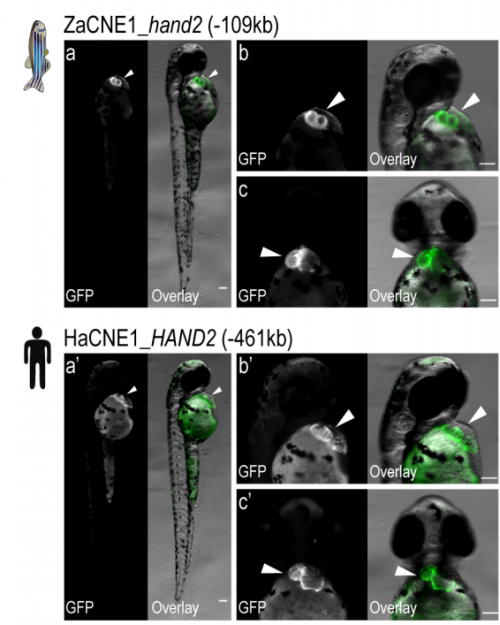 Heart enhancers with deeply conserved regulatory activity are established early in development
Xuefei Yuan, Mengyi Song, Patrick Devine, Benoit G. Bruneau, Ian C. Scott, Michael D. Wilson
Genome-Wide Identification of HES1 Target Genes Uncover Novel Roles for HES1 in Pancreatic Development
Kristian Honnens de Lichtenberg, Nina Sofi Funa, Nikolina Nakic, Jorge Ferrer, Zengrong Zhu, Danwei Huangfu, Palle Serup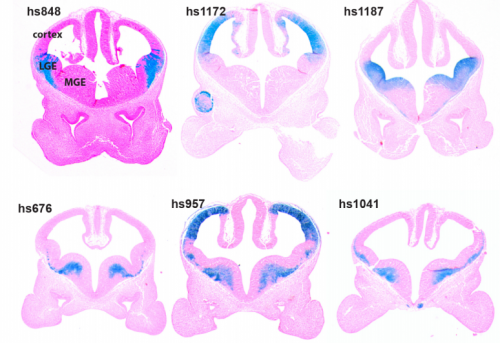 Genomic Analysis of a Transcriptional Networks Directing Progression of Cell States During MGE development.
Magnus Sandberg, Leila Taher, Jiaxin Hu, Brian L Black, Alex S Nord, John L.R. Rubenstein
Single-Cell Sequencing of Primate Preimplantation Embryos Reveals Chromosome Elimination Via Cellular Fragmentation and Blastomere Exclusion
Brittany L. Daughtry, Jimi L Rosenkrantz, Nathan H. Lazar, Suzanne S. Fei, Nash Redmayne, Kristof A. Torkenczy, Andrew Adey, Lina Gao, Byung Park, Kimberly A. Nevonen, Lucia Carbone, Shawn L. Chavez
Transcriptome analysis of early stage of neurogenesis reveals regulatory gene network for preplate neuron differentiation and CR cell specification
Jia Li, Lei Sun, Xue-Liang Peng, Shao-Jun Qi, Qin Shen
Rbfox1 mediates cell-type-specific splicing in cortical interneurons
Xavier Hubert Jaglin, Brie Wamsley, Emilia Favuzzi, Giulia Quattracolo, Maximiliano Jose Nigro, Nusrath Yusef, Alireza Khodadadi-Jamayran, Bernardo Rudy, Gordon Fishell
Dlk1-Dio3 Locus-Derived LncRNAs Perpetuate Postmitotic Motor Neuron Cell Fate and Subtype Identity
Ya-Ping Yen, Wen-Fu Hsieh, Ya-Lin Lu, Ee Shan Liau, Ho-Chiang Hsu, Yen-Chung Chen, Ting-Chun Liu, Mien Chang, Joye Li, Shau-Ping Lin, Jui-Hung Hung, Jun-An Chen
CRISPR/Cas9-mediated knock-out of dUTPase in mice leads to early embryonic lethality
Hajnalka L Palinkas, Gergely Racz, Zoltan Gal, Orsolya Hoffmann, Gergely Tihanyi, Elen Gocza, Laszlo Hiripi, Beata Vertessy
POT1a depletion in the developing brain leads to p53-dependent neuronal cell death and ataxia.
Robert She, Charlie Clapp, Eros Lazzerini Denchi
Regulated nuclear accumulation of a histone methyltransferase times the onset of heterochromatin formation in C. elegans embryos
Beste Mutlu, Huei-Mei Chen, James J. Moresco, Barbara D. Orelo, Bing Yang, John M. Gaspar, Sabine Keppler-Ross, John R. Yates III, David H. Hall, Eleanor M. Maine, Susan E. Mango
The interplay between small RNA pathways shapes chromatin landscape in C. elegans
Ekaterina Gushchanskaia, Ruben Esse, Qicheng Ma, Nelson Lau, Alla Grishok
DOT1L suppresses nuclear RNAi originating from enhancer elements in Caenorhabditis elegans
Ruben Esse, Ekaterina Gushchanskaia, Avery Lord, Alla Grishok
The spatial and temporal dynamics of the nuclear RNAi-targeted RNA transcripts in Caenorhabditis elegans
Julie Zhouli Ni, Natallia Kalinava, Sofia Galindo Mendoza, Sam Guoping Gu
DAF-16/Foxo suppresses the transgenerational sterility of prg-1 piRNA mutants via a systemic small RNA pathway
Matt Simon, Maya Spichal, Bree Heestand, Stephen Frenk, Ashley Hedges, Malik Godwin, Alicia Wellman, Aisa Sakaguchi, Shawn Ahmed
Deficiency for Piwi results in transmission of a heritable stress that promotes longevity via DAF-16/Foxo
Bree Heestand, Matt Simon, Stephen Frenk, Shawn Ahmed
The H3K9 methyltransferase SETDB1 maintains female identity in Drosophila germ cells by repressing expression of key spermatogenesis genes
Anne Smolko, Laura Shapiro-Kulnane, Helen Salz
Histone deacetylase HDA19 affects cortical cell fate by interacting with SCARECROW in the Arabidopsis root
Wenqian Chen, Colleen Drapek, Dongxu Li, Zhihong Xu, Philip Benfey, Shunong Bai
Variants of DNMT3A cause transcript-specific DNA methylation patterns and affect hematopoietic differentiation
Tanja Bozic, Joana Frobel, Annamarija Raic, Fabio Ticconi, Chao-Chung Kuo, Stefanie Heilmann-Heimbach, Tamme W. Goecke, Martin Zenke, Edgar Jost, Ivan Gesteira Costa Filho, Wolfgang Wagner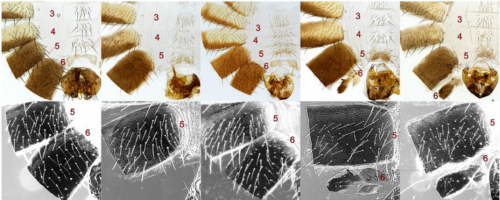 The bithorax complex iab-7 Polycomb Response Element has a novel role in the functioning of the Fab-7 chromatin boundary
Olga Kyrchanova, Amina Kurbidaeva, Marat Sabirov, Nikolay Postika, Daniel Wolle, Tsutomu Aoki, Oksana Maksimenko, Vladic Mogila, Paul Schedl, Pavel Georgiev
Maternal temperature exposure triggers emotional and cognitive disorders and dysregulation of neurodevelopment genes in fish
Violaine Colson​​, Morgane Cousture, Danielle Zanerato-Damasceno, Claudiane Valotaire, Thaovi Nguyen, Aurélie Le Cam, Julien Bobe
| Stem cells, regeneration & disease modelling
Decoupling the impact of microRNAs on translational repression versus RNA degradation in embryonic stem cells
Jacob Freimer, TJ Hu, Robert Blelloch
Regulation of neural stem cell fate by the transcriptional repressor Capicua
Sheikh Tanveer Ahmad, Alexandra D Rogers, Myra J Chen, Rajiv Dixit, Lata Adnani, Luke Frankiw, Samuel O Lawn, Michael D Blough, Mana Alshehri, Wei Wu, Stephen M Robbins, Gregory Cairncross, Carol Schuurmans, Jennifer Chan
Hierarchical organization of developing HSPC in the human embryonic liver
Estelle Oberlin, Yanyan Zhang, Denis Clay, Maria-Teresa Mitjavilla-Garcia, Aurelie Alama, Benoit Mennesson, Helene Berseneff, Fawzia Louache, Annelise Bennaceur-Griscelli
Using deep whole genome sequence, transcriptome and epigenome data to characterize the mutational burden of induced pluripotent stem cells
Matteo D'Antonio, Paola Benaglio, David A. Jakubosky, William W. Greenwald, Hiroko Matsui, Margaret K.R. Donovan, He Li, Erin N. Smith, Agnieszka D'Antonio-Chronowska, Kelly A. Frazer
Genome-Scale CRISPR Screening Identifies Novel Human Pluripotent Gene Networks
Robert J Ihry, Max R Salick, Daniel Ho, Marie Sondey, Sravya Kommineni, Steven Paula, Joe Raymond, Elizabeth Frias, Kathleen A Worringer, Carsten Russ, John Reece-Hoyes, Bob Altshuler, Ranjit Randhawa, Zinger Yang, Gregory McAllister, Gregory R Hoffman, Ricardo Dolmetsch, Ajamete Kaykas
Single-Cell Transcriptome Sequencing Of Human Induced Pluripotent Stem Cells Identifies Differentially Primed Subpopulations
Quan Nguyen, Samuel Lukowski, Han Chiu, Anne Senabouth, Timothy Bruxner, Angelika Christ, Nathan Palpant, Joseph Powell

Nuclear polymorphism and non-proliferative adult neurogenesis in human neural crest-derived cells.
Carlos Bueno, Marta Martinez-Morga, Salvador Martinez
Three-dimensional cultured Liver-on-a-Chip with mature hepatocyte-like cells derived from human pluripotent stem cells
Ken-ichiro Kamei, Momoko Yoshioka, Shiho Terada, Yumie Tokunaga, Yong Chen
Multifunctional RNA-binding proteins mediate ecdysone-dependent germline stem cell self-renewal in Drosophila
Danielle S Finger, Vivian V Holt, Elizabeth T Ables
The Germ Theory of Regeneration
Caroline W Beck, Thomas F Bishop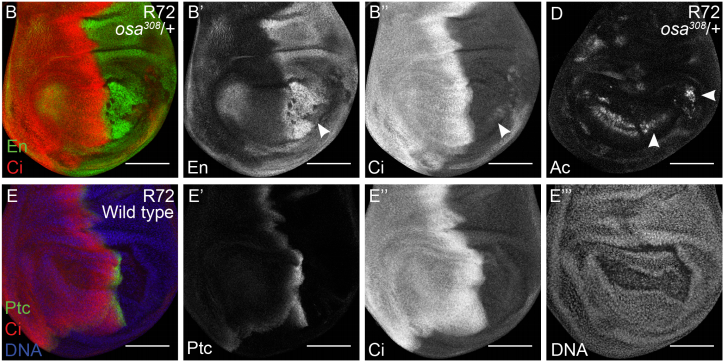 The Drosophila SWI/SNF chromatin-remodeling complexes play separate roles in regulating growth and cell fate during regeneration
Yuan Tian, Rachel K Smith-Bolton
Krüppel like factor 2 – deficient myeloid cells promote skeletal muscle regeneration after injury
Palanikumar Manoharan, Taejeong Song, Tatiana L Radzyukevich, Sakthivel Sadayappan, Jerry B Lingrel, Judith A Heiny
Dynamic control of proinflammatory cytokines Il-1β and Tnf-α by macrophages is necessary for functional spinal cord regeneration in zebrafish
Themistoklis M. Tsarouchas, Daniel Wehner, Leonardo Cavone, Tahimina Munir, Marcus Keatinge, Marvin Lambertus, Anna Underhill, Thomas Barrett, Elias Kassapis, Nikolay Ogryzko, Yi Feng, Tjakko J. van Ham, Thomas Becker, Catherina G. Becker
Glucocorticoid Regulation of Ependymal Glia and Regenerative Potential after Spinal Cord Injury
Craig M Nelson, Han B Lee, Randall G Krug, Aichurok Kamalova, Nicolas N Madigan, Karl J Clark, Vanda A Lennon, Anthony J Windebank, John R Henley
Serotonin inhibits axonal regeneration of identifiable descending neurons after a complete spinal cord injury in lampreys
Daniel Sobrido-Camean, Diego Robledo, Laura Sanchez, Maria Celina Rodicio, Anton Barreiro-Iglesias
Magnetic resonance imaging of the regenerating neonatal mouse heart
Mala Gunadasa-Rohling, Megan Masters, Mahon Maguire, Sean Smart, Jurgen Schneider, Paul Riley
The osteogenic potential of the neural crest lineage may contribute to craniosynostosis
Daniel Doro, Annie Liu, Agamemnon E Grigoriadis, Karen J Liu
The dyslexia susceptibility KIAA0319 gene shows a highly specific expression pattern during zebrafish development supporting a role beyond neuronal migration.
Monika Gostic, Angela Martinelli, Carl Tucker, Zhengyi Yang, Federico Gasparoli, Jade-Yi Ewart, Kishan Dholakia, Keith Sillar, Javier Tello, Silvia Paracchini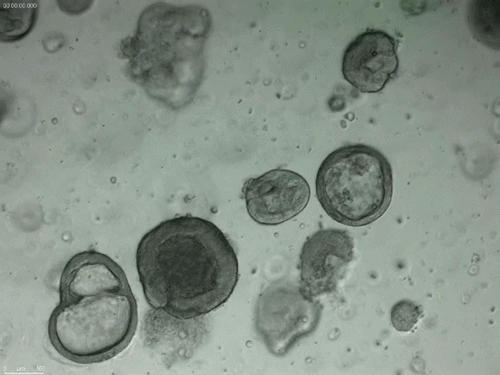 Long-term expanding human airway organoids for disease modelling.
Norman Sachs, Domenique D. Zomer-van Ommen, Angelos Papaspyropoulos, Inha Heo, Lena Bottinger, Dymph Klay, Fleur Weeber, Guizela Huelsz-Prince, Nino Iakobachvili, Marco C. Viveen, Anna Lyubimova, Luc Teeven, Sepideh Derakhshan, Jeroen Korving, Harry Begthel, Kuldeep Kumawat, Emilio Ramos, Matthijs F.M. van Oosterhout, Eduardo P. Olimpio, Joep de Ligt, Krijn K. Dijkstra, Egbert F. Smit, Maarten van der Linden, Emile E. Voest, Coline H.M. van Moorsel, Cornelis K. van der Ent, Edwin Cuppen, Alexander van Oudenaarden, Frank E. Coenjaerts, Linde Meyaard, Louis J. Bont, Peter J. Peters, Sander J. Tans, Jeroen S. van Zon, Sylvia F. Boj, Robert G. Vries, Jeffrey M. Beekman, Hans Clevers
Cerebral organoid proteomics reveals signatures of dysregulated cortical development associated with human trisomy 21
Tristan D McClure-Begley, Christopher C Ebmeier, Kerri E Ball, Jeremy R Jacobsen, Igor Kogut, Ganna Bilousova, Michael K Klymkowsky, William M Old
Pathogenic DDX3X mutations impair RNA metabolism and neurogenesis during fetal cortical development
Ashley L. Lennox, Ruiji Jiang, Lindsey Suit, Brieana Fregeau, Charles J. Sheehan, Kimberly A. Aldinger, Ching Moey, Iryna Lobach, Ghayda Mirzaa, Alexandra Afenjar, Dusica Babovic-Vuksanovic, Stéphane Bézieau, Patrick R. Blackburn, Jens Bunt, Lydie Burglen, Perrine Charles, Brian H.Y. Chung, Benjamin Cogné, Suzanne DeBrosse, Nataliya Di Donato, Laurence Faivre, Delphine Héron, A. Micheil Innes, Bertrand Isidor, Bethany L. Johnson-Kerner, Boris Keren, Amy Kimball, Eric W. Klee, Paul Kuentz, Sébastien Küry, Dominique Martin-Coignard, Cyril Mignot, Noriko Miyake, Caroline Nava, Mathilde Nizon, Diana Rodriguez, Lot Snijders Blok, Christel Thauvin, Julien Thevenon, Marie Vincent, Alban Ziegler, William Dobyns, Linda J. Richards, A. James Barkovich, Stephen N. Floor, Debra L. Silver, Elliott H. Sherr
LRH-1 Mitigates Intestinal Inflammatory Disease by Maintaining Epithelial Homeostasis and Cell Survival
James R Bayrer, Hongtao Wang, Roy Nattiv, Miyuki Suzawa, Hazel S Escusa, Robert J Fletterick, Ophir D Klein, David D Moore, Holly A Ingraham
Human macrophages survive and adopt activated genotypes in living zebrafish
Colin D. Paul, Alexus Devine, Kevin Bishop, Qing Xu, William J. Wulftange, Hannah Burr, Kathryn M. Daly, Chaunte Lewis, Daniel S. Green, Jack R. Staunton, Swati Choksi, Zheng-Gang Liu, Raman Sood, Kandice Tanner
p53 Deletion Rescues Lethal Microcephaly in a Mouse Model with Neural Stem Cell Abscission Defects
Jessica Neville Little, Noelle D. Dwyer
Evo-devo & evo
Growth zone segmentation in the milkweed bug Oncopeltus fasciatus sheds light on the evolution of insect segmentation
Tzach Auman, Ariel D. Chipman
A mosaic of independent innovations involving eyes shut are critical for the evolutionary transition from closed to open rhabdoms
Andrew Zelhof, Simpla Mahato, Jing Nie, David Plachetzki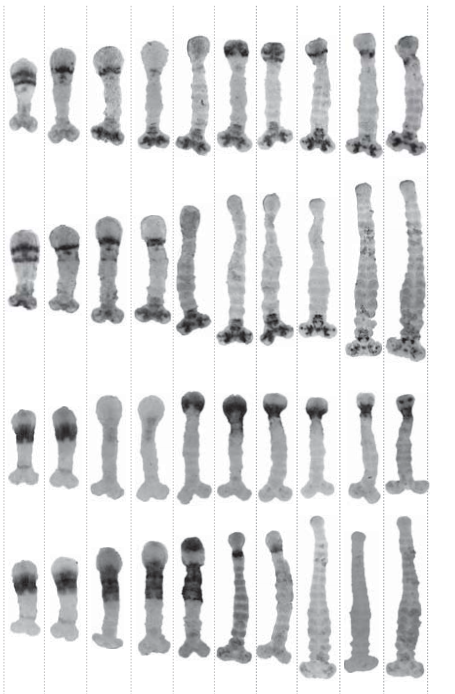 A re-inducible genetic cascade patterns the anterior-posterior axis of insects in a threshold-free fashion
Alena Boos, Jutta Distler, Heike Rudolf, Martin Klingler, Ezzat El-Sherif
The phylogenetically distinct early human embryo
Manvendra Singh, Thomas J Widmann, Jose L Cortes, Gerald G Schumann, Stephanie Wunderlich, Ulrich Martin, Jose L Garcia-Perez, Laurence D Hurst, Zsuzsanna Izsvak
Single-cell transcriptome profiling of the Ciona larval brain
Sarthak Sharma, Wei Wang, Alberto Stolfi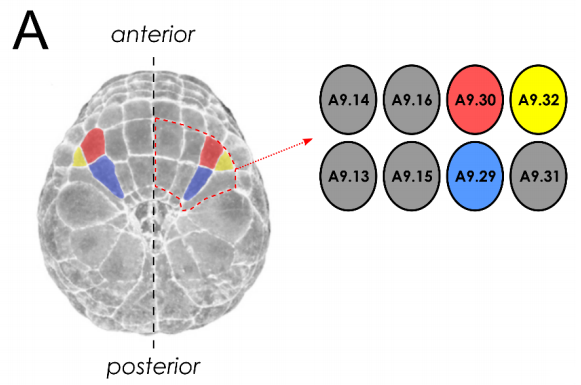 Developmental system drift in motor ganglion patterning between distantly related tunicates
Elijah K. Lowe, Alberto Stolfi
Sibling rivalry: Males with more brothers develop larger testes
Heidi S Fisher, Kristin A Hook, W. David Weber, Hopi E. Hoekstra
Developmental constraints on genome evolution in four bilaterian model species
Jialin Liu, Marc Robinson-Rechavi
Correlated Evolution of two Sensory Organs via a Single Cis-Regulatory Nucleotide Change
Olga Nagy, Isabelle Nuez, Rosina Savisaar, Alexandre Erwan Peluffo, Amir Yassin, Michael Lang, David L. Stern, Daniel Matute, Jean R. David, Virginie Courtier-Orgogozo
The role of gene flow in rapid and repeated evolution of cave related traits in Mexican tetra, Astyanax mexicanus
Adam Herman, Yaniv Brandvain, James Weagley, William R. Jeffery, Alex C. Keene, Thomas John Y Kono, Helena Bilandzija, Richard Borowsky, Luis Espinasa, Kelly O'Quin, Claudia P. Ornelas-Garcia, Masato Yoshizawa, Brian Carlson, Ernesto Maldonado, Joshua B. Gross, Reed A. Cartwright, Nicolas Rohner, Wesley C. Warren, Suzanne E. McGaugh
Evolutionary changes in DNA accessibility and sequence predict divergence of transcription factor binding and enhancer activity
Pei-Chen Peng, Pierre Khoueiry, Charles Girardot, James P. Reddington, David A. Garfield, Eileen E.M. Furlong, Saurabh Sinha
Hox-logic of body plan innovations for social symbiosis in rove beetles
Joseph Parker, K. Taro Eldredge, Isaiah Thomas, Rory Coleman, Steven Davis
doublesex regulates sexually dimorphic beetle horn formation by integrating spatial and temporal developmental contexts in the Japanese rhinoceros beetle Trypoxylus dichotomus
Shinichi Morita, Toshiya Ando, Akiteru Maeno, Takeshi Mizutani, Mutsuki Mase, Shuji Shigenobu, Teruyuki Niimi
The Doublesex sex determination pathway regulates reproductive division of labor in honey bees
Mariana Velasque, Lijun Qiu, Alexander S. Mikheyev
Evolution of developmental plasticity by opposing dosage of signalling-modifying enzymes
Linh T Bui, Nicholas A Ivers, Erik J Ragsdale
Generation of white-eyed Daphnia magna mutants lacking scarlet function
Ismail Binti Nur Izzatur, Yasuhiko Kato, Tomoaki Matsuura, Hajime Watanabe
Ancestral resurrection reveals mechanisms of kinase regulatory evolution
Dajun Sang, Sudarshan Pinglay, Sezen Vatansever, Hua Jane Lou, Benjamin E Turk, Zeynep H Gumus, Liam J Holt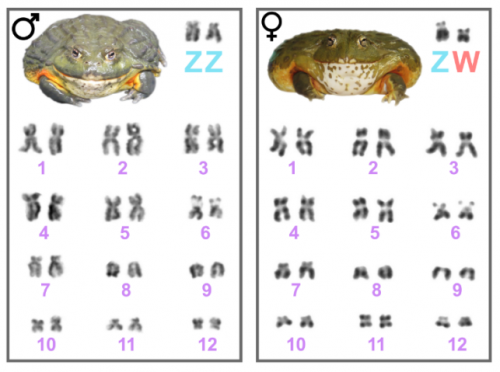 The African Bullfrog (Pyxicephalus adspersus) genome unites the two ancestral ingredients for making vertebrate sex chromosomes
Robert D Denton, Randal S Kudra, Jacob W Malcom, Louis Du Preez, John H Malone
Functional Characterization of Enhancer Evolution in the Primate Lineage
Jason Chesler Klein, Aidan Keith, Vikram Agarwal, Timothy Durham, Jay Shendure
Cell biology
Phosphatidylinositol 4,5-bisphosphate regulates cilium transition zone maturation in Drosophila melanogaster
Alind Gupta, Lacramioara Fabian, Julie Brill
A Cell Cycle Switch Dictates Organ Repair and Tissue Growth Responses in The Drosophila Hindgut
Erez Cohen, Scott R Allen, Jessica K Sawyer, Donald T Fox
Flow-independent accumulation of motor-competent non-muscle myosin II in the contractile ring is essential for cytokinesis
Daniel Sampaio Osorio, Fung Yi Chan, Joana Saramago, Joana Leite, Ana Marta Silva, Ana Filipa Sobral, Reto Gassmann, Ana Xavier Carvalho
Cellular Crowding Influences Extrusion and Proliferation to Facilitate Epithelial Tissue Repair
Jovany Jeomar Franco, Youmna Maryline Atieh, Chase Dallas Bryan, Kristen Marie Kwan, George Thomas Eisenhoffer Jr.
Splicing and epigenetic factors jointly regulate epidermal differentiation
Sabine E.J. Tanis, Pascal W.T. Jansen, Huiqing Zhou, Michiel Vermeulen, Klaas W. Mulder
Gamete fusion rapidly reconstitutes a bi-partite transcription factor to block re-fertilization
Aleksandar Vjestica, Laura Merlini, Pedro Nkosi, Sophie G Martin
Nucleo-cytoplasmic trafficking regulates nuclear surface area during nuclear organogenesis
Vincent Boudreau, James Hazel, Jacob K Sellinger, Pan Chen, Kathryn Manakova, Rochelle Radzyminski, Hernan G Garcia, Jun Allard, Jesse Gatlin, Paul S Maddox
Transcription factor TAp73 and miRNA-449 cooperate in multiciliogenesis
Merit Wildung, Tilman Uli Esser, Katie Baker Grausam, Cornelia Wiedwald, Li Li, Jessica Lynn Simcox Zylla, Ann-Kathrin Günther, Magdalena Wienken, Evrim Ercetin, Felix Bremmer, Orr Shomroni, Stefan Andreas, Haotian Zhao, Muriel Lizé
Direct reprogramming of human epithelial cells into organoids by miR-106a-3p
Frederic Delom, Michel Puceat, Delphine Fessart
PLK4 is a microtubule-associated protein that self assembles promoting de novo MTOC formation
Susana Montenegro Gouveia, Sihem Zitouni, Dong Kong, Paulo Duarte, Beatriz Ferreira Gomes, Ana Laura Sousa, Erin M. Tranfield, Antony Hyman, Jadranka Loncarek, Monica Bettencourt-Dias
A non-canonical lysosome biogenesis pathway generates Golgi-associated lysosomes during epidermal differentiation
Sarmistha Mahanty, Shruthi Shirur Dakappa, Rezwan Shariff, Saloni Patel, Mruthyunjaya Mathapathi Swamy, Amitabha Majumdar, Subba Rao Gangi Setty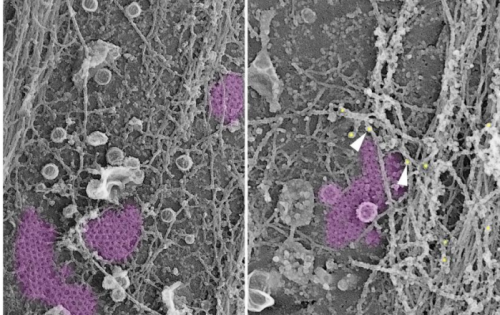 Clathrin plaques form mechanotransducing platforms
Agathe Franck, Jeanne Laine, Gilles Moulay, Michael Trichet, Christel Gentil, Anais Fongy, Anne Bigot, Sofia Benkhelifa-Ziyyat, Emmanuelle Lacene, Mai Thao Bui, Guy Brochier, Pascale Guicheney, Vincent Mouly, Norma Beatriz Romero, Catherine Coirault, Marc Bitoun, Stephane Vassilopoulos
Local Contractions Test Rigidity of E-Cadherin Adhesions
Yian Yang, Emmanuelle Nguyen, Rene-Marc Mege, Benoit Ladoux, Michael P Sheetz
Intermediate filaments control collective migration by restricting traction forces and sustaining cell-cell contacts
Chiara De Pascalis, Carlos Perez-Gonzalez, Shailaja Seetharaman, Batiste Boeda, Benoit Vianay, Mithila Burute, Cecile Leduc, Nicolas Borghi, Xavier Trepat, Sandrine Etienne-Manneville
Actin cytoskeleton self-organization in single epithelial cells and fibroblasts under isotropic confinement
Salma Jalal, Ruby Yun-Ju Huang, Virgile Viasnoff, Yee Han Tee, Alexander Bershadsky
Persistent cell motility requires transcriptional feedback of cytoskeletal – focal adhesion equilibrium by YAP/TAZ
Devon E Mason, James H Dawahare, Trung Dung Nguyen, Yang Lin, Sherry L. Voytik-Harbin, Pinar Zorlutuna, Mervin E Yoder, Joel D Boerckel
Optogenetic dissection of Rac1 and Cdc42 gradient shaping
Simon de Beco, Kotryna Vaidziulyte, John Manzi, Fabrice Dalier, Fahima Di Frederico, Gaetan Cornilleau, Maxime Dahan, Mathieu Coppey
Basal level of p53 regulates cell population homeostasis
Ann Rancourt, Sachiko Sato, Masahiko S Satoh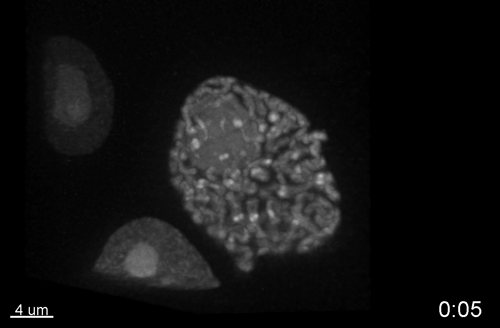 Multiple Determinants and Consequences of Cohesion Fatigue in Mammalian Cells
Hem Sapkota, Emilia Wasiak, John R Daum, Gary J Gorbsky
Optogenetic dissection of mitotic spindle positioning in vivo
Lars-Eric Fielmich, Ruben Schmidt, Daniel J Dickinson, Bob Goldstein, Anna Akhmanova, Sander van den Heuvel
Modelling
Analysis of the transcriptional logic governing differential spatial expression in Hh target genes
Oscar Sanchez, Manuel Cambon
Force localization modes in dynamic epithelial colonies
Erik N Schaumann, Michael F Staddon, Margaret L Gardel, Shiladitya Banerjee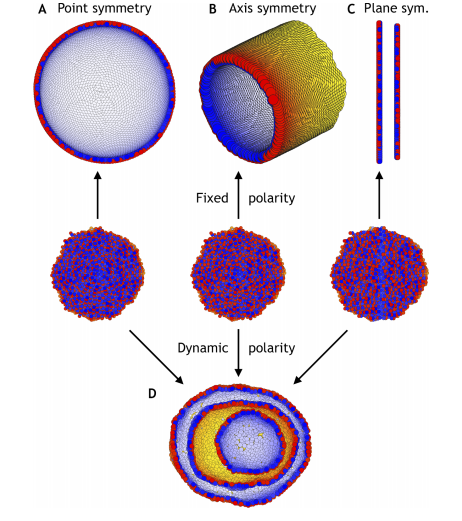 Theory bridging cell polarities with development of robust complex morphologies
Silas Boye, Steven Ronhild, Ala Trusina, Kim Sneppen
Modeling meiotic homolog pairing: increased fidelity from a tug of war between telomere forces and a pairing-based Brownian ratchet
Wallace F Marshall, Jennifer C Fung
Stiffness Sensing and Cell Motility: Durotaxis and Contact Guidance
Jingchen Feng, Herbert Levine, Xiaoming Mao, Leonard M Sander
Disproportionate feedback interactions govern cell-type specific proliferation in mammalian cells
Dola Sengupta, Vijay Phanindra Srikanth Kompella, Sandip Kar
Continuum models of collective cell migration
Shiladitya Banerjee, M. Cristina Marchetti
Tools & resources
| Imaging etc.
Automating multimodal microscopy with NanoJ-Fluidics
Pedro Almada, Pedro Pereira, Siân Culley, Ghislaine Caillol, Fanny Boroni-Rueda, Christina L. Dix, Romain F. Laine, Guillaume Charras, Buzz Baum, Christophe Leterrier, Ricardo Henriques
Embryo timelapses can be compiled and quantified to understand canonical histone dynamics across multiple cell cycles.
Lydia Smith, Paul S. Maddox
A Timer for analyzing temporally dynamic changes in transcription during differentiation in vivo
David Bending, Paz Prieto Martin, Alina Paduraru, Catherine Ducker, Erik Marzaganov, Marie Laviron, Satsuki Kitano, Hitoshi Miyachi, Tessa Crompton, Masahiro Ono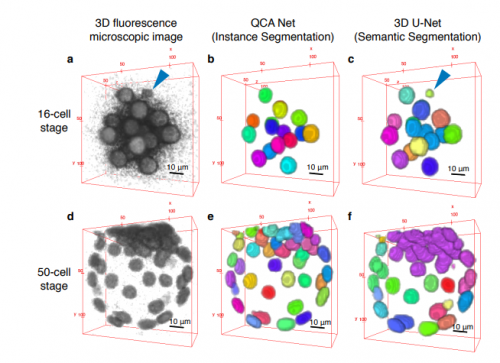 Convolutional Neural Network-Based Instance Segmentation Algorithm to Acquire Quantitative Criteria of Early Mouse Development
Yuta Tokuoka, Takahiro G Yamada, Noriko Hiroi, Tetsuya J Kobayashi, Kazuo Yamagata, Akira Funahashi
Automated High-Throughput Light-Sheet Fluorescence Microscopy of Larval Zebrafish
Savannah L Logan, Christopher Dudley, Ryan P Baker, Michael J Taormina, Edouard A Hay, Raghuveer Parthasarathy
Three-photon light-sheet fluorescence microscopy
Adrià Escobet-Montalbán, Pengfei Liu, Jonathan Nylk, Federico M Gasparoli, Zhengyi Yang, Kishan Dholakia
Exponential fluorescent amplification of individual RNAs using clampFISH probes
Sara H Rouhanifard, Ian A Mellis, Margaret Dunagin, Sareh Bayatpour, Orsolya Symmons, Allison Cote, Arjun Raj
Silencing cuticular pigmentation genes enables RNA FISH in intact chemosensory appendages
Stefan Pentzold, Veit Grabe, Andrei Ogonkov, Lydia Schmidt, Wilhelm Boland, Antje Burse
MyROOT: A novel method and software for the semi-automatic measurement of plant root length
Isabel Betegón-Putze, Alejandro González, Xavier Sevillano, David Blasco-Escámez, Ana I Caño-Delgado
Optical alignment device for two-photon microscopy
Gregorio Galinanes, Paul James Marchand, Raphael Turcotte, Sebastien Pellat, Na Ji, Daniel Huber
Label-free prediction of three-dimensional fluorescence images from transmitted light microscopy
Chawin Ounkomol, Sharmishtaa Seshamani, Mary M Maleckar, Forrest Collman, Gregory Johnson
Capturing single-cell heterogeneity via data fusion improves image-based profiling
Mohammad Hossein Rohban, Shantanu Singh, Anne E Carpenter
Conditional control of fluorescent protein degradation by an auxin-dependent nanobody
Katrin Daniel, Jaroslav Icha, Cindy Horenburg, Doris Muller, Caren Norden, Jorg Mansfeld
Brief Freezing Steps Lead to Robust Immunofluorescence in Drosophila Larval Brains
Dominic Buckley, Ada Thapa, Minh Nguyen, Essence Blankinship, Diana Williamson, Veronica Cloud, Ryan D Mohan
| Genome tools
NmeCas9 is an intrinsically high-fidelity genome editing platform
Nadia Amrani, Xin D. Gao, Pengpeng Liu, Alireza Edraki, Aamir Mir, Raed Ibraheim, Ankit Gupta, Kanae E. Sasaki, Tong Wu, Paul D. Donohoue, Alexander H. Settle, Alexandra M. Lied, Kyle McGovern, Chris K. Fuller, Peter Cameron, Thomas G. Fazzio, Lihua Julie Zhu, Scot A. Wolfe, Erik J. Sontheimer
Highly Multiplexed Genome Engineering Using CRISPR/Cas9 gRNA Arrays
Morito Kurata, Natalie K Wolf, Walker S Lahr, Madison T Weg, Samantha Lee, Kai Hui, Masano Shiraiwa, Beau R Webber, Branden Moriarity
CRISPRO Identifies Functional Protein Coding Sequences Based on Genome Editing Dense Mutagenesis
Vivien A. C. Schoonenberg, Mitchel Alfonza Cole Jr., Qiuming Yao, Claudio Macias-Treviño, Falak Sher, Patrick G. Schupp, Matthew C. Canver, Takahiro Maeda, Luca Pinello, Daniel E. Bauer
Controlling CRISPR-Cas9 with ligand-activated and ligand-deactivated sgRNAs
Kale Kundert, James E Lucas, Kyle E Watters, Christof Fellmann, Andrew H Ng, Benjamin M Heineike, Christina M Fitzsimmons, Benjamin L Oakes, David F Savage, Hana El-Samad, Jennifer A Doudna, Tanja Kortemme
Direct preparation of Cas9 ribonucleoprotein from E. coli for PCR-free seamless DNA assembly
wenqiang li, fei wang, jie qiao, yi liu, lixing ma
CellTag Indexing: a genetic barcode-based multiplexing tool for single-cell technologies
Chuner Guo, Brent A Biddy, Kenji Kamimoto, Wenjun Kong, Samantha A Morris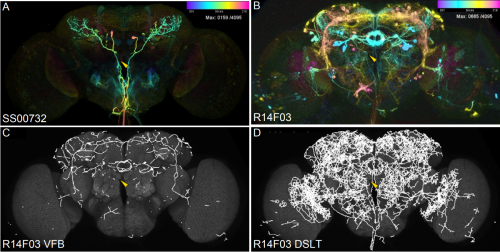 Color depth MIP mask search: a new tool to expedite Split-GAL4 creation
Hideo Otsuna, Masayoshi Ito, Takashi Kawase
C1 CAGE detects transcription start sites and enhancer activity at single-cell resolution
Tsukasa Kouno, Jonathan Moody, Andrew Kwon, Youtaro Shibayama, Sachi Kato, Yi Huang, Michael Böttcher, Efthymios Motakis, Mickaël Mendez, Jessica Severin, Joachim Luginbühl, Imad Abugessaisa, Akira Hasegawa, Satoshi Takizawa, Takahiro Arakawa, Masaaki Furuno, Naveen Ramalingam, Jay West, Harukazu Suzuki, Takeya Kasukawa, Timo Lassmann, Chung-Chau Hon, Erik Arner, Piero Carninci, Charles Plessy, Jay W Shin
AgriSeqDB: an online RNA-Seq database for functional studies in agriculturally relevant plant species
Andrew J Robinson, Muluneh Tamiru, Rachel Salby, Clayton Bolitho, Andrew Williams, Simon Huggard, Eva Fisch, Kathryn Unsworth, James Whelan, Mathew G Lewsey
Detection of cellular microRNAs with programmable DNA nanoswitches
Arun Richard Chandrasekaran, Molly MacIsaac, Paromita Dey, Oksana Levchenko, Lifeng Zhou, Madeline Andres, Bijan K Dey, Ken Halvorsen
Research practice & education
Intellectual contributions meriting authorship: Survey results from the top cited authors across all science categories
Gregory S Patience, Federico Galli, Paul A Patience, Daria C Boffito
Are funder Open Access platforms a good idea?
Tony Ross-Hellauer​1, Birgit Schmidt2, Bianca Kramer
Improving support for young biomedical scientists
Bruce Alberts, Tony Hyman, Chris Pickett, Shirley Tilghman, Harold Varmus
A new paradigm for science: nurturing the ecosystem
Alexander K Lancaster​​, Anne E Thessen​, Arika Virapongse​
Building a local community of practice in scientific programming for Life Scientists
Sarah L.R. Stevens,Mateusz Kuzak, Carlos Martinez, Aurelia Moser, Petra M. Bleeker, Marc Galland
Science podcasts: analysis of global production and output from 2004 to 2018
Lewis E MacKenzie
SciReader*: A Cloud-based Recommender System for Biomedical Literature
Priya Desai, Natalie Telis, Benjamin Lehmann, Keith Bettinger, Jonathan K. Pritchard, Somalee Datta
A short history of Arabidopsis thaliana (L.) Heynh. Columbia-0
Marc Somssich
When physics meets biology: a less known Feynman
Marco Di Mauro, Salvatore Esposito, Adele Naddeo
Why not…
Testing Darwin's hypothesis about the most wonderful plant in the world: The Venus flytrap's marginal spikes are a 'horrid prison' for moderate-sized insect prey
Alex Lee Davis, Matthew Hunter Babb, Brandon Tyler Lee, Christopher Martin