Closing Date: 15 March 2021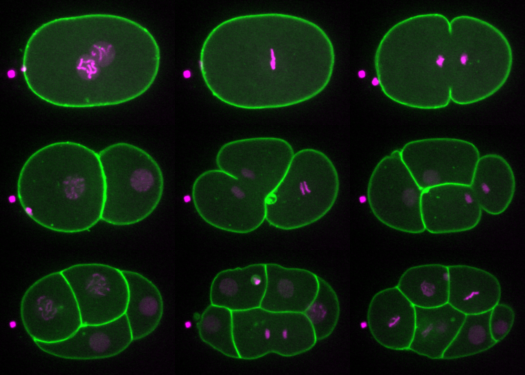 Project Description
Cell division is fundamental to life and errors can result in abnormal chromosomal numbers, developmental defects, and cancers. Similarities in the structural and molecular organization of the division apparatus gives the textbook picture, that mechanisms underlying division, including formation and constriction of an actomyosin contractile ring, do not vary between cell and organism types. However, recent research and clinical findings suggest that there is a previously un-appreciated variation in the molecular requirement for cytokinesis to occur, as depletion or mutation of several 'essential' proteins only disrupt division in specific cell-types and lineages.
During C. elegans development each cell has a specific identity and gives rise to different cell lineages. Furthermore, the factors that control cell identity have been well mapped by decades of detailed developmental biology. Therefore, it is an excellent multicellular system for observing the interaction between cell identity and cytokinetic perturbation in genetically identical, but functionally variable cells.
This PhD project will use the C. elegans model system and state of the art confocal microscopy to image cytokinesis, tracking the outcome of this rapid and dynamic cellular process, and quantifying localisation of fluorescently labelled cytokinetic proteins, while perturbing different aspects of cell identity. During the PhD, the student will receive training in live-cell fluorescence microscopy and image analysis, as well as general molecular and cell biology techniques and C. elegans genetics and transgenesis (via MosSCI and CRISPR). Furthermore, they will have the opportunity to take part in DTP-wide training and networking events, an external research placement, and attend conferences.
---
NOTE: Application details are below, however it is strongly recommended to contact the primary supervisor prior to applying.
---
HOW TO APPLY
Applications should be made by emailing bbsrcdtp@liverpool.ac.uk with a CV (including contact details of at least two academic (or other relevant) referees), and a covering letter – including whatever additional information you feel is pertinent to your application; you may wish to indicate, for example, why you are particularly interested in the selected project and at the selected University. Applications not meeting these criteria will be rejected.
In addition to the CV and covering letter, please email a completed copy of the Additional Details Form (Word document) to bbsrcdtp@liverpool.ac.uk. A blank copy of this form can be found at: https://www.nld-dtp.org.uk/how-apply.
Informal enquiries may be made to timothy.r.davies@durham.ac.uk
Please note that the closing date for applications is Monday 18th May at 12noon.
Funding Notes
This is a 4 year BBSRC studentship under the Newcastle-Liverpool-Durham DTP. The successful applicant will receive research costs, tuition fees and stipend (£15,009 for 2019-20). The PhD will start in October 2020. Applicants should have, or be expecting to receive, a 2.1 Hons degree (or equivalent) in a relevant subject. EU candidates must have been resident in the UK for 3 years in order to receive full support. Please note, there are 2 stages to the application process.
Reference
1) Cell-intrinsic and -extrinsic mechanisms promote cell-type-specific cytokinetic diversity. 2018 eLife 2018;7:e36204
2) FLIRT: Fast Local InfraRed Thermogenetics for subcellular control of protein function. 2018 Nature Methods (15) 921–923
3) Using fast-acting temperature sensitive temperature sensitive mutants to study cell division in Caenorhabditis elegans. 2017 Methods in Cell Biology (137) 283-306
4) Cortical PAR polarity proteins promote robust cytokinesis during asymmetric cell division. 2016 Journal of Cell Biology (212) 39 – 49
5) High-Resolution Temporal Analysis Reveals a Functional Timeline 
for the Molecular Regulation of Cytokinesis. 2014 Developmental Cell (30) 209 – 223
6) aPKC cycles between functionally distinct PAR protein assemblies to drive cell polarity. 2017 Developmental Cell (4):400-415.e9
7) Systematic Genetic Interaction Screening Uncovers Cell Polarity Regulators and Functional Redundancy. 2012 Nature Cell Biology 15(1): 103-112