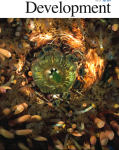 The annual Embryology course at Woods Hole starts again this week. Best of luck to all participants! We thought it was an appropriate time to launch the third voting round to choose a Development cover from images taken by the students in last year's course.
Meanwhile, the winning image from the first round – a sea urchin chomping down on a piece of seaweed – will appear on the cover of Development vol. 138 issue 13, which will go live online on June 7 (tomorrow!). The image on the left is a sneak preview of the cover. That issue also contains a primer article about sea urchins as model organism, so the cover was a good fit!
Which of these images will be next to appear on the cover of Development? Please vote in the poll below the images. (Click any image to see a larger version.) You can vote until June 20, 12:00 (noon) GMT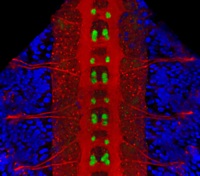 1. Dorsal view of the central nervous system of a Drosophila embryo. Neurons and axons are stained with anti-HRP (red). A distinct subset of neurons express even-skipped (green). Nuclei of the body wall stained with DAPI (blue). This image was taken by Joshua Clanton (Vanderbilt University).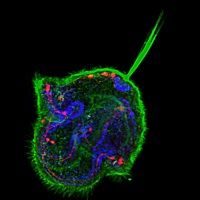 2. Pilidium larvae of the Nermertean, Cerebratulus lacteus. Acetylated tubulin (green), serotonin (red), nuclei (blue, DAPI). This image was taken by Meii Chung (UT Austin).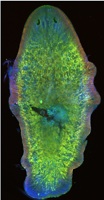 3. Planaria stained with MF20 (green), phalloidin (red) and DAPI (blue). This image was taken by Valeria Merico (University of Pavia).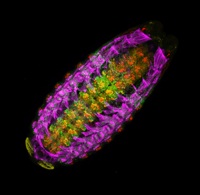 4. Drosophila embryo (stage 16) immunostained to detect Tropomyosin (purple) in the developing muscle, the Hox gene Ultrabithorax (green), and Spalt (red). This image was taken by Elise Delagnes and Hannah Rollins (UC Berkeley).