And here it is: the last of the desktop wallpaper calendars. In June we celebrated our first birthday, and decided to give all our readers a virtual gift. It ended up being six gifts: one desktop calendar wallpaper for each remaining month of 2011. If you want to see all the images, or download the latest one, visit the calendar page. All images were chosen from either the intersection image contest or from the images we've featured from the Woods Hole Embryology 2010 course.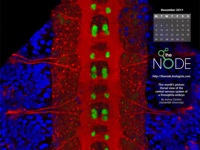 On the december calendar wallpaper, a dorsal view of the central nervous system of a Drosophila embryo.
This image, taken by Joshua Clanton of Vanderbilt University, was one of the candidates in the third Development cover image voting round of images taken at the 2010 Woods Hole Embryology course.
Visit the calendar page to select the resolution you need for your screen.