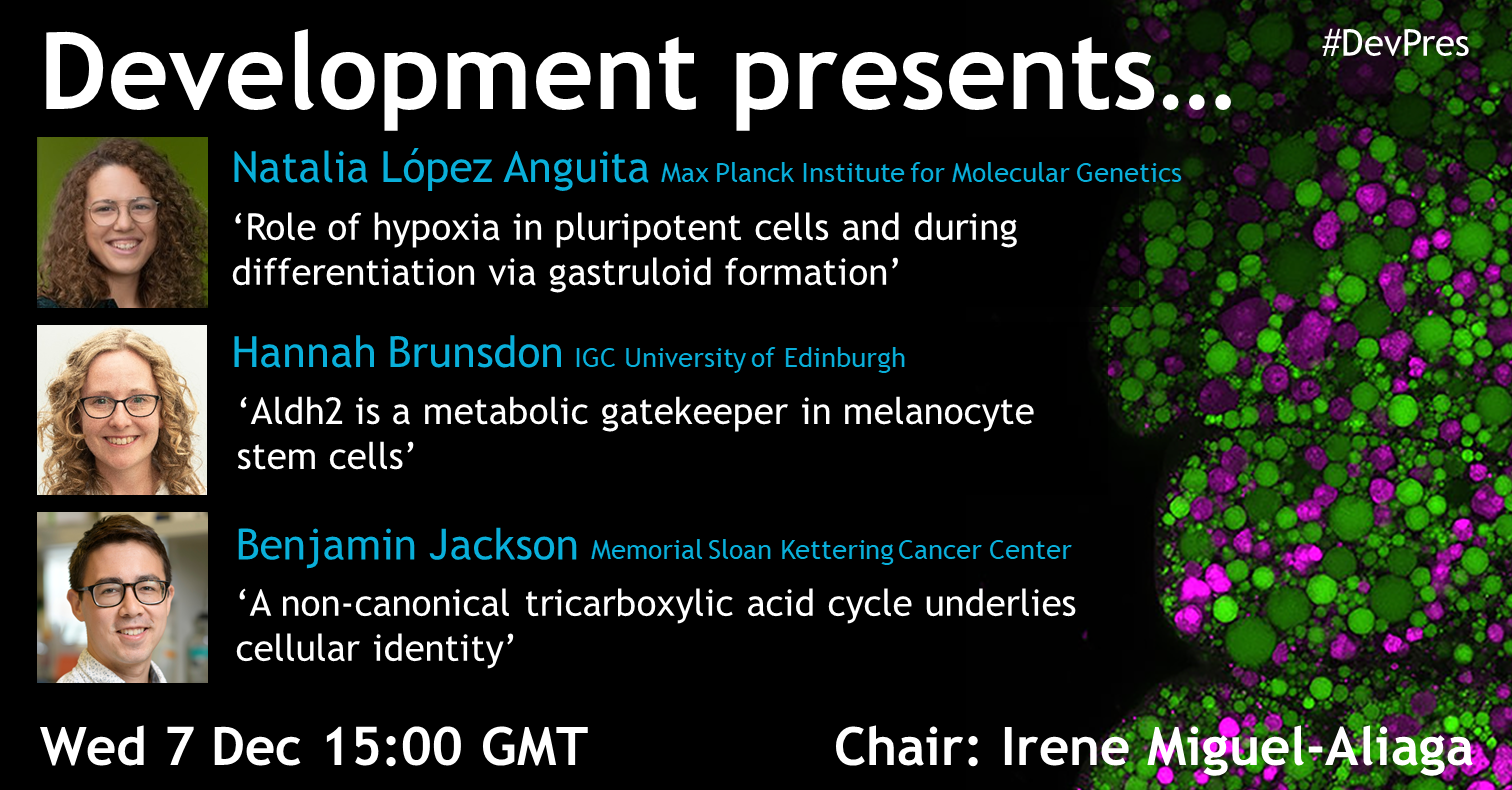 Wednesday 7 December 2022 – 15:00 GMT
Our next Development presents… webinar is happy to announce Development's upcoming Special Issue: Metabolic and Nutritional Control of Development and Regeneration, which will be edited by Associate Editor Irene Miguel-Aliaga (Imperial College London and MRC-LMS, UK) alongside three Guest Editors, Lydia Finley (Memorial Sloan Kettering Cancer Center, USA), Joshua Gendron (Yale University, USA) and Jared Rutter (University of Utah, USA). Irene has invited three speakers to present their work on this topic.
Please find out more about the Special Issue on our call for papers page on the Development website. The deadline for submission is 15 May 2023.
Natalia López Anguita (PhD student in the Stem Cell Chromatin Group at the Max Planck Institute for Molecular Genetics)
'Role of hypoxia in pluripotent cells and during differentiation via gastruloid formation'
Hannah Brunsdon (Postdoctoral Research Fellow in Liz Patton's group at the IGC, University of Edinburgh)
'Aldh2 is a metabolic gatekeeper in melanocyte stem cells'
Benjamin Jackson (MD-PhD Candidate in Lydia Finley's group at Memorial Sloan Kettering Cancer Center)
'A non-canonical tricarboxylic acid cycle underlies cellular identity'
The webinar will be held using Zoom with a Q&A session after each talk.