How do you build a fruit fly circus? First, you'll need a glass tank. Its size will obviously depend on how many fruit flies you want to perform – or on what tank is hanging around in the department. You'll also need a small circus tent, circus benches made from fresh apple slices, a sand arena, and a set of tiny circus figures, frozen in an entertaining performance. Span a tight rope across the arena and paint it with sugar water. Lastly,  install battery-operated LED lights to create the right atmosphere. Voilà! Release the fruit flies, and put a lid on it.
The Fly Circus was the first attraction in our Disgustovision Show, an activity we ran as part of Oxford Brookes University's Science Bazaar during the Oxfordshire Science Festival. We, the Brookes Cell Biology group, turned our whole floor into a microscopy adventure land. Our helpers wore black-white striped T-shirts and small plastic top hats to go with our circus theme. Starting with the Fly Circus, which could be closely examined with small plastic magnifying glasses or a  magnifying sheet, we took visitors from one magnification station to the next.
The Disgustomometer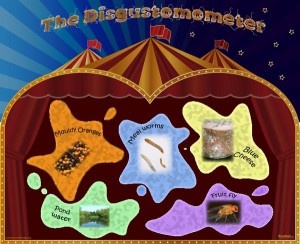 "Ladies and gentlemen, boys and girls….Welcome to the most spectacular show on Earth!!!! Before you enter the Disgustovision show please take a sticker and place a vote on the first wall chart. Which of these things turns your tummy the most?? At the end of your journey into the world of the microscopic, has your opinion changed? Please take another sticker and vote again on the 'After the show' chart. Now please step forward, and enjoy the show!"
At the beginning of the corridor, we had put up a 'Disgustomometer' poster, and we encouraged children to put a small sticker on the thing they thought was most disgusting. On the way out, we asked them to repeat this on an 'exit' copy of the poster. This demonstrated a clear shift in their perception, thus evaluating our activity at the same time, and also helped us to estimate visitor number.
The magnification stations
The next step after the fly circus were our light microscopes, and a handful of food samples (blue cheese, broccoli florets, kiwi and orange slices). All of us microscopists, maybe not so much the visitors, agreed that blue cheese looked amazing – a miniature world of mouldy caves. "Doesn't the broccoli look pretty, just like little flowers!" parents cooed, trying to convince their sceptic children to change their minds about the green vegetable. The kiwi and orange slices looked beautiful too, decorated with their juicy droplets. We displayed all food in sealed Petri dishes and kept spare ones in the office fridge, because the samples started to look pretty bad after a few hours in the heat. We also had a big jar with pond water, a drop of it mounted on a slide, and a poster with the history of microscopy and Leeuwenhoek's  observations put up on the wall. There was a steady crowd crammed around the dissecting microscope, with children taking a close look at their dirty fingernails (cue parents recoiling in horror) and the oil drops on their fingertips.
Going one step further in magnification, we had set up Drosophila samples labelled with fluorescent stains and GFP-expressing plant cells on our confocal laser scanning microscopes. Some children however were most impressed by the swivel chairs and the double computer screens with the computer mouse moving seamlessly between them.
The last station was the scanning electron microscope, where visitors looked closely at a fly, a head louse, and other gruesome samples. Our Disgustomometer showed that after having finished their visit, people now thought that blue cheese was the most disgusting, and the fly the most beautiful thing. Mission accomplished!
 The certificate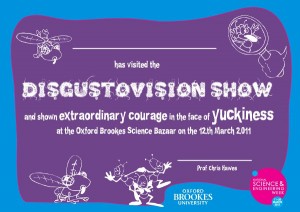 We wanted to give our little visitors something to take away at the end. So I designed a special certificate in Corel Draw, using the font 'Our Little Darlings' for the fly cartoons, and asked my boss to sign them. We had certificates in previous years, and the first time we made him sign 100 certificates by hand. :-) After that, we used his electronic signature. Most children gasped in awe when we told them (in the right tone) that Professor Chris Hawes had signed them. We printed the certificates in A5 on our colour printer on nice paper, two on one A4 page, and cut them in half with a paper guillotine. Nowadays, I would ask our Media Workshop to design them, especially since we now have stricter corporate design guidelines, and our internal print unit to print and cut them.
 Microexplorers and microcosmonauts
Designing our themed outreach zones was great fun. The following year we had micro-cosmonaut certificates (exploring the microcosmos – get it?), and children could collect three star stickers on them, one for every microscope station. We even thought about turning our microscopes into planets, decorated with LEGO space ships and astronauts, but due to budget constraints we decided against that in the end. What ideas do you have to turn your research into an interactive outreach circuit? Tell us in the comments!
Also read Anne's outreach post on her double role as both a research and a science communication fellow here.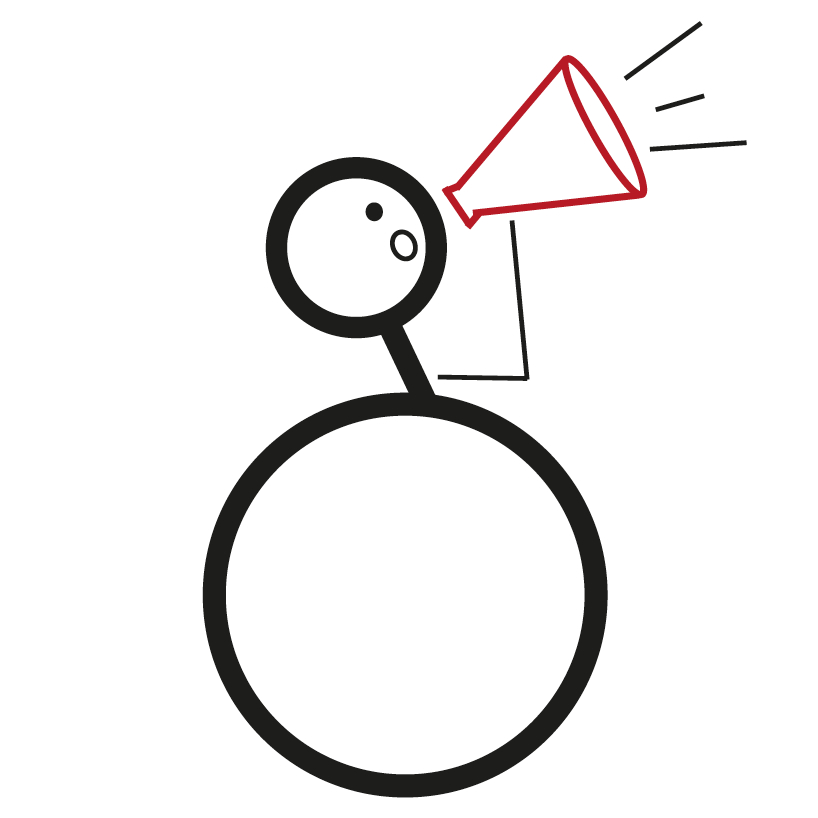 This post is part of a series on science outreach. You can read the introduction to the series here and read other posts in this series here.