Job type: Summer placement for undergraduates
Closing Date: 12 April 2021
The Martín-Durán Lab at Queen Mary University of London will be hosting a LIDo research undergraduate this summer for 8-weeks (July-August 2021), under direct supervision of Dr. Allan Carrillo-Baltodano, PDRA in the lab.
The project aims to comprehensively identify maternal factors in conditional and autonomous ooyctes of annelid embryos, and study their role during cell fate commitment.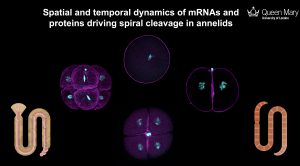 As part of the research placement, the student will get trained in multiple disciplines, including embryological manipulations, molecular biology and bioinformatic analyses, in addition to transferable skills such as science communication and time and task management.
Applicants must be in their second year of study and enrolled in one of the following institutions.
Kingston University
London South Bank University
London Metropolitan University
Middlesex University
University of Roehampton
University of East London
University of West London
University of Westminster
University of Hertfordshire
University of Bedfordshire
Deadline for applications is Monday 12th April 2021 at 5pm. Application forms should be sent to LIDo.Admissions@ucl.ac.uk
Find more info and the application form here: https://www.lido-dtp.ac.uk/2021-summer-research-placements
Closing Date: 12 April 2021
Scientific fields: Cell biology, Evo-devo and eco-evo-devo, Early embryogenesis
Model systems: Other invertebrate
Minimum qualifications: Check elegibility in LIDo's website