Closing Date: 10 January 2022
4-year funded PhD position at Durham University, UK. All nationals are eligible to apply!
https://www.findaphd.com/phds/project/neuronal-basis-of-pheromone-perception-in-mosquitoes/?p137654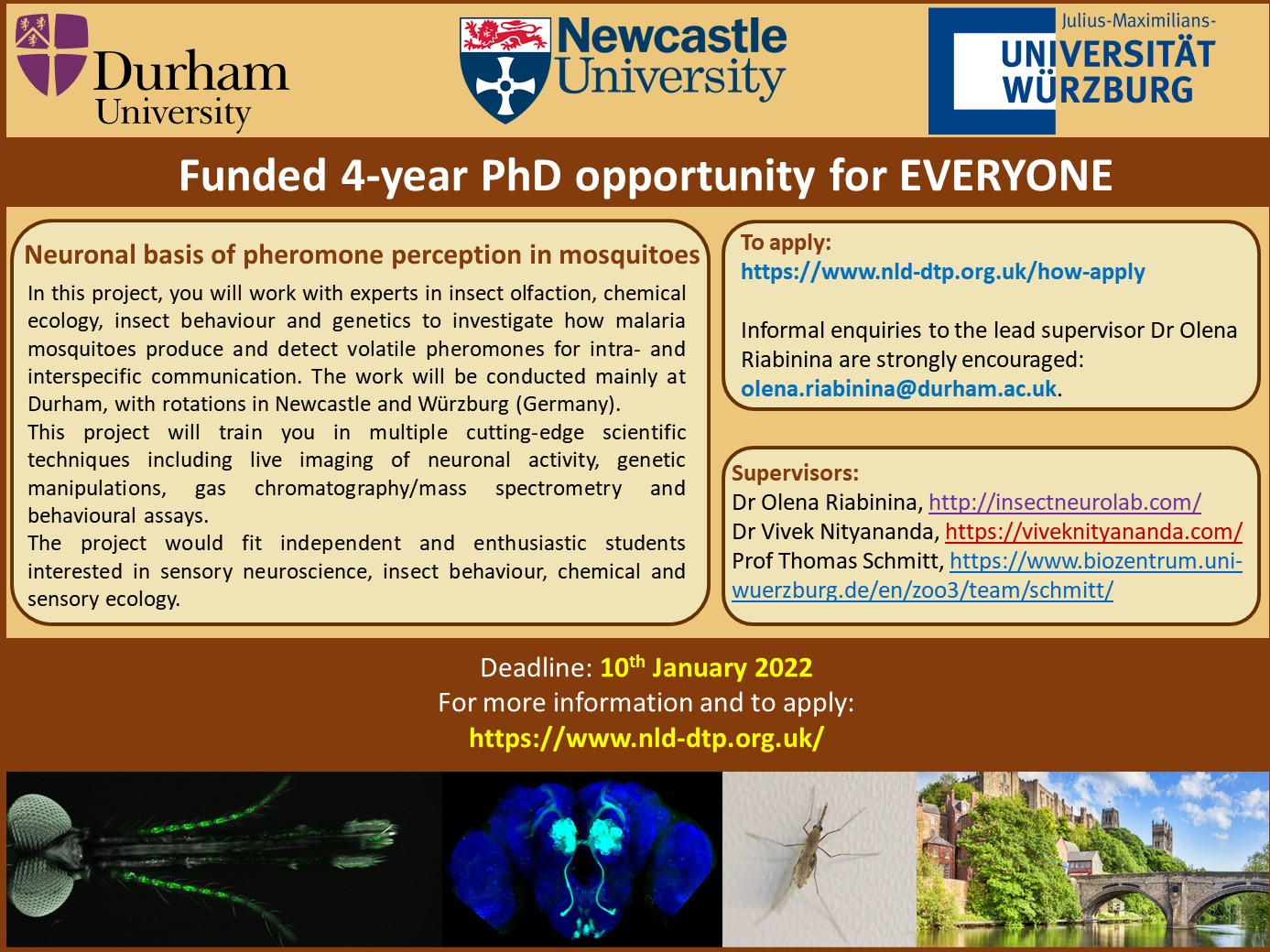 About the Project
Malaria is a mosquito-borne disease that affects half of the world population, and increasingly presents risk to Europe, due to climate change. The fight against malaria has currently stalled, and new methods are needed to make further progress.
For a long time mosquitoes thought to be an exception amongst insects, and not use pheromones for sexual communication. We, and several other research groups, are now starting to gather evidence that indicates pheromone production and use in mosquitoes. Understanding sexual communication in mosquitoes is extremely important both from the fundamental biological point of view, and from the applied point of view, i.e. the development of strategies to disrupt mosquito mating and spread.
This project will study how malaria mosquitoes Anopheles gambiae detect and respond to pheromones. Our preliminary work has identified 17 sex-specific volatile chemical compounds that An.gambiae produce. This project will focus on identifying olfactory receptors and cells that sense pheromone candidates. The project will also investigate pheromone-mediated behaviours in An.gambiae. Techniques, employed in this project, include GC/MS analysis, molecular cloning, genetic crosses, mosquito rearing, live calcium imaging, immunohistochemistry, confocal imaging and behavioural assays, with corresponding data analysis.
We look for a highly-motivated candidate preferably with a background in Neuroscience and interest in Animal behaviour, Molecular biology, Genetics and Bioimaging. Strong quantitative analysis skill, good motor skills, desire to explore, ability to lead the project, scientific courage and curiosity are essential for this project.
This project is a joint initiative between Durham, Newcastle and Wuerzburg Universities. The student will be based in Dr Olena Riabinina's laboratory at the Department of Biosciences in Durham, and will spend time in Dr Vivek Nityananda's laboratory in Newcastle and Prof Thomas Schmitt's lab in Wuerzburg, Germany. In addition, the student will spend 3 months at another institution or company of their choice during a PIPS placement to widen their professional experiences and networks.
The project involves an extensive training and networking component via attendance of DTP3-specific events, neuroscience and bioimaging courses and summer schools, and relevant conferences. The student will also have an opportunity to visit laboratories of the supervisors' collaborators in the UK and abroad.
Interested candidates are strongly advised to contact Dr Olena Riabinina for preliminary enquiries (olena.riabinina@durham.ac.uk)
HOW TO APPLY
Applications should be made by emailing bbsrcdtp@liverpool.ac.uk with:
·      a CV (including contact details of at least two academic (or other relevant) referees);
·       a covering letter – clearly stating your first choice project, and optionally 2nd ranked project, as well as including whatever additional information you feel is pertinent to your application; you may wish to indicate, for example, why you are particularly interested in the selected project(s) and at the selected University;
·      copies of your relevant undergraduate degree transcripts and certificates;
·      a copy of your passport (photo page).
A GUIDE TO THE FORMAT REQUIRED FOR THE APPLICATION DOCUMENTS IS AVAILABLE AT https://www.nld-dtp.org.uk/how-apply. Applications not meeting these criteria may be rejected.
In addition to the above items, please email a completed copy of the Additional Details Form (as a Word document) to bbsrcdtp@liverpool.ac.uk. A blank copy of this form can be found at: https://www.nld-dtp.org.uk/how-apply.
The closing date for applications is 10th January 2022 at 5.00pm (UK time).
Closing Date: 10 January 2022