Closing Date: 12 October 2023
We are seeking a postdoctoral fellow to join a new team led by Christopher Douse based at the Lund Stem Cell Center.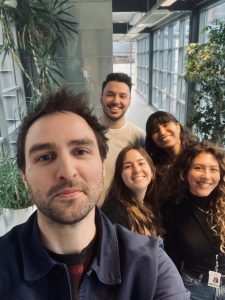 At the Lab of Epigenetics and Chromatin Dynamics we are interested in applying biochemical and functional genomic methods to explore molecular mechanisms of chromatin regulation. Specifically, our research asks: how do epigenetic mechanisms control the repetitive genome – so-called 'genomic dark matter' – in human brain development? Recent advances in long-read sequencing, targeted epigenomics, stem cell biology and a toolbox of CRISPR methods have now empowered us to answer this challenging question.
See a recent preprint from the lab as an example of the sorts of work we do: https://www.biorxiv.org/content/10.1101/2023.06.21.545516v1.full
We are particularly driven to find out how transposable and other repetitive elements are regulated by protein complexes that package DNA into chromatin, and how chromatin influences transcriptional dynamics. Notably, genetic disorders associated with genomic repeats often manifest with neurological symptoms, while mutations in epigenetic and chromatin regulators are a frequent cause of neurodevelopmental disorders. There are therefore strong, converging clinical links between repeats, epigenetics and neurological disease – but a lack of functional and mechanistic studies to directly address these links. As a postdoc in the lab you would lead project(s) to interrogate these mechanisms.
Requirements
–       A PhD degree, but candidates about to obtain their PhD diploma are welcome to get in touch. Note, the PhD degree should not be older than three years (November 2020) due to local eligibility rules. The applicant must also not have been employed at Lund University in the past two years.
–       The position would ideally suit a molecular biologist or biochemist. An interest in epigenetics, chromatin and/or the repetitive genome is essential. If in doubt, get in touch!
Additionally, the following qualifications are strong merits:
The applicant should be skilled in experimental design and data analysis.
The applicant should enjoy exploring research questions independently and learning new topics.
The applicant should enjoy working collaboratively in a team, and have good communication skills.
The applicant should have excellent spoken and written English.
How to apply
Please send the following via e-mail including reference number V2023/1831 in the subject line. Please note, we are continuously reviewing applications so get in touch if you are interested. Start date by agreement but ideally Q4 2023 or Q1 2024.
–       CV, including list of publications/preprints if applicable, and contact information for at least two references
–       Personal letter, stating the reasons why the position interests you and what you think you could bring to the team (maximum one page)
Start date: 1 November 2023
Closing Date: 12 October 2023
Scientific fields: Chromatin and epigenetics, Development and disease, Neural development
Minimum qualifications: PhD