Location: University of Cambridge
Closing Date: 9 April 2022
The Centre for Trophoblast Research (CTR) was founded in 2007 as a Centre of excellence to promote scientific study of the placenta, early development and maternal-fetal interactions during pregnancy. It brings together over 30 Principal Investigators, many of whom are recognized international experts in their fields. The CTR was one of the University of Cambridge's first inter-school initiatives: https://www.trophoblast.cam.ac.uk/
We encourage applicants from anywhere in the world who want to work in a creative and enriching environment and who enjoy collaborative innovative research.
The purpose of the role of the Centre for Trophoblast Research (CTR) Technician is to further support the interface of clinical and basic sciences research within the CTR. Their priorities will be to support the CTR Licencing and Training Coordinator to ensure that research conducted within the CTR is maintained at a high standard and complies with regulatory requirements. The post holder will be responsible for day-to-day maintenance of the CTR Human Uterus in Pregnancy and Disease Biobank and embryos donated for research including accurate record keeping and maintenance of databases to ensure regulatory compliance. The CTR Technician will liaise with clinical collaborators and maintain effective collaborative links.
The CTR Technician will oversee training of CTR lab members in protocols and provide training in placental biology. The postholder will be supported to drive research in novel directions including supporting the development of cutting-edge cell, tissue and embryo culture. The CTR Technician will support the CTR to provide an environment that enables the delivery of research at the highest level and to work in collaborative ways to provide research and training support. Training and mentorship will be provided by the Licencing and Training Coordinator in consultation with the Director. The CTR Technician will need to have a positive approach and be open and willing to engage with diverse groups across the CTR.
Candidates should hold a minimum qualification equitable to HND/HNC, level 4/5 vocational qualifications or an equivalent level of practical experience. Please refer to the further particulars document for a full list of essential skills and qualifications.
The University actively supports equality, diversity and inclusion and encourages applications from all sections of society. The Department of Physiology, Development & Neuroscience particularly encourages women and candidates from a Black, Asian or Minority Ethnic background to apply for this vacancy.
For further information: http://www.jobs.cam.ac.uk/right/have/
Appointments will be made on a fixed-term, full-time, basis for a period of 3 years, with the possibility of renewal subject to funding.  The salary range is £27,116 – £31,406.
We would also welcome applications from individuals who wish to be considered for part-time working or other flexible working arrangements.
Instructions for applications: Candidates must submit an application via the Cambridge University Job Opportunities website https://www.jobs.cam.ac.uk/ by the 8th April 2022. References will be requested from candidates after interviews.
We aim to hold interviews shortly after the closing date.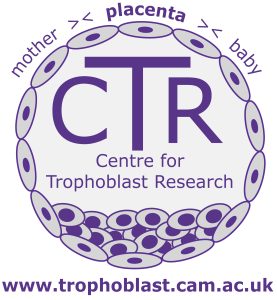 To find out more about the CTR please visit our website at: https://www.trophoblast.cam.ac.uk/
Closing Date: 9 April 2022