Ever noticed how each field has its own jargon?
Benchfly, a site with free video protocols and other resources for researchers, has created "Group Meeting Bingo". The site generates bingo cards with the particular phrases common to various fields of research. They have cards for biochemistry, cell biology, and various other fields, but no developmental biology…yet!
So, let's make a developmental biology bingo game!
Over the next few weeks (until we have enough words), you can leave a comment below (no registration required) with your suggestions for typical words that regularly show up in developmental biology talks. Benchfly will then turn our suggestions into a playable bingo game!
They suggest taking out the cards during meetings, but I've enjoyed just refreshing the existing cards on the site and marveling at all the field-specific words.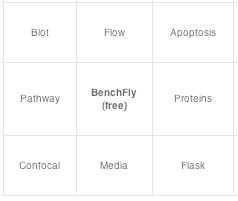 Section of one of the cell biology bingo cards. Of course some of the words from other fields can appear on the developmental biology cards as well!
Looking forward to see what you all come up with for the developmental biology game!
NB: The Node does not endorse playing bingo at the expense of paying attention to talks. Personally I've played a similar game at a conference where the meeting organizers handed out the cards, and encouraged everyone to play. I found it very easy to pay attention to the talks there, take notes, learn things, and still win the game. It's actually easier to spot the words if you are paying attention!