Closing Date: 15 March 2021
Fully Funded PhD Places available in Developmental Biology and Neuroscience
Syracuse University, New York, USA.
Interneuron specification in the zebrafish spinal cord.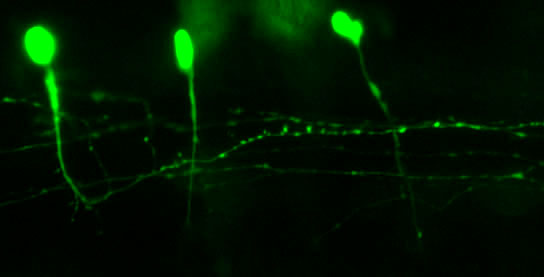 The Lewis Lab recently moved to Syracuse University from Cambridge University in the UK. We use Genetics, Cell Biology and Developmental Biology to investigate how the correct number and pattern of different neurons forms in the vertebrate spinal cord, and how these neurons acquire their specific characteristics and functions.
PhD Projects are available to investigate the roles of specific regulatory genes (Transcription Factors) in determining different neuronal characteristics (such as neurotransmitter phenotypes and axon morphology) in the zebrafish spinal cord.
We primarily use zebrafish embryos as a model system, as the embryos develop outside the mother and are transparent and their relatively simple nervous system facilitates studies of neural circuitry and function. We use GFP lines (see picture) to study neurons in live and fixed embryos. As most of the genes involved in spinal cord development are conserved between vertebrates, the insights that we gain should be widely applicable, including to humans.
See http://biology.syr.edu/faculty/lewis/lewis_research.htm for more details
Application Deadline:
Deadline for August 2012 admission is January 2012.
Applications will be considered in the order that they are received – so if you are interested please apply soon! We will start assessing applications in December 2011.
Notes on Funding and PhD Program
Funding will be a mixture of teaching and research assistantships and is guaranteed for 5 years.
Students usually rotate in 3 different labs and then choose a lab for the PhD.
Information on other labs in the department can be found here: http://biology.syr.edu/directories/fac_dir.htm
For more details on the graduate program see http://biology.syr.edu/grad/graduate.htm
Syracuse has its own airport (15 minute drive from downtown) and is close to Toronto, New York City, Philadelphia, Montreal as well as the natural beauty of Upstate New York (Niagara Falls, The Finger Lakes, Adirondack lakes and mountains).
Syracuse University shares a campus with SUNY Upstate Medical University that has active research programs which include Cell Biology, Developmental Biology and Neuroscience http://www.upstate.edu/research/research_dept.php and the Lewis Lab is also part of their graduate program in Neuroscience (for which there is a separate application).