Closing Date: 15 March 2021
PhD Studentship in Stem Cell Biology
 Applications are invited for a fully funded PhD studentship at School of Natural Sciences and Regenerative Medicine Institute (REMEDI), NUI Galway. The project's aim is to study the molecular mechanisms of stem cell fate determination, and it will be conducted in the cnidarian Hydractinia. This animal is an emerging stem cell model because it contains pluripotent cells life-long, can regenerate any lost body part, and is amenable to gene expression analysis and manipulation. Hydractinia enables performing stem cell experiments in vivo at a single cell resolution that are not feasible in mammals, providing new and exciting insight into the mechanisms that control cell behavior in development and regeneration.
We are an enthusiastic group of researchers working on several projects in the general areas of developmental biology, regeneration and genomics.
The work will involve generation of transgenic animals, cell transplantation, gene expression analysis, flow cytometry, bioinformatics and advanced microscopy.
A strong background in molecular biology, biochemistry, or related areas is required. A high 2.1 BSc (Hons) or equivalent is a minimum qualification. For additional information email me at uri.frank@nuigalway.ie or visit http://www.nuigalway.ie/frank . To apply, email full CV, cover letter, and the names and contact info for 2 academic references. Starting date is flexible.
Relevant group publications
Kanska, J, Frank U (2013). Novel roles for Nanos in neural cell fate determination revealed by studies in a cnidarian. J Cell Sci (in press).
Duffy DJ, Millane RC, Frank U (2012). A heat shock protein and Wnt signaling crosstalk during axial patterning and stem cell proliferation. Dev Biol 362(2): 271-281.
Millane RC, Kanska J, Duffy DJ, Seoighe C, Cunningham S, Plickert G,  Frank U (2011). Induced stem cell neoplasia in a cnidarian by ectopic expression of a POU domain transcription factor.  Development 138(12): 2429-2439.
Duffy DJ, Plickert G, Kuenzel T, Tilmann W, Frank U (2010). Wnt signaling promotes oral but suppresses aboral structures in Hydractinia metamorphosis and regeneration. Development 137(18): 3057-3066.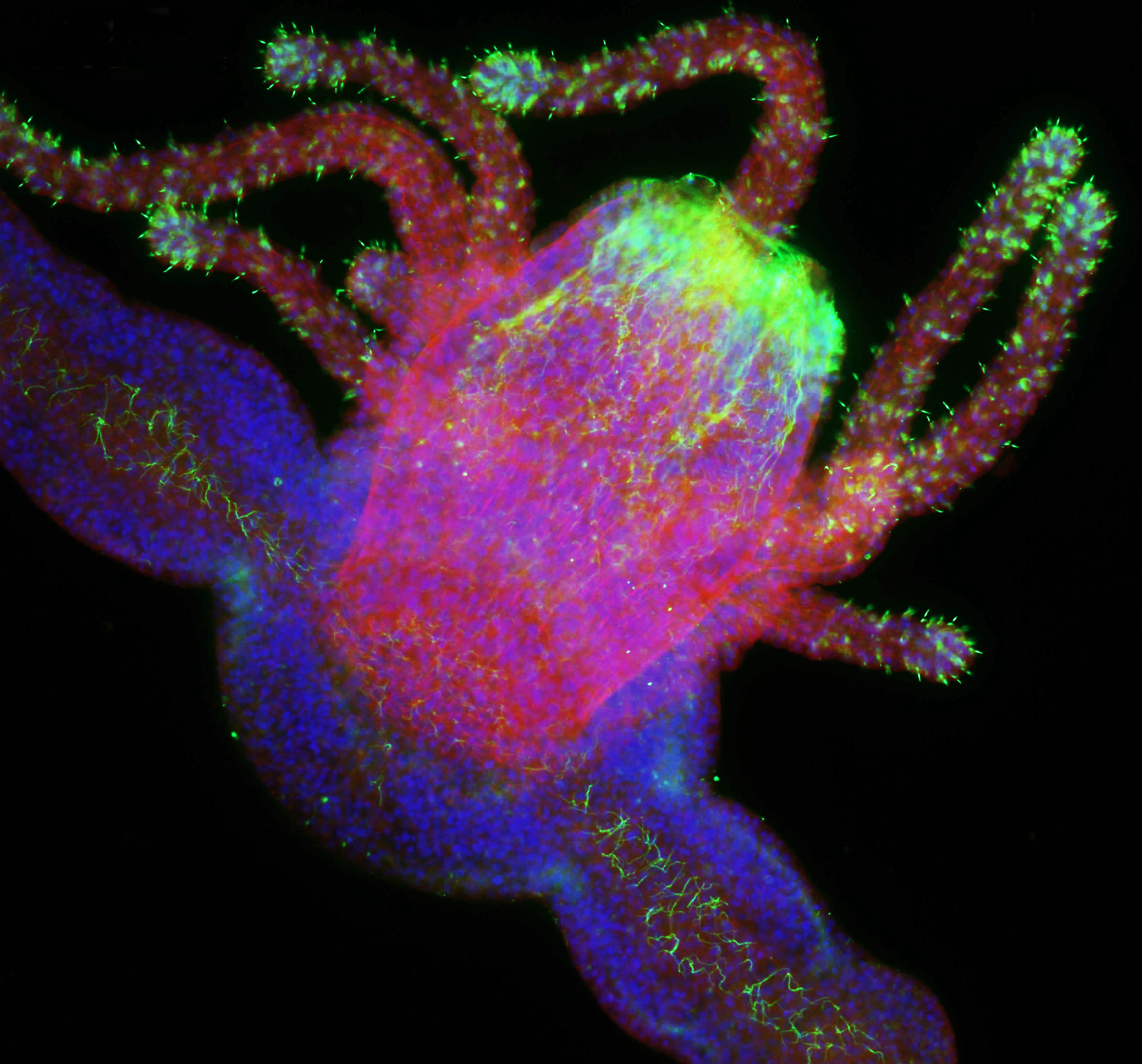 A metamorphosed Hydractinia polyp. Nervous system is green, actin red, and DNA blue.