Closing Date: 15 March 2021
In the frame of the 2016 "Juan de la Cierva" Call, a postdoctoral research post is available in Juan R. Martinez-Morales laboratory. (www.cabd.es).
CABD (UPO/CSIC). National Research Council. Seville. Spain.
The research project focuses on the morphogenesis of the optic cup as an epithelial model to identify key effector genes that determine cell and tissue architecture in zebrafish. By RNAseq analysis, we have identified some of these effector genes operating on basic cell properties such as: cell-adhesion, cell-contractility, and cytoskeletal organization. Investigating their role on epithelial cell geometry is now our objective. To this end we will use a combination of CRISPr/Cas9, live-imaging in zebrafish and gain and loss of function experiments in MDCK cysts.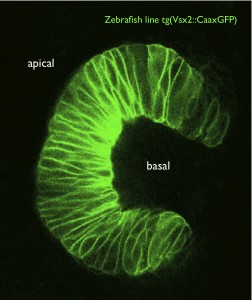 Gago-Rodrigues I, Fernández-Miñán A, Letelier J, Naranjo S, Tena JJ, Gómez-Skarmeta JL, Martinez-Morales JR (2015) Analysis of opo cis-regulatory landscape uncovers Vsx2 requirement in early eye morphogenesis. Nat Comm. 6:7054
Tena JJ, González-Aguilera C, Fernández-Miñán A, Vázquez-Marín J, Parra-Acero H, Cross JW, Rigby PW, Carvajal JJ, Wittbrodt J, Gómez-Skarmeta JL, Martínez-Morales JR (2014) Comparative epigenomics in distantly related teleost species identifies conserved cis-regulatory nodes active during the vertebrate phylotypic period. Genome Research. 24(7): 1075-85
Bogdanovic O, Delfino-Machín M, Nicolás-Pérez M, Gavilán MP, Gago-Rodrigues I, Fernández-Miñán A, Lillo C, Ríos RM, Wittbrodt J, Martínez-Morales JR (2012) Numb/Numbl-Opo antagonism controls retinal epithelium morphogenesis by regulating integrin endocytosis. Developmental Cell. 23 (4)
Candidate Requirements: We are seeking for highly motivated candidates with excellent publication record and a background either in Cell or Developmental Biology. Previous experience with zebrafish, MDCK cultures, or CRISPr technologies is not an essential requirement, but it will be considered positively.
Interested candidates should send a letter of interest, a CV and contact information for 2 referees before December 20, 2015 to: Juan R. Martinez-Morales: jrmarmor@upo.es