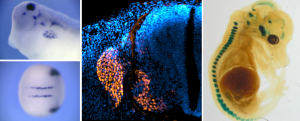 A postdoctoral position is available from January 2021 in the "Developmental Genetics" laboratory (http://gendev.ulb.ac.be/bellefroidlab/). Our lab studies cortical and sensory neurogenesis. To do this, we use mouse genetics and gain and loss-of-function experiments in Xenopus. We are interested in understanding how some transcription factors we have previously identified as key cell fate determinants in the developing cerebral cortex (Dmrt3 and Dmrt5) and in somatosensory ganglia (Prdm12) function in neuronal specification and to identify novel important regulators of neuronal diversification. The selected candidate will be in charge of testing the functional importance of one recently identified new putative regulator of neuronal diversification. To approach the function of this gene, he/she will use knock-out and conditional overexpressing transgenic mice as well as gain and loss of function experiments in the Xenopus model.
Location
The laboratory is located in the Biopark Charleroi Brussels South in the Institute of Biology and Molecular medicine (IBMM) of the University of Brussels. It is also part of the ULB Neuroscience Institute (UNI – http://uni.ulb.ac.be/groups/developmental-genetics/) that integrates and synergizes brain researchers of all neuroscience perspectives, from molecular and cellular neurobiology to systems / cognitive and clinical neurosciences.
Qualification and experience
We are looking for highly motivated candidates with a background in molecular and developmental neurobiology. Preference will be given to applicants with experience in mouse genetics and/or with the Xenopus model system. The position is opened for one year renewable up to 2 years, starting as January 2021. Fluency in English is mandatory. The ability to speak French is not required.
Application
Interested candidates should send a letter of motivation describing their past research experiences and full CV with the name and e-mail address of 2 references to Eric Bellefroid (ebellefr@ulb.ac.be)
Selected recent related publications:
1. Desiderio et al. (2019). Cell Reports 26, 3522-3536.
2. Desmaris et al. (2018). J. of Neurosci. 38, 9105-9121.
3. Young et al., (2017) PNAS, 114, E5599-E5607
4. De Clercq et al., (2016) Cerebral Cortex, 28, 493-509.
5. Thélie et al., (2015) Development 142, 3416-28.