Closing Date: 15 March 2021
An NIH-funded postdoctoral fellow position is open at UC Davis School of Medicine.
The postdoc opening is in the Knoepfler Lab. The focus of research will be on stem cell epigenomics, particularly as it relates to pluripotency, neural differentiation, and oncogenic transformation. Approaches will include functional genomics assays such as ChIP-Seq, chromatin conformation capture, CRISPR genetics work, and cell biological research. The Knoepfler lab is also part of the UC Davis Genome Center, the Comprehensive Cancer Center, and the Institute for Regenerative Cures.
Qualifications
:
Applicants must have a PhD, an MD, or both. Preference will be given to applicants who have a strong track record as students of biological research including published work and ideally one or more published first author papers. Genomics, next generation sequencing, bioinformatics, stem cell or cancer biology would be a plus for candidates. Excellent written and oral communication skills are required.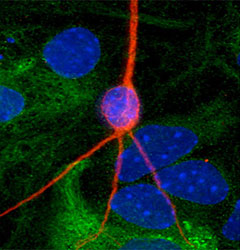 To apply: E-mail knoepfler@ucdavis.edu a 1-page overview of research experience and career goals, a CV, and contact information for 3 references.
UC Davis School of Medicine is an outstanding research and teaching institution committed to diversity, and located in beautiful Northern California.