Closing Date: 15 March 2021
Single-cell analysis of planarian stem cell differentiation and regeneration
The Solana lab seeks to recruit two postdocs (an experimental and a computational researcher) to develop projects on single-cell analysis of planarian stem cell differentiation. These positions are funded by the Leverhulme Trust.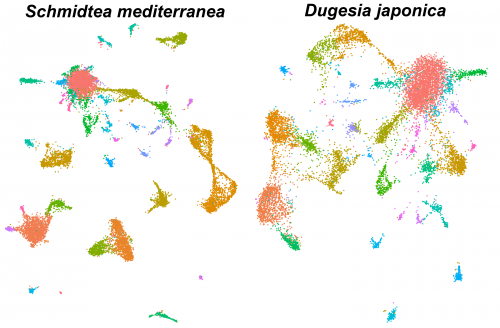 Single-cell sequencing methods are revolutionising the study of stem cells. The flatworm Schmidtea mediterranea is a very promising model for in vivo stem cell biology. They can regenerate thanks to stem cells that continuously differentiate to all adult cell types. We have previously used single-cell transcriptomics to study stem cell differentiation in planarians. Combining clustering algorithms with graph mathematics and RNA metabolism information we were able to reconstruct the differentiation lineage tree of planarian stem cells. We are now using SPLIT-seq to analyse tens of thousands of single cell transcriptomes under different conditions.
The successful applicants will have:
a: experimental) a PhD or equivalent experience in biology, with experience in cell biology and molecular biology, and familiarity with RNA transcriptomics and/or genomic approaches
b: computational) a PhD or equivalent experience in genomic or transcriptomic analysis and must have good computational skills, including experience in R and Unix.
Additionally, the applicants must have organisational and time management skills, and ability to work independently.
You would join an international and growing group of researchers. We are located at Oxford Brookes University. Currently there are two PhD students, one experimental postdoc, two computational postdocs and one technician. There are opportunities to collaborate with other researchers in the UK, Spain, Germany and Italy. The positions are fully funded but the successful applicants will be encouraged to apply for their own funding.
To apply to either the experimental or computational positions, please use the Oxford Brookes University online system following the links. The deadline is March 29th.
For informal enquiries please contact Dr Jordi Solana (jsolana@brookes.ac.uk)