The Embryology course at Woods Hole is still ongoing, and you can read more about what they've been up to so far in David Gold's post.
The images below are the last of last year's course images that have a chance at appearing on the cover of Development. Which of these images will be next to appear on the cover? Please vote in the poll below the images. (Click any image to see a larger version.) You can vote until July 26, 12:00 (noon) GMT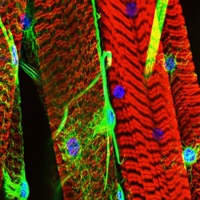 1. Drosophila larval body wall stained for tropomyosin (red), acetylated tubulin (green) and nuclei (blue, DAPI). This image was taken by Sylvia Bonilla (Purdue University) and Mazdak Lachidan (Samuel Lunenfeld Research Institute, Toronto).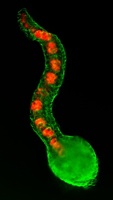 2. Ciona embryo electroporated with Brachyury:RFP transgene. Nomarski image was used to create green overlay. This image was taken by Qinwen Liu (University of Maryland, College Park) and Xinwei Cao (St. Jude's Children's Research Hospital).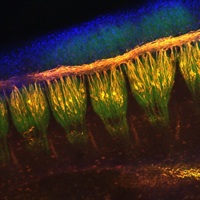 3. Mouse embryo. Wnt1/Cre-YFP transgene (yellow), 2H3 antibody (red), and DAPI (blue). This image was taken by Elsa Denker (Sars International Centre for Marine Molecular Biology, Bergen).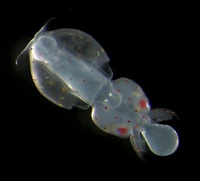 4. Live late stage squid embryo. This image was taken by Amber O'Connor (University of Alabama at Birmingham).