We're as surprised as you are that September starts in a few days! Time to get a new desktop calendar.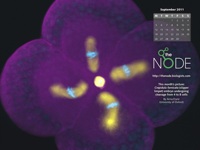 While it may look like an African violet, this is actually a staining of the four-cell stage of a slipper limpet (Crepidula fornicata) just about to cleave to the eight-cell stage. This image, taken by Anna Franz of the University of Oxford, was one of the candidates in the second Development cover image voting round of images taken at the 2010 Woods Hole Embryology course.
Visit the calendar page to select the resolution you need for your screen. The page will be updated at the end of each month with a new image, and all images are chosen from either the intersection image contest or from the images we've featured from the Woods Hole Embryology 2010 course.