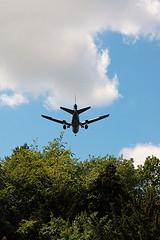 If you're attending a conference later this year and need help funding your travel, you can apply for one of the Company of Biologists' Direct Travel grants. The maximum amount of these grants has just been increased to £600 for international travel and £300 for travel in the same country as resident. (The website still lists the old amounts.)
-Deadline for the next round is March 31st.
-Applicants must be a PhD student or junior (in first three years post PhD and in first postdoctoral position) postdoctoral researcher.
-Applications will not be considered from those eligible to apply for travel grants from the British Society for Developmental Biology (BSDB) or any other Company of Biologists grant-aided source.
In addition, Development also offers fellowship awards of up to £2500 for PhD students and postdocs to travel to another lab for a collaborative exchange. You can find out more about those Travelling Fellowships on the Development website, and the application deadline for the next round of these awards is April 30.
We've featured some reports from previous recipients of the Travelling Fellowships on the Node, so you can read their experiences.
Both the Direct Travel Grants and the Travelling Fellowships are open to applicants from any country.
(image by Duncan Harris on Flickr.)