Closing Date: 15 March 2021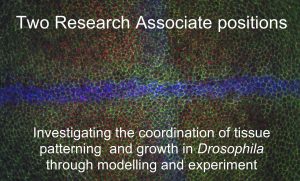 Two BBSRC/Wellcome Trust-funded positions at the University of Sheffield are available for candidates with a background in (i) cell and/or developmental biology and (ii) mathematical modelling to join an interdisciplinary team investigating the coordination of tissue patterning and growth using Drosophilaepithelial development as a model system.
The Strutt lab (http://www.shef.ac.uk/bms/research/strutt) is a world leader in studying the planar polarity signalling pathways that control coordinated cell polarisation in animal tissues. In this collaborative project with Dr Alexander Fletcher (http://alex-fletcher.staff.shef.ac.uk) we are now combining our biological expertise with mathematical modelling approaches, to build an integrated understanding of how tissue patterning and growth are coordinated to achieve consistent organ shape and size during animal development.
Informal enquiries may be directed to David Strutt (d.strutt@sheffield.ac.uk) or Alexander Fletcher (a.g.fletcher@sheffield.ac.uk). Formal applications should be made directly to the University of Sheffield (http://www.sheffield.ac.uk/jobs, Job Refs: UOS020789 and UOS020791) by no later than 4thDecember 2018.
Recent relevant publications:
Kursawe J, Baker RE, Fletcher AG (2018). Approximate Bayesian computation reveals the importance of repeated measurements for parameterising cell-based models of growing tissues. J Theor Biol. 443:66-81
Fisher KH, Strutt D, Fletcher AG (2017). Integrating planar polarity and tissue mechanics in computational models of epithelial morphogenesis. Curr Opin Sys Biol 5: 41-49.
Strutt H, Gamage J, Strutt D (2016). Robust asymmetric localization of planar polarity proteins is associated with organization into signalosome-like domains of variable stoichiometry. Cell Rep 17:2660-2671.
Hale R, Brittle A, Fisher KH, Monk NA, Strutt D (2015). Cellular interpretation of the long-range gradient of Four-jointed activity in the Drosophila wing. eLife 4:e05789.
Wells RE, Barry JD, Warrington SJ, Cuhlmann, S, Evans P, Huber W, Strutt D, Zeidler MP (2013). Control of tissue morphology by Fasciclin III-mediated intercellular adhesion. Development 140:3858-3868.
Brittle A, Thomas C, Strutt D (2012). Planar polarity specification through the asymmetric subcellular localisation of the atypical cadherins Fat and Dachsous. Curr Biol 22:907-914.