The idea sounded intriguing at first: 30 scientists in an isolated and stunning old house discussing intercellular interactions in the context of tissues and organs. It became even more intriguing when we were asked to prepare slides about ourselves, not only about our research but also about our non-scientific life!
The day before the workshop began, a puzzled friend told me "why would you want to go to such secluded place and spend 4 days surrounded by scientists?" At the beginning the question made me laugh, but then it made me think about the unique context of the meeting. Definitely I could not anticipate what I was going to encounter.
The meeting took place at Wiston House, a historic and really charming country house filled with British history. We even got a chance to hear all the tales and chronicles of the place from the historian of Wiston House. Currently, it is used as a conference centre to promote discussion and exchange of ideas, an ideal scenario for a scientific meeting!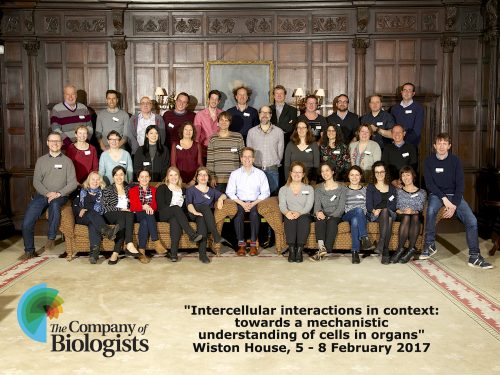 The first surprise came when I saw the meeting room. Instead of sitting in rows, we were around a horseshoe-shaped table. This may sound a trivial detail, but I think it definitely helped the discussion and the interactions. The first session was opened by one of the organisers, Andy Ewald, who described specific molecular requirements for mammary epithelial cell invasion. Among other examples, he showed that collective invasion requires leader cells to adopt an epithelial program (Cheung et al., 2013). Parallels were drawn between the cellular features of branching morphogenesis during development and of collective epithelial migration during cancer invasion (Ewald et al., 2008). This idea was especially relevant, given that the workshop brought together cellular and developmental biologists and cancer researchers. During gastrulation, cells undergo changes in shape, position and fate at the primitive streak. Kees Weijer presented a very detailed light-sheet microscopy study of primitive streak formation in the chick embryo, which is characterized by large-scale tissue movements (Rozbicki et al., 2015). On the other hand, Peter Friedl presented beautiful two-photon microscopy studies of collective cancer cell invasion in vivo. A cross-fertilization of ideas could help us understand the complexity of embryonic and cancer cell behaviors. To achieve this goal, the development of new and improved imaging techniques will be fundamental, as was nicely shown by Scott Fraser.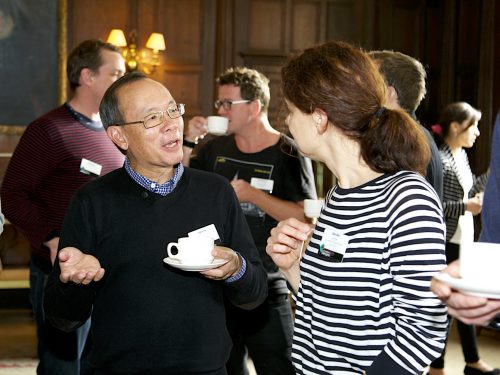 The second surprise came at dinnertime: seats were assigned! We have all been at big meetings in which students and postdocs end up sitting together, and PIs, who in many cases have known each other for a really long time, interact among themselves. The idea of assigning seats turned out to be simple and very effective. We all had the opportunity to the engage in stimulating conversations with PIs, postdocs, students and editors. Scientific interactions are critical, and so are cellular interactions, both in physiology and disease. Elke Ober showed how interactions between epithelial and mesenchymal cells regulate organ positioning during development. In particular, Ephrin-mediated crosstalk between lateral plate mesoderm cells and hepatoblasts coordinates the migration of these two cell types to position the embryonic liver (Cayuso et al., 2016). Another example is the effect of stromal cells on branching of the mammary gland. Johanna Ivaska showed that expression of SHARPIN in mesenchymal cells is required to organize the extracellular matrix allowing ductal outgrowth (Peuhu et al., 2017). By using simplified model systems, we can also gain relevant information on the mechanisms of organogenesis. With this in mind, Anne Grapin-Botton talked about the cellular interactions that regulate 3D pancreatic organoid formation (Greggio et al., 2013). On the other side of the coin, interactions between Cancer-Associated Fibroblasts (CAFs) and tumor cells are known to promote cancer growth and invasion, but whether this requires a direct physical interaction has not been addressed. Erik Sahai showed a mechanical coupling between CAFs and tumor cells that drives collective invasion (Labernadie et al., 2017). Paul Timpson took a translational approach and discussed the results of targeting the stroma for cancer treatment (Pajic et al., 2015).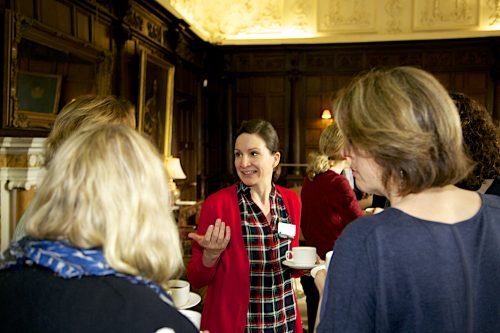 The third unconventional event was the out of the box sessions, dedicated to reflect on specific concepts and topics. A recurring theme was junctional tension. We discussed how to define it, how to measure it, and what are the implications for tissue morphogenesis, aspects that were also covered by different speakers. Alpha Yap and Carien Nissen analysed the role of adherens junctions as mechanotransducers using different epithelial models; and Valerie Weaver discussed how the mechanical properties of the substrate impact on human embryonic stem cell differentiation (Przybyla et al., 2016). When discussing junctional tension, there is a key element to take into consideration: the actomyosin cytoskeleton. Benedicte Sanson discussed how a planar polarized localization of actomyosin regulates collective cellular movements during Drosophila germ-band extension (Tetley et al., 2016). This was complemented by the studies of John Wallingford and Danelle Devenport on the role of planar cell polarity proteins in the control of epithelial morphogenesis. Michael Way and Laura Machesky presented their latest research on the regulation of actin dynamics and reorganization using different model systems (vaccinia infection and melanocyte migration respectively).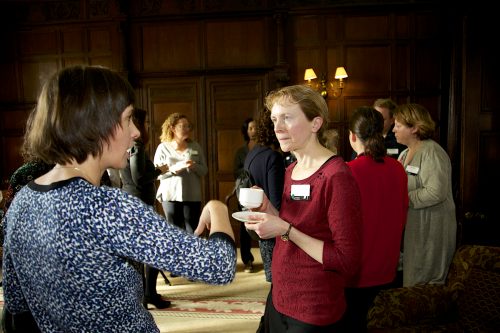 By the end of the workshop I remembered the words of my friend and wondered why I wanted to be part of it. The workshop was superb in so many different ways. Indeed, there were only reasons to be part of it! But probably the best reason was inspiration. Many talks and ideas were inspirational, and I would like to highlight the concept of "building instead of destroying" that was presented by Dan Fletcher and Darren Gilmour. By interfering with the function of genes through genetic studies we have learned a lot about the function of specific molecules and pathways. The time has come to move ahead, and the current challenge is to interfere with protein function in a spatiotemporal-controlled manner, and to devise ways to study how the different components of a cell self-assemble to generate cells, tissues and organs. Meetings like this provide the context to make it happen.
I am grateful to Katherine Brown for comments on the text.
References
Cayuso, J., A. Dzementsei, J.C. Fischer, G. Karemore, S. Caviglia, J. Bartholdson, G.J. Wright, and E.A. Ober. 2016. EphrinB1/EphB3b Coordinate Bidirectional Epithelial-Mesenchymal Interactions Controlling Liver Morphogenesis and Laterality. Dev Cell. 39:316-328.
Cheung, K.J., E. Gabrielson, Z. Werb, and A.J. Ewald. 2013. Collective invasion in breast cancer requires a conserved basal epithelial program. Cell. 155:1639-1651.
Ewald, A.J., A. Brenot, M. Duong, B.S. Chan, and Z. Werb. 2008. Collective epithelial migration and cell rearrangements drive mammary branching morphogenesis. Dev Cell. 14:570-581.
Greggio, C., F. De Franceschi, M. Figueiredo-Larsen, S. Gobaa, A. Ranga, H. Semb, M. Lutolf, and A. Grapin-Botton. 2013. Artificial three-dimensional niches deconstruct pancreas development in vitro. Development. 140:4452-4462.
Labernadie, A., T. Kato, A. Brugues, X. Serra-Picamal, S. Derzsi, E. Arwert, A. Weston, V. Gonzalez-Tarrago, A. Elosegui-Artola, L. Albertazzi, J. Alcaraz, P. Roca-Cusachs, E. Sahai, and X. Trepat. 2017. A mechanically active heterotypic E-cadherin/N-cadherin adhesion enables fibroblasts to drive cancer cell invasion. Nat Cell Biol. 19:224-237.
Pajic, M., D. Herrmann, C. Vennin, J.R. Conway, V.T. Chin, A.K. Johnsson, H.C. Welch, and P. Timpson. 2015. The dynamics of Rho GTPase signaling and implications for targeting cancer and the tumor microenvironment. Small GTPases. 6:123-133.
Peuhu, E., R. Kaukonen, M. Lerche, M. Saari, C. Guzman, P. Rantakari, N. De Franceschi, A. Warri, M. Georgiadou, G. Jacquemet, E. Mattila, R. Virtakoivu, Y. Liu, Y. Attieh, K.A. Silva, T. Betz, J.P. Sundberg, M. Salmi, M.A. Deugnier, K.W. Eliceiri, and J. Ivaska. 2017. SHARPIN regulates collagen architecture and ductal outgrowth in the developing mouse mammary gland. EMBO J. 36:165-182.
Przybyla, L., J.N. Lakins, and V.M. Weaver. 2016. Tissue Mechanics Orchestrate Wnt-Dependent Human Embryonic Stem Cell Differentiation. Cell Stem Cell. 19:462-475. [Laralynne told us the story behind the paper last year on the Node]
Rozbicki, E., M. Chuai, A.I. Karjalainen, F. Song, H.M. Sang, R. Martin, H.J. Knolker, M.P. MacDonald, and C.J. Weijer. 2015. Myosin-II-mediated cell shape changes and cell intercalation contribute to primitive streak formation. Nat Cell Biol. 17:397-408.
Tetley, R.J., G.B. Blanchard, A.G. Fletcher, R.J. Adams, and B. Sanson. 2016. Unipolar distributions of junctional Myosin II identify cell stripe boundaries that drive cell intercalation throughout Drosophila axis extension. Elife. 5.