Our latest monthly trawl for developmental biology (and other cool) preprints. See June's introductory post for background, and let us know if we missed anything
---
2016 saw preprints in the life sciences really taking off…
bioRxiv ends the year on a high pic.twitter.com/D8nm136oYF

— Richard Sever (@cshperspectives) January 3, 2017
…and, perhaps in light of Jim Woodgett's advice…
If you're about to submit a manuscript:
1 Stop 🚫
2 Deposit @biorxivpreprint
3 Chill
4 Enjoy Holidays 🥂🎉🎊
5 Submit to journal in January ❤️

— Jim Woodgett (@jwoodgett) December 14, 2016
…lots of preprints were deposited in December, predominantly on bioRxiv, though we also found a handful on arXiv, PeerJ, and our first entry from the recently launched Wellcome Open Research.
Three papers from the Martin-Blanco lab investigated various aspects of signalling and morphogenesis in flies, fish and brachiopods with some beautiful live imaging. There was more embryo mechanics, this time using c. elegans, from Michel Labouesse's group, some Hox regulatory dynamics from Robb Krumlauf's group, and two preprints on the stem cell ground state from Austin Smith's group. Plus some plants (including tree development from Torgeir Hvidsten's lab and work on auxin by the newly honoured Dame Ottoline Lesyer and colleagues), the problems with null hypothesis significance testing, and a whole bunch of tools and resources. Happy preprinting!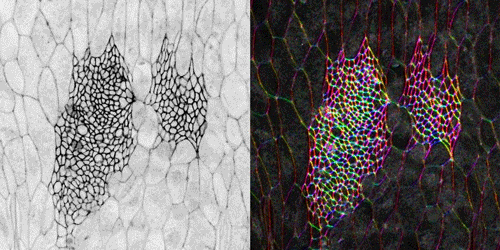 Developmental biology
Morphogenesis & Differentiation
The Dachsous/Fat/Four-jointed pathway implements axial long-range cell orientation. Federica Mangione, Enrique Martin-Blanco
The architectural balance of the Ventral Nerve Cord depends on the level of JNK signaling activity. Katerina Karkali, George Panayotou, Timothy E Saunders, Enrique Martin-Blanco
Rab5-mediated Yolk Endocytosis modulates Zebrafish Epiboly Biomechanics and Tissue Movements. Maria Marsal, Amayra Hernandez-Vega, Philippe-Alexandre Pouille, Enrique Martin-Blanco
The interplay of stiffness and force anisotropies drive embryo elongation. Thanh Thi Kim Vuong-Brender, Martine Ben Amar, Julien Pontabry, Michel Labouesse
Fractone bulbs derive from ependymal cells and their laminin composition affects cell proliferation in the subventricular zone. Marcos Assis Nascimento, Tatiana Coelho-Sampaio, Lydia Sorokin
Early survival and delayed death of developmentally-born dentate gyrus neurons. Shaina P Cahill, Ru Qi Yu, Dylan C Green, Evgenia V Todorova, Jason Scott Snyder
Ras/ERK-signalling promotes tRNA synthesis and growth via the RNA polymerase III repressor Maf1 in Drosophila. Shrivani Sriskanthadevan-Pirahas, Rujuta Deshpande, Byoungchun Lee, Savraj Grewal
Blood flow directs arterial-venous remodeling through Notch activation and endothelial cell migration. Bart Weijts, Edgar Gutierrez, Semion K Saikin, Ararat J Ablooglu, David Traver, Alex Groisman, Eugene Tkachenko
Zebrafish Nanog is not required in embryonic cells. James A Gagnon, Kamal Obbad, Alexander F Schier
Ca2+ dynamics in zebrafish hyper-dorsalization of congenital anomaly. Yusuke Tsuruwaka, Eriko Shimada.
Genes and transcription
Hoxa1 and TALE proteins display cross-regulatory interactions and form a combinatorial binding code on Hoxa1 targets. Bony De Kumar, Hugo J Parker, Ariel Paulson, Mark E Parrish, Irina Pushel, Brian D Slaughter, Jay R Unruh, Julia B Zeitlinger, Robb Krumlauf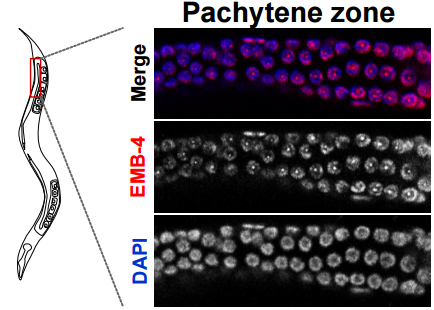 The Aquarius/EMB-4 helicase licenses co-transcriptional gene silencing. Alper Akay, Tomas Di Domenico, Kin Man Suen, Amena Nabih, Guillermo Eduardo Parada, Mark Larance, Ragini Medhi, Ahmet Can Berkyurek, Christopher J. Wedeles, Xinlian Zhang, Ping Ma, Angus I. Lamond, Martin Hemberg, Julie M. Claycomb, Eric Alexander Miska
Optimal decoding of information from a genetic network. Mariela D. Petkova, Gašper Tkačik, William Bialek, Eric F. Wieschaus, Thomas Gregor.
TAF10 is required for the integrity of TFIID and SAGA complexes but is initially dispensable for somitogenesis in the mouse embryo. Paul Bardot, Stephane D Vincent, Marjorie Fournier, Alexis Hubaud, Mathilde Joint, Laszlo Tora, Olivier Pourquie
Human pancreatic β cell lncRNAs control cell-specific regulatory networks. Ildem Akerman, Zhidong Tu, Anthony Beucher, Delphine Rolando, Claire Sauty-Colace, Marion Benazra, Nikolina Nakic, Jialiang Yang, Huan Wang, Lorenzo Pasquali, Ignasi Moran, Javier Garcia-Hurtado, Natalia Castro, Roser Gonzalez-Franco, Andrew F. Stewart, Caroline Bonner, Lorenzo Piemonti, Thierry Berney, Leif Groop, Julie Kerr-Conte, Francois Pattou, Carmen Argmann, Eric Schadt, Philippe Ravassard, Jorge Ferrer
Stem cells
Tracking the embryonic stem cell transition from ground state pluripotency. Tuzer Kalkan, Nelly Olova, Mila Roode, Carla Mulas, Heather J Lee, Isabelle Nett, Hendrik Marks, Rachael Walker, Hendrik G Stunnenberg, Kathryn Lilley, Jennifer Nichols, Wolf Reik, Paul Bertone, Austin Smith
Nodal secures pluripotency upon embryonic stem cell progression from the ground state. Carla Mulas, Tüzer Kalkan, Austin Smith
Impact of regulatory variation across human iPSCs and differentiated cells. Nicholas E Banovich, Yang I Li, Anil Raj, Michelle C Ward, Peyton Greenside, Diego Calderon, Po Yuan Tung, Jonathan E Burnett, Marsha Myrthil, Samantha M Thomas, Courtney K Burrows, Irene Gallego Romero, Bryan J Pavlovic, Anshul Kundaje, Jonathan K Pritchard, Yoav Gilad
Quantitative Analysis of Dopamine Neuron Subtypes Generated from Mouse Embryonic Stem Cells. Yu-Ting L. Dingle, Katherine Xiong, Jason T. Machan, Kimberly A. Seymour, Debra Ellisor, Diane Hoffman-Kim, Mark Zervas
DNA damage response decreases during induced pluripotent and embryonic stem cell differentiation. Kalpana Mujoo, Raj K Pandita, Anjina Tiwari, Vijay Charaka, Sharmistha Chakraborti, Walter Hittelman, Nobuo Horikoshi, Clayton Hunt, KumKum Khanna, Alexander Kots, Brian Butler, Ferid Murad, Tej K Pandita
Myotome adaptability confers developmental robustness to somitic myogenesis in response to fibre number alteration. Shukolpa Dutta duttaroy, Victoria C Williams-Ward, Tapan G Pipalia, Chrissy L Hammond, Stefanie Knappe, Robert D Knight, Simon M Hughes, Kuoyu Li
Cadm1 regulates airway stem cell growth and differentiation via modulation of Stat3 activity. Pooja Seedhar, Elizabeth Sage, Sabari Vallath, Gabrielle Sturges, Adam Giangreco
Opportune cell culture conditions permit transfer of the neurosphere paradigm to cells of the cerebellar granule cell lineage by being permissive to sonic hedgehog signaling. Constantin Heil
Plant development
Cross-species functional diversity within the PIN auxin efflux protein family. Devin Lee O'Connor, Mon Mandy Hsia, John Vogel, Ottoline Leyser

High-spatial-resolution transcriptome profiling reveals uncharacterized regulatory complexity underlying cambial growth and wood formation in Populus tremula. David Sundell, Nathaniel R Street, Manoj Kumar, Ewa J Mellerowicz, Melis Kucukoglu, Christoffer Johnsson, Vikash Kumar, Chanaka Mannapperuma, Ove Nilsson, Hannele Tuominen, Edouard Pesquet, Urs Fischer, Totte Niittyla, Bjoern Sundberg, Torgeir R Hvidsten
Malate-dependent Fe accumulation is a critical checkpoint in the root developmental response to low phosphate. Javier Mora-Macias, Jonathan Odilon Ojeda-Rivera, Dolores Gutierrez-Alanis, Lenin Yong-Villalobos, Araceli Oropeza-Aburto, Javier Raya-Gonzalez, Gabriel Jimenez-Dominguez, Gabriela Chavez-Calvillo, View ORCID ProfileRuben Rellan-Alvarez, Luis Rafael Herrera-Estrella
Arabidopsis HAP2/GCS1 is a gamete fusion protein homologous to somatic and viral fusogens. Clari Valansi, David Moi, Evgenia Leikina, Elena Matveev, Martin Grana, Leonid V Chernomordik, Hector Romero, Pablo S Aguilar, Benjamin Podbilewicz
Cell biology
Cell cycle dynamics of chromosomal organisation at single-cell resolution. Takashi Nagano, Yaniv Lubling, Csilla Varnai, Carmel Dudley, Wing Leung, Yael Baran, Netta Mandelson Cohen, Steven Wingett, Peter Fraser, Amos Tanay
Cohesin dependent compaction of mitotic chromosomes. Stephanie A Schalbetter, Anton Goloborodko, Geoffrey Fudenberg, Jon M Belton, Catrina Miles, Miao Yu, Job Dekker, Leonid Mirny, Jon Baxter
A SUMO-Ubiquitin Relay Recruits Proteasomes to Chromosome Axes to Regulate Meiotic Recombination. H.B.D. Prasada Rao, Huanyu Qiao, Shubhang K. Bhatt, Logan R.J. Bailey, Hung D. Tran, Sarah L. Bourne, Wendy Qiu, Anusha Deshpande, Ajay N. Sharma, Connor J. Beebout, Roberto J. Pezza, Neil Hunter
Choreography of budding yeast chromosomes during the cell cycle. Luciana Lazar-Stefanita, Vittore Scolari, Guillaume Mercy, Agnes Thierry, Heloise Muller, Julien Mozziconacci, Romain Koszul
Mechanism of Nuclear Movements in a Multinucleated Cell. Romain Gibeaux, Antonio Politi, Peter Philippsen, Francois Nedelec
The centrosome is a selective phase that nucleates microtubules by concentrating tubulin. Jeffrey B Woodruff, Beatriz Ferreira Gomes, Per O Widlund, Julia Mahamid, Anthony A Hyman
Reversible metamorphosis in a bacterium. Karina Ramijan, Joost Willemse, Eveline Ultee, Joeri Wondergem, Anne van der Meij, Ariane Briegel, Doris Heinrich, Gilles van Wezel, Dennis Claessen
A systematic cell size screen uncovers coupling of growth to division by the p38/HOG network in Candida albicans. Adnane Sellam, Julien Chaillot, Jaideep Mallick, Faiza Tebbji, Julien Richard Albert, Michael A Cook, Mike Tyers
Evolution
Senescence gives insights into the morphogenetic evolution of anamniotes. Eric Villiard, Jean-Francois Denis, Faranak Sadat Hashemi, Sebastian Igelmann, Gerardo Ferbeyre, Stephane Roy
Repeated losses of PRDM9-directed recombination despite the conservation of PRDM9 across vertebrates. Zachary Baker, Molly Schumer, Yuki Haba, Chris Holland, Gil G Rosenthal, Molly Przeworski

Genome sequence of a diabetes-prone desert rodent reveals a mutation hotspot around the ParaHox gene cluster. Adam D Hargreaves, Long Zhou, Josef Christensen, Ferdinand Marletaz, Shiping Liu, Fang Li, Peter Gildsig Jansen, Enrico Spiga, Matilde Thye Hansen, Signe Vendelbo Horn Pedersen, Shameek Biswas, Kyle Serikawa, Brian A Fox, William R Taylor, John F Mulley, Guojie Zhang, R Scott Heller, Peter W H Holland
Two loci contribute epistastically to heterospecific pollen rejection, a postmating isolating barrier between species. Jennafer Hamlin, Natasha Sherman, Leonie C Moyle
Generation of heritable germline mutations in the jewel wasp Nasonia vitri pennis using CRISPR/Cas9. Ming Li, Lauren Yun Cook, Deema Douglah, Abigail Chong, Bradley J White, Patrick Ferree, Omar S Akbari
Parallel adaptation to higher temperatures in divergent clades of the nematode Pristionchus pacificus. Mark Leaver, Merve Kayhan, Angela McGaughran, Christian Roedelsperger, Anthony A Hyman, Ralf Sommer
Disease modelling
Loss of the homologous recombination gene rad51 leads to Fanconi anemia-like symptoms in zebrafish. Jan Gregor Botthof, Ewa Bielczyk-Maczyńska, Lauren Ferreira, Ana Cvejic
Parkin knockout inhibits neuronal development via regulation of proteasomal degradation of p21. Mi Hee Park, Hwa Jeong Lee, Hye Lim Lee, Dong Ju Son, Jung Hoon Ju, Byung Kook Hyun, Sung Hee Jung, Ju-Kyoung Song, Dong-Hoon Lee, Chul-Ju Hwang, Sang Bae Han, Sanghyeon Kim, Jin Tae Hong
Genetic variation and gene expression across multiple tissues and developmental stages in a non-human primate. Anna J Jasinska, Ivette Zelaya, Susan K Service, Christine Peterson, Rita M Cantor, Oi-Wa Choi, Joseph DeYoung, Eleazar Eskin, Lynn A Fairbanks, Scott Fears, Allison Furterer, Yu S Huang, Vasily Ramensky, Christopher A Schmitt, Hannes Svardal, Matthew J Jorgensen, Jay R Kaplan, Diego Villar, Bronwen L Aken, Paul Flicek, Rishi Nag, Emily S Wong, John Blangero, Thomas D Dyer, Marina Bogomolov, Yoav Benjamini, George M Weinstock, Ken Dewar, Chiara Sabatti, Richard K Wilson, J David Jentsch, Wesley Warren, Giovanni Coppola, Roger P Woods, Nelson B Freimer
Genome-wide association study in Collaborative Cross mice reveal a skeletal role for Rhbdf2. Roei Levy, Clemence Levet, Κeren Cohen, Matthew Freeman, Richard Mott, Fuad Iraqi, Yankel Gabet
Drug repurposing for ageing research using model organisms. Matthias Ziehm, Satwant Kaur, Dobril K Ivanov, Pedro J Ballester, David Marcus, Linda Partridge, Janet M Thornton
DYNC1H1 mutations associated with neurological diseases compromise processivity of dynein-dynactin-cargo adaptor complexes. Ha Thi Hoang, Max A Schlager, Andrew P Carter, Simon L Bullock
Tools & resources
No evidence for genome editing of the endogenous DNA in mouse zygotes and HEK293T human cell line using the DNA-guided Natronobacterium gregoryi Argonaute (NgAgo). Nay Chi Khin, Jenna Louise Lowe, Jensen M Lora, Gaetan Burgio
Generating in vivo somatic mouse mosaics with locus-specific, stably-integrated transgenic elements. Gi Bum Kim, Marina Dutra-Clarke, Rachelle Levy, Hannah Park, Sara Sabet, Jessica Molina, Aslam Abbasi Akhtar, Serguei Bannykh, Moise Danielpour, Joshua J Breunig
Highly-efficient Cpf1-mediated gene targeting in mice following high concentration pronuclear injection. Dawn E Watkins-Chow, Gaurav K. K Varshney, Lisa Garrett, Zelin Chen, Erin Jimenez, Cecilia Rivas, Kevin Bishop, Raman Sood, Ursula Harper, William Pavan, Shawn M Burgess
Effective Cell Immunoablation in Undisrupted Developing Avian Embryos. Mariacruz Lopez Diaz, Julia Bujan Valera, Carlos Cadorniga
An efficient targeted nuclease strategy for high-resolution mapping of DNA binding sites. Peter J. Skene, Steven Henikoff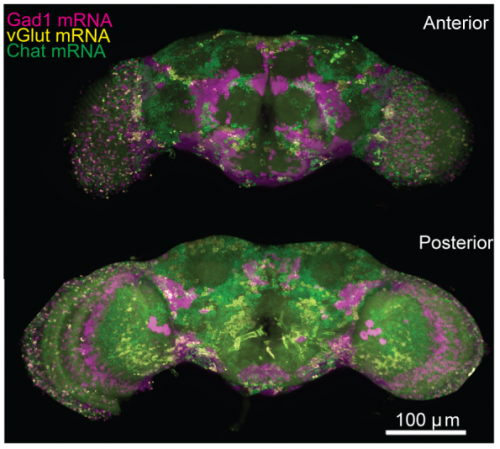 Quantitative mRNA Imaging Throughout the Entire Drosophila Brain. Xi Long, Jennifer Colonell, Allan M Wong, Robert H Singer, Timothee Lionnet
grID: A CRISPR-Cas9 guide RNA Database and Resource for Genome-Editing.Vinod Jaskula-Ranga, Don J. Zack
Genetic and transgenic reagents for Drosophila simulans, D. mauritiana, D. yakuba, D. santomea and D. virilis. David Stern, Justin Crocker, Yun Ding, Nicolas Frankel, Gretchen Kappes, Elizabeth Kim, Ryan Kuzmickas, Andrew Lemire, Serge Picard
Single-cell transcriptomes of fluorescent, ubiquitination-based cell cycle indicator cells. Michael Böttcher, Tsukasa Kouno, Elo Madissoon, Efthymios Motakis, Imad Abugessaisa, Sachi Kato, Harukazu Suzuki, Yoshihide Hayashizaki, Takeya Kasukawa, Piero Carninci, Timo Lassmann, Jay Shin, Charles Plessy
Revealing compartmentalised membrane diffusion in living cells with interferometric scattering microscopy. Gabi de Wit, David Albrecht,  Helge Ewers, Philipp Kukura
Second Generation Drosophila Chemical Tags: Sensitivity, Versatility and Speed. Ben Sutcliffe, Julian Ng, Thomas O. Auer, Mathias Pasche, Richard Benton, Gregory S. X. E. Jefferis, Sebastian Cachero
FerriTag: A Genetically-Encoded Inducible Tag for Correlative Light-Electron Microscopy. Nicholas I Clarke, Stephen J Royle
Label-free high-resolution 3-D imaging of gold nanoparticles inside live cells using optical diffraction tomography. Doyeon Kim, Nuri Oh, Kyoohyun Kim, SangYun Lee, Jiho Park, YongKeun Park
Intensity-based axial localization approaches for multifocal plane microscopy. Ramraj Velmurugan, Jerry Chao, Sripad Ram, E. Sally Ward, Raimund J Ober
Resolving Biology Beyond the Diffraction Limit with Single-Molecule Localization Microscopy. [Review] Nafiseh Rafiei, Daniel Nino, Joshua N Milstein
Mindboggling morphometry of human brains. Arno Klein, Satrajit S. Ghosh, Forrest S. Bao, Joachim Giard, Yrjo Hame, Eliezer Stavsky, Noah Lee, Brian Rossa, Martin Reuter, Elias Chaibub Neto, Anisha Keshavan
The Fruit Fly Brain Observatory: from structure to function. Nikul H Ukani, Chung-Heng Yeh, Adam Tomkins, Yiyin Zhou, Dorian Florescu, Carlos Luna Ortiz, Yu-Chi Huang, Cheng-Te Wang, Paul Richmond, Chung-Chuan Lo, Daniel Coca, Ann-Shyn Chiang, Aurel A Lazar
NeuroNLP: a natural language portal for aggregated fruit fly brain data. Nikul H Ukani, Adam Tomkins, Chung-Heng Yeh, Wesley Bruning, Allison L Fenichel, Yiyin Zhou, Yu-Chi Huang, Dorian Florescu, Carlos Luna Ortiz, Paul Richmond, Chung-Chuan Lo, Daniel Coca, Ann-Shyn Chiang, Aurel A Lazar
NeuroGFX: a graphical functional explorer for fruit fly brain circuits. Chung-Heng Yeh, Yiyin Zhou, Nikul H Ukani, Aurel A Lazar
A synthesis of over 9,000 mass spectrometry experiments reveals the core set of human protein complexes. Kevin Drew, Chanjae Lee, Ryan L. Huizar, Fan Tu, Blake Borgeson, Claire D. McWhite, Yun Ma, John B. Wallingford, Edward M. Marcotte
MultiCellDS: a standard and a community for sharing multicellular data. Samuel H. Friedman, Alexander R.A. Anderson, David M. Bortz, Alexander G. Fletcher, Hermann B. Frieboes, Ahmadreza Ghaffarizadeh, David Robert Grimes, Andrea Hawkins-Daarud, Stefan Hoehme, Edwin F. Juarez, Carl Kesselman, Roeland M.H. Merks, Shannon M. Mumenthaler, Paul K. Newton, Kerri-Ann Norton, Rishi Rawat, Russell C. Rockne, Daniel Ruderman, Jacob Scott, Suzanne S. Sindi, Jessica L. Sparks, Kristin Swanson, David B. Agus, Paul Macklin
Paired CRISPR/Cas9 guide-RNAs enable high-throughput deletion scanning (ScanDel) of a Mendelian disease locus for functionally critical non-coding elements. Molly Gasperini, Gregory M Findlay, Aaron McKenna, Jennifer H Milbank, Choli Lee, Melissa D Zhang, Darren A Cusanovich, Jay Shendure
RNAtor: an Android-based application for biologists to plan RNA sequencing experiments. Shruti Kane, Himanshu Garg, Neeraja M Krishnan, Aditya Singh, Binay Panda
Tracking stem cell differentiation without biomarkers using pattern recognition and phase contrast imaging. John Duncan Delaney, Yuhki Nakatake, David Mark Eckley, Nikita V. Orlov, Christopher Edmond Coletta, Chris Chen, Minoru S. Ko, Ilya Gregory Goldberg
Publishing & research practice
Ten simple rules for structuring papers. Konrad P Kording, Brett Mensh
On expert curation and sustainability: UniProtKB/Swiss-Prot as a case study. Sylvain Poux, Cecilia N. Arighi, Michele Magrane, Alex Bateman, Chih-Hsuan Wei, Zhiyong Lu, Emmanuel Boutet, Hema Bye-A-Jee, Maria Livia Famiglietti, Bernd Roechert
On the origin of nonequivalent states: how we can talk about preprints. Cameron Neylon, Damian Pattinson, Geoffrey Bilder, Jennifer Lin
SciLite: a platform for displaying text-mined annotations as a means to link research articles with biological data. Aravind Venkatesan, Jee-Hyub Kim, Francesco Talo, Michele Ide-Smith1, Julien Gobeill, Jacob Carter, Riza Batista-Navarro, Sophia Ananiadou, Patrick Ruch, Johanna McEntyre
When null hypothesis significance testing is unsuitable for research: a reassessment. Denes Szucs, John PA Ioannidis
10 Simple Rules for Sharing Human Genomic Data. Manuel Corpas, Charlotte Whicher, Nadezna V Kovalevskaya, Tom Byers, Amanda A McMurray, Fiona GG Nielsen, Varsha K Khodiyar
Why not…
A magnetic protein compass? Michael Winklhofer, Henrik Mouritsen