You can find our recently published eLife paper here.
---
At the Euro-Evo-Devo meeting in Lisbao I saw a talk by Sylvie Rétaux and became hooked by a blind and unpigmented cavefish: the evo-devo model Astyanax mexicanus. I then had the chance to join Sylvie's group in Gif-sur-Yvette (France) in 2013, for a post-doc. Four years later we come out with this paper of which I'm extremely happy, not least because this study owes a great deal to teamwork and wouldn't have been possible without a fantastic collaborative spirit between enthusiast and passionate team members. Because the "author contribution" section didn't quite capture my feeling about the human adventure behind our paper, I'd like to take this blog post as a platform to properly acknowledge each of my friends and bring to you our scientific/team-story.
Astyanax mexicanus, evo-devo top model
Astyanax mexicanus is a teleost fish that inhabits South American rivers. As well as the river dwelling fish, several Astyanax populations can be found deep in the caves of the Sierra del Abra in Mexico. Cave colonization has occurred several times independently and these cave populations have experienced convergent evolution of several traits, including loss of eyes and pigmentation. Cave fish also behave differently than their surface siblings, probably in response to selective forces driving adaptation to life in complete and permanent darkness. For instance, they have a better sense of smell and more appetite, they swim more and sleep less, almost constantly exploring their environment in the quest for food or sexual partner. Astyanax is a great model to link developmental evolution with adaptation to a new environment. By comparing the anterior brain of surface and cave fish, and by doing so in young embryos, Sylvie's team have been highlighting how development of the central nervous system has shaped cavefish evolution.
Our recently published work makes a new contribution to the story of Astyanax brain evo-devo. And for the first time we were able to elucidate some links between early embryonic development and fish behavior. To reach this goal, it tooks 4 years, 3 co-first authors (me-Alexandre Alié, Jorge Torres-Paz and Lucie Devos), the contribution of two brilliant students (Lise Prunier and Fanny Boulet), the unwavering support of our lab manager (Maryline Blin) and the expertise of our specialist in behavioral studies (Yannick Elipot).
From early development…
The story began before I joined the group, with the work of Lise. At that time she was a Master's degree student and had performed very numerous and beautiful in situ hybridization showing more NPY neurons in cavefish brain versus more Pomcb neurons in surface fish brain. When Lise had to leave the lab at the end of her internship, Sylvie offered me to dig deeper into this story. Together with Maryline, I started to characterize the expression of 9 neuropeptides, at 4 embryonic stages in the 2 morphotypes (cave versus surface)… 72 different conditions in total, reproduced several times to get statistics. This could have been frustrating at some point, but few weeks after I started Lucie joined our lab for her master internship. Lucie galvanized us with her contagious enthusiasm! Our hours spent at the microscope to count/recount neurons or to debate the anatomical interpretations of our results became so much more fun by our combined efforts.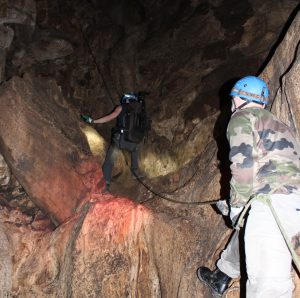 We next embarked on a series of double fluorescent ish to establish a co-expression map between Lhx genes and neuropeptides. Again, help was at hand from a skillful student, Fanny, who did a fantastic job with these double FISH (no pun intended), under the ever-watchful eye of Maryline. We have the chance to possess a fancy confocal microscope in the lab, and we were so excited to get into the very intimacy of Astyanax brain. The expression domains and dynamics of Lhx7 and Lhx9 strongly suggested a role for these genes in the formation of NPY-positive and Hcrt-positive (two neuropeptides) neurons, respectively. This has been definitely confirmed thanks to Jorge, a new postdoc who joined the group and took over the project when I left the lab for other horizons. Jorge's rigorous injections of morpholinos and RNAs and his repeated cell counts again clearly established the functional links between the Lhx transcription factors and the corresponding neuropeptides. Sylvie was so happy, her favorite transcription factor Lhx9 she had discovered in the mouse 20 years ago, was involved in the process of developmental evolution of her favorite animal, the cavefish!
In parallel, we tested the role of Fgf and Shh signaling, pathways well-known to play a role in cavefish brain evolution and eye loss. For these pharmacological experiments, the fact that Astyanax produces hundreds of eggs every morning made this task easier. But what was even better was the chance to work with a cohesive and efficient team to collect, sort and dechorionate the eggs, then to treat them, wash them, fix them, even when it involved working in the middle of the night, for several nights in a row. All the authors of this paper contributed to these pharmacological experiments!
… to behavior evolution
After we had established the link between early signaling, early expression of Lhx genes and differences in neuropeptidergic neuron numbers, Sylvie next encouraged us to complete the story by linking these differences to adaptive behavior observed in cavefish. Honestly, I was not very keen on going down this road, which I thought could be long and difficult. And I was right indeed… it was so hard to get there, especially for Jorge, who worked the most on this and probably suffered a bit. With the behavioral set-up being in a distant building, I think that he had to walk dozens of kilometers to, ironically, demonstrate that the Lhx9-dependant increased number of Hcrt neurons is responsible of hyper locomotion in cavefish. However with the help and the expertise of Yannick, who achieved a level of excellence in behavioral studies on Astyanax, and Cynthia, the engineer responsible for the platform of fish behavior analysis in the Department, problems were solved and we got nice results.
And here we were! We finally got our story, linking the evolution of embryonic development, to neuro-anatomy and behavior. And we got it as a team! Brought together by the trust of Sylvie, and by mutual confidence and friendship: who could ask for more from a postdoctoral experience? I am also very grateful for the opportunity to have contributed to several other papers during this post-doc. Lucie and Jorge are also conducting their own research projects, which will surely benefit from the team spirit in a group where everybody is willing to help the others, and more importantly where everybody feels free to ask for help. As Claude Bernard says: "The idea is the seed; the method is the soil which enables it to develop…" and I believe that teamwork is the best fertilizer helping to yield the best fruits.