Today marks Day 3 of the Embryology: Concepts & Techniques in Modern Developmental Biology course (http://www.mbl.edu/education/courses/embryology/) at the Marine Biological Laboratories in Woods Hole, MA (http://www.mbl.edu/).
24 students along with faculty, teaching assistants and course assistants arrived over the weekend to embark on a life changing summer experience. Since my days in undergraduate research in cell biology, I always heard fascinating stories about the science and life at Woods Hole. I knew it was an experience that I wanted to take part in during my training. The MBL at Woods Hole is a mecca of research, creativity, ingenuity and curiosity it gives everyone who sets foot on its campus the opportunity to learn new concepts and techniques. This course and the community here allow you to test your cool and creative hypotheses and push you out of your comfort zone. It's an experience that empowers scientific adventure and will leave you wanting to come back year after year.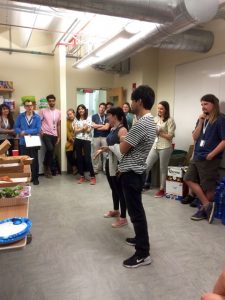 In the first days here as a student in one of the longest standing classes at the MBL I have been welcomed into an amazing group of scientists. My fellow students and I had the opportunity to share our research with our peers and some of the course faculty during an informal poster session over pizza, listened to amazing lectures on echinoderm development, and started to learn how to make the tools and run the microscopes that will enable us to conduct our experiments.
I can't wait to see what we learn and discover this summer!
Follow the course here on the blog and on twitter #embryo2017.