At the end of 2022 we launched our Node correspondent programme. We were looking for three researchers to help us develop and write content for the Node in 2023. The quality of the applications was extremely high, which made choosing our final three very difficult! We are delighted to announce that we have appointed Alex Bisia, Brent Foster and Dina Myasnikova as our correspondents for 2023. Our correspondents will benefit from a programme of writing groups, webinars and workshops coordinated by the in-house team at The Company of Biologists and will produce approximately six blog posts over the course of the year. We introduce our correspondents briefly below – stay tuned for longer interviews!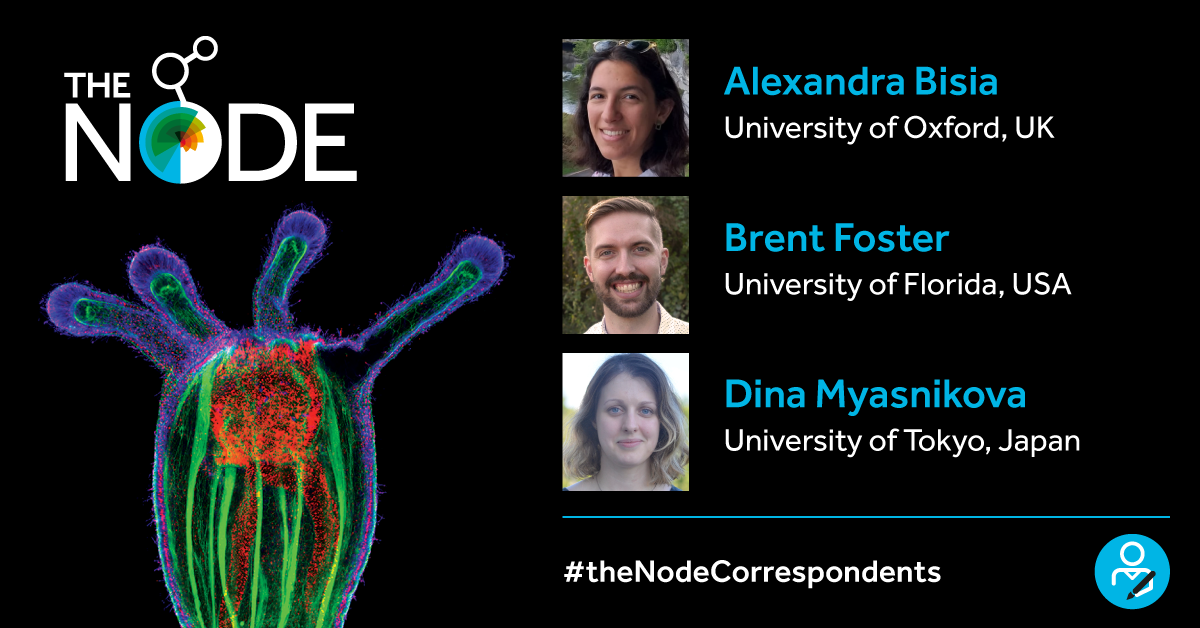 Alex is completing her DPhil (PhD) at the University of Oxford with Elizabeth Robertson, studying the role of Eomesodermin, a T-box transcription factor, in the trophoblast and definitive endoderm in the early mouse embryo. Alex has a strong interest in science communication; she won the BSCB writing competition in 2020 and has contributed articles to her departmental website. Look out for Alex's posts on non-model organisms, science history and contributions of developmental and stem cell biology in medicine.
Brent is a technician at the University of Florida, working at the Whitney Laboratory for Marine Bioscience. Brent uses comb jellies and other marine invertebrates to study the evolutionary origin of nervous systems. He has previously written feature articles for his local newspaper, Society for Integrative and Comparative Biology (SICB) blog posts, and has attended several science writing workshops. Brent has a keen interest in non-model organisms and tool and technique development and will post on these topics.
Dina is a Project Researcher at the Biohydrid System Laboratory at the University of Tokyo, where she is working on developing an organ-on-a-chip model of peripheral diabetic neuropathy. Having worked in an interdisciplinary team, she is keen to improve communication between scientists from different research backgrounds. As well as exploring interdisciplinary research, Dina is passionate about helping women in science and will post on this topic.