Another bumper month for developmental biology and related preprints, this time featuring spiders, lampreys, amphiouxus and plenty of zebrafish, worm and fly research. Also a big month for fans of Sox genes, which turned up in the title of five preprints! My visual highlight is the preprint from David Parichy's group on zebrafish scale development – well worth downloading the PDF to gawp at the imaging.
The preprints were hosted on bioRxiv, PeerJ, and arXiv. Use these links to get to the section you want:
| Stem cells, regeneration & disease modelling
Developmental biology
| Patterning & signalling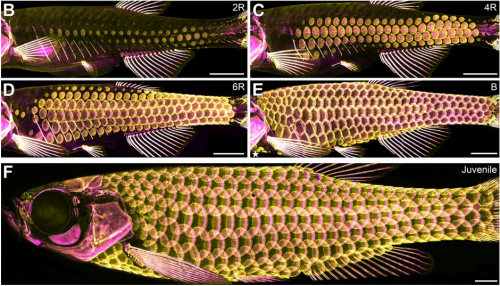 Wnt/β-catenin regulates an ancient signaling network during zebrafish scale development
Andrew J Aman, Alexis N Fulbright, David M Parichy
Endothelin receptor Aa regulates proliferation and differentiation of Erb-dependant pigment progenitors in zebrafish
Karen Camargo Sosa, Sarah Colanesi, Jeanette Muller, Stefan Schulte-Merker, Derek Stemple, E. Elizabeth Patton, Robert N Kelsh
Naa15 knockdown enhances c2c12 myoblast fusion and induces defects in zebrafish myotome morphogenesis
Olivier Monestier, Aurelie Landemaine, Jerome Bugeon, Pierre-Yves Rescan, Jean-Charles Gabillard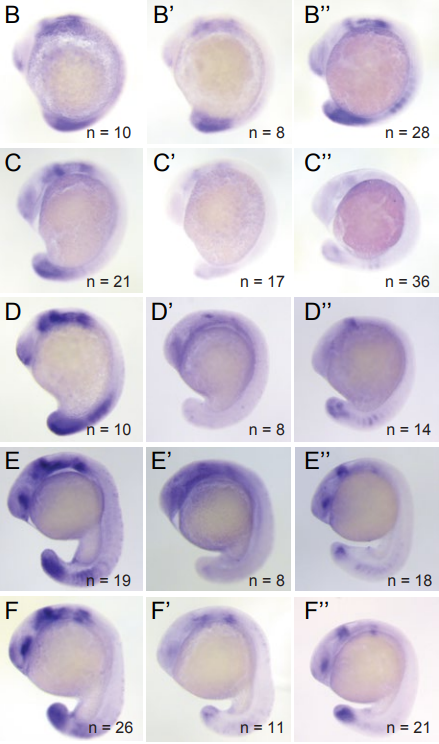 Cre/lox-controlled spatio-temporal perturbation of FGF signaling in zebrafish
Lucia Kirchgeorg, Anastasia Felker, Elena Chiavacci, Christian Mosimann
Specific miRNA-GPCR networks regulate Sox9a/Sox9b activities to promote gonadal renewal in zebrafish
Jizhou Yan, Xinlu Du, Huiping Guo, Ying Zhang, Jiacheng Wu, Mingyou Li, Xianxin Hu
Discovery of a new path for red blood cell generation in the mouse embryo
Irina Pinheiro, Ozge Vargel Bolukbasi, Kerstin Ganter, Laura A. Sabou, Vick Key Tew, Giulia Bolasco, Maya Shvartsman, Polina V. Pavlovich, Andreas Buness, Christina Nikolakopoulou, Isabelle Bergiers, Valerie Kouskoff, Georges Lacaud, Christophe Lancrin
Rainbow-seq: combining cell lineage tracking with single-cell RNA sequencing in preimplantation embryos
Fernando Biase, Qiuyang Wu, Riccardo Calandrelli, Marcelo Rivas-Astroza, Shuigeng Zhou, Sheng Zhong
Radial glial lineage progression and differential intermediate progenitor amplification underlie striatal compartments and circuit organization
Sean Michael Kelly, Miao He, Jannifer Lee, Yongsoo Kim, Leif Garrison Gibb, Priscilla Wu, Katie Matho, Pavel Osten, Ann Martin Graybiel, Z. Josh Huang
Ankyrin-G Regulates Forebrain Connectivity and Network Synchronization via Interaction with GABARAP
Andrew D Nelson, René N Caballero-Florán, Jean Carlos Rodríguez Díaz, Jianchao Li, Keyu Chen, Kathryn K Walder, Vann Bennett, Luis F Lopez-Santiago, Melvin G McInnis, Lori L Isom, Chao Wang, Mingjie Zhang, Kevin S Jones, Paul M Jenkins
Yap regulates glucose utilization and sustains nucleotide synthesis to enable organ growth
Andrew Cox, Allison Tsomides, Dean Yimlamai, Katie Hwang, Joel Miesfeld, Giorgio Galli, Brendan Fowl, Michael Fort, Kimberly Ma, Mark Sullivan, Aaron Hosios, Erin Snay, Min Yuan, Kristin Brown, Evan Lien, Sagar Chhangawala, Matthew Steinhauser, John Asara, Yariv Houvras, Brian Link, Matthew Vander Heiden, Fernando Camargo, Wolfram Goessling
Deletion of YAP/TAZ in mouse neocortex impaired the proliferation and differentiation ability of neural progenitor cells
Shanshan Kong
The Hippo pathway effector Taz is required for cell fate specification and fertilization in zebrafish
Chaitanya Dingare, Alina Niedzwetzki, Petra A Klemmt, Svenja Godbersen, Ricardo Fuentes, Mary C Mullins, Virginie Lecaudey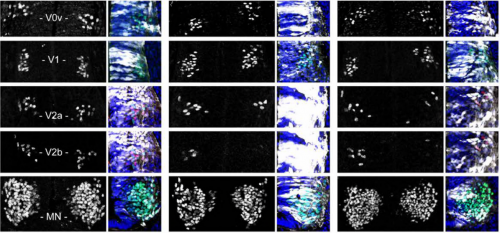 E proteins differentially co-operate with proneural bHLH transcription factors to sharpen neurogenesis
Gwenvael Le Dréau, René Escalona, Raquel Fueyo, Antonio Herrera, Juan D Martínez, Susana Usieto, Anghara Menendez, Sebastián Pons, Marian A Martinez-Balbas, Elisa Marti
Mkk4 and Mkk7 are important for retinal development and axonal injury-induced retinal ganglion cell death
Rebecca L Rausch, Stephanie B Syc, Kimberly A Fernandes, Michael P Wilson, Richard T Libby
Non-cell autonomous Otx2 homeoprotein regulates visual cortex plasticity through Gadd45b/g
Jessica Apulei, Namsuk Kim, Damien Testa, Jérôme Ribot, David Morizet, Clémence Bernard, Laurent Jourdren, Corinne Blugeon, Ariel A. Di Nardo, Alain Prochiantz
Single-Cell RNA-seq Reveals a Subpopulation of Cells Underlying β Cell Expansion in the Postnatal Islets
Jingli A Zhang, Chunyan Gu, Derek K Smith, Monica Kong-Beltran, Noelyn Kljavin, Ngu Hai, Rowena Suriben, Stinson Jeremy, Zora Modrusan, Andrew S Peterson
Sox4 drives Atoh1-independent intestinal secretory differentiation toward tuft and enteroendocrine fates
Adam Gracz, Leigh Ann Samsa, Matthew J. Fordham, Danny C. Trotier, Bailey Zwarycz, Yuan-Hung Lo, Katherine Bao, Joshua Starmer, Noah F. Shroyer, Richard L. Reinhardt, Scott T. Magness
Secondary neurulation-fated cells in the tail bud undergo self-renewal and tubulogenesis regulated by a Sox2 gradient
Teruaki Kawachi, Eisuke Shimokita, Ryosuke Tadokoro, Yoshiko Takahashi
3 minutes to precisely measure morphogen concentration
Tanguy Lucas, Huy Tran, Carmina Angelica Perez Romero, Aurelien Guillou, Cecile Fradin, Mathieu Coppey, Aleksandra M Walczak, Nathalie Dostatni

Developmentally arrested precursors of pontine neurons establish an embryonic blueprint of the Drosophila central complex
Ingrid V Andrade, Nadia Riebli, Bao-Chau M Nguyen, Jaison J Omoto, Richard D Fetter, Albert Cardona, Volker Hartenstein
Temporal development of Drosophila embryos is highly robust across a wide temperature range
Jeronica Chong, Christopher Amourda, Timothy E Saunders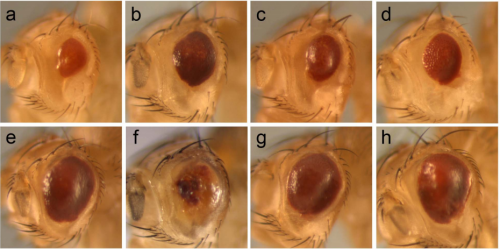 The Drosophila TNF Eiger activates caspase-dependent necrosis when apoptosis is blocked
Mingli Li, Yun Fan
C. elegans RAP-1 reinforces LET-60/Ras induction of cell fate
Neal R Rasmussen, Daniel J Dickinson, David J Reiner
Auxin is not asymmetrically distributed in initiating Arabidopsis leaves
Neha Bhatia, Marcus G Heisler
Many rice genes are differentially spliced between roots and shoots but cytokinin hormone application has minimal effect on splicing
Nowlan Freese, April D. Estrada, Ivory C. Blakley, Jinjie Duan, Ann E. Loraine
| Morphogenesis & mechanics
Tissue flow induces cell shape changes during organogenesis
Gonca Erdemci-Tandogan, Madeline J Clark, Jeffrey D Amack, M. Lisa Manning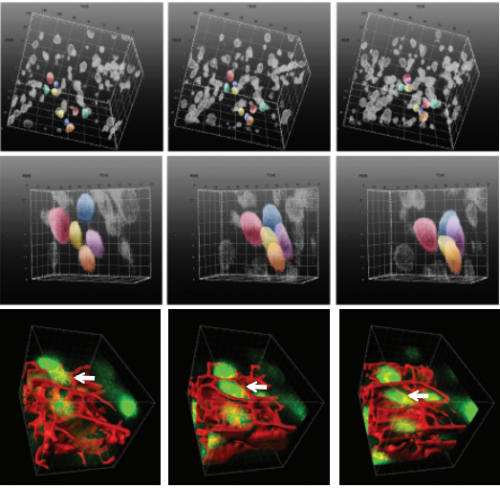 Oscillatory cortical forces promote three dimensional cell intercalations that shape the mandibular arch
Hirotaka Tao, Min Zhu, Kimberly Lau, Owen Whitley, Mohammad Samani, Xiao Xiao, Xiao Xiao Chen, Noah A. Hahn, Weifan Liu, Megan Valencia, Min Wu, Xian Wang, Kelli D. Fenelon, Clarissa C. Pasiliao, Di Hu, Jinchun Wu, Shoshana Spring, James Ferguson, Edith P. Karuana, R. Mark Henkelman, Alexander Dunn, Huaxiong Huang, Hsin-Yi Henry Ho, Radhika Atit, Sidhartha Goyal, Yu Sun, Sevan Hopyan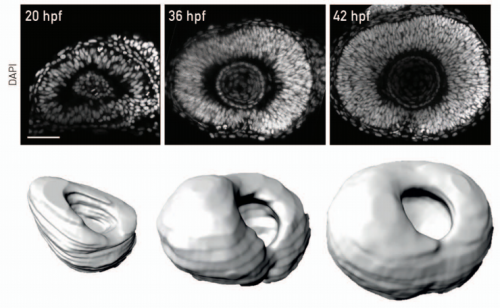 A non-cell autonomous actin redistribution enables isotropic retinal growth
Marija Matejcic, Guillaume Salbreux, Caren Norden
Tricellular junction proteins promote disentanglement of daughter and neighbour cells during epithelial cytokinesis
Zhimin Wang, Floris Bosveld, Yohanns Bellaiche
Novel functions for integrin-associated proteins revealed by myofibril attachment in Drosophila
Hannah Jane Green, Annabel Griffiths, Nicholas Brown
Physical and functional cell-matrix uncoupling in a developing tissue under tension
Amsha Proag, Bruno Monier, Magali Suzanne
Radially-patterned cell behaviours during tube budding from an epithelium
Yara Elena Sanchez-Corrales, Guy B. Blanchard, Katja Roeper
An intrinsic cell cycle timer terminates limb bud outgrowth
Joseph Pickering, Kavitha Chinnaiya, Constance A Rich, Patricia Saiz-Lopez, Marian A Ros, Matthew Towers
Neuromesodermal Progenitors are a Conserved Source of Spinal Cord with Divergent Growth Dynamics
Andrea Attardi, Tim Fulton, Maria Florescu, Gopi Shah, Leila Muresan, Jan Huisken, Alexander van Oudenaarden, Benjamin Steventon
Differential requirements of tubulin genes in mammalian forebrain development.
Elizabeth Bittermann, Ryan P. Liegel, Chelsea Menke, Andrew Timms, David R Beier, Beth Kline-Fath, Howard M Saal, Rolf Stottmann
Cerebellar nuclei neurons dictate growth of the cortex through developmental scaling of presynaptic Purkinje cells
Alexandra L Joyner, Ryan T Willett, Alexandre Wojcinski, Nermin Sumru Bayin, Zhimin Lao, Daniel Stephen, Katherine L Dauber-Decker, Zhuhao Wu, Marc Tessier-Lavigne, Hiromitsu Saito, Noboru Suzuki
Travelling waves in somitogenesis: collective cellular properties emerge from time-delayed juxtacrine oscillation coupling
Tomas Tomka, Dagmar Iber, Marcelo Boareto
Size-reduced embryos reveal a gradient scaling based mechanism for zebrafish somite formation
Kana Ishimatsu, Tom W Hiscock, Zach M Collins, Dini Wahyu Kartika Sari, Kenny Lischer, David L. Richmond, Yasumasa Bessho, Takaaki Matsui, Sean G Megason
The mechanical impact of col11a2 loss on joints; col11a2 mutant zebrafish show changes to joint development and function which lead to early onset osteoarthritis
Elizabeth Lawrence, Erika Kague, Jessye A Aggleton, Robert L Harniman, Karen A Roddy, Chrissy L Hammond
Dual spindle formation in zygotes keeps parental genomes apart in early mammalian embryos
Judith Reichmann, Bianca Nijmeijer, M. Julius Hossain, Manuel Eguren, Isabell Schneider, Antonio Z. Politi, M. Julia Roberti, Lars Hufnagel, Takashi Hiiragi, Jan Ellenberg
The E3 ubiquitin ligase MIB-1 is necessary to form the nuclear halo in C. elegans sperm
Leslie A Herrera, Daniel A Starr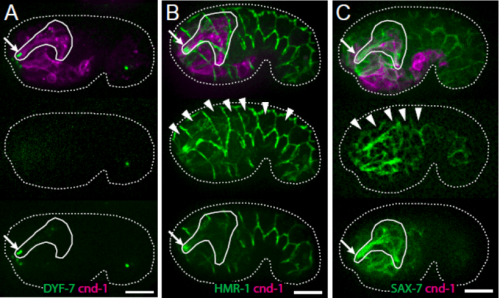 A multicellular rosette-mediated collective dendrite extension
Li Fan, Ismar Kovacevic, Maxwell Heiman, Zhirong Bao
UNC-6/Netrin and its Receptors UNC-5 and UNC-40/DCC Control Growth Cone Polarity, Microtubule Accumulation, and Protrusion
Mahekta R. Gujar, Lakshmi Sundararajan, Aubrie M. Stricker, Erik A. Lundquist
Repulsive Guidance Molecule Acts in Axon Branching in Caenorhabditis elegans
Kaname Tsutsui, Hon-Song Kim, Yukihiko Kubota, Yukimasa Shibata, Chenxi Tian, Jun Liu, Kiyoji Nishiwaki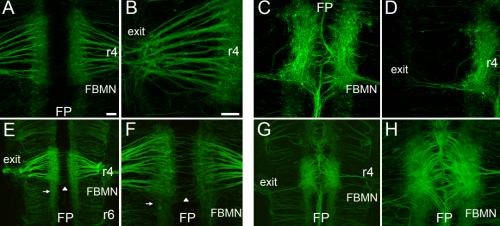 Robo1 and 2 repellent receptors cooperate to guide facial neuron cell migration and axon projections in the embryonic mouse hindbrain
Hannah N Gruner, Minkyung Kim, Grant S Mastick
Genetic contributions to ectopic sperm cell migration in Caenorhabditis nematodes
Janice J. Ting, Caressa N. Tsai, Asher D Cutter
| Genes & genomes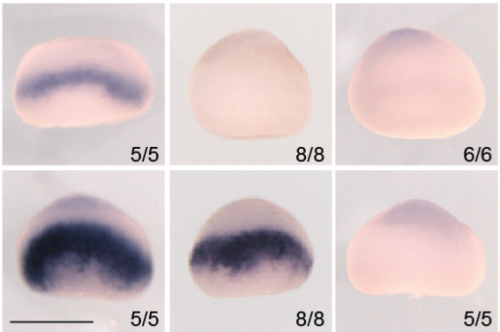 Maternal pluripotency factors prime the zygotic genome to respond to intercellular signals
George E Gentsch, Thomas Spruce, Nick D L Owens, Jim C Smith
Maternal Plag1 deficiency delays zygotic genome activation and two-cell stage embryo development
Elo Madissoon, Anastasios Damdimopoulos, Shintaro Katayama, Kaarel Krjutskov, Elisabet Einarsdottir, Katariina Mamia, Bert De Groef, Outi Hovatta, Juha Kere, Pauliina Damdimopoulou
Small RNAs gained during epididymal transit of sperm are essential for embryonic development in mice
Colin Conine, Fengyun Sun, Lina Song, Jaime Rivera-Perez, Oliver Randome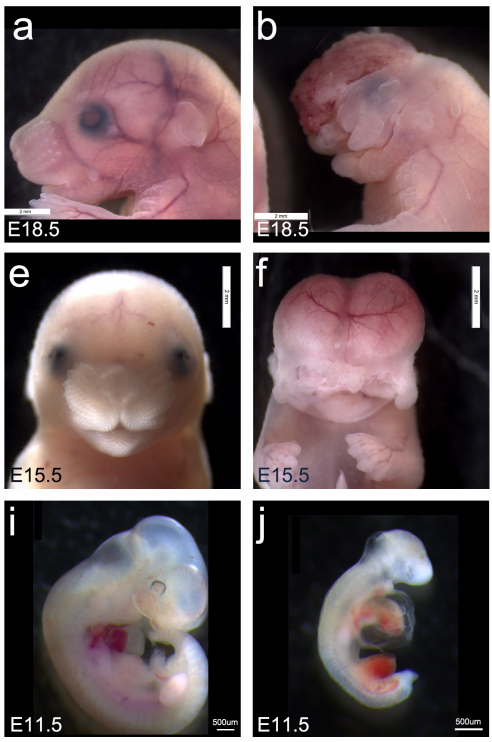 Ectopic expression of Hoxb1 induces cardiac and craniofacial malformations
Stéphane Zaffran, Gaëlle Odelin, Sonia Stefanovic, Fabienne Lescroart, Heather C Etchevers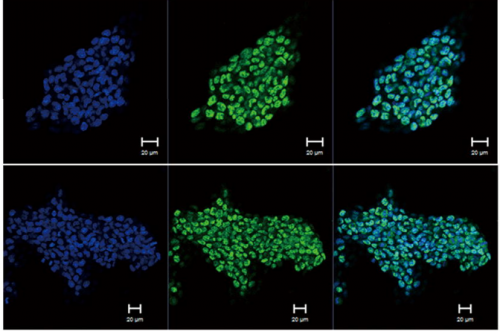 Mettl14 is required for mouse post-implantation development by facilitating epiblast maturation
Qing-Yuan Sun, Tie Gang Meng, Xukun Lu, Lei Guo, Guan Mei Hou, Qian Nan Li, Xue Shan Ma, Lin Huang, Li Hua Fan, Zheng Hui Zhao, Xiang Hong Ou, Ying Chun Ouyang, Heide Schatten, Lei Li, Zhen Bo Wang
foxr1 is a novel maternal-effect gene in fish that regulates embryonic cell growth via p21 and rictor
Caroline Cheung, Amelie Patinote, Yann Guiguen, Julien Bobe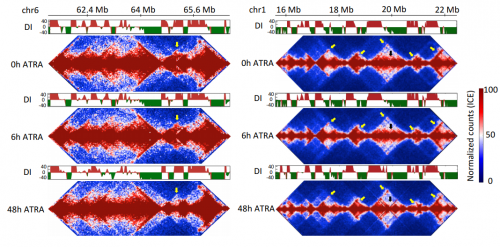 Highly dynamic chromatin interactions drive neurogenesis through gene regulatory networks
Valeriya Malysheva, Marco Antonio Mendoza-Parra, Matthias Blum, Hinrich Gronemeyer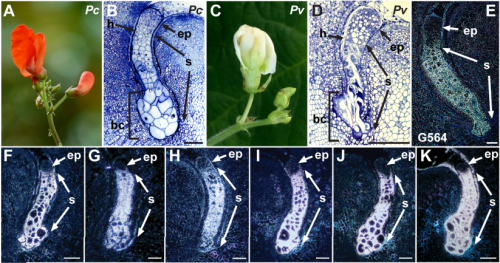 A shared cis-regulatory module activates transcription in the suspensor of plant embryos
Kelli F. Henry, Anhthu Q. Bui, Tomokazu Kawashima, Robert B. Goldberg
Maintenance of Cell Fates by Regulation of the Histone Variant H3.3 in Caenorhabditis elegans
Yukimasa Shibata, KIyoji Nishiwaki
Transgenerational sterility of Piwi pathway mutants in response to germ granule dysfunction
Katherine Kretovich Billmyre, Bree Heestand, Maya Spichal, Stephen Frenk, Shawn Ahmed
Developmentally regulated transcription and silencing cycle of nuclear RNAi-targeted LTR retrotransposons in Caenorhabditis elegans
Julie Zhouli Ni, Natallia Kalinava, Sofia Galindo Mendoza, Sam Guoping Gu
A cytoplasmic Argonaute protein promotes the inheritance of RNAi
Fei Xu, Xuezhu Feng, Xiangyang Chen, Chenchun Weng, Qi Yan, Ting Xu, Minjie Hong, Shouhong Guang
Key role of piRNAs in telomeric chromatin maintenance and telomere nuclear positioning in Drosophila germline
Elizaveta Radion, Valeriya Morgunova, Sergei Ryazansky, Natalia Akulenko, Sergey Lavrov, Yuri Abramov, Pavel Komarov, Sergey Glukhov, Ivan Olovnikov, Alla Kalmykova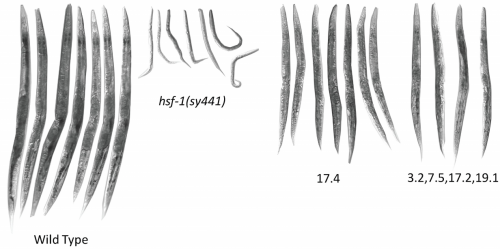 Rescue of a developmental arrest caused by a C. elegans heat-shock transcription-factor mutation by loss of ribosomal S6-kinase activity
Peter Jacob Daub Chisnell, T. Richard Parenteau, Elizabeth M Tank, Kaveh Ashrafi, Cynthia Kenyon
Drosophila mef2 is essential for normal mushroom body and wing development.
Jill R Crittenden, Efthimios M Skoulakis, Elliott S Goldstein, Ronald L Davis
Muscleblind regulates Drosophila Dscam2 cell-type-specific alternative splicing
Joshua Shing Shun Li, S Sean Millard
Sequential regulation of maternal mRNAs through a conserved cis-acting element in their 3′ UTRs
Pooja Flora, Siu Wah Wong-Deyrup, Elliot Martin, Ryan Palumbo, Mohamad Nasrallah, Andrew Oligney, Patrick Blatt, Dhruv Patel, Gabriele Fuchs, Prashanth Rangan
The histone demethylase KDM5 is essential for larval growth in Drosophila
Julie Secombe, Coralie Drelon, Helen M Belalcazar
A Cut/cohesin axis alters the chromatin landscape to facilitate neuroblast death
Richa Arya, Seda Gyonjyan, Katherine Harding, Tatevik Sarkissian, Ying Li, Lei Zhou, Kristin White
H3.3K4M destabilizes enhancer epigenomic writers MLL3/4 and impairs adipose tissue development
Younghoon Jang, Chaochen Wang, Aaron Broun, Young-Kwon Park, Lenan Zhuang, Ji-Eun Lee, Eugene Froimchuk, Chengyu Liu, Kai Ge
Extensive cellular heterogeneity of X inactivation revealed by single-cell allele-specific expression in human fibroblasts.
Marco Garieri, Georgios Stamoulis, Emilie Falconnet, Pascale Ribaux, Christelle Borel, Federico A Santoni, Stylianos E Antonarakis
Distinctive types of postzygotic single-nucleotide mosaicisms in healthy individuals revealed by genome-wide profiling of multiple organs
Yue Huang, Xiaoxu Yang, Sheng Wang, Xianing Zheng, Qixi Wu, Yongxin Ye, Liping Wei
Robustness of bristle number to temperature and genetic background varies with bristle type and is regulated by miR-9a.
Alexis Matamoro-Vidal, Thomas Tully, Virginie Courtier-Orgogozo
A transmissible RNA pathway in honey bees
Eyal Maori, Yael Garbian, Vered Kunik, Rita Mozes-Koch, Osnat Malka, Haim Kalev, Niv Sabath, Ilan Sela, Sharoni Shafir
Senescence of multicellular individuals: imbalance of epigenetic and non-epigenetic information in histone modifications
Felipe A. Veloso
Rbfox1 mediates cell-type-specific splicing in cortical interneurons
Xavier Hubert Jaglin, Brie Wamsley, Emilia Favuzzi, Guilia Quattracolo, Maximiliano Negro, Nusrath Yusef, Alireza Khodadadi-Jamayran, Bernardo Rudy, Gordon Fishell
| Stem cells, regeneration & disease modelling

Axin proteolysis by Iduna is required for the regulation of stem cell proliferation and intestinal homeostasis in Drosophila
Yetis Gultekin, Hermann Steller
In vivo Chemical Reprogramming of Astrocytes into Functional Neurons
Yantao Ma, Handan Xie, Xiaomin Du, Lipeng Wang, Xueqin Jin, Shicheng Sun, Yanchuang Han, Yawen Han, Jun Xu, Zhuo Huang, Zhen Chai, Hongkui Deng

Ablation of proliferating neural stem cells during early life is sufficient to reduce adult hippocampal neurogenesis
Mary Youssef, Varsha S Krish, Greer S. Kirshenbaum, Piray Atsak, Tamara J Lass, Sophie R Lieberman, E. David Leonardo, Alex Dranovsky
Endogenous fluctuations of OCT4 and SOX2 bias pluripotent cell fate decisions
Daniel Strebinger, Elias T Friman, Cedric Deluz, Subashika Govindan, Andrea B Alber, David M Suter
Implantation-Competent Blastocyst-Like Structures from Mouse Pluripotent Stem Cells
Cody Kime, Hiroshi Kiyonari, Satoshi Ohtsuka, Eiko Kohbayashi, Michio Asahi, Shinya Yamanaka, Masayo Takahashi, Kiichiro Tomoda
Single-cell analysis identifies EpCAM+/CDH6+/TROP-2- cells as human liver progenitors.
Joe M Segal, Daniel J Wesche, Maria Paola Serra, Bénédicte Oulés, Deniz Kent, Soon Seng Ng, Gozde Kar, Guy Emerton, Samuel Blackford, Spyros Darmanis, Rosa Miquel, Tu Vinh, Ryo Yamamoto, Andrew Bonham, Alessandra Vigilante, Sarah Teichmann, Stephen R Quake, Hiromitsu Nakauchi, S Tamir Rashid
Onset of differentiation is posttranscriptionally controlled in adult neural stem cells
Avni Baser, Yonglong Dang, Maxim Skabkin, Guelce Guelcueler Balta, Georgios Kalamakis, Susanne Kleber, Manuel Goepferich, Roman Schefzik, Alejandro Santos Lopez, Enric Llorens Bobadilla, Carsten Schultz, Bernd Fischer, Ana Martin-Villalba
Human stem cell resources are an inroad to Neandertal DNA functions
Michael Dannemann, Benjamin Vernot, Svante Paabo, Janet Kelso, J. Gray Camp
Targeted Reactivation of FMR1 Transcription in Fragile X Syndrome Embryonic Stem Cells
Jill Haenfler, Geena Skariah, Caitlin M Rodriguez, Andre Monteiro Da Rocha, Jack Parent, Gary D Smith, Peter K Todd
Telomere length set point regulation in human pluripotent stem cells critically depends on the shelterin protein TPP1
John Michael Boyle, Kelsey M Hennick, Samuel G Regalado, Jacob Vogan, Xiaozhu Zhang, Kathleen Collins, Dirk Hockemeyer
Induction of muscle stem cell quiescence by the secreted niche factor Oncostatin M
Srinath C Sampath, Srihari C Sampath, Andrew TV Ho, Stephane Y Corbel, Joshua D Millstone, John Lamb, John Walker, Bernd Kinzel, Christian Schmedt, Helen M Blau
Conversion of iPS derived hepatic progenitors into scalable, functional and developmentally relevant human organoids using an inverted colloidal crystal poly (ethylene glycol) scaffold engineered from collagen-coated pores of defined size
Soon Seng Ng, Kourosh Saeb-Parsy, Joe M Segal, Maria Paola Serra, Samuel J I Blackford, Marta Horcas Lopez, Da Yoon No, Curtis W Frank, Nam Joon Cho, Hiromitsu Nakauchi, Jeffrey S Glenn, S Tamir Rashid
Controlled cycling and quiescence enables homology directed repair in engraftment-enriched adult hematopoietic stem and progenitor cells
Jiyung Shin, Stacia K Wyman, Mark A DeWitt, Nicholas L Bray, Jonathan Vu, Jacob Corn
Circular RNA expression in human hematopoietic cells is widespread and cell-type specific
Benoit P Nicolet, Sander Engels, Francesca Aglialoro, Emile van den Akker, Marieke M von Lindern, Monika C Wolkers
Validation of a library of cGMP-compliant human pluripotent stem cell lines for use in liver therapy
Samuel J I Blackford, Soon Seng Ng, Joe M Segal, Aileen J F King, Jennifer Moore, Michael Sheldon, Dusko Ilic, Anil Dhawan, Ragai Mitry, S Tamir Rashid
Diverse progenitor cells preserve salivary gland ductal architecture after radiation induced damage
Alison May, Noel Cruz Pacheco, Elaine Emmerson, Kerstin Siedel, Sara Nathan, Marcus O Muench, Ophir D Klein, Sarah M Knox
Cycles of gene expression and genome response during mammalian tissue regeneration
Leonor Rib, Dominic Villeneuve, Viviane Praz, Nouria Hernandez, Nicolas Guex, Winship Herr, CycliX Consortium
Hepatocyte Nuclear Factor 4 alpha (HNF4α) Activation is Essential for Termination of Liver Regeneration
Ian Huck, Sumedha Gunewardena, Regina Espanol-Suner, Holger Willenbring, Udayan Apte
The Amyloid Precursor-like Protein APL-1 Regulates Axon Regeneration
Lewie Zeng, Rachid El Bejjani, Marc Hammarlund
Enhanced Neurite Outgrowth and Regeneration in ALS Resistant Motor Neurons from SOD1 Mutant Mouse Models
Zachary B Osking, Jacob I Ayers, Ryan Hildebrandt, Kristen Skruber, Amanda R Eukovich, Hilda Brown, Danny Ryu, Todd E Golde, David R Borchelt, Tracy-Ann Read, Eric Vitriol
Functional repair after ischemic injury through high efficiency in situ astrocyte-to-neuron conversion
Yuchen Chen, Ningxin Ma, Zifei Pei, Zheng Wu, Fabricio H Do-Monte, Pengqian Huang, Emma Yellin, Miranda Chen, Jiuchao Yin, Grace Lee, Angelica Minier, Yi Hu, Yuting Bai, Kathryn Lee, Gregory Quirk, Gong Chen
Hair regeneration by small molecules that activate autophagy
Min Chai, Meisheng Jiang, Laurent Vergnes, Xudong Fu, Stephanie C de Barros, Jing Jiao, Harvey R Herschman, Gay M Crooks, Karen Reue, Jing Huang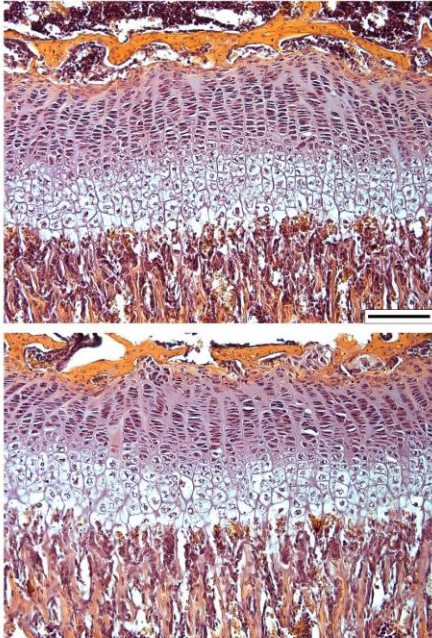 Limb- and tendon-specific Adamtsl2 deletion identifies a soft tissue mechanism modulating bone length
Dirk Hubmacher, Stetson Thacker, Sheila M Adams, David Birk, Ronen Schweitzer, Suneel Apte
Evo-devo & evo

A SoxB gene acts as an anterior gap gene and regulates posterior segment addition in the spider Parasteatoda tepidariorum
Christian L. B. Paese, Anna Schoenauer, Daniel J. Leite, Steven Russell, Alistair P. McGregor
Probing the origin of matching functional jaws: roles of Dlx5/6 in cranial neural crest cells.
Miki Shimizu, Nicolas Narboux-Nême, Yorick Gitton, Camille de Lombares, Anastasia Fontaine, Gladys Alfama, Taro Kitazawa, Yumiko Kawamura, Eglantine Heude, Lindsey Marshall, Hiroki Higashiyama, Youichiro Wada, Yukiko Kurihara, Hiroki Kurihara, Giovanni Levi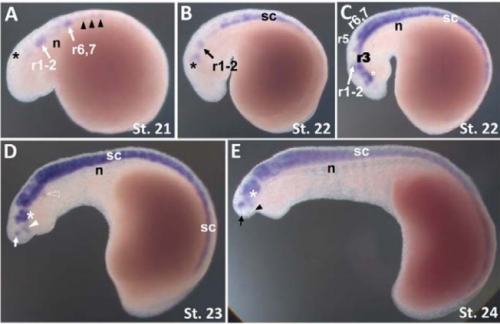 A Notch-regulated proliferative stem cell zone in the developing spinal cord is an ancestral vertebrate trait
Ricardo Lara-Ramirez, Carlos Perez-Gonzalez, Chiara Anselmi, Cedric Patthey, Sebastian M Shimeld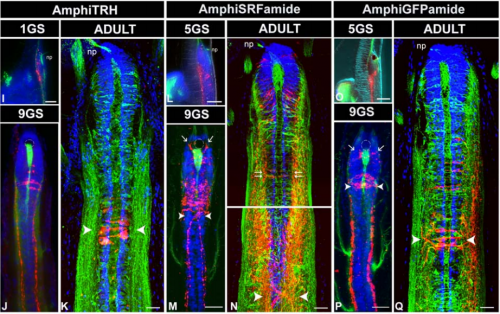 Patterning of a telencephalon-like region in the adult brain of amphioxus
Elia Benito Gutierrez, Manuel Stemmer, Silvia D Rohr, Laura N Schumacher, Jocelyn Tang, Aleksandra Marconi, Gaspar Jekely, Detlev Arendt
A revised understanding of Tribolium morphogenesis further reconciles short and long germ development
Matthew Alan Benton
Insect wings and body wall evolved from ancient leg segments
Heather S Bruce, Nipam H Patel
Evidence for multifactorial processes underlying phenotypic variation in bat visual opsins
Alexa Sadier, Kalina Davies, Laurel Yohe, Kun Yun, Paul Donat, Brandon P Hedrick, Elizabeth Dumont, Liliana Davalos, Stephen Rossiter, Karen E Sears
Horizontally transferred genes in the ctenophore Mnemiopsis leidyi
Alexandra M Hernandez, Joseph F Ryan
The genetic architecture of shoot and root trait divergence between upland and lowland ecotypes of a perennial grass.
Albina Khasanova, John T. Lovell, Jason E. Bonnette, Jerry Jenkins, Yuko Yoshinaga, Jeremy Schmutz, Thomas E. Juenger
Recombination rate variation shapes barriers to introgression across butterfly genomes
Simon H. Martin, John Davey, Camilo Salazar, Chris Jiggins
Gene regulatory mechanisms underlying the evolutionary loss of a polygenic trait
Mark Lammers, Ken Kraaijeveld, Janine Mariën, Jacintha Ellers
Cell biology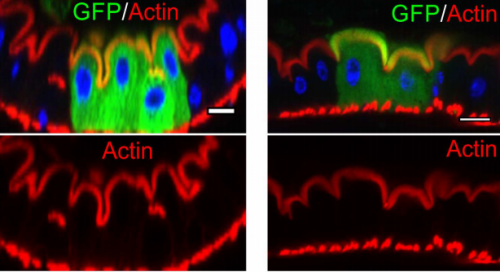 An alternative mode of epithelial polarity in the Drosophila midgut
Jia Chen, Aram-Christopher Sayadian, Nick Lowe, Holly Lovegrove, Daniel St Johnston
CXXC1 is redundant for normal DNA double-strand break formation and meiotic recombination in mouse
Hui Tian, Timothy Billings, Petko M Petkov
Avidity-driven polarity establishment via multivalent lipid-GTPase module interactions
Julien Meca, Aurelie Massoni-Laporte, Elodie Sartorel, Denis Martinez, Antoine Loquet, Birgit Habestein, Derek McCusker
Actin filaments regulate microtubule growth at the centrosome.
Manuel Thery, Daisuke Inoue, Dorian Obino, Francesca Farina, Jérémie Gaillard, Christophe Guérin, Laurent Blanchoin, Ana-Maria Lennon-Duménil
Myosin filaments reversibly generate large forces in cells
James Lohner, Jean-Francois Rupprecht, Junquiang Hu, Nicola Mandriota, Mayur Saxena, James Hone, Diego Pitta de Araujo, Ozgur Sahin, Jacques Prost, Michael Sheetz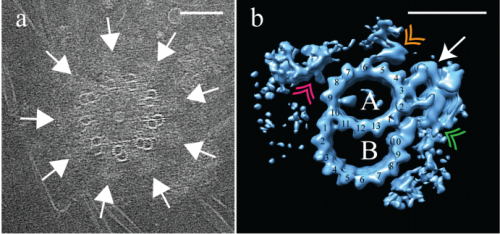 Insights into centriole biogenesis and evolution revealed by cryoTomography of doublet and triplet centrioles.
Garrett A Greenan, Bettina Keszthelyi, Ronald D Vale, David A Agard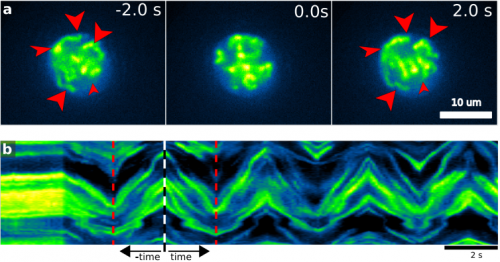 Active gelation breaks time-reversal-symmetry of mitotic chromosome mechanics
Matthäus Mittasch, Anatol W Fritsch, Michael Nestler, Juan M Iglesias-Artola, Kaushikaram Subramanian, Heike Petzold, Mrityunjoy Kar, Axel Voigt, Moritz Kreysing
Live-cell imaging of marked chromosome regions reveals dynamics of mitotic chromosome resolution and compaction
John K Eykelenboom, Marek Gierlinski, Zuojun Yue, Nadia Hegarat, Hillary Pollard, Tatsuo Fukagawa, Helfrid Hochegger, Tomoyuki U Tanaka
Stress relaxation in epithelial monolayers is controlled by actomyosin
Nargess Khalilgharibi, Jonathan Fouchard, Nina Asadipour, Amina Yonis, Andrew Harris, Payman Mosaffa, Yasuyuki Fujita, Alexandre Kabla, Buzz Baum, Jose J Munoz, Mark Miodownik, Guillaume Charras
Collective cell behaviour in mechanosensing of substrate thickness
Camelia G Tusan, Yu Hin Man, Hoda Zarkoob, David A Johnson, Orestis G Andriotis, Philipp J Thurner, Shoufeng Yang, Edward A Sander, Eileen Gentleman, Bram Sengers, Nicholas Evans
Kif18A promotes Hec1 dephosphorylation to coordinate chromosome alignment with kinetochore microtubule attachment
Haein Kim, Jason K Stumpff
The RZZ complex integrates spindle checkpoint maintenance with dynamic expansion of unattached kinetochores
Jose-Antonio Rodriguez-Rodriguez, Kara L McKinley, Vitali Sikirzhytski, Jennifer Corona, John Maciejowski, Alexey Khodjakov, Iain M Cheeseman, Prasad Jallepalli
Checkpoint signaling abrogation after cell cycle reentry reveals that differentiated neurons are mitotic cells
Chaska Carlos Walton, Wei Zhang, Iris Patiño-Parrado, Estíbaliz Barrio-Alonso, Juan-José Garrido, José María Frade
A cell separation checkpoint that enforces the proper order of late cytokinetic events
Jennifer L Brace, Matthew D Doerfler, Eric L Weiss
Precise detection of S phase onset reveals decoupled G1/S transition events
Gavin D Grant, Katarzyna M Kedziora, Juanita C Limas, Jeremy E Purvis, Jeanette Gowen Cook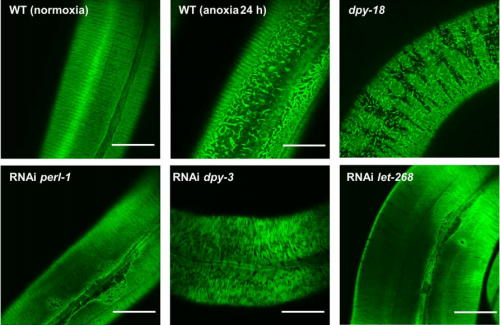 HIR-1 Mediates Response to Hypoxia-Induced Extracellular Matrix Remodeling
Roman Vozdek, Yong Long, Dengke K. Ma
WDFY2 restrains matrix metalloprotease secretion and cell invasion by retention of VAMP3 in endosomal tubules
Marte Sneeggen, Nina M Pedersen, Coen Campsteijn, Ellen M Haugsten, Harald Stenmark, Kay Oliver Schink
Regulator of calcineurin-2 is a centriolar protein with a role in cilia length control
Nicola Stevenson, Dylan Bergen, Amadeus Xu, Emily Wyatt, Freya Henry, Janine McCaughey, Laura Vuolo, Chrissy Hammond, David Stephens
KCH kinesin drives nuclear transport and cytoskeletal coalescence for tip cell growth
Moe Yamada, Gohta Goshima
Visualizing Wnt secretion from endoplasmic reticulum to filopodia
Naushad Moti, Jia Yu, Gaelle Boncompain, Franck Perez, David M Virshup
Modelling
Incompressible limit of a continuum model of tissue growth with segregation for two cell populations
Alina Chertock, Pierre Degond, Sophie Hecht, Jean-Paul Vincent
Hematopoietic Stem Cell Dynamics are Regulated by Progenitor Demand: Lessons from a Quantitative Modeling Approach
Markus Klose, Maria Carolina Florian, Hartmut Geiger, Ingmar Glauche

Force-based three-dimensional model predicts mechanical drivers of cell sorting
Christopher Revell, Raphael Blumenfeld, Kevin Chalut
Physics of lumen growth
Sabyasachi Dasgupta, Kapish Gupta, Yue Zhang, Virgile Viasnoff, Jacques Prost
Sensitivity to initial conditions in an extended activator-inhibitor model for the formation of patterns
R. Piasecki, W. Olchawa, K. Smaga
Elongation and shape changes in organisms with cell walls: a dialogue between experiments and models
Jean-Daniel Julien, Arezki Boudaoud
Threshold Response to Stochasticity in Morphogenesis
George Courcoubetis, Sammi Ali, Sergey V Nuzhdin, Paul Marjoram, Stephan Haas
A Monte Carlo method for in silico modeling and visualization of Waddington's epigenetic landscape with intermediate details
Xiaomeng Zhang, Ket Hing Chong, Jie Zheng
Tools & resources
| Imaging etc.
Automated Segmentation of Epithelial Tissue Using Cycle-Consistent Generative Adversarial Networks
Matthias Haering, Joerg Grosshans, Fred Wolf, Stephan Eule
Signal-to-Noise ratio made easy: A tool to assess your confocal performance
Alexia Ferrand, Kai D Schleicher, Nikolaus Ehrenfeuchter, Wolf Heusermann, Oliver Biehlmaier
Sub-voxel light-sheet microscopy for high-resolution, high-throughput volumetric imaging of large biomedical specimens
Peng Fei, Jun Nie, Juhyun Lee, Yichen Ding, Shuoran Li, Hao Zhang, Masaya Hagiwara, Tingting Yu, Tatiana Segura, Chih-Ming Ho, Dan Zhu, Tzung K. Hsiai
Label-free assessment of pre-implantation embryo quality by the Fluorescence Lifetime Imaging Microscopy (FLIM)-phasor approach
Ning Ma, Nabora Reyes de Mochel, Paula Pham, Tae Yoo, Ken Cho, Michelle Digman
3D Cell Nuclear Morphology: Microscopy Imaging Dataset and Voxel-Based Morphometry Classification Results
Alexandr A. Kalinin, Ari Allyn-Feuer, Alex Ade, Gordon-Victor Fon, Walter Meixner, David Dilworth, Jeffrey R. de Wet, Gerald A. Higgins, Gen Zheng, Amy Creekmore, John W. Wiley, James E. Verdone, Robert W. Veltri, Kenneth J. Pienta, Donald S. Coffey, Brian D. Athey, Ivo D. Dinov
Deep learning achieves super-resolution in fluorescence microscopy
Hongda Wang, Yair Rivenson, Yiyin Jin, Zhensong Wei, Ronald Gao, Harun Gunaydin, Laurent Bentolila, Aydogan Ozcan

Conditional control of fluorescent protein degradation by an auxin-dependent nanobody
Katrin Daniel, Jaroslav Icha, Cindy Horenburg, Doris Muller, Caren Norden, Jorg Mansfeld
Real Time de novo Deposition of Centromeric Histone-associated Proteins Using the Auxin Inducible Degradation System
Sebastian Hoffmann, Daniele Fachinetti
Measurement of myofilament calcium in living cardiomyocytes using a targeted genetically encoded indicator
Paul Robinson, Alexander J Sparrow, Connor N Broyles, Kolja Sievert, Yu-Fen Chang, Frances A Brook, Xiaoyu Zhang, Hugh Watkins, Yama A Abassi, Michael A Geeves, Charles Redwood, Matthew J Daniels
Complementary studies of lipid membrane dynamics using iSCAT and super-resolved Fluorescence Correlation Spectroscopy
Francesco Reina, Silvia Galiani, Dilip Shrestha, Erdinc Sezgin, Gabrielle de Wit, Daniel Cole, B. Christoffer Lagerholm, Philipp Kukura, Christian Eggeling
Flat-field illumination for quantitative fluorescence imaging
Ian Khaw, Benjamin Croop, Jialei Tang, Anna Moehl, Ulrike Fuchs, Kyu Young Han
Neuronal morphology and projection analysis by multispectral tracing in densely labeled mouse brain
Douglas H Roossien, John M Webb, Benjamin V Sadis, Yan Yan, Lia Y Min, Aslan S Dizaji, Luke J Bogart, Cristina Mazuski, Robert S Huth, Johanna S Stecher, Sriakhila Akula, Jeff W Lichtman, Takao K Hensch, Erik D Herzog, Dawen Cai
Riboglow: a multicolor riboswitch-based platform for live cell imaging of mRNA and small non-coding RNA in mammalian cells
Esther Braselmann, Aleksandra J Wierzba, Jacob T Polaski, Mikolaj Chrominski, Zachariah Holmes, Sheng-Ting Hung, Dilara Batan, Joshua Wheeler, Roy Parker, Ralph Jimenez, Dorota Gryko, Robert T. T Batey,Amy E Palmer
Visualizing multiple inter-organelle contact sites using the organelle-targeted split-GFP system
Yuriko Kakimoto, Shinya Tashiro, Rieko Kojima, Yuuki Morozumi, Toshiya Endo, Yasushi Tamura
Piezo1 calcium flickers localize to hotspots of cellular traction forces
Kyle Ellefsen, Alice Chang, Jamison L. Nourse, Jesse R Holt, Janahan Arulmoli, Armen Mekhdjian, Lisa A Flanagan, Alexander R Dunn, Ian Parker, Medha M Pathak
Quantifying protein oligomerization in living cells: A systematic comparison of fluorescent proteins
Valentin Dunsing, Madlen Luckner, Boris Zühlke, Roberto Petazzi, Andreas Herrmann, Salvatore Chiantia
PinMol: Python application for designing molecular beacons for live cell imaging of endogenous mRNAs
Livia V. Bayer, Omar S. Omar, Diana P. Bratu, Irina E. Catrina
A Community-Developed Open-Source Computational Ecosystem for Big Neuro Data
Randal Burns, Eric Perlman, Alex Baden, William Gray Roncal, Ben Falk, Vikram Chandrashekhar, Forrest Collman, Sharmishtaa Seshamani, Jesse Patsolic, Kunal Lillaney, Michael Kazhdan, Robert Hider Jr., Derek Pryor, Jordan Matelsky, Timothy Gion, Priya Manavalan, Brock Wester, Mark Chevillet, Eric T. Trautman, Khaled Khairy, Eric Bridgeford, Dean M. Kleissas, Daniel J. Tward, Ailey K. Crow, Matthew A. Wright, Michael I. Miller, Stephen J Smith, R. Jacob Vogelstein, Karl Deisseroth, Joshua T. Vogelstein
| Genome tools
An optimized toolkit for precision base editing
Maria Paz Zafra, Emma M Schatoff, Alyna Katti, Miguel Foronda, Marco Breinig, Anabel Y Schweitzer, Amber Simon, Teng Han, Sukanya Goswami, Emma Montgomery, Jordana Thibado, Francisco J Sanchez-Rivera, Junwei Shi, Christopher R Vakoc, Scott W Lowe, Darjus F Tschaharganeh, Lukas E Dow
Identifying Gene Expression Programs of Cell-type Identity and Cellular Activity with Single-Cell RNA-Seq
Dylan Kotliar, Adrian Veres, M. Aurel Nagy, Shervin Tabrizi, Eran Hodis, Douglas A Melton, Pardis C Sabeti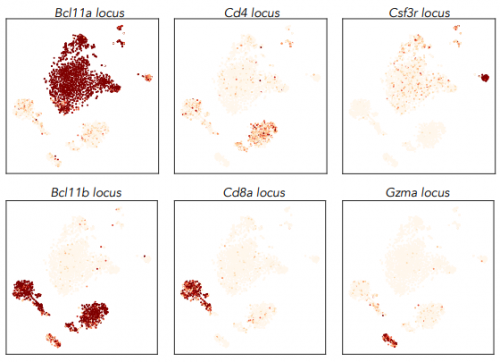 A rapid and robust method for single cell chromatin accessibility profiling
Xi Chen, Kedar Nath Natarajan, Sarah A Teichmann
Distinguishing cells from empty droplets in droplet-based single-cell RNA sequencing data
Aaron Lun, Samantha Riesenfeld, Tallulah Andrews, The Phuong Dao, Tomas Gomes, participants in the 1st Human Cell Atlas Jamboree, John Marioni
Estimating the frequency of multiplets in single-cell RNA sequencing from cell-mixing experiments
Jesse D Bloom
SoupX removes ambient RNA contamination from droplet based single cell RNA sequencing data
Matthew D Young, Sam Behjati
High-throughput chromatin accessibility profiling at single-cell resolution
Anja Mezger, Sandy Klemm, Ishminder Mann, Kara Brower, Alain Mir, Magnolia Bostick, Andrew Farmer, Polly Fordyce, Sten Linnarsson, William Greenleaf
Joint single-cell DNA accessibility and protein epitope profiling reveals environmental regulation of epigenomic heterogeneity
Xingqi Chen, Ulrike Litzenburger, Yuning Wei, Alicia N. Schep, Edward L. LaGory, Hani Choudhry, Amato J. Giaccia, William J. Greenleaf, Howard Chang
Site-specific transgenesis of the D. melanogaster Y-chromosome using CRISPR/Cas9
Anna Buchman, Omar Akbari
Robust single-cell DNA methylome profiling with snmC-seq2
Chongyuan Luo, Angeline Rivkin, Jingtian Zhou, Justin P Sandoval, Laurie Kurihara, Jacinta Lucero, Rosa Castanon, Joseph R Nery, Antonio Pinto-Duarte, Brian Bui, Conor Fitzpatrick, Carolyn O'Connor, Seth Ruga, Marc E Van Eden, David A Davis, Deborah C Mash, M. Margarita Behrens, Joseph R Ecker
JACKS: joint analysis of CRISPR/Cas9 knock-out screens
Felicity Allen, Fiona Behan, Francesco Iorio, Kosuke Yusa, Mathew Garnett, Leopold Parts
CRISPRCloud2: A cloud-based platform for deconvoluting CRISPR screen data
Hyun-Hwan Jeong, Seon Young Kim, Maxime W.C. Rousseaux, Huda Y. Zoghbi, Zhandong Liu
ovoD co-selection: a method for enriching CRISPR/Cas9-edited alleles in Drosophila
Ben Ewen-Campen, Norbert Perrimon
BROCKMAN: Deciphering variance in epigenomic regulators by k-mer factorization
Carl de Boer, Aviv Regev
Snapshot: clustering and visualizing epigenetic history during cell differentiation
Guanjue Xiang, Belinda Giardine, Lin An, Chen Sun, Cheryl Keller, Elisabeth Heuston, David Bodine, Ross Hardison, Yu Zhang
Machine learning based classification of cells into chronological stages using single-cell transcriptomics.
Sumeet Pal Singh, Sharan Janjuha, Samata Chaudhuri, Susanne Reinhardt, Sevina Dietz, Anne Eugster, Halil Bilgin, Selçuk Korkmaz, John E Reid, Gökmen Zararsiz, Nikolay Ninov
Research practice & education
Community-driven data analysis training for biology
Bérénice Batut, Saskia Hiltemann, Andrea Bagnacani, Dannon Baker, Vivek Bhardwaj, Clemens Blank, Anthony Bretaudeau, Loraine Guéguen, Martin Čech, John Chilton, Dave Clements, Olivia Doppelt-Azeroual, Anika Erxleben, Mallory Freeberg, Simon Gladman, Youri Hoogstrate, Hans-Rudolf Hotz, Torsten Houwaart, Pratik Jagtap, Delphine Lariviere, Gildas Le Corguillé, Thomas Manke, Fabien Mareuil, Fidel Ramírez, Devon Ryan, Florian Sigloch, Nicola Soranzo, Joachim Wolff, Pavankumar Videm, Markus Wolfien, Aisanjiang Wubuli, Dilmurat Yusuf, Rolf Backofen, James Taylor, Anton Nekrutenko, Björn Grüning
Visualization of Biomedical Data
Seán I O'Donoghue, Benedetta F Baldi2, Susan J Clark, Aaron E Darling, James M Hogan, Sandeep Kaur, Lena Maier-Hein, Davis J McCarthy, William J Moore, Esther Stenau, Jason R Swedlow, Jenny Vuong, James B Procter​
Scientific literature text mining and the case for Open Access
Gopal P Sarma
Valentin Amrhein​, David Trafimow, Sander Greenland
High impact journals in ecology cover proportionally more statistically significant findings
Silvia Ceausu, Luis Borda-de-Agua, Thomas Merckx, Esther Sossai, Manuel Sapage, Murilo Miranda, Henrique M. Pereira
Manipulating the alpha level cannot cure significance testing
David Trafimow, Valentin Amrhein, Corson N. Areshenkoff, Carlos Barrera-Causil, Eric J. Beh, Yusuf Bilgiç, Roser Bono, Michael T. Bradley, William M. Briggs, Héctor A. Cepeda-Freyre, Sergio E. Chaigneau, Daniel R. Ciocca, Juan Carlos Correa, Denis Cousineau, Michiel R. de Boer, Subhra Sankar Dhar, Igor Dolgov, Juana Gómez-Benito, Marian Grendar, James Grice, Martin E. Guerrero-Gimenez, Andrés Gutiérrez, Tania B. Huedo-Medina, Klaus Jaffe, Armina Janyan, Ali Karimnezhad, Fränzi Korner-Nievergelt, Koji Kosugi, Martin Lachmair, Rubén Ledesma, Roberto Limongi, Marco Tullio Liuzza, Rosaria Lombardo, Michael Marks, Gunther Meinlschmidt, Ladislas Nalborczyk, Hung T. Nguyen, Raydonal Ospina, Jose D. Perezgonzalez, Roland Pfister, Juan José Rahona, David A. Rodríguez-Medina, Xavier Romão, Susana Ruiz-Fernández, Isabel Suarez, Marion Tegethoff, Mauricio Tejo, Rens van de Schoot, Ivan Vankov, Santiago Velasco-Forero, Tonghui Wang, Yuki Yamada, Felipe C. Zoppino, Fernando Marmolejo-Ramos
Research Infrastructures offer capacity to address scientific questions never attempted before: Are all taxa equal?
Christos D Arvanitidis, Richard M Warwick, Paul J Somerfield, Christina Pavloudi, Evangelos Pafilis, Anastassis Oulas, Giorgos Chatzigeorgiou, Vasilis Gerovasileiou, Theodoros Patkos, Nicolas Bailly, Francisco Hernandez, Bart Vanhoorne, Leen Vandepitte, Ward Appeltans, Robert Adlard, Peter Adriaens, Ahn Kee-Jeong, Ahyong Shane, Akkari Nesrine, Gary Anderson, Angel Martin, Claudia Arango, Tom Artois, Stephen Atkinson, Ruud Bank, Anthony D Barber, Joao P Barbosa, Ilse Bartsch, Denise Bellan-Santini, Jimmy Bernot, Annalisa Berta, Rüdiger Bieler, Magda Błażewicz, Phil Bock, Ruth Böttger-Schnack, Philippe Bouchet, Nicole Boury-Esnault, Geoff Boxshall, Christopher B Boyko, Simone Nunes Brandão, Rod Bray, Niel L Bruce, Stephen Cairns, Tania N Campinas Bezerra, Paco Cárdenas, Benny KK Chan, Tin-Yam Chan, Lanna Cheng, Morgan Churchill, Laure Corbari, Ralf Cordeiro, Astrid Cornils, Keith A Crandall, Thomas Cribb, Jean-Loup D'hondt, Meg Daly, Mikhail Daneliya, Jean-Claude Dauvin, Peter Davie, Claude De Broyer, Valentin De Mazancourt, Nicole De Voogd, Peter Decker, Danielle Defaye, Henk Dijkstra, Martin Dohrmann, Daryl Domning, Rachel Downey, Inna Drapun, Ursula Eisendle-Flöckner, Christine Ewers-Saucedo, Marien Faber, Diego Figueroa, Julian Finn, Gustavo Fonseca, Ewan Fordyce, William Foster, Hidetaka Furuya, Horia Galea, Oscar Garcia-Alvarez, Rade Garic, Rebeca Gasca, Santiago Gaviria-Melo, Sarah Gerken, David Gibson, João Gil, Arjan Gittenberger, Chris Glasby, Serge Gofas, Samuel E Gómez-Noguera, David González-Solís, Dennis Gordon, Michal Grabowski, Cinzia Gravili, José M Guerra-García, Roberto Guidetti, Katja Guilini, Kerry A Hadfield, Ed Hendrycks, Bachiller Herrera, Ju-Shey Ho, Jens Høeg, Oleksandr Holovachov, Matthew D Hooge, John Hooper, Tammy Horton, Lauren Hughes, Matús Hyžný, Luiz IF Moretti, Tohru Iseto, Viatcheslav N Ivanenko, Gerhard Jarms, Damià Jaume, Krzysztof Jazdzewski, Ivana Karanovic, Young-Hyo Kim, Rachael King, Michelle Klautau, Jürgen Kolb, Alexey Kotov, Traudl Krapp-Schickel, Antonina Kremenetskaia, Reinhardt Kristensen, Andreas Kroh, Sven Kullander, Rafael La Perna, Sara LeCroy, Daniel Leduc, Rafael Lemaitre, Anne-Nina Lörz, Jim Lowry, Enrique Macpherson, Larry Madin, Tomasz Mamos, Renata Manconi, Bruce Marshall, David J Marshall, Patrick Martin, Sandra McInnes, Jan Mees, Tõnu Meidla, Kelly Merrin, Dmitry Miljutin, Claudia Mills, Vadim Mokievsky, Tina Molodtsova, Rich Mooi, André C Morandini, Rosana Moreira Da Rocha, Fabio Moretzsohn, Jonas Mortelmans, Jeanne Mortimer, Luigi Musco, Thomas A Neubauer, Eike Neubert, Peter NG Neuhaus, Anh D Nguyen, Claus Nielsen, Jon Norenburg, Tim O'Hara, Hisayo Okahashi, Dennis Opresko, Masayuki Osawa, Yuzo Ota, Gustav Paulay, Vincent Perrier, William Perrin, Iorgu Petrescu, Bernard Picton, John F Pilger, Andrzej Pisera, Dan Polhemus, Gary Poore, James D Reimer, Hans Reip, Michael Reuscher, Pilar Rios Lopez, Marc Rius, Klaus Rützler, Alexander Rzhavsky, José Saiz-Salinas, André F Sartori, Heinrich Schatz, Bernd Schierwater, Andreas Schmidt-Rhaesa, Simon Schneider, Christine Schönberg, André R Senna, Cristiana Serejo, Shabuddin Shaik, Shokoofeh Shamsi, Jyotsna Sharma, Noa Shenkar, Andrew Shinn, Jacek Sicinski, Volker Siegel, Petra Sierwald, Elizabeth Simmons, Frederic Sinniger, Duncan Sivell, Boris Sket, Harry Smit, Nicole Smol, Jesser F Souza-Filho, Jörg Spelda, Sérgio N Stampar, Eric Stienen, Pavel Stoev, Sabine Stöhr, Malin Strand, Eduardo Suárez-Morales, Mindi Summers, Billie J Swalla, Stefano Taiti, Masaatsu Tanaka, Anne H Tandberg, Danny Tang, Mark Tasker, Harry ten Hove, Jan J ter Poorten, Jim Thomas, Erik V Thuesen, Ben Thuy, Juan T Timi, Antonio Todaro, Xavier Turon, Peter Uetz, Sergiy Utevsky, Jean Vacelet, Risto Väinölä, Sancia ET van der Meij, Ton van Haaren, Virág Venekey, Chris Vos, Genefor Walker-Smith, Chad T Walter, Les Watling, Matthew Wayland, Christopher Whipps, Gary Williams, Robin Wilson, Moriaki Yasuhara, Joana Zanol, Wolfgang Zeidler
Science podcasts: analysis of global production and output from 2004 to 2018
Lewis E MacKenzie
Changes in Acceptance of Evolution and Associated Factors during a Year of Introductory Biology: The Shifting Impacts of Biology Knowledge, Politics, Religion, Demographics, and Understandings of the Nature of Science
Ryan D.P. Dunk, Jason R. Wiles
Why not…
Astroplastic: A start-to-finish process for polyhydroxybutyrate production from solid human waste using genetically engineered bacteria to address the challenges for future manned Mars missions
Xingyu Chen, Syeda Ibrahim, Alina Kunitskaya, Kaitlin Schaaf, Zi Fei Wang, Preetha Gopalakrishan, Maliyat Noor, Harry Wilton-Clark, Jacob Grainger, Alex Ivanova, Patricia Lim, Michaela Olsakova, Lalit Bharadwaj, Bilal Sher, David Feehan, Rachelle Varga, Mayi Arcellana-Panlilio