Welcome to our monthly trawl for developmental biology (and related) preprints. 
---
With COVID-19 having shuttered labs around the world, it might be a surprise that April saw the highest ever monthly number of preprints deposited to bioRxiv: 3413, according to Rxivist. Though maybe not much of a surprise, with researchers at home and writing rather than pipetting.
In that 3413 we found the following couple of hundred developmental biology and adjacent picks (plus a handful from arXiv) – let us know if we missed anything. Use these links to get to the section you want:
| Stem cells, regeneration & disease modelling
Developmental biology
| Patterning & signalling
A dual role for Axin in establishing the anterior-posterior axis in the early sea urchin embryo
Hongyan Sun, ChiehFu Jeff Peng, Lingyu Wang, Honglin Feng, Athula H. Wikramanayake
A changing signaling environment induces multiciliated cell trans-differentiation during developmental remodeling
Alexia Tasca, Martin Helmstädter, Magdalena Brislinger, Maximilian Haas, Peter Walentek
Bidirectional Wnt signaling between endoderm and mesoderm confer tracheal identity in mouse and human
Keishi Kishimoto, Kana T. Furukawa, Agustin Luz Madrigal, Akira Yamaoka, Chisa Matsuoka, Masanobu Habu, Cantas Alev, Aaron M. Zorn, Mitsuru Morimoto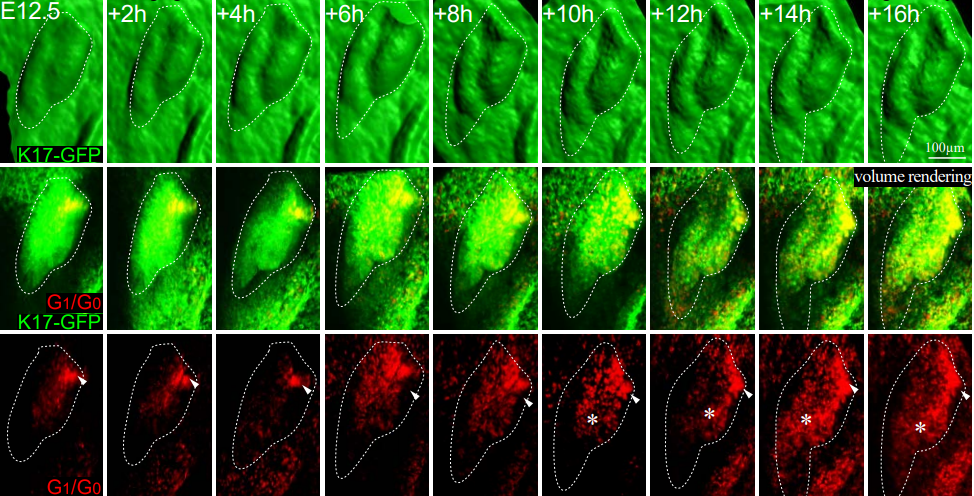 The initiation knot is a signaling center required for molar tooth development
Isabel Mogollón, Jacqueline E Moustakas-Verho, Minna Niittykoski, Laura Ahtiainen
Tgfbr2 in dental pulp cells guides sensory innervation in developing teeth
Courtney Barkley, Rosa Serra, Kevin Nguyen, Sarah B. Peters
Non-Canonical Targets of HIF1a Drive Cell-Type-Specific Dysfunction
Kevin C. Allan, Lucille R. Hu, Andrew R. Morton, Marissa A. Scavuzzo, Artur S. Gevorgyan, Benjamin L.L. Clayton, Ilya R. Bederman, Stevephen Hung, Cynthia F. Bartels, Mayur Madhavan, Paul J. Tesar
Smoothened receptor Signaling regulates the developmental shift of GABA polarity in rat somatosensory cortex
Quentin Delmotte, Igor Medina, Mira Hamze, Emmanuelle Buhler, Jinwei Zhang, Yesser H. Belgacem, Christophe Porcher
Desert Hedgehog-driven endothelium integrity is enhanced by Gas1 but negatively regulated by Cdon
Candice Chapouly, Pierre-Louis Hollier, Sarah Guimbal, Lauriane Cornuault, Alain-Pierre Gadeau, Marie-Ange Renault
Dyrk1b is a key Regulatory Kinase Integrating Fgf, Shh and mTORC1 signaling in Skeletal Muscle Development and Homeostasis
Neha Bhat, Anand Narayanan, Mohsen Fathzadeh, Anup Srivastava, Arya Mani
Inhibition of Wnt signalling by Notch via two distinct mechanisms
Ahmet Acar, Ana Hidalgo-Sastre, Michael K. Leverentz, Christopher G. Mills, Simon Woodcock, Martin Baron, Giovanna M. Collu, Keith Brennan
Functional diversification of Ser-Arg rich protein kinases to control ubiquitin-dependent neurodevelopmental signalling
Francisco Bustos, Anna Segarra-Fas, Gino Nardocci, Andrew Cassidy, Odetta Antico, Lennart Brandenburg, Thomas Macartney, Rachel Toth, C. James Hastie, Robert Gourlay, Joby Vargese, Renata Soares, Martin Montecino, Greg M. Findlay

Distinct Vegfa isoforms control endothelial cell proliferation through PI3 kinase signalling mediated regulation of cdkn1a/p21
Martin Lange, Elvin Leonard, Nils Ohnesorge, Dennis Hoffmann, Susana F. Rocha, Rui Benedito, Arndt F. Siekmann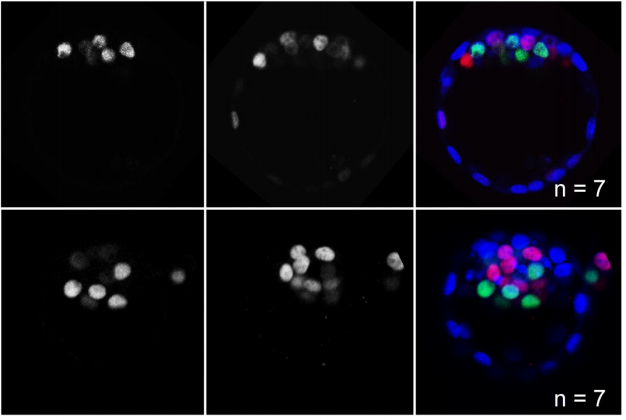 Culture conditions antagonize lineage-promoting signaling in the mouse blastocyst
Tristan Frum, Amy Ralston
PEDF-Rpsa-Itga6 signaling regulates cortical neuronal morphogenesis
Sara M. Blazejewski, Sarah A. Bennison, Ngoc T. Ha, Xiaonan Liu, Trevor H. Smith, Kimberly J. Dougherty, Kazuhito Toyo-oka
Local externalization of phosphatidylserine mediates developmental synaptic pruning by microglia
Nicole Scott-Hewitt, Fabio Perrucci, Raffaella Morini, Marco Erreni, Matthew Mahoney, Agata Witkowska, Alanna Carey, Elisa Faggiani, Lisa Theresia Schuetz, Sydney Mason, Matteo Tamborini, Matteo Bizzotto, Lorena Passoni, Fabia Filipello, Reinhard Jahn, Beth Stevens, Michela Matteoli
Analysis of FGF20-regulated genes in organ of Corti progenitors by translating ribosome affinity purification
Lu M. Yang, Lisa Stout, Michael Rauchman, David M. Ornitz
Small-molecule inhibition of Lats kinases promotes Yap-dependent proliferation in postmitotic mammalian tissues
Nathaniel Kastan, Ksenia Gnedeva, Theresa Alisch, Aleksandra A. Petelski, David J. Huggins, Jeanne Chiaravalli, Alla Aharanov, Avraham Shakked, Eldad Tzahor, Aaron Nagiel, Neil Segil, A. J. Hudspeth
ERK basal and pulsatile activity are differentially regulated in mammalian epidermis to control proliferation and exit from the stem cell compartment
Toru Hiratsuka, Ignacio Bordeu, Gunnar Pruessner, Fiona M. Watt
Integrin-linked kinase is a key signal factor involved in Nogo-66-induced inhibition of neurite outgrowth
Ya-ping Yu, Qiang-ping Wang, Jian-Ying Shen, Nan-xiang Xiong, Hua Yu, Peng Fu, Lei Wang, Ye Yuan, Hong-yang Zhao, Fang-cheng Zhang, Hendrik Pool
Circuit-specific dendritic development in the piriform cortex
Laura Moreno-Velasquez, Hung Lo, Stephen Lenzi, Malte Kaehne, Jörg Breustedt, Dietmar Schmitz, Sten Rüdiger, Friedrich W. Johenning
3D cell culture models demonstrate a role for FGF and WNT signaling in regulation of lung epithelial cell fate and morphogenesis
Anas Rabata, Radek Fedr, Karel Soucek, Ales Hampl, Zuzana Koledova
Sensory neurons sprouting is dependent on osteoclast-derived extracellular vesicles involving the activation of epidermal growth factor receptors
Estrela Neto, Luís Leitão, José Mateus, Daniela M. Sousa, Francisco Conceição, Cecília J. Alves, Richard O. C. Oreffo, Jonathan West, Paulo Aguiar, Meriem Lamghari
A signaling axis involving CNOT3, Aurora B and ERK promotes mesendodermal differentiation of ES cells in response to FGF2 and BMP4
Moumita Sarkar, Matteo Martufi, Monica Roman-Trufero, Yi-Fang Wang, Chad Whilding, Dirk Dormann, Pierangela Sabbattini, Niall Dillon

Analysis of Endothelial-to-Haematopoietic Transition at the Single Cell Level identifies Cell Cycle Regulation as a Driver of Differentiation
Giovanni Canu, Emmanouil Athanasiadis, Rodrigo A. Grandy, Jose Garcia-Bernardo, Paulina M. Strzelecka, Ludovic Vallier, Daniel Ortmann, Ana Cvejic
Proliferation control of kidney interstitial cells
Sarah S. McCarthy, Lindsey Gower, Michele Karolak, Alicia England, Thomas Carroll, Leif Oxburgh
Insulin/IGF signaling and TOR promote vitellogenesis via inducing juvenile hormone biosynthesis
Shiming Zhu, Fangfang Liu, Huanchao Zeng, Na Li, Chonghua Ren, Yunlin Su, Shutang Zhou, Guirong Wang, Subba Reddy Palli, Jian Wang, Yiru Qin, Sheng Li
Cell autonomous requirement of Neurofibromin (Nf1) for postnatal muscle hypertrophic growth and metabolic homeostasis
Xiaoyan Wei, Julia Franke, Mario Ost, Kristina Wardelmann, Stefan Börno, Bernd Timmermann, David Meierhofer, Andre Kleinridders, Susanne Klaus, Sigmar Stricker
Glycogen synthase kinase 3 alpha/beta deletion induces precocious growth plate remodeling and cell loss in mice
Supinder Kour Bali, Dawn Bryce, Carina Prein, James R. Woodgett, Frank Beier
Distal-less genes Dlx1/Dlx2 repress oligodendrocyte genesis through transcriptional inhibition of Olig2 expression in the developing vertebrate forebrain
Qiang Jiang, Jamie Zagozewski, Roseline Godbout, David D. Eisenstatv
Human cortical expansion involves diversification and specialization of supragranular intratelencephalic-projecting neurons
Jim Berg, Staci A. Sorensen, Jonathan T. Ting, Jeremy A. Miller, Thomas Chartrand, Anatoly Buchin, Trygve E. Bakken, Agata Budzillo, Nick Dee, Song-Lin Ding, Nathan W. Gouwens, Rebecca D. Hodge, Brian Kalmbach, Changkyu Lee, Brian R. Lee, Lauren Alfiler, Katherine Baker, Eliza Barkan, Allison Beller, Kyla Berry, Darren Bertagnolli, Kris Bickley, Jasmine Bomben, Thomas Braun, Krissy Brouner, Tamara Casper, Peter Chong, Kirsten Crichton, Rachel Dalley, Rebecca de Frates, Tsega Desta, Samuel Dingman Lee, Florence D'Orazi, Nadezhda Dotson, Tom Egdorf, Rachel Enstrom, Colin Farrell, David Feng, Olivia Fong, Szabina Furdan, Anna A. Galakhova, Clare Gamlin, Amanda Gary, Alexandra Glandon, Jeff Goldy, Melissa Gorham, Natalia A. Goriounova, Sergey Gratiy, Lucas Graybuck, Hong Gu, Kristen Hadley, Nathan Hansen, Tim S. Heistek, Alex M. Henry, Djai B. Heyer, DiJon Hill, Chris Hill, Madie Hupp, Tim Jarsky, Sara Kebede, Lisa Keene, Lisa Kim, Mean-Hwan Kim, Matthew Kroll, Caitlin Latimer, Boaz P. Levi, Katherine E. Link, Matthew Mallory, Rusty Mann, Desiree Marshall, Michelle Maxwell, Medea McGraw, Delissa McMillen, Erica Melief, Eline J. Mertens, Leona Mezei, Norbert Mihut, Stephanie Mok, Gabor Molnar, Alice Mukora, Lindsay Ng, Kiet Ngo, Philip R. Nicovich, Julie Nyhus, Gaspar Olah, Aaron Oldre, Victoria Omstead, Attila Ozsvar, Daniel Park, Hanchuan Peng, Trangthanh Pham, Christina A. Pom, Lydia Potekhina, Ramkumar Rajanbabu, Shea Ransford, David Reid, Christine Rimorin, Augustin Ruiz, David Sandman, Josef Sulc, Susan M. Sunkin, Aaron Szafer, Viktor Szemenyei, Elliot R. Thomsen, Michael Tieu, Amy Torkelson, Jessica Trinh, Herman Tung, Wayne Wakeman, Katelyn Ward, René Wilbers, Grace Williams, Zizhen Yao, Jae-Geun Yoon, Costas Anastassiou, Anton Arkhipov, Pal Barzo, Amy Bernard, Charles Cobbs, Philip C. de Witt Hamer, Richard G. Ellenbogen, Luke Esposito, Manuel Ferreira, Ryder P. Gwinn, Michael J. Hawrylycz, Patrick R. Hof, Sander Idema, Allan R. Jones, C.Dirk Keene, Andrew L. Ko, Gabe J. Murphy, Lydia Ng, Jeffrey G. Ojemann, Anoop P. Patel, John W. Phillips, Daniel L. Silbergeld, Kimberly Smith, Bosiljka Tasic, Rafael Yuste, Idan Segev, Christiaan P.J. de Kock, Huibert D. Mansvelder, Gabor Tamas, Hongkui Zeng, Christof Koch, Ed S. Lein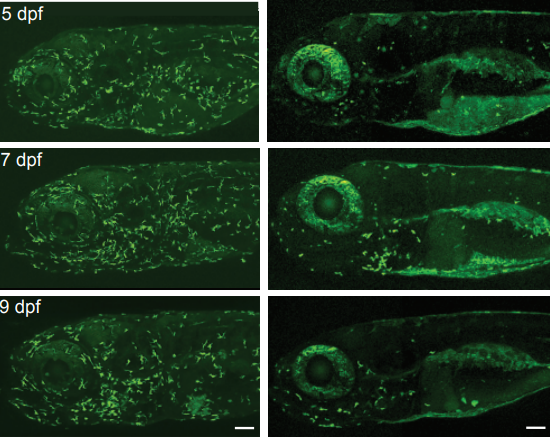 Zebrafish macrophage developmental arrest underlies depletion of microglia and reveals Csf1r-independent metaphocytes
Laura E. Kuil, Nynke Oosterhof, Giuliano Ferrero, Tereza Mikulášová, Martina Hason, Jordy Dekker, Mireia Rovira, Herma C. van der Linde, Paulina M.H. van Strien, Emma de Pater, Gerben Schaaf, Eric M.J. Bindels, Valerie Wittamer, Tjakko J. van Ham
Genetic Developmental Timing Revealed by Inter-Species Transplantations in Fish
Jana Franziska Fuhrmann, Lorena Buono, Juan Ramón Martinez Morales, Lázaro Centanin
Clathrin adaptor AP-1 and Stratum act in parallel pathways to control Notch activation in Drosophila Sensory Organ Precursor Cells
Karen Bellec, Mathieu Pinot, Isabelle Gicquel, Roland Le Borgne
Mechanisms underlying the cooperation between loss of epithelial polarity and Notch signaling during neoplastic growth in Drosophila
Rémi Logeay, Charles Géminard, Patrice Lassus, Diala Kantar, Lisa Héron-Milhavet, Bettina Fischer, Sarah J. Bray, Jacques Colinge, Alexandre Djiane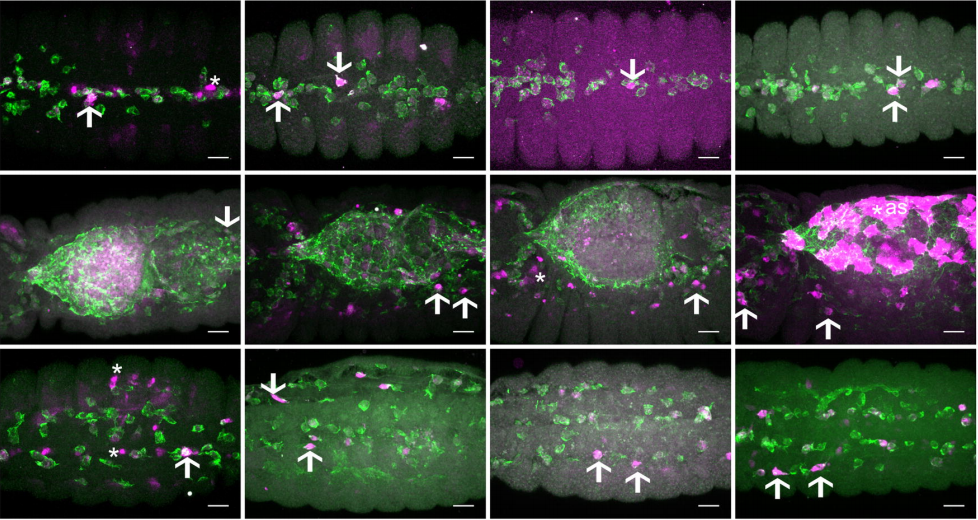 Identification of functionally-distinct macrophage subpopulations regulated by efferocytosis in Drosophila
Jonathon Alexis Coates, Amy Brittle, Emma Louise Armitage, Martin Peter Zeidler, Iwan Robert Evans
Syd/JIP3 Controls Tissue Size by Regulating Diap1 Protein Turnover Downstream of Yorkie/YAP
Vakil Ahmad, Gangadhar P. Vadla, Chiswili Y. Chabu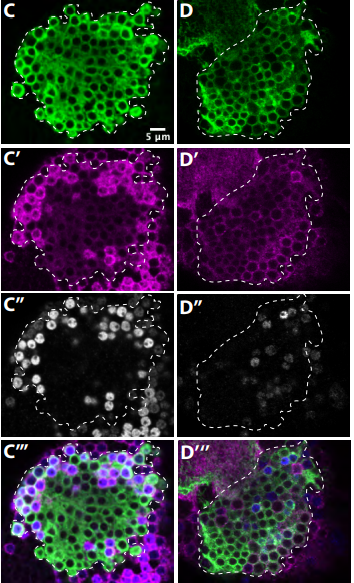 Extrinsic Activin signaling cooperates with an intrinsic temporal program to increase mushroom body neuronal diversity
Anthony M. Rossi, Claude Desplan
Regulation of blood cell transdifferentiation by oxygen sensing neurons in Drosophila
Sean Corcoran, Anjeli Mase, Yousuf Hashmi, Debra Ouyang, Jordan Augsburger, Thea Jacobs, Katelyn Kukar, Katja Brückner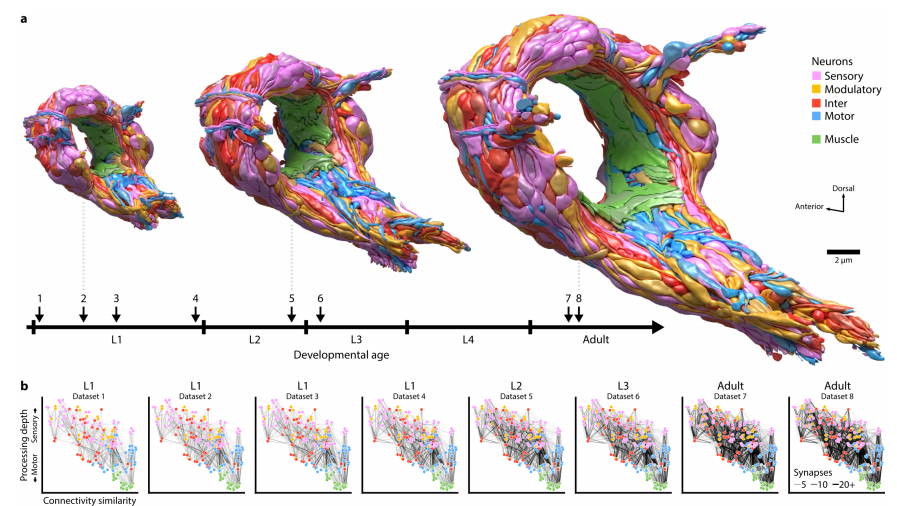 Connectomes across development reveal principles of brain maturation in C. elegans
Daniel Witvliet, Ben Mulcahy, James K. Mitchell, Yaron Meirovitch, Daniel K. Berger, Yuelong Wu, Yufang Liu, Wan Xian Koh, Rajeev Parvathala, Douglas Holmyard, Richard L. Schalek, Nir Shavit, Andrew D. Chisholm, Jeff W. Lichtman, Aravinthan D.T. Samuel, Mei Zhen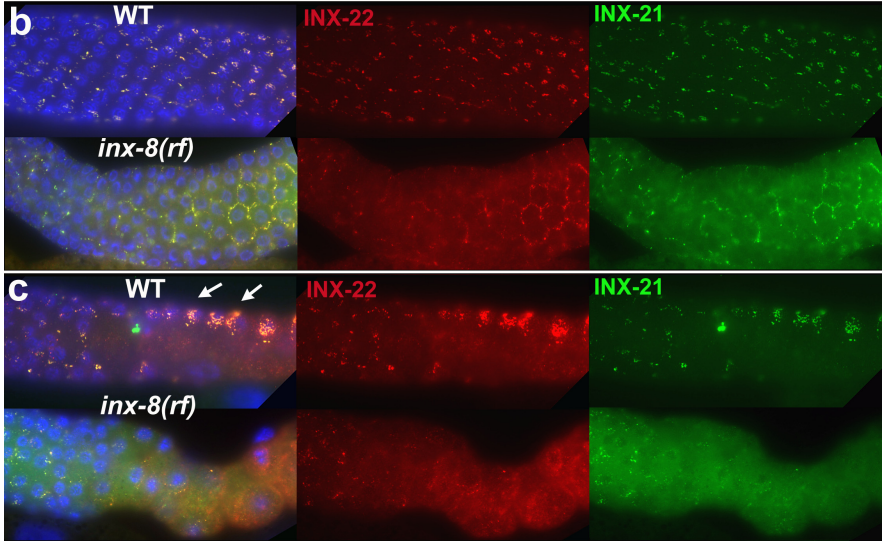 Gap junctions deliver malonyl-CoA from soma to germline to support embryogenesis in Caenorhabditis elegans
Todd A. Starich, David Greenstein
| Morphogenesis & mechanics
Spectrin-based Membrane Mechanics Is Asymmetric and Remodels during Neural Development
Guangshuo Ou, Wei Li, Ru Jia, Yongping Chai, Chao Xie, Gai Liu, Zhiwen Zhu, Kaiyao Huang
Two Caenorhabditis elegans calponin-related proteins have overlapping functions to maintain cytoskeletal integrity and are essential for reproduction
Shoichiro Ono, Kanako Ono
Multi-tissue patterning drives anterior morphogenesis of the C. elegans embryo
Stephanie Grimbert, Karina Mastronardi, Ryan Christensen, Christopher Law, David Fay, Alisa Piekny
C. elegans CLASP/CLS-2 negatively regulates membrane ingression throughout the oocyte cortex and is required for polar body extrusion
Aleesa J. Schlientz, Bruce Bowerman
The coordination of spindle-positioning forces during the asymmetric division of the C. elegans zygote is revealed by distinct microtubule dynamics at the cortex
H. Bouvrais, L. Chesneau, Y. Le Cunff, D. Fairbrass, N. Soler, S. Pastezeur, T. Pécot, C. Kervrann, J. Pécréaux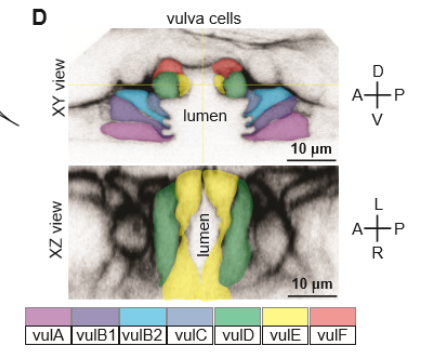 A multi-layered and dynamic apical extracellular matrix shapes the vulva lumen in Caenorhabditis elegans
Jennifer D. Cohen, Alessandro P. Sparacio, Alexandra C. Belfi, Rachel Forman-Rubinsky, David H. Hall, Hannah M. Maul-Newby, Alison R. Frand, Meera V. Sundaram

Self-organized patterning of cell morphology via mechanosensitive feedback
Natalie A. Dye, Marko Popovic, K. Venkatesan Iyer, Suzanne Eaton, Frank Julicher
An Axon-Pathfinding Mechanism Preserves Epithelial Tissue Integrity
Christian Cammarota, Tara M Finegan, Tyler J Wilson, Sifan Yang, Dan T Bergstralh
Formation of mechanical interfaces by self-organized Toll-8/Cirl GPCR asymmetry
J. Lavalou, Q. Mao, S. Harmansa, S. Kerridge, A. C. Lellouch, J.-M. Philippe, S. Audebert, L. Camoin, T. Lecuit
The number of growing microtubules and nucleus-nucleus interactions uniquely regulate nuclear movement in Drosophila muscle
Mary Ann Collins, L. Alexis Coon, Riya Thomas, Torrey R. Mandigo, Elizabeth Wynn, Eric S. Folker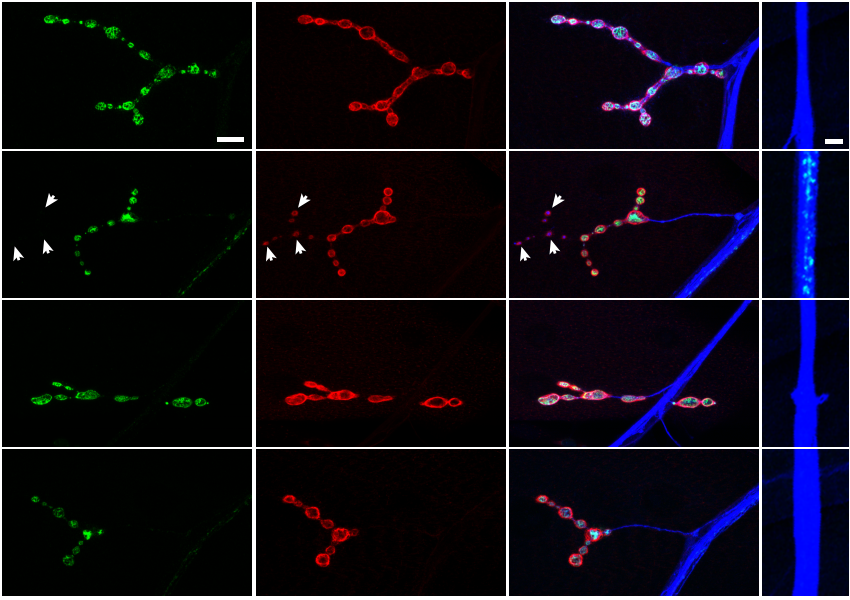 Mask, the Drosophila Ankyrin Repeat and KH domain-containing protein, regulates microtubule dynamics
Mingwei Zhu, Daniel Martinez, Jessie J. Guidry, Niles Majeste, Hui Mao, Sarah Yanofsky, Xiaolin Tian, Chunlai Wu
HtsRC-mediated accumulation of F-actin regulates ring canal size during Drosophila melanogaster oogenesis
Julianne A. Gerdes, Katelynn M. Mannix, Andrew M. Hudson, Lynn Cooley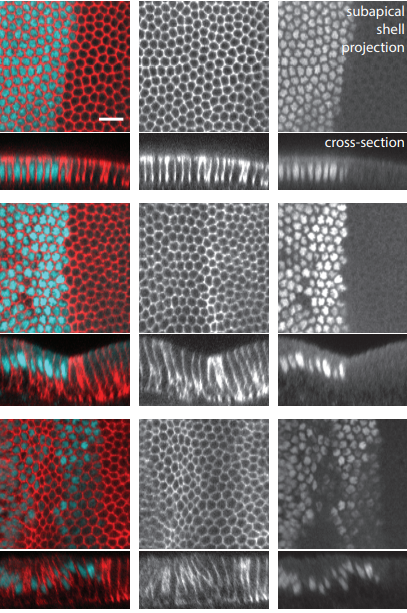 Combinatorial patterns of graded RhoA activation and uniform F-actin depletion promote tissue curvature
Marlis Denk-Lobnig, Natalie C Heer, Adam C Martin
Interplay between Anakonda, Gliotactin and M6 for tricellular junction assembly and anchoring of septate junctions in Drosophila epithelium
Thomas Esmangart de Bournonville, Roland Le Borgne
Actin bundles play different role in shaping scale as compare to bristle in mosquito Aedes aegypti
Sanja Djokic, Bakhrat Anna, Ido Zurim, Nadya Urakova, Jason L. Rasgon, Uri Abdu
Characterization of essential eggshell proteins from Aedes aegypti mosquitoes
Carter J. Simington, Max E. Oscherwitz, Alyssa J. Peterson, Alberto A. Rascón Jr., Brooke B. Massani, Roger L. Miesfeld, Jun Isoe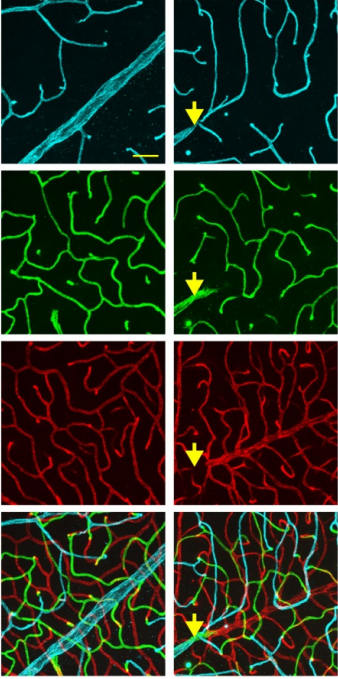 Fat1 regulates astrocyte maturation and angiogenesis in the retina
Françoise Helmbacher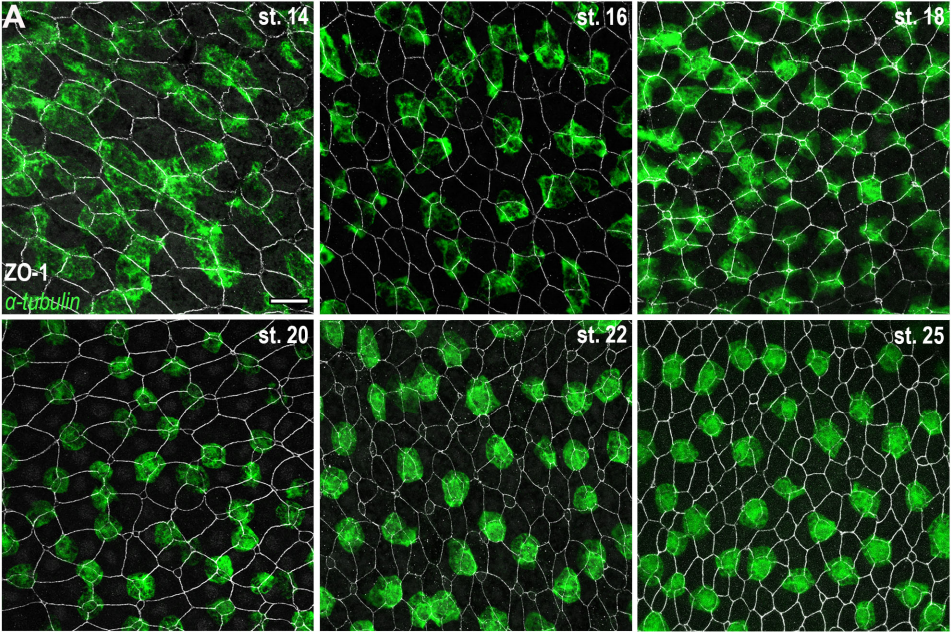 The SCF/KIT pathway implements self-organised epithelial patterning by cell movement
Alexandre Chuyen, Charlotte Rulquin, Virginie Thomé, Raphaël Clément, Laurent Kodjabachian, Andrea Pasini
Mechanical and signaling mechanisms that guide pre-implantation embryo movement
Diana Flores, Manoj Madhavan, Savannah Wright, Ripla Arora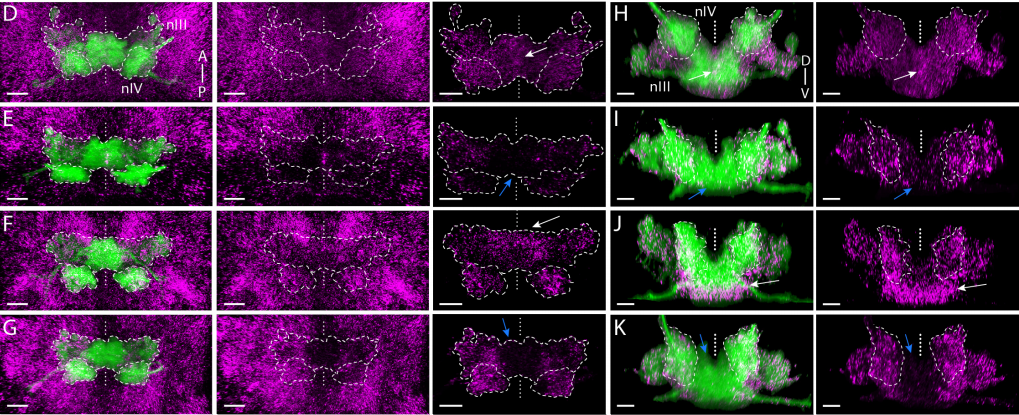 Cadherins regulate nuclear topography and function of developing ocular motor circuitry
Athene Knüfer, Giovanni Diana, Gregory S. Walsh, Jonathan Clarke, Sarah Guthrie
Latrophilin 2 controls vascular morphogenesis and function by inhibiting endothelial cell adhesion and YAP/TAZ mechanosignaling
Chiara Camillo, Nicola Facchinello, Giulia Villari, Dafne Gays, Noemi Gioelli, Chiara Sandri, Marco Arese, Luca Tamagnone, Donatella Valdembri, Massimo Mattia Santoro, Guido G Serini
Vasohibin-1 mediated tubulin detyrosination selectively regulates secondary sprouting and lymphangiogenesis in the zebrafish trunk
Bastos de Oliveira Marta, Meier Katja, Coxam Baptiste, Geudens Ilse, Jung Simone, Szymborska Anna, Gerhardt Holger
Cell – ECM interactions play distinct and essential roles at multiple stages during the development of the aortic arch arteries
Michael Warkala, Dongying Chen, Ali Jubran, AnnJosette Ramirez, Michael Schonning, Xia Wang, Sophie Astrof
Dual function of perivascular fibroblasts in vascular stabilization in zebrafish
Arsheen M. Rajan, Roger C. Ma, Katrinka M. Kocha, Dan J. Zhang, Peng Huang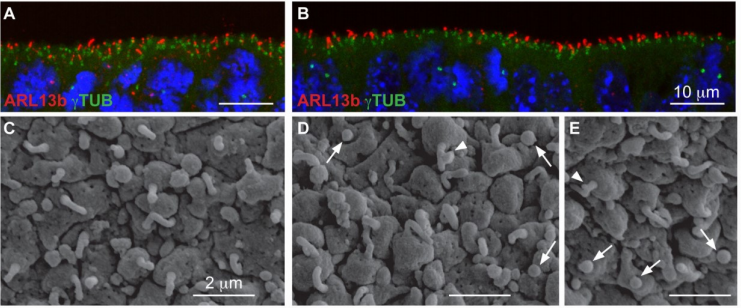 A transient role of primary cilia in controlling direct versus indirect neurogenesis in the developing cerebral cortex
Thomas Theil, Kerstin Hasenpusch-Theil, Christine Laclef, Matt Colligan, Eamon Fitzgerald, Katherine Howe, Emily Carroll, Shaun Abrams, Jeremy F Reiter, Sylvie Schneider-Maunoury
Fbxo45 binds SPRY motifs in the extracellular domain of N-cadherin and regulates neuron migration during brain development
Youn Na, Elisa Calvo Jiménez, Elif Kon, Hong Cao, Yves Jossin, Jonathan A. Cooper
Coordinated assembly and release of adhesions builds apical junctional belts during de novo polarisation of an epithelial tube
Andrew C Symonds, Clare E Buckley, Charlotte A Williams, Jonathan DW Clarke
Generation of kidney ureteric bud and collecting duct organoids that recapitulate kidney branching morphogenesis
Zipeng Zeng, Biao Huang, Riana K. Parvez, Yidan Li, Jyunhao Chen, Ariel Vonk, Matthew E. Thornton, Tadrushi Patel, Elisabeth A. Rutledge, Albert D. Kim, Jingying Yu, Nuria Pastor-Soler, Kenneth R. Hallows, Brendan H. Grubbs, Jill A. McMahon, Andrew P. McMahon, Zhongwei Li
Cytoplasmic flows caused by actomyosin contraction drive interkinetic nuclear migration
Amarendra Badugu, Andres Käch
Epithelial colonies in vitro elongate through collective effects
Jordi Comelles, SS Soumya, S. Anvitha, Guillaume Salbreux, Frank Jülicher, Mandar M. Inamdar, Daniel Riveline
Physical basis of lumen shape and stability in a simple epithelium
Claudia G. Vasquez, Vipul T. Vachharajani, Carlos Garzon-Coral, Alexander R. Dunn
| Genes & genomes
Systematic Chromatin Architecture Analysis in Xenopus tropicalis Reveals Conserved Three-Dimensional Folding Principles of Vertebrate Genomes
Longjian Niu, Wei Shen, Zhaoying Shi, Na He, Jing Wan, Jialei Sun, Yuedong Zhang, Yingzhang Huang, Wenjing Wang, Chao Fang, Jiashuo Li, Piaopiao Zheng, Edwin Cheung, Yonglong Chen, Li Li, Chunhui Hou
Single-cell transcriptomic analysis identifies neocortical developmental differences between human and mouse
Ziheng Zhou, Shuguang Wang, Dengwei Zhang, Xiaosen Jiang, Jie Li, Ying Gu, Hai-Xi Sun
Single cell transcriptomics reveals a signaling roadmap coordinating endoderm and mesoderm diversification during foregut organogenesis
Lu Han, Praneet Chaturvedi, Keishi Kishimoto, Hiroyuki Koike, Talia Nasr, Kentaro Iwasawa, Kirsten Giesbrecht, Phillip C Witcher, Alexandra Eicher, Lauren Haines, Yarim Lee, John M Shannon, Mitsuru Morimoto, James M Wells, Takanori Takebe, Aaron M Zorn
Comparison of developmental genome expression in rodent molars reveals extensive developmental system drift
Marie Sémon, Laurent Guéguen, Coraline Petit, Carine Rey, Anne Lambert, Manon Peltier, Sophie Pantalacci
Quantitative mapping of transcriptome and proteome dynamics during polarization of human iPSC-derived neurons
Feline W. Lindhout, Robbelien Kooistra, Sybren Portegies, Lotte J. Herstel, Riccardo Stucchi, Basten L. Snoek, Maarten Altelaar, Harold D. MacGillavry, Corette J. Wierenga, Casper C. Hoogenraad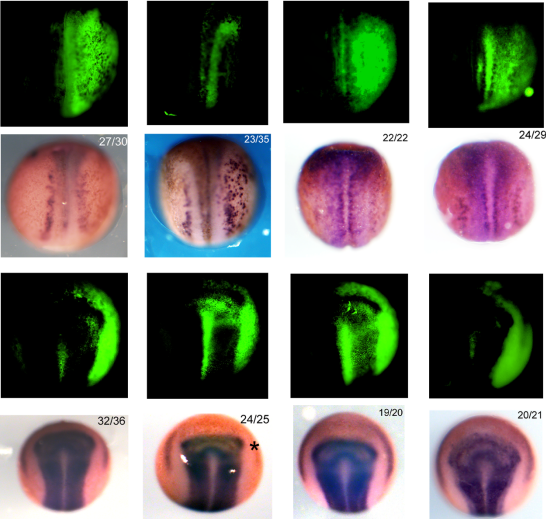 Pairing your Sox: Identification of Sox11 partner proteins and interaction domains in the developing neural plate
Kaela S. Singleton, Pablo Silva-Rodriguez, Elena M. Silva
Sox17 and β-catenin co-occupy Wnt-responsive enhancers to govern the endodermal gene regulatory network
Shreyasi Mukherjee, Praneet Chaturvedi, Scott A. Rankin, Margaret B. Fish, Marcin Wlizla, Kitt D. Paraiso, Melissa MacDonald, Xiaoting Chen, Matthew T. Weirauch, Ira L. Blitz, Ken W. Y. Cho, Aaron M. Zorn
Regulatory interactions between Vax1, Pax6, and miR-7 regionalize the lateral Ventricular-Subventricular Zone during post-natal Olfactory Bulb neurogenesis in mice
Nathalie Coré, Andrea Erni, Pamela L. Mellon, Hanne M. Hoffmann, Christophe Béclin, Harold Cremer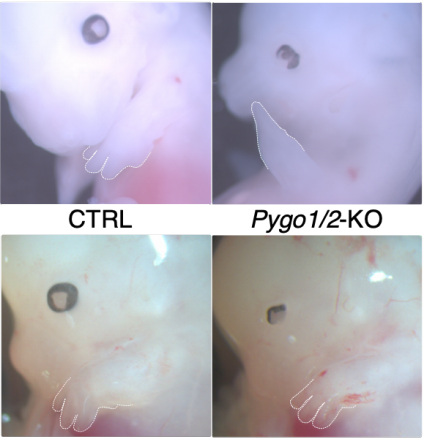 TBX3 acts as tissue-specific component of the Wnt/β-catenin enhanceosome
Dario Zimmerli, Costanza Borrelli, Amaia Jauregi-Miguel, Simon Söderholm, Salome Brütsch, Nikolaos Doumpas, Jan Reichmuth, Fabienne Murphy-Seiler, Michel Aguet, Konrad Basler, Andreas E. Moor, Claudio Cantù
Collapse of the hepatic gene regulatory network in the absence of FoxA factors
Yitzhak Reizel, Ashleigh Morgan, Long Gao, Yemin Lan, Elisabetta Manduchi, Eric L. Waite, Amber W. Wang, Andrew Wells, Klaus H. Kaestner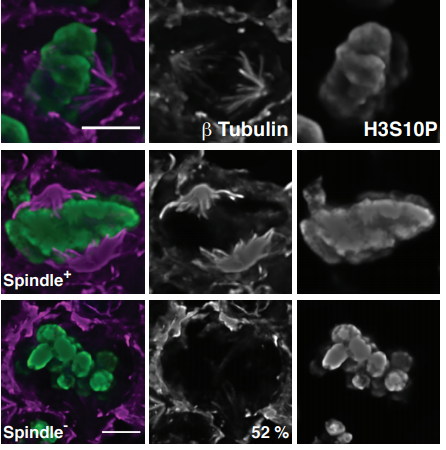 Mammalian SWI/SNF chromatin remodeler is essential for reductional meiosis in males
Debashish U Menon, Terry Magnuson
Genetic Interplay Between Transcription Factor Pou4f1/Brn3a and Neurotrophin Receptor Ret In Retinal Ganglion Cell Type Specification
Vladimir Vladimirovich Muzyka, Tudor Constantin Badea
Transformation of single-cell three-dimensional genome structure during postnatal development of the mammalian brain
Longzhi Tan, Dong Xing, Nicholas Daley, X. Sunney Xie
SRF is a non-histone methylation target of KDM2B and SET7 in the regulation of myogenesis
Hosouk Joung, Joo-Young Kang, Ji-Young Kim, Duk-Hwa Kwon, Anna Jeong, Hyun-Ki Min, Sera Shin, Yun-Gyeong Lee, Young-Kook Kim, Sang-Beom Seo, Hyun Kook
Loss of CNOT9 begets impairment in gastrulation leading to embryonic lethality
Hemanta Sarmah, Kentaro Ito, Mari Kaneko, Takaya Abe, Tadashi Yamamoto
The Aryl Hydrocarbon Receptor Promotes Differentiation During Mouse Preimplantational Embryo Development
Ana Nacarino-Palma, Jaime M. Merino, Pedro M. Fernández-Salguero
The cellular and molecular landscape of hypothalamic patterning and differentiation
Dong Won Kim, Parris Whitney Washington, Zoe Qianyi Wang, Sonia Hao Lin, Changyu Sun, Basma Taleb Ismail, Hong Wang, Lizhi Jiang, Seth Blackshaw
Spatial Transcriptional Mapping of the Human Nephrogenic Program
Nils O. Lindström, Rachel Sealfon, Xi Chen, Riana Parvez, Andrew Ransick, Guilherme De Sena Brandine, Jinjin Guo, Bill Hill, Tracy Tran, Albert D. Kim, Jian Zhou, Alicja Tadych, Aaron Watters, Aaron Wong, Elizabeth Lovero, Brendan H. Grubbs, Matthew E. Thornton, Jill A. McMahon, Andrew D. Smith, Seth W. Ruffins, Chris Armit, Olga G. Troyanskaya, Andrew P. McMahon
Imaging translation dynamics in live embryos reveals spatial heterogeneities
Jeremy Dufourt, Maelle Bellec, Antonio Trullo, Matthieu Dejean, Sylvain De Rossi, Mounia Lagha
The coordinated localization of mRNA to centrosomes facilitates error-free mitosis
Pearl V. Ryder, Junnan Fang, Dorothy A. Lerit
A region of Drosophila SLBP distinct from the histone pre-mRNA binding and processing domains is essential for deposition of histone mRNA in the oocyte
Jennifer Potter-Birriel, Graydon B. Gonsalvez, William F. Marzluff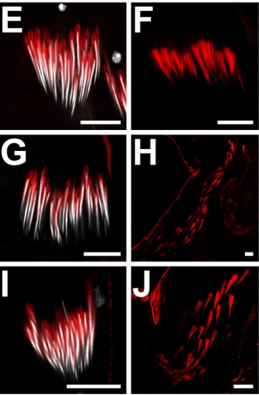 Localized mRNA translation mediates maturation of cytoplasmic cilia in Drosophila spermatogenesis
Jaclyn M Fingerhut, Yukiko M Yamashita
Mediator complex subunit Med19 binds directly GATA DNA-binding zinc finger and functions with Med1 in GATA-driven gene regulation in vivo
Clément Immarigeon, Sandra Bernat-Fabre, Emmanuelle Guillou, Alexis Verger, Elodie Prince, Mohamed A. Benmedjahed, Adeline Payet, Marie Couralet, Didier Monte, Vincent Villeret, Henri-Marc Bourbon, Muriel Boube
PBAP chromatin remodeler mediates enhancer-driven transcription in Drosophila
Y.V. Shidlovskii, A.V. Shaposhnikov, O.V. Bylino, D. Amendola, G. De Simone, N. Afeltra, P. Schedl, F.A. Digilio, E. Giordano
The conserved Drosophila SWI/SNF chromatin-remodeling complexes BAP and PBAP play separate roles in regulating growth and cell fate during regeneration
Yuan Tian, Rachel K. Smith-Bolton
Dynamic neurotransmitter specific transcription factor expression profiles during Drosophila development
Alicia Estacio-Gómez, Amira Hassan, Emma Walmsley, Lily Wong Le, Tony D. Southall

C. elegans BRC-1-BRD-1 functions at an early step of DSB processing and inhibits supernumerary crossovers during male meiosis
JoAnne Engebrecht, Qianyan Li, Sara Hariri
| Stem cells, regeneration & disease modelling
Polyploidy of semi-cloned embryos generated from parthenogenetic haploid embryonic stem cells
Eishi Aizawa, Charles-Etienne Dumeau, Remo Freimann, Giulio Di Minin, Anton Wutz
Stem-cell niche self-restricts the signaling range via receptor-ligand degradation
Sophia Ladyzhets, Matthew Antel, Taylor Simao, Nathan Gasek, Mayu Inaba
Doxycycline Significantly Enhances Induction of iPSCs to Endoderm by Enhancing survival via AKT Phosphorylation
Cristina Esteva-Font, Tao Su, Caitlin Peaslee, Caroline Duwaerts, Ke Liu, Marisa Medina, Jacquelyn J. Maher, Aras N. Mattis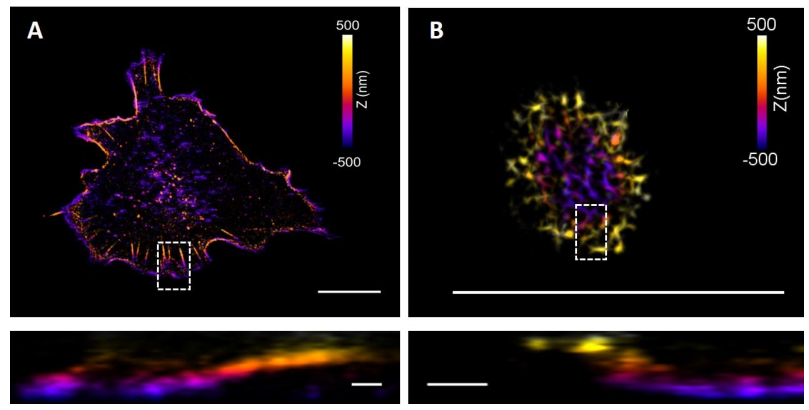 Physical properties and actin organization in embryonic stem cells depend on differentiation stage
Kasper Graves Hvid, Younes F. Barooji, Irene Istúriz Petitjean, Joshua M Brickman, Lene Broeng Oddershede, Poul M Bendix
DNA methylation is indispensable for leukemia inhibitory factor dependent embryonic stem cells reprogramming
Baojiang Wu, Yunxia Li, Bojiang Li, Baojing Zhang, Yanqiu Wang, Lin Li, Junpeng Gao, Yuting Fu, Shudong Li, Chen Chen, M. Azim Surani, Fuchou Tang, Xihe Li, Siqin Bao
Lithium directs embryonic stem cell differentiation versus hemogenic endothelium
Hayk Mnatsakanyan, Manuel Salmeron-Sanchez, Patricia Rico
Defining Epidermal Stem Cell Fate Infidelity and Immunogenicity in Hidradenitis Suppurativa at the Single-Cell Resolution
Meaghan Marohn, Meng-ju Lin, Wei-wen Yu, Ciara Mae Mendoza, Juliana Remark, Alireza Khodadadi-Jamayran, Ernest S. Chiu, Catherine Pei-ju Lu
Dynamics of temporal OCT4 regulation in human embryonic stem cells
Laura E Wadkin, Sirio Orozco-Fuentes, Irina Neganova, Majlinda Lako, Nicholas G Parker, Anvar Shukurov
Inhibitor of Differentiation 4 (ID4) represses myoepithelial differentiation of mammary stem cells through its interaction with HEB
Holly Holliday, Daniel Roden, Simon Junankar, Sunny Z. Wu, Laura A. Baker, Christoph Krisp, Chia-Ling Chan, Andrea McFarland, Joanna N. Skhinas, Thomas R. Cox, Bhupinder Pal, Nicholas Huntington, Christopher J. Ormandy, Jason S. Carroll, Jane Visvader, Mark P. Molloy, Alexander Swarbrick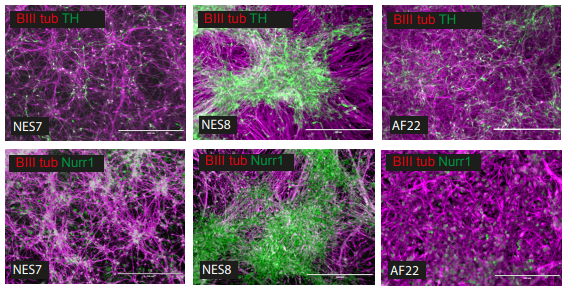 GMP-grade neural progenitor derivation and differentiation from clinical-grade human embryonic stem cells
Loriana Vitillo, Catherine Durance, Zoe Hewitt, Harry Moore, Austin Smith, Ludovic Vallier
Coupled differentiation and division of embryonic stem cells inferred from clonal snapshots
Liam J. Ruske, Jochen Kursawe, Anestis Tsakiridis, Valerie Wilson, Alexander G. Fletcher, Richard A. Blythe, Linus J. Schumacher
Chromatin dynamics during hematopoiesis reveal discrete regulatory modules instructing differentiation
Grigorios Georgolopoulos, Mineo Iwata, Nikoletta Psatha, Andrew Nishida, Tannishtha Som, Minas Yiangou, John A. Stamatoyannopoulos, Jeff Vierstra
Establishment of a Human Induced Pluripotent Stem Cell-Derived Neuromuscular Co-Culture Under Optogenetic Control
Elliot W. Swartz, Greg Shintani, Jijun Wan, Joseph S. Maffei, Sarah H. Wang, Bruce L. Miller, Leif A. Havton, Giovanni Coppola
Differential localization patterns of pyruvate kinase isoforms in murine naïve, formative and primed pluripotent states
Joshua G. Dierolf, Andrew J. Watson, Dean H. Betts
Long-term single-cell passaging of human iPSC fully supports pluripotency and high-efficient trilineage differentiation capacity
Estela Cruvinel, Isabella Ogusuku, Rosanna Cerioni, Jéssica Gonçalves, Maria Elisa Góes, Juliana Morais Alvim, Anderson Carlos Silva, Alexandre Pereira, Rafael Dariolli, Marcos Valadares, Diogo Biagi
Revealing Cellular Heterogeneity and In Vitro Differentiation Trajectory of Cultured Human Endometrial Mesenchymal-like Stem Cells Using Single-cell RNA Sequencing
Dandan Cao, Rachel W.S. Chan, Ernest H.Y. Ng, Kristina Gemzell-Danielsson, William S.B. Yeung
Cre-mediated deletion of SMARCA5 disrupts pluripotency in mouse embryonic stem cells
David P. Cook, Barbara C. Vanderhyden
Generation of cardiac valve endocardial like cells from human pluripotent stem cells
LX Cheng, Y Song, YY Zhang, YC Geng, WL Xu, Z Wang, L Wang, K Huang, NG Dong, YH Sun
Phenotypic screening using synthetic CRISPR gRNAs reveals pro-regenerative genes in spinal cord injury
Marcus Keatinge, Themistoklis M. Tsarouchas, Tahimina Munir, Juan Larraz, Davide Gianni, Hui-Hsin Tsai, Catherina G. Becker, David A. Lyons, Thomas Becker
Midkine-a functions as a universal regulator of proliferation during epimorphic regeneration in adult zebrafish
Nicholas B Ang, Alfonso Saera-Vila, Caroline Walsh, Peter F Hitchcock, Alon Kahana, Ryan Thummel, Mikiko Nagashima
Reactivation of atrium genes is a primer for heart infarction or regeneration
Yisong Zhen

ZNF423 patient variants, truncations, and in-frame deletions in mice define an allele-dependent range of midline brain abnormalities
Ojas Deshpande, Raquel Z. Lara, Oliver R. Zhang, Dorothy Concepcion, Bruce A. Hamilton
ZNF423 orthologs are highly constrained in vertebrates but show domain-level plasticity across invertebrate lineages
Bruce A. Hamilton
Transcriptome analysis of the zebrafish atoh7−/− mutant, lakritz, highlights Atoh7-dependent genetic networks with potential implications for human eye diseases
Giuseppina Covello, Fernando J. Rossello, Michele Filosi, Felipe Gajardo, Anne-Laure Duchemin, Beatrice F. Tremonti, Michael Eichenlaub, Jose M. Polo, David Powell, John Ngai, Miguel L. Allende, Enrico Domenici, Mirana Ramialison, Lucia Poggi
The role of KMT2D and KDM6A in cardiac development: A cross-species analysis in humans, mice, and zebrafish
Rwik Sen, Ezra Lencer, Elizabeth A. Geiger, Kenneth L. Jones, Tamim H. Shaikh, Kristin Bruk Artinger
Atypical neurogenesis in induced pluripotent stem cell (iPSC) from autistic individuals
Dwaipayan Adhya, Vivek Swarup, Roland Nagy, Lucia Dutan, Carole Shum, Eva P. Valencia-Alarcón, Kamila Maria Jozwik, Maria Andreina Mendez, Jamie Horder, Eva Loth, Paulina Nowosiad, Irene Lee, David Skuse, Frances A. Flinter, Declan Murphy, Grainne McAlonan, Daniel H. Geschwind, Jack Price, Jason Carroll, Deepak P. Srivastava, Simon Baron-Cohen
Increased TSH-producing cells in the pituitary gland of Pax6 haploinsufficient mice
Kenji K. Johnson, James D. Lauderdale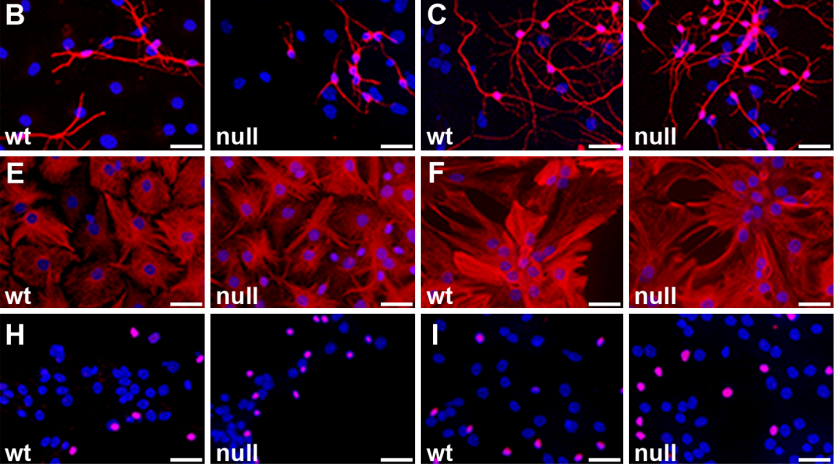 The enhancement of activity rescues the establishment of Mecp2 null neuronal phenotypes
Linda Scaramuzza, Giuseppina De Rocco, Genni Desiato, Clementina Cobolli Gigli, Martina Chiacchiaretta, Filippo Mirabella, Davide Pozzi, Marco De Simone, Paola Conforti, Massimiliano Pagani, Fabio Benfenati, Fabrizia Cesca, Francesco Bedogni, Nicoletta Landsberger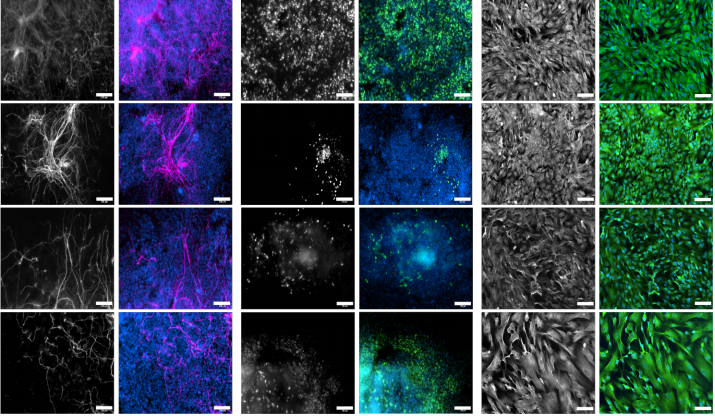 Human iPSC-derived cerebral organoids model features of Leigh Syndrome and reveal abnormal corticogenesis
Alejandra I. Romero-Morales, Anuj Rastogi, Hoor Temuri, Megan L. Rasmussen, Gregory Scott McElroy, Lawrence Hsu, Paula M. Almonacid, Bryan A. Millis, Navdeep S. Chandel, Jean-Philippe Cartailler, Vivian Gama
Gabra2 is a genetic modifier of Dravet syndrome in mice
Nicole A. Hawkins, Toshihiro Nomura, Samantha Duarte, Robert W. Williams, Gregg E. Homanics, Megan K. Mulligan, Anis Contractor, Jennifer A. Kearney
Copy Number Variation at 16p11.2 Imparts Transcriptional Alterations in Neural Development in an hiPSC-derived Model of Corticogenesis
Julien G. Roth, Kristin L. Muench, Aditya Asokan, Victoria M. Mallett, Hui Gai, Yogendra Verma, Stephen Weber, Carol Charlton, Jonas L. Fowler, Kyle M. Loh, Ricardo E. Dolmetsch, Theo D. Palmer
Interferon-gamma signalling in human iPSC-derived neurons recapitulates neurodevelopmental disorder phenotypes
Katherine Warre-Cornish, Leo Perfect, Roland Nagy, Rodrigo R.R. Duarte, Matthew J. Reid, Pooja Raval, Annett Mueller, Amanda L. Evans, Amalie Couch, Cédric Ghevaert, Grainne McAlonan, Eva Loth, Declan Murphy, Timothy R. Powell, Anthony C. Vernon, Deepak P. Srivastava, Jack Price
In vivo high-content screening in zebrafish for developmental nephrotoxicity of approved drugs
JH Westhoff, PJ Steenbergen, LSV Thomas, J Heigwer, T Bruckner, L Cooper, B Tönshoff, GF Hoffmann, J Gehrig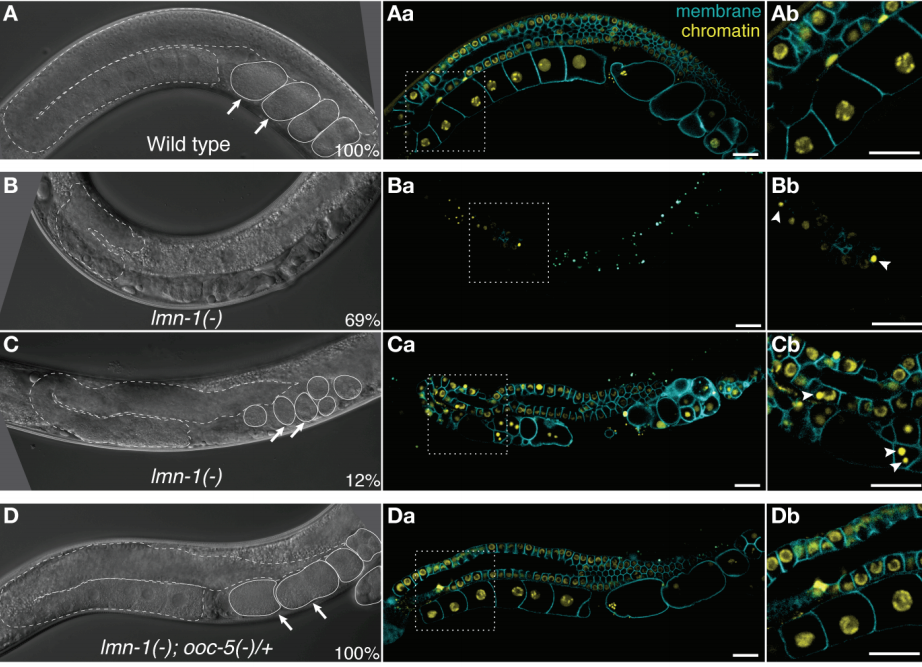 Decreased torsinA or LINC Complex Function Rescues a Laminopathy in Caenorhabditis elegans
Gabriela Huelgas-Morales, Mark Sanders, Gemechu Mekonnen, Tatsuya Tsukamoto, David Greenstein
Myogenesis modelled by human pluripotent stem cells uncovers Duchenne muscular dystrophy phenotypes prior to skeletal muscle commitment
Virginie Mournetas, Emmanuelle Massouridès, Jean-Baptiste Dupont, Etienne Kornobis, Hélène Polvèche, Margot Jarrige, Maxime R. F. Gosselin, Antigoni Manousopoulou, Spiros D. Garbis, Dariusz C. Górecki, Christian Pinset
A novel hypomorphic allele of Spag17 causes primary ciliary dyskinesia phenotypes in mice
Zakia Abdelhamed, Marshall Lukacs, Sandra Cindric, Heymut Omran, Rolf W. Stottmann
Altered Expression of Cadherin-8 and Cadherin-11 in Neural Circuit Development: Implications for Autism
Jeannine A. Frei, Robert F. Niescier, Morgan S. Bridi, Madel Durens, Jonathan E. Nestor, Xiaobing Yuan, Derek M. Dykxhoorn, Michael W. Nestor, Shiyong Huang, Gene J. Blatt, Yu-Chih Lin
Brain-wide structural and functional disruption in mice with oligodendrocyte specific Nf1 deletion is rescued by inhibition of NOS
Jad Asleh, Ben Shofty, Nadav Cohen, Alexandra Kavushansky, Alejandro López-Juárez, Shlomi Constantini, Nancy Ratner, Itamar Kahn
Genes critical for development and differentiation of dopaminergic neurons are downregulated in Parkinson's disease
Aditi Verma, Etienne C. Hirsch, Vijayalakshmi Ravindranath
Modelling and rescue of RP2 Retinitis Pigmentosa using iPSC Derived Retinal Organoids
Amelia Lane, Katarina Jovanovic, Ciara Shortall, Daniele Ottaviani, Anna Brugulat Panes, Nele Schwarz, Rosellina Guarascio, Matthew J. Hayes, Arpad Palfi, Naomi Chadderton, G. Jane Farrar, Alison J. Hardcastle, Michael E. Cheetham
In vivo visual screen for dopaminergic Rab ↔ LRRK2-G2019S interactions in Drosophila discriminates Rab10 from Rab3
Stavroula Petridi, C. Adam Middleton, Chris Ugbode, Alison Fellgett, Laura Covill, Christopher J. H. Elliott
Single-cell RNA-seq analysis of human iPSC-derived motor neurons resolves early and predictive ALS signatures
Ritchie Ho, Michael J Workman, Pranav Mathkar, Kathryn Wu, Kevin J Kim, Jacqueline G ORourke, Mariko Kellogg, Valerie Montel, Maria G Banuelos, Olubankole Aladesuyi, Sandra Diaz-Garcia, Daniel Oheb, Steven Huang, Irena Khrebtukova, Lisa Watson, John Ravits, Kevin Taylor, Robert H Baloh, Clive N Svendsen
| Plant development
Evolutionary variation in MADS-box dimerization affects floral development and protein stability
Maria Jazmin Abraham Juarez, Amanda Schrager-Lavelle, Jarrett Man, Clinton Whipple, Pubudu Handakumbura, Courtney Babbitt, Madelaine Bartlett
The Arabidopsis mitochondrial dicarboxylate carrier 2 maintains leaf metabolic homeostasis by uniting malate import and citrate export
Chun Pong Lee, Marlene Elsässer, Philippe Fuchs, Ricarda Fenske, Markus Schwarzländer, A. Harvey Millar
ITPK1-Dependent Inositol Polyphosphates Regulate Auxin Responses in Arabidopsis thaliana
Nargis Parvin Laha, Yashika Walia Dhir, Ricardo F.H. Giehl, Eva Maria Schäfer, Philipp Gaugler, Zhaleh Haghighat Shishavan, Hitika Gulabani, Haibin Mao, Ning Zheng, Nicolaus von Wirén, Henning J. Jessen, Adolfo Saiardi, Saikat Bhattacharjee, Debabrata Laha, Gabriel Schaaf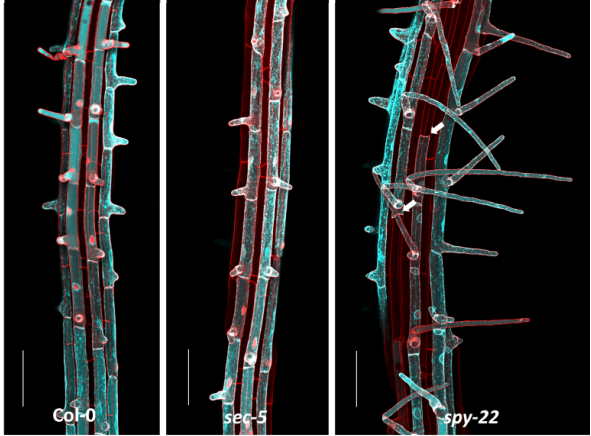 Arabidopsis O-fucosyltransferase SPINDLY regulates root hair patterning independently of gibberellin signalling
Krishna Vasant Mutanwad, Isabella Zangl, Doris Lucyshyn
The Mechanosensitive Ion Channel MSL10 Potentiates Responses to Cell Swelling in Arabidopsis Seedlings
Debarati Basu, Elizabeth S. Haswell
The Arabidopsis NOT4A E3 ligase coordinates PGR3 expression to regulate chloroplast protein translation
Mark Bailey, Aiste Ivanauskaite, Julia Grimmer, Oluwatunmise Akintewe, Adrienne C. Payne, Ross Etherington, Anne-Marie Labandera, Rory Osborne, Marjaana Rantala, Sacha Baginsky, Paula Mulo, Daniel J. Gibbs
Class III peroxidases PRX01, PRX44, and PRX73 potentially target extensins during root hair growth in Arabidopsis thaliana
Eliana Marzol, Cecilia Borassi, Jose M Estevez
SERRATE interacts with the nuclear exosome targeting (NEXT) complex to degrade primary miRNA precursors in Arabidopsis
Mateusz Bajczyk, Heike Lange, Dawid Bielewicz, Lukasz Szewc, Susheel Sagar Bhat, Jakub Dolata, Lauriane Kuhn, Zofia Szweykowska-Kulinska, Dominique Gagliardi, Artur Jarmolowski
Polygenic adaptation of rosette growth variation in Arabidopsis thaliana populations
Benedict Wieters, Kim A. Steige, Fei He, Evan M. Koch, Sebastián E. Ramos-Onsins, Hongya Gu, Ya-Long Guo, Shamil Sunyaev, Juliette de Meaux
Epigenetic transgenerational effects on RNAi in Arabidopsis
Qüan'an Hu, Jérôme Ailhas, Todd Blevins, Ulrich Klahre, Franck Vazquez, Michael Florian Mette, Frederick Meins Jr.
The microtubule-associated protein CLASP is translationally-regulated in light-dependent root apical meristem growth
Laryssa Halat, Katherine Gyte, Geoffrey Wasteneys
Dynamics of the cell fate specifications during female gametophyte development in Arabidopsis
Daichi Susaki, Takamasa Suzuki, Daisuke Maruyama, Minako Ueda, Tetsuya Higashiyama, Daisuke Kurihara
Robust banded protoxylem pattern formation through microtubule-based directional ROP diffusion restriction
Bas Jacobs, Jaap Molenaar, Eva E. Deinum
Gene expression profiling reveals subgenome dominance during Brassica napus seed development
Deirdre Khan, Dylan Ziegler, Jenna L. Kalichuk, Vanessa Hoi, Nina Huynh, Abolfazl Hajihasani, Isobel A.P. Parkin, Steven Robinson, Mark F. Belmonte
Widespread imprinting of transposable elements and young genes in the maize endosperm
Sarah N Anderson, Peng Zhou, Kaitlin Higgins, Yaniv Brandvain, Nathan M Springer

Spatial distribution of the lectin protein Osr40g3 determines its dual regulatory function in imparting salinity tolerance while impeding seed development in rice
Chandan Roy, Salman Sahid, Riddhi Datta, Soumitra Paul
SlKIX8 and SlKIX9 are conserved repressors of organ size in the asterid species tomato
Gwen Swinnen, Alexandra Baekelandt, Rebecca De Clercq, Jan Van Doorsselaere, Nathalie Gonzalez, Dirk Inzé, Alain Goossens, Laurens Pauwels
The tomato DELLA protein PROCERA promotes ABA responses in guard cells by upregulating ABA transporter
Hagai Shohat, Natanella Illouz-Eliaz, Yuri Kanno, Mitsunori Seo, David Weiss
Mechanism of auxin and GA crosstalk in diploid strawberry fruit initiation
Junhui Zhou, John Sittmann, Lei Guo, Xiaolong Huang, Anuhya Pulapaka, Zhongchi Liu
Genome and time-of-day transcriptome of Wolffia australiana link morphological extreme minimization with un-gated plant growth
Todd P. Michael, Evan Ernst, Nolan Hartwick, Philomena Chu, Douglas Bryant, Sarah Gilbert, Stefan Ortleb, Erin L. Baggs, K. Sowjanya Sree, Klaus J. Appenroth, Joerg Fuchs, Florian Jupe, Justin P. Sandoval, Ksenia V. Krasileva, Ljudmylla Borisjuk, Todd C. Mockler, Joseph R. Ecker, Robert A. Martienssen, Eric Lam
Eco-evo-devo implications and archaeobiological perspectives of wild and domesticated grapevines fruits covariating traits
Vincent Bonhomme, Sandrine Picq, Sarah Ivorra, Allowen Evin, Thierry Pastor, Roberto Bacilieri, Thierry Lacombe, Isabel Figueiral, Jean-Frédéric Terral, Laurent Bouby
Red light controls adventitious root regeneration by modulating hormone homeostasis in Picea abies seedlings
Sanaria Alallaq, Alok Ranjan, Federica Brunoni, Ondřej Novák, Abdellah Lakehal, Catherine Bellini
Modelling the spatial crosstalk between two biochemical signals explains wood formation dynamics and tree-ring structure
Félix P. Hartmann, Cyrille B. K. Rathgeber, Eric Badel, Meriem Fournier, Bruno Moulia
Hypomethylated poplars show higher tolerance to water deficit and highlight a dual role for DNA methylation in shoot meristem: regulation of stress response and genome integrity
M.D. Sow, A-L. Le Gac, R. Fichot, S. Lanciano, A. Delaunay, I. Le Jan, M-C. Lesage-Descauses, S. Citerne, J. Caius, V. Brunaud, L. Soubigou-Taconnat, H. Cochard, V. Segura, C. Chaparro, C. Grunau, C. Daviaud, J. Tost, F. Brignolas, S.H. Strauss, M. Mirouze, S. Maury
Pod indehiscence in common bean is associated to the fine regulation of PvMYB26 and a non-functional abscission layer
Valerio Di Vittori, Elena Bitocchi, Monica Rodriguez, Saleh Alseekh, Elisa Bellucci, Laura Nanni, Tania Gioia, Stefania Marzario, Giuseppina Logozzo, Marzia Rossato, Concetta De Quattro, Maria L. Murgia, Juan José Ferreira, Ana Campa, Chunming Xu, Fabio Fiorani, Arun Sampathkumar, Anja Fröhlich, Giovanna Attene, Massimo Delledonne, Björn Usadel, Alisdair R. Fernie, Domenico Rau, Roberto Papa
Activation of SnRK2 by the Raf-like kinase ARK represents a common mechanism of ABA response in embryophytes
Mousona Islam, Takumi Inoue, Mayuka Hiraide, Nobiza Khatun, Akida Jahan, Keiko Kuwata, Taishi Umezawa, Izumi Yotsui, Yoichi Sakata, Daisuke Takezawa
Effect of phyB and phyC loss-of-function mutations on the wheat transcriptome under short and long day photoperiods
Nestor Kippes, Carl VanGessel, James Hamilton, Ani Akpinar, Hikmet Budak, Jorge Dubcovsky, Stephen Pearce
Time-resolved transcriptome of barley anthers and meiocytes reveals robust and largely stable gene expression changes at meiosis entry
Abdellah Barakate, Jamie Orr, Miriam Schreiber, Isabelle Colas, Dominika Lewandowska, Nicola McCallum, Malcolm Macaulay, Jenny Morris, Mikel Arrieta, Pete E. Hedley, Luke Ramsay, Robbie Waugh
Natural variation identifies a Pxy gene controlling root vascular organization and formation of nodules and lateral roots in Lotus japonicus
Yasuyuki Kawaharada, Niels Sandal, Vikas Gupta, Haojie Jin, Maya Kawaharada, Korbinian Schneeberger, Jens Stougaard, Stig U. Andersen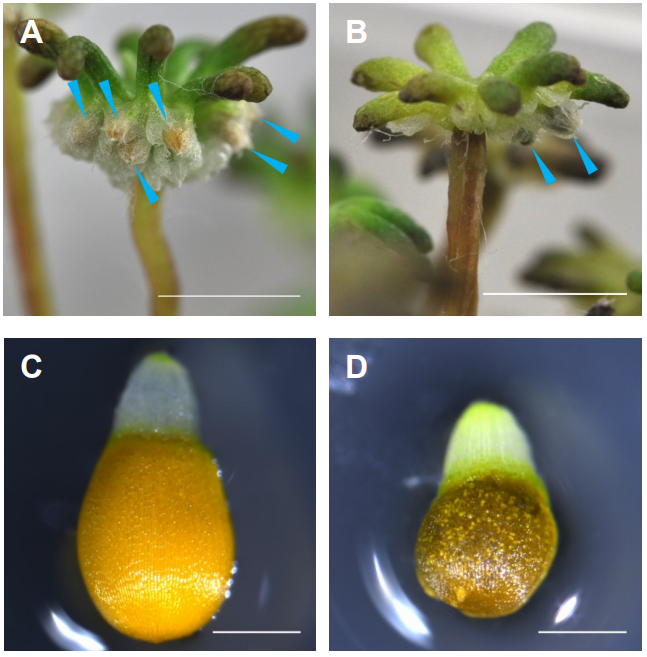 Deep evolutionary origin of gamete-directed zygote activation by KNOX/BELL transcription factors in green plants
Tetsuya Hisanaga, Shota Fujimoto, Yihui Cui, Katsutoshi Sato, Ryosuke Sano, Shohei Yamaoka, Takayuki Kohchi, Frédéric Berger, Keiji Nakajima
MYB5a/NEGAN activates petal anthocyanin pigmentation and shapes the MBW regulatory network in Mimulus luteus var. variegatus
Xingyu Zheng, Kuenzang Om, Kimmy A. Stanton, Daniel Thomas, Philip A. Cheng, Allison Eggert, Yao-Wu Yuan, Joshua R. Puzey, Arielle M. Cooley
Morphological integration between seeds and seedlings of Hymenaea courbaril
Leonardo de Lima Pereira Regnier
Optimization of multiplexed CRISPR/Cas9 system for highly efficient genome editing in Setaria viridis
Trevor Weiss, Chunfang Wang, Xiaojun Kang, Hui Zhao, Maria Elena Gamo, Colby G. Starker, Peter A. Crisp, Peng Zhou, Nathan M. Springer, Daniel F. Voytas, Feng Zhang
Evo-devo & evo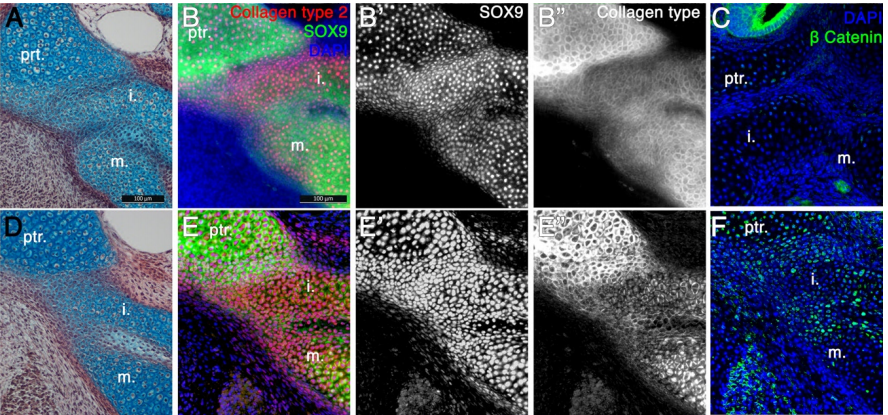 A cranio-incudo joint as the solution to early birth in marsupials and monotremes
Neal Anthwal, Jane Fenelon, Stephen D. Johnston, Marilyn B Renfree, Abigail S Tucker
Gain of gene regulatory network interconnectivity at the origin of vertebrates
Alejandro Gil-Gálvez, Sandra Jiménez-Gancedo, Rafael D. Acemel, Stephanie Bertrand, Michael Schubert, Héctor Escrivá, Juan J. Tena, José Luis Gómez-Skarmeta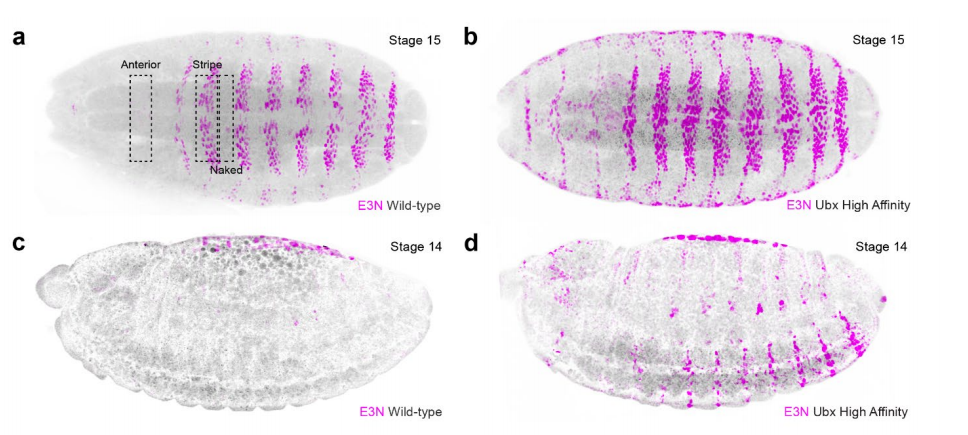 Dense encoding of developmental regulatory information may constrain evolvability
Timothy Fuqua, Jeff Jordan, Maria Elize van Breugel, Aliaksandr Halavatyi, Christian Tischer, Peter Polidoro, Namiko Abe, Albert Tsai, Richard S. Mann, David L. Stern, Justin Crocker
Gene knockdown via electroporation of short hairpin RNAs in embryos of the marine hydroid Hydractinia symbiolongicarpus
Gonzalo Quiroga-Artigas, Alexandrea Duscher, Katelyn Lundquist, Justin Waletich, Christine E. Schnitzler
Gamete-specific expression of TALE class HD genes activates the diploid sporophyte program in Marchantia polymorpha
Tom Dierschke, Eduardo Flores-Sandoval, Madlen I. Rast-Somssich, Felix Althoff, Sabine Zachgo, John L. Bowman
Sexually dimorphic traits and male-specific differentiation are actively regulated by Doublesex during specific developmental windows in Nasonia vitripennis
Yidong Wang, Anna Rensink, Ute Fricke, Megan C. Riddle, Carol Trent, Louis van de Zande, Eveline C. Verhulst
TGF-beta/Activin ligand Myoglianin couples muscle growth to the initiation of metamorphosis
Lorrie L. He, Sara Hyun Joo Shin, Zhou Wang, Isabelle Yuan, Ruthie Weschler, Allie Chiou, Takashi Koyama, H. Frederik Nijhout, Yuichiro Suzuki
Involvement of the doublesex gene in body color masculinization of the blue-tailed damselfly, Ischnura senegalensis
Michihiko Takahashi, Genta Okude, Ryo Futahashi, Yuma Takahashi, Masakado Kawata

A release from developmental bias accelerates morphological diversification in butterfly eyespots
Oskar Brattström, Kwaku Aduse-Poku, Erik van Bergen, Vernon French, Paul M. Brakefield
eyes absent in the cockroach panoistic ovaries regulates proliferation and differentiation through ecdysone signalling
S. Ramos, F. Chelemen, V. Pagone, N. Elshaer, P. Irles, M.D. Piulachs
The regulation of a pigmentation gene in the formation of complex color patterns in Drosophila abdomens
Komal K. B. Raja, Mujeeb O. Shittu, Peter M. E. Nouhan, Tessa. E. Steenwinkel, Evan A. Bachman, Prajakta P. Kokate, Alexander H. McQueeney, Elizabeth A. Mundell, Alexandri A. Armentrout, Amber M. Nugent, Thomas Werner
From simplicity to complexity: The gain or loss of spot rows underlies the morphological diversity of three Drosophila species
William A. Dion, Mujeeb O. Shittu, Tessa E. Steenwinkel, Komal K. B. Raja, Prajakta P. Kokate, Thomas Werner
Natural cryptic variation in epigenetic modulation of an embryonic gene regulatory network
Chee Kiang Ewe, Yamila N. Torres Cleuren, Sagen E. Flowers, Geneva Alok, Russell G. Snell, Joel H. Rothman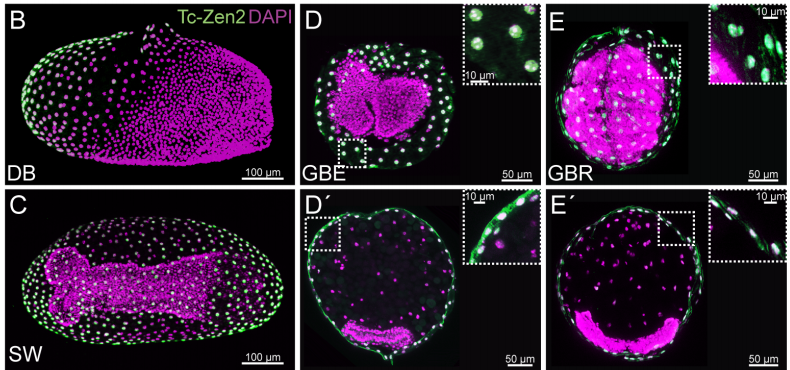 Unexpected mutual regulation underlies paralogue functional diversification and promotes maturation of a protective epithelial tissue
Daniela Gurska, Iris M. Vargas Jentzsch, Kristen A. Panfilio
The phylogenetic functional conservation of Drosophila Seven-In-Absentia (SINA) E3 ligase and its two human paralogs, SIAH1 and SIAH2, in Drosophila eye development
Robert E. Van Sciver, Yajun Cao, Amy H. Tang
Nitric oxide (NO) signaling in Trichoplax and related species: Microchemical characterization and the lineage-specific diversification
Leonid L. Moroz, Daria Y. Romanova, Mikhail A. Nikitin, Dosung Sohn, Andrea B. Kohn, Emilie Neveu, Frederique Varoqueaux, Dirk Fasshauer
Temperature change has the same effect as genetic variation on a morphological trait involved in reproductive isolation between Drosophila sister species
Alex E. Peluffo, Mehdi Hamdani, Alejandra Vargas-Valderrama, Jean R. David, François Mallard, François Graner, Virginie Courtier-Orgogozo
Evolution of regulatory networks associated with traits under selection in cichlids
Tarang K. Mehta, Christopher Koch, Will Nash, Sara A. Knaack, Padhmanand Sudhakar, Marton Olbei, Sarah Bastkowski, Luca Penso-Dolfin, Tamas Korcsmaros, Wilfried Haerty, Sushmita Roy, Federica Di-Palma
Genetic signatures of evolution of the pluripotency gene regulating network across mammals
Yoshinori Endo, Ken-ichiro Kamei, Miho Inoue-Murayama
Histone variants in archaea and the evolution of combinatorial chromatin complexity
Kathryn M Stevens, Jacob B Swadling, Antoine Hocher, Corinna Bang, Simonetta Gribaldo, Ruth A Schmitz, Tobias Warnecke
Cell biology
Functional partitioning of a liquid-like organelle during assembly of axonemal dyneins
Chanjae Lee, Rachael M. Cox, Ophelia Papoulas, Amjad Horani, Kevin Drew, Caitlin C. Devitt, Steven L. Brody, Edward M. Marcotte, John B. Wallingford
Clustering of desmosomal cadherins by desmoplakin is essential for cell-cell adhesion
Marie-Therès Wanuske, Dominique Brantschen, Camilla Schinner, Chiara Stüdle, Elias Walter, Matthias Hiermaier, Franziska Vielmuth, Jens Waschke, Volker Spindler
TRIP6 is required for tension at adherens junctions
Srividya Venkatramanan, Consuelo Ibar, Kenneth D. Irvine
Adherens junction serves to generate cryptic lamellipodia required for collective migration of epithelial cells
Masayuki Ozawa, Sylvain Hiver, Takaki Yamamoto, Tatsuo Shibata, Srigokul Upadhyayula, Yuko Mimori-Kiyosue, Masatoshi Takeichi
Melanocyte differentiation and epidermal pigmentation is regulated by polarity proteins
Sina K. Knapp, Sandra Iden
Existing actin filaments orient new filament growth to provide structural memory of filament alignment during cytokinesis
Younan Li, Edwin Munro
Lysosomal activity regulates Caenorhabditis elegans mitochondrial dynamics through vitamin B12 metabolism
Wei Wei, Gary Ruvkun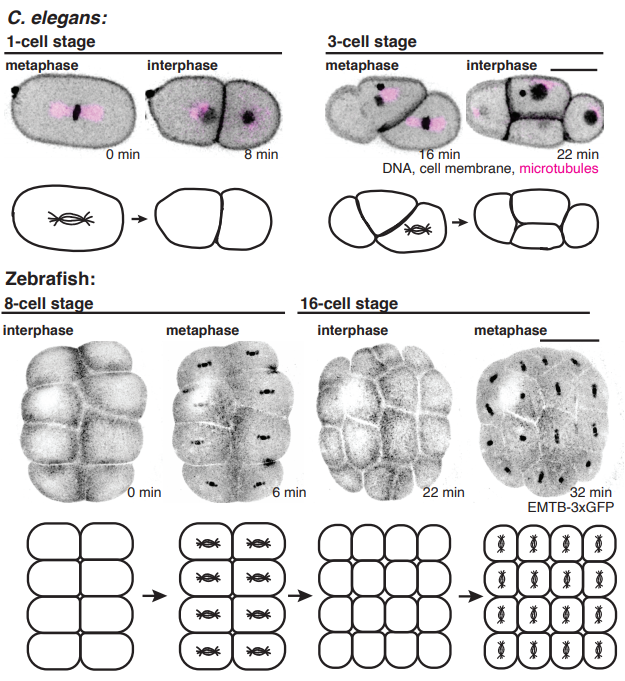 PLK1- and PLK4-mediated asymmetric mitotic centrosome size and positioning in the early zebrafish embryo
LI Rathbun, AA Aljiboury, X Bai, J Manikas, JD Amack, JN Bembenek, H Hehnly
Endosomal spatio-temporal modulation of the cortical RhoA zone conditions epithelial cell organization
Gaston Cécile, De Beco Simon, Doss Bryant, Pan Meng, Gauquelin Estelle, D'Alessandro Joseph, Lim Chwee Teck, Ladoux Benoit, Delacour Delphine
Live imaging defines the dynamics and molecular basis of in vivo mitophagy
Paul J. Wrighton, Arkadi Shwartz, Jin-Mi Heo, Eleanor D. Quenzer, Kyle A. LaBella, J. Wade Harper, Wolfram Goessling
Myosin VI moves on nuclear actin filaments and supports long-range chromatin rearrangements
Andreas Große-Berkenbusch, Johannes Hettich, Timo Kuhn, Natalia Fili, Alexander W. Cook, Yukti Hari-Gupta, Anja Palmer, Lisa Streit, Peter J.I. Ellis, Christopher P. Toseland, J. Christof M. Gebhardt
Nuclear myosin VI regulates the spatial organization of mammalian transcription initiation
Yukti Hari-Gupta, Natalia Fili, Ália dos Santos, Alexander W. Cook, Rosemarie E. Gough, Hannah C. W. Reed, Lin Wang, Jesse Aaron, Tomas Venit, Eric Wait, Andreas Grosse-Berkenbusch, J. Christof M. Gebhardt, Piergiorgio Percipalle, Teng-Leong Chew, Marisa Martin-Fernandez, Christopher P. Toseland
Drosophila Sex Peptide Controls the Assembly of Lipid Microcarriers in Seminal Fluid
S. Mark Wainwright, Cláudia C. Mendes, Aashika Sekar, Benjamin Kroeger, Josephine E.E.U. Hellberg, Shih-Jung Fan, Abigail Pavey, Pauline Marie, Aaron Leiblich, Carina Gandy, Laura Corrigan, Rachel Patel, Stuart Wigby, John F. Morris, Deborah C.I. Goberdhan, Clive Wilson
Myomegalin regulates Hedgehog pathway by controlling PDE4D at the centrosome
Hualing Peng, Jingyi Zhang, Amanda Ya, Winston Ma, Xuecai Ge
Tmed2 regulates Smoothened trafficking and Hedgehog signalling
Giulio Di Minin, Charles E. Dumeau, Alice Grison, Wesley Chan, Asun Monfort, Loydie A. Jerome-Majewska, Anton Wutz
Concerted localization-resets precede YAP-dependent transcription
Rajarshi P. Ghosh, J. Matthew Franklin, Quanming Shi, Michael P. Reddick, Jan T. Liphardt
Live-cell 3D single-molecule tracking reveals how NuRD modulates enhancer dynamics
S Basu, O Shukron, A Ponjavic, P Parruto, W Boucher, W Zhang, N Reynolds, D Lando, D Shah, LH Sober, A Jartseva, R Ragheb, J Cramard, R Floyd, G Brown, K Gor, J Balmer, TA Drury, AR Carr, L-M Needham, A Aubert, G Communie, L Morey, E Blanco, MA Barber, I Mohorianu, T Bartke, L Di Croce, I Berger, C Schaffitzel, SF Lee, TJ Stevens, D Klenerman, BD Hendrich, D Holcman, ED Laue
Ratchetaxis in channels: cells move directionally by pushing walls asymmetrically
Emilie Le Maout, Simon Lo Vecchio, Praveen Kumar Korla, Jim Jinn-Chyuan Sheu, Daniel Riveline

Plk4 triggers autonomous de novo centriole biogenesis and maturation
Catarina Nabais, Delphine Pessoa, Jorge de-Carvalho, Thomas van Zanten, Paulo Duarte, Satyajit Mayor, Jorge Carneiro, Ivo Andreas Telley, Monica Bettencourt Dias
Activation of cytoplasmic dynein through microtubule crossbridging
Manas Chakraborty, Algirdas Toleikis, Nida Siddiqui, Robert A. Cross, Anne Straube
Procentriole microtubules as drivers of centriole reduplication
Alejandra Vasquez-Limeta, Catherine Sullenberger, Dong Kong, Kimberly Lukasik, Anil Shukla, Jadranka Loncarek
An indispensable role for dynamin-related protein 1 (DRP1) in adipogenesis
Raja Gopal Reddy Mooli, Dhanunjay Mukhi, Zhonghe Chen, Nia Buckner, Sadeesh K. Ramakrishnan
Adipose-tissue derived signals control bone remodelling
He Fu, Maria-Bernadette Madel, Dominique D. Pierroz, Mariano Schiffrin, Carine Winkler, Anne Wilson, Cécile Pochon, Barbara Toffoli, Jean-Yves Jouzeau, Federica Gilardi, Serge Ferrari, Nicolas Bonnet, Claudine Blin-Wakkach, Béatrice Desvergne, David Moulin
Autocrine insulin pathway signaling regulates actin dynamics in cell wound repair
Mitsutoshi Nakamura, Andrew N.M. Dominguez, Jeffrey M. Verboon, Maria Teresa Abreu-Blanco, Raymond Liu, Jeffrey J. Delrow, Susan M. Parkhurst
Concerted action of kinesin-1 KIF5B and kinesin-3 KIF13B promotes efficient transport of exocytotic vesicles to microtubule plus ends
Andrea Serra-Marques, Maud Martin, Eugene A. Katrukha, Ilya Grigoriev, Cathelijn A.E. Peeters, Qingyang Liu, Peter Jan Hooikaas, Yao Yao, Ihor Smal, Lotte B. Pedersen, Erik Meijering, Lukas C. Kapitein, Anna Akhmanova
Modelling
A Mechanical Model of Early Somite Segmentation
Priyom Adhyapok, Agnieszka M Piatkowska, Michael J Norman, Sherry G Clendenon, Claudio D. Stern, James A Glazier, Julio M Belmonte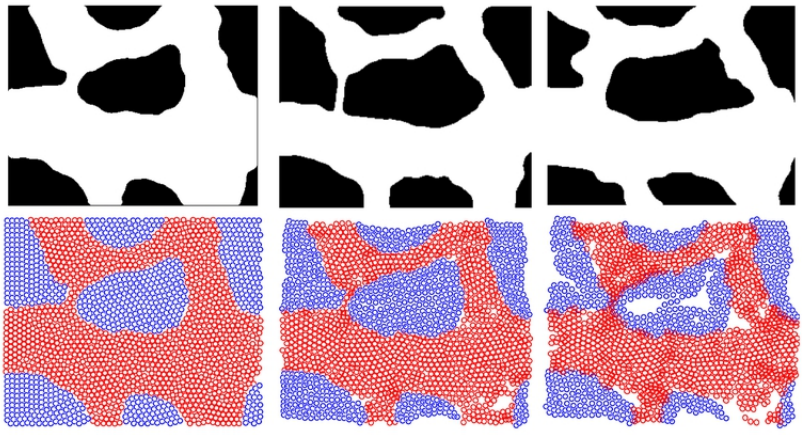 Simulating flow induced migration in vascular remodelling
Ashkan Tabibian, Siavash Ghaffari, Diego A. Vargas, Hans Van Oosterwyck, Elizabeth A.V. Jones
Reaction diffusion plus growth: A numerical model for Turing morphogenesis and Ben-Jacob patterns
Kai Trepka
Decoding the mechanisms underlying cell-fate decision-making during stem cell differentiation by Random Circuit Perturbation
Bin Huang, Mingyang Lu, Madeline Galbraith, Herbert Levine, Jose N. Onuchic, Dongya Jia
The nonlinear initiation of side-branching by activator-inhibitor (Turing) morphogenesis
Arik Yochelis
The role of thickness inhomogeneities in hierarchical cortical folding
Lucas da Costa Campos, Raphael Hornung, Gerhard Gompper, Jens Elgeti, Svenja Caspers
Optimal Experimental Design for Mathematical Models of Hematopoiesis
Luis Martinez Lomeli, Abdon Iniguez, Babak Shahbaba, John S Lowengrub, Vladimir Minin
Feedback from tissue mechanics self-organizes efficient outgrowth of plant organ
Jason Khadka, Jean-Daniel Julien, Karen Alim
A Scaling Law Governing Branching Morphogenesis in Neuronal Dendrites
Maijia Liao, Jonathon Howard
Tools & resources
Putative cell type discovery from single-cell gene expression data
Zhichao Miao, Pablo Moreno, Ni Huang, Irene Papatheodorou, Alvis Brazma, Sarah A Teichmann
Fluorogenic probe for fast 3D whole-cell DNA-PAINT
Kenny Kwok Hin Chung, Zhao Zhang, Phylicia Kidd, Yongdeng Zhang, Nathan D Williams, Bennett Rollins, Yang Yang, Chenxiang Lin, David Baddeley, Joerg Bewersdorf
Generation and Validation of Versatile Inducible CRISPRi Embryonic Stem Cell and Mouse Models
Xudong Wu, Rui Li, Xianyou Xia, Xing Wang, Xiaoyu Sun, Zhongye Dai, Dawei Huo, Huimin Zheng, Haiqing Xiong, Aibin He
Quantitative, super-resolution localization of small RNAs with sRNA-PAINT
Kun Huang, Feray Demirci, Mona Batish, Blake C. Meyers, Jeffrey L. Caplan
The OptoGenBox – a device for long-term optogenetics in C. elegans
Inka Busack, Florian Jordan, Peleg Sapir, Henrik Bringmann
Bitbow: a digital format of Brainbow enables highly efficient neuronal lineage tracing and morphology reconstruction in single brains
Ye Li, Logan A Walker, Yimeng Zhao, Erica M Edwards, Nigel S Michki, Hon Pong Jimmy Cheng, Marya Ghazzi, Tiffany Y Chen, Maggie Chen, Douglas H Roossien, Dawen Cai
Multi-fluorescence high-resolution episcopic microscopy (MF-HREM) for three dimensional imaging of adult murine organs
Claire Walsh, Natalie Holroyd, Eoin Finnerty, Sean G. Ryan, Paul W. Sweeney, Rebecca J. Shipley, Simon Walker-Samuel
Protein manipulation using single copies of short peptide tags in cultured cells and in Drosophila melanogaster
M. Alessandra Vigano, Clara-Maria Ell, Manuela MM Kustermann, Gustavo Aguilar, Shinya Matsuda, Ning Zhao, Timothy J Stasevich, George Pyrowolakis, Markus Affolter
Customizable Live-Cell Imaging Chambers for Multimodal and Multiplex Fluorescence Microscopy
Adam Tepperman, David Jiao Zheng, Maria Abou Taka, Angela Vrieze, Austin Le Lam, Bryan Heit
Fast multi-directional DSLM for confocal detection without striping artifacts
Pietro Ricci, Giuseppe Sancataldo, Vladislav Gavryusev, Alessandra Franceschini, Marie Caroline Müllenbroich, Ludovico Silvestri, Francesco Saverio Pavone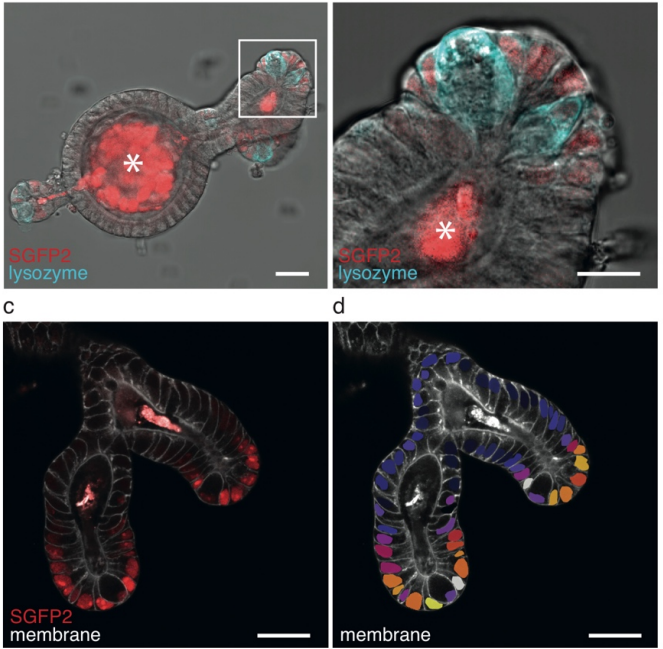 A novel Axin2 knock-in mouse model for visualization and lineage tracing of WNT/CTNNB1 responsive cells
Anoeska Agatha Alida van de Moosdijk, Yorick Bernardus Cornelis van de Grift, Saskia Madelon Ada de Man, Amber Lisanne Zeeman, Renée van Amerongen
A method for rapid selection of randomly induced mutations in a gene of interest using CRISPR/Cas9 mediated activation of gene expression
William A. Ng, Andrew Ma, Molly Chen, Bruce H. Reed
Clearing-induced tisssue shrinkage: Novel observation of a thickness size effect
R.C.M. Vulders, R.C. van Hoogenhuizen, E. van der Giessen, P.J. van der Zaag
Development of mPing-based Activation Tags for Crop Insertional Mutagenesis
Alexander Johnson, Edward Mcassey, Stephanie Diaz, Jacob Reagin, Daymond R. Parrilla, Hanh Nguyen, Adrian Stec, Lauren A. L. McDaniel, Thomas E. Clemente, Robert M. Stupar, Wayne A. Parrott, C. Nathan Hancock
Neural circuit analysis using a novel intersectional split intein-mediated split-Cre recombinase system
Audrey Tze Ting Khoo, Paul Jong Kim, Ho Min Kim, H. Shawn Je
Research practice & education
A systematic examination of preprint platforms for use in the medical and biomedical sciences setting
Jamie J Kirkham, Naomi Penfold, Fiona Murphy, Isabelle Boutron, John PA Ioannidis, Jessica K Polka, David Moher
The case for formal methodology in scientific reform
Berna Devezer, Danielle J. Navarro, Joachim Vandekerckhove, Erkan Ozge Buzbas
On Biases of Attention in Scientific Discovery
Uriel Singer, Kira Radinsky, Eric Horvitz
Measuring the quality of scientific references in Wikipedia: an analysis of more than 80M citations to over 800,000 scientific articles
Joshua M. Nicholson, Ashish Uppala, Matthias Sieber, Peter Grabitz, Milo Mordaunt, Sean Rife
The extent and drivers of gender imbalance in neuroscience reference lists
Jordan D. Dworkin, Kristin A. Linn, Erin G. Teich, Perry Zurn, Russell T. Shinohara, Danielle S. Bassett
Peer review and preprint policies are unclear at most major journals
Thomas Klebel, Stefan Reichmann, Jessica Polka, Gary McDowell, Naomi Penfold, Samantha Hindle, Tony Ross-Hellauer
Evaluating features of scientific conferences: A call for improvements
Sarvenaz Sarabipour, Benjamin Schwessinger, Fiona N. Mumoki, Aneth D. Mwakilili, Aziz Khan, Humberto J. Debat, Pablo J. Sáez, Samantha Seah, Tomislav Mestrovic
International authorship and collaboration in bioRxiv preprints
Richard J. Abdill, Elizabeth M. Adamowicz, Ran Blekhman