Welcome to our monthly trawl for developmental biology (and related) preprints.
The preprints this month are hosted on bioRxiv, arXiv and preprints.org – use these links to get to the section you want.
Developmental biology
| Patterning & signalling
Sox8 is sufficient to reprogram ectoderm into ear vesicles and associated neurons
Ailin Leticia Buzzi, Jingchen Chen, Alexandre Thiery, Julien Delile, Andrea Streit

Nodal is a short-range morphogen with activity that spreads through a relay mechanism in human gastruloids
Lizhong Liu, Anastasiia Nemashkalo, Ji Yoon Jung, Sapna Chhabra, M. Cecilia Guerra, Idse Heemserk, Aryeh Warmflash
"Neighborhood watch" model: embryonic epiblast cells assess positional information in relation to their neighbors
Hyung Chul Lee, Cato Hastings, Nidia M.M. Oliveira, Rubén Pérez-Carrasco, Karen M. Page, Lewis Wolpert, Claudio D. Stern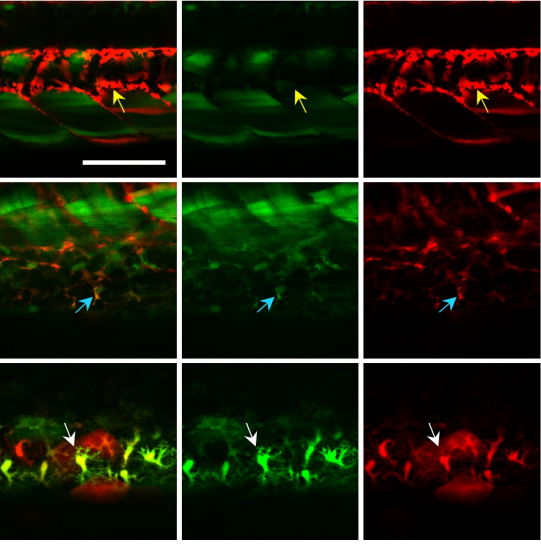 Local signaling specifies tissue-resident fibroblasts from multipotent sclerotome progenitors in zebrafish
Roger C. Ma, Katrinka M. Kocha, Peng Huang
P5A-ATPase controls the ER translocation of Wnt in neuronal migration
Tingting Li, Xiaoyan Yang, Zhigang Feng, Wang Nie, Yan Zou
Temporal regulation of green and red cone specification in human retinas and retinal organoids
Sarah E. Hadyniak, Kiara C. Eldred, Boris Brenerman, Katarzyna A. Hussey, Rajiv C. McCoy, Michael E. G. Sauria, James A. Kuchenbecker, Maureen Neitz, Jay Neitz, James Taylor, Robert J. Johnston Jr.
Notch signaling represses cone photoreceptor formation through the regulation of retinal progenitor cell states
Xueqing Chen, Mark M. Emerson
The dorsal blastopore lip is a source of signals inducing PCP in the Xenopus neural plate
Pamela Mancini, Olga Ossipova, Sergei Y. Sokol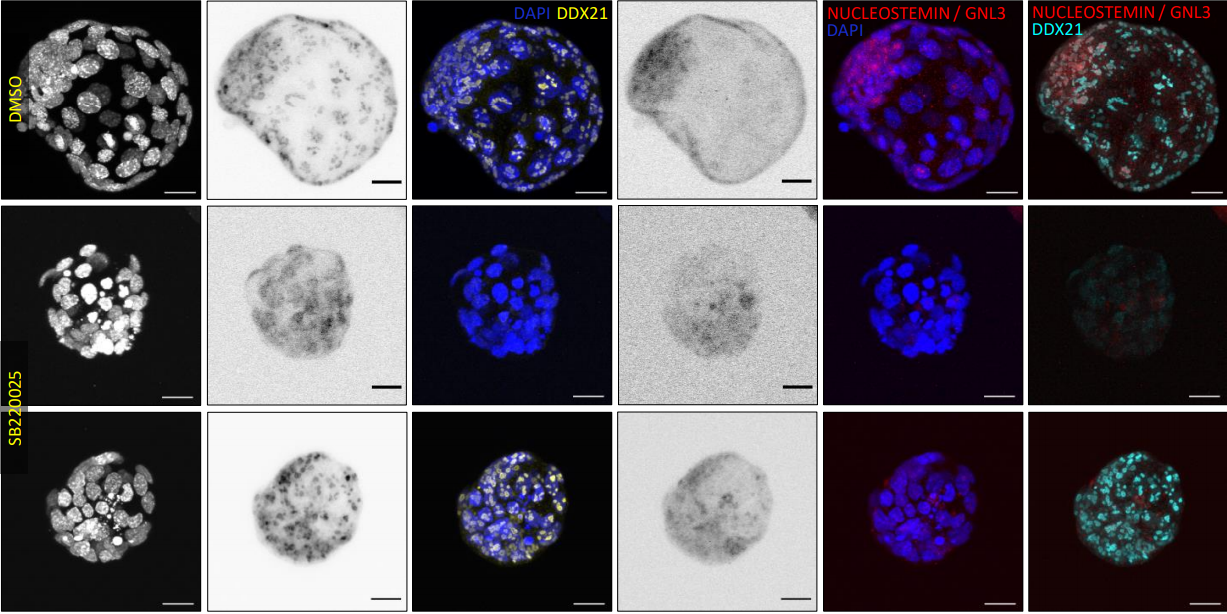 DDX21 is a p38-MAPK sensitive nucleolar protein necessary for mouse preimplantation embryo development and cell-fate specification
Pablo Bora, Lenka Gahurova, Andrea Hauserova, Martina Stiborova, Rebecca Collier, David Potěšil, Zbyněk Zdráhal, Alexander W. Bruce

Generation of specialized blood vessels through transdifferentiation of lymphatic endothelial cells
Rudra Nayan Das, Ivan Bassi, Yanchao Han, Giuseppina Lambiase, Yaara Tevet, Noga Moshe, Stav Refael Safriel, Julian Nicenboim, Matthias Brueckner, Dana Hirsch, Raya Eilam-Altstadter, Wiebke Herzog, Kenneth D. Poss, Karina Yaniv
Biphasic roles of hedgehog signaling in the production and self-renewal of outer radial glia in the ferret cerebral cortex
Shirui Hou, Wan-Ling Ho, Lei Wang, Bryan Kuo, Jun Young Park, Young-Goo Han
Decoding the porcine developing spatial processing system and production of human entorhinal stellate cell-like cells by a direct programming approach
Tobias Bergmann, Yong Liu, Leo Mogus, Julie Lee, Ulrich Pfisterer, Louis-Francois Handfield, Andrea Asenjo-Martinez, Irene Lisa-Vargas, Stefan E Seemann, Jimmy Tsz Hang Lee, Nikolaos Patikas, Birgitte Rahbek Kornum, Mark Denham, Poul Hyttel, Menno P Witter, Jan Gorodkin, Tune H Pers, Martin Hemberg, Konstantin Khodosevich, Vanessa Jane Hall
ATXN10 is required for embryonic heart development and maintenance of epithelial cell phenotypes in the adult kidney and pancreas
Melissa R. Bentley-Ford, Reagan S. Andersen, Mandy J. Croyle, Courtney J. Haycraft, Kelsey R. Clearman, Jeremy B. Foote, Jeremy F. Reiter, Bradley K. Yoder
ERK3-MK5 signaling regulates myogenic differentiation and muscle regeneration by promoting FoxO3 degradation
Mathilde Soulez, Pierre-Luc Tanguay, Florence Dô, Colin Crist, Junio Dort, Alexey Kotlyarov, Matthias Gaestel, Nicolas A. Dumont, Sylvain Meloche
Wnt-dependent activation of ERK mediates repression of chondrocyte fate during calvarial development
Beatriz Ibarra, Cody Machen, Radhika P. Atit
Per1/Per2-Igf2 axis-mediated circadian regulation of myogenic differentiation
Nobuko Katoku-Kikyo, Ellen Paatela, Daniel L. Houtz, Britney Lee, Dane Munson, Xuerui Wang, Mohammed Hussein, Jasmeet Bhatia, Seunghyun Lim, Ce Yuan, Yoko Asakura, Atsushi Asakura, Nobuaki Kikyo
Extensive structural remodeling of the axonal arbors of parvalbumin basket cells during development
Kristina D. Micheva, Marianna Kiraly, Marc M. Perez, Daniel V. Madison
Dopamine desynchronizes the retinal clock through a melanopsin-dependent regulation of acetylcholine retinal waves during development
Chaimaa Kinane, Hugo Calligaro, Antonin Jandot, Christine Coutanson, Nasser Haddjeri, Mohamed Bennis, Ouria Dkhissi-Benyahya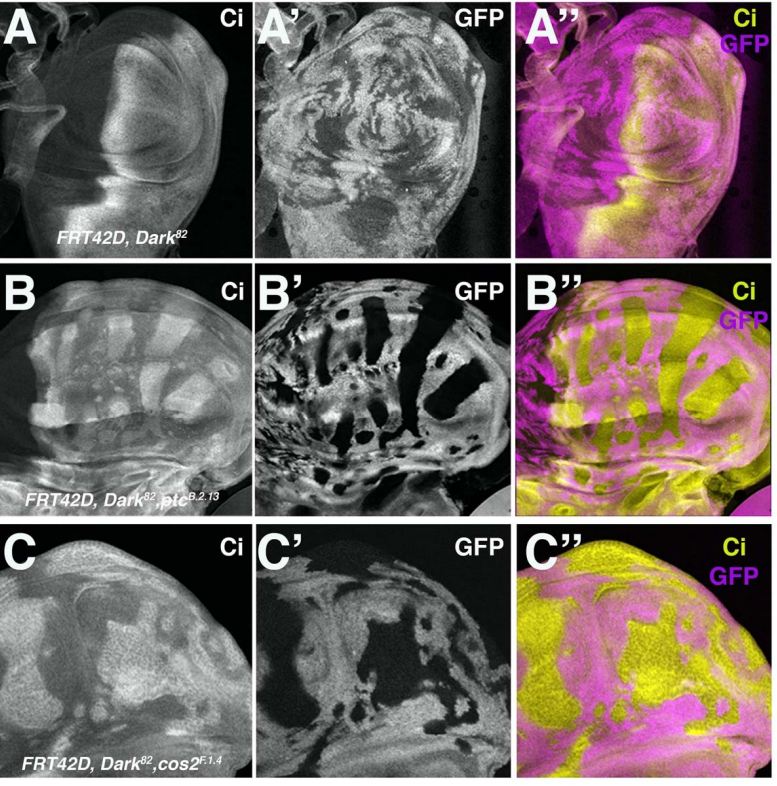 Hedgehog pathway members Patched and Costal-2 exhibit differences in overgrowth autonomy in Drosophila melanogaster
Shannon L. Moore, Frank C. Adamini, Erik S. Coopes, Dustin Godoy, Shyra J. Northington, Jordan M. Stewart, Richard L. Tillet, Kayla L. Bieser, Jacob D. Kagey
Role of PARP1 in oligodendrocyte differentiation during developmental myelination and remyelination after myelin damage
Yan Wang, Sheng Zhang, Bokyung Kim, Vanessa L. Hull, Jie Xu, Preeti Prabhu, Maria Gregory, Veronica Martinez-Cerdeno, Xinhua Zhan, Wenbin Deng, Fuzheng Guo
Sperm membrane proteins DCST1 and DCST2 are required for the sperm-egg fusion process in mice and fish
Taichi Noda, Andreas Blaha, Yoshitaka Fujihara, Krista R. Gert, Chihiro Emori, Victoria E. Deneke, Seiya Oura, Sara Berent, Mayo Kodani, Karin Panser, Luis Enrique Cabrera-Quio, Andrea Pauli, Masahito Ikawa
Regulation of Vg1 biogenesis during mesendoderm induction
P. C. Dave P. Dingal, Adam N. Carte, Tessa G. Montague, Alexander F. Schier
Phenotypic diversity and sensitivity to injury of the pulmonary endothelium during a period of rapid postnatal growth
Fabio Zanini, Xibing Che, Carsten Knutsen, Min Liu, Nina Suresh, Racquel Domingo-Gonzalez, Steve H. Dou, Robert C. Jones, David N. Cornfield, Stephen R. Quake, Cristina M. Alvira
Dynamics and heterogeneity of Erk-induced immediate-early gene expression
Siddhartha G. Jena, Catherine Yu, Jared E. Toettcher
Single cell response landscape of graded Nodal signaling in zebrafish explants
Tao Cheng, Yan-Yi Xing, Yun-Fei Li, Cong Liu, Ying Huang, Ying-Jie Zhang, Sean G. Megason, Peng-Fei Xu
Arf6 is necessary for high level Wingless signalling during Drosophila wing development
Julien Marcetteau, Tamàs Matusek, Frédéric Luton, Pascal P. Thérond
Developmental Circadian Disruption Alters Placental Signaling in Mice
Danielle A. Clarkson-Townsend, Katie L. Bales, Karen E. Hermetz, Amber A. Burt, Machelle T. Pardue, Carmen J. Marsit
Activity-dependent alteration of early myelin ensheathment in a developing sensory circuit
Zahraa Chorghay, David MacFarquhar, Vanessa J. Li, Sarah Aufmkolk, Anne Schohl, Paul W. Wiseman, Ragnhildur Thora Káradóttir, Edward S. Ruthazer
RANKL from Bone Marrow Adipose Lineage Cells Promotes Osteoclast Formation and Bone Loss
Yan Hu, Xiaoqun Li, Xin Zhi, Wei Cong, Biaotong Huang, Huiwen Chen, Yajun Wang, Yinghua Li, Lipeng Wang, Chao Fang, Jiawei Guo, Ying Liu, Jin Cui, Liehu Cao, Weizong Weng, Qirong Zhou, Sicheng Wang, Xiao Chen, Jiacan Su
Lhx2 is a progenitor-intrinsic modulator of Sonic Hedgehog signaling during early retinal neurogenesis
Xiaodong Li, Patrick J. Gordon, John A. Gaynes, Alexandra W. Fuller, Randy Ringuette, Clayton P. Santiago, Valerie A. Wallace, Seth Blackshaw, Pulin Li, Edward M. Levine
Perivascular cells support folliculogenesis in the developing ovary
Shuyun Li, Bidur Bhandary, Tony DeFalco
Cdc42 activity in Sertoli cells is essential for maintenance of spermatogenesis
Bidur Bhandary, Anna Heinrich, Sarah J. Potter, Nancy Ratner, Tony DeFalco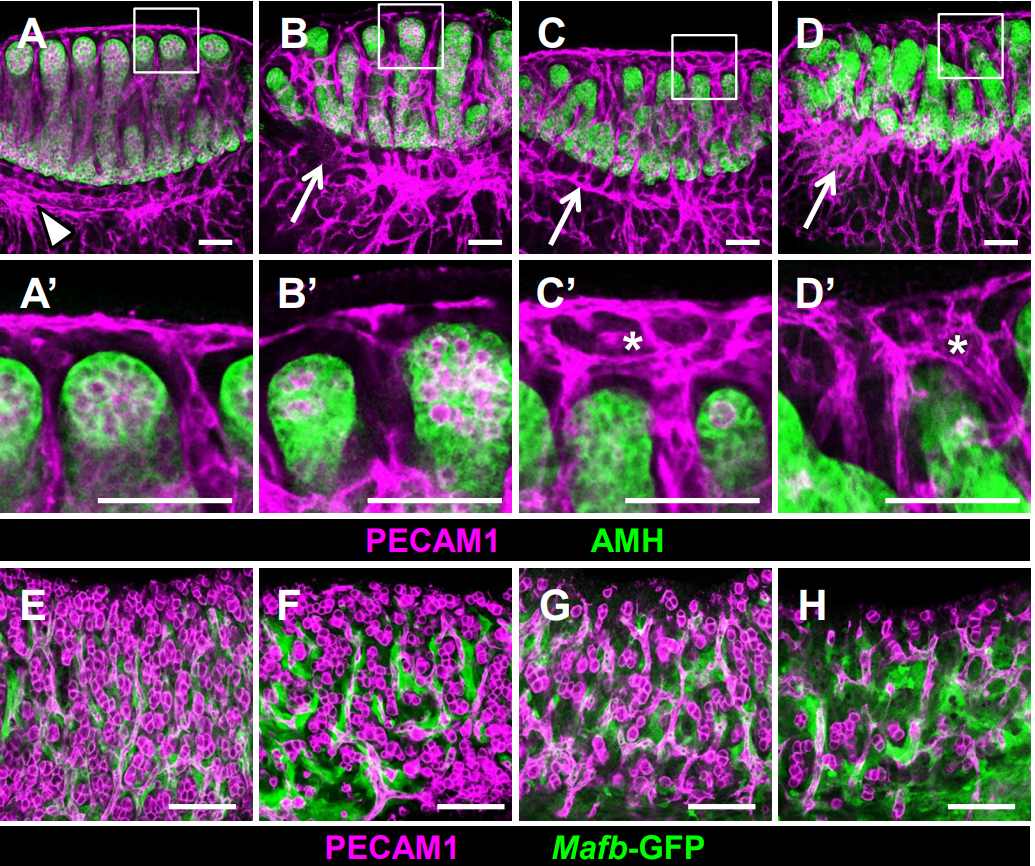 Loss of Mafb and Maf distorts myeloid cell ratios and disrupts fetal mouse testis vascularization and organogenesis
Shu-Yun Li, Xiaowei Gu, Anna Heinrich, Emily G. Hurley, Blanche Capel, Tony DeFalco
Uncoupling of ribosome biogenesis and Tor activation by TRIM-NHL proteins promotes terminal differentiation
Jinghua Gui, Felipe Karam Teixeira
Neuronal Dystroglycan regulates postnatal development of CCK/cannabinoid receptor-1 interneurons
Daniel S. Miller, Kevin M. Wright
Rab11 negatively regulates Wingless preventing JNK mediated apoptosis in Drosophila epithelium during embryonic dorsal closure
Nabarun Nandy, Jagat Kumar Roy
Relish plays a dynamic role in the niche to modulate Drosophila blood progenitor homeostasis in development and infection
Parvathy Ramesh, Nidhi Sharma Dey, Aditya Kanwal, Sudip Mandal, Lolitika Mandal
CSF1R-dependent macrophages control postnatal somatic growth and organ maturation
Sahar Keshvari, Melanie Caruso, Ngari Teakle, Lena Batoon, Anuj Sehgal, Omkar L. Patkar, Michelle Ferrari-Cestari, Cameron E. Snell, Chen Chen, Alex Stevenson, Felicity M. Davis, Stephen J. Bush, Clare Pridans, Kim M. Summers, Allison R. Pettit, Katharine M. Irvine, David A. Hume
Regulation of neurogenesis and gliogenesis by the matricellular protein CCN2 in the mouse retina
Golam Mohiuddin, Genesis Lopez, Jose Sinon, M. Elizabeth Hartnett, Anastasiia Bulakhova, Brahim Chúaqour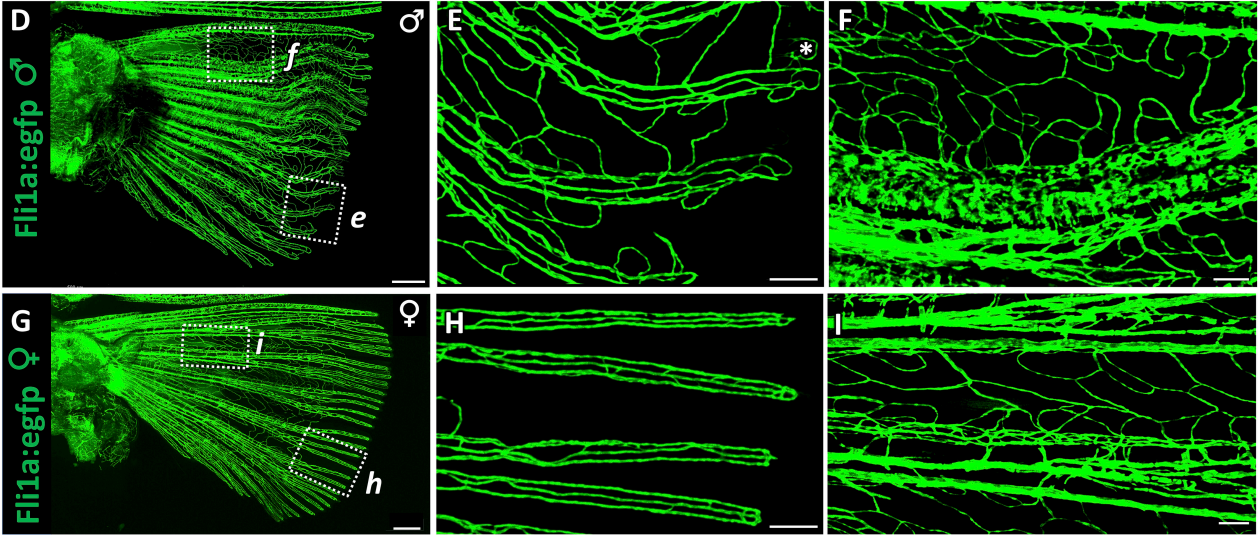 Anatomy and Development of the Pectoral Fin Vascular Network in the Zebrafish
Scott Paulissen, Daniel Castranova, Shlomo Krispin, Margaret Burns, Brant M. Weinstein
longfin causes cis-ectopic expression of the kcnh2a ether-a-go-go K+ channel to autonomously prolong fin outgrowth
Scott Stewart, Heather K. Le Bleu, Gabriel A. Yette, Astra L. Henner, Amy E. Robbins, Joshua A. Braunstein, Kryn Stankunas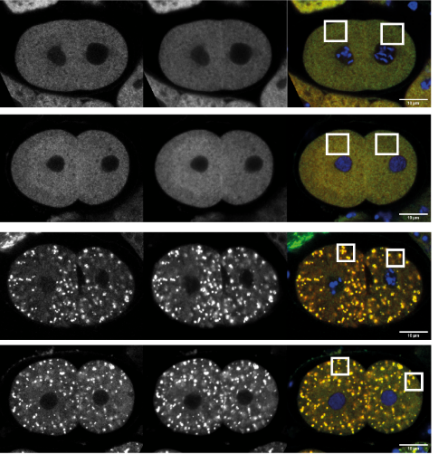 The UBAP2L ortholog PQN-59 contributes to stress granule assembly and development in C. elegans
Simona Abbatemarco, Alexandra Bondaz, Francoise Schwager, Jing Wang, Christopher M Hammell, Monica Gotta
FGF8-mediated signaling regulates tooth developmental pace during odontogenesis
Chensheng Lin, Ningsheng Ruan, Linjun Li, Yibin Chen, Xiaoxiao Hu, YiPing Chen, Xuefeng Hu, Yanding Zhang
Pinhead antagonizes Admp to promote notochord formation
Keiji Itoh, Olga Ossipova, Sergei Y. Sokol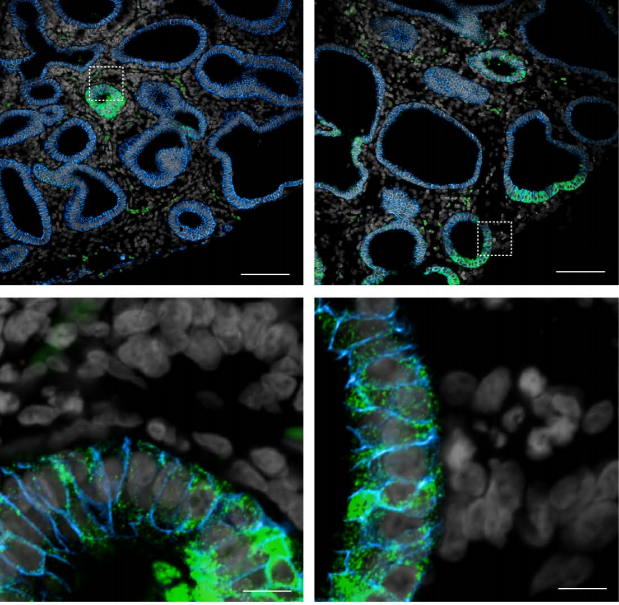 R-SPONDIN2+ Mesenchymal Cells Form the Bud Tip Progenitor Niche During Human Lung Development
Renee F.C. Hein, Joshua H. Wu, Yu-Hwai Tsai, Angeline Wu, Alyssa J. Miller, Emily M. Holloway, Tristan Frum, Ansley S. Conchola, Emmanuelle Szenker-Ravi, Bruno Reversade, Kelley S. Yan, Calvin J. Kuo, Jason R. Spence
Early low-level developmental arsenic exposure impacts mouse hippocampal synaptic function
Karl F.W. Foley, Daniel Barnett, Deborah A. Cory-Slechta, Houhui Xia
Functional connectivity of the developing mouse cortex
Rachel M. Rahn, Lindsey M. Brier, Annie R. Bice, Matthew D. Reisman, Joseph D. Dougherty, Joseph P. Culver
A Positive Regulatory Feedback Loop Between EKLF/ KLF1 and TAL1/SCL Sustaining the Erythropoiesis
Chun-Hao Hung, Yu-Szu Huang, Tung-Liang Lee, Kang-Chung Yang, Yu-Chiau Shyu, Shau-Ching Wen, Mu-Jie Lu, Shinsheng Yuan, Che-Kun James Shen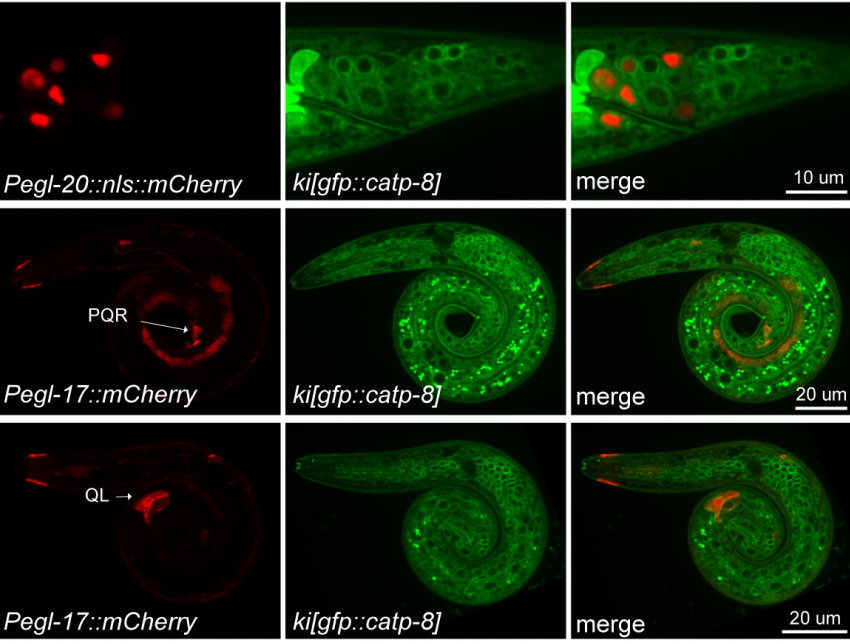 P5A-ATPases control the ER translocation of Wnt for neuronal migration
Tingting Li, Xiaoyan Yang, Zhigang Feng, Wang Nie, Yan Zou
Drp1 SUMO/deSUMOylation by Senp5 isoforms influences ER tubulation and mitochondrial dynamics to regulate brain development
Seiya Yamada, Ayaka Sato, Hiroki Akiyama, Shin-ichi Sakakibara
Foxq2 determines blue cone identity in zebrafish
Yohey Ogawa, Tomoya Shiraki, Yoshitaka Fukada, Daisuke Kojima
Activation of innate immune signalling during development predisposes to inflammatory intestine and shortened lifespan
Kyoko Yamashita, Ayano Oi, Hina Kosakamoto, Toshitaka Yamauchi, Hibiki Kadoguchi, Takayuki Kuraishi, Masayuki Miura, Fumiaki Obata
Colony stimulating factor 1 signaling regulates myeloid fates in zebrafish via distinct action of its receptors and ligands
Martina Hason, Tereza Mikulasova, Olga Machonova, Antonio Pombinho, Tjakko J van Ham, Uwe Irion, Christiane Nüsslein-Volhard, Petr Bartunek, Ondrej Svoboda
Early construction of the thalamocortical axon pathway requires JNK signaling within the ventral forebrain
Jessica G. Cunningham, James D. Scripter, Stephany A. Nti, Eric S. Tucker
The TNF Egr participates in signaling during cell competition in the absence of a requirement for JNK
Albana Kodra, Claire de la Cova, Aditi Sharma Singh, Laura A. Johnston
R7 photoreceptor axon targeting depends on the relative levels of lost and found expression in R7 and its synaptic partners
Jessica Douthit, Ariel Hairston, Gina Lee, Carolyn A. Morrison, Isabel Holguera, Jessica E. Treisman
The Akt-mTOR pathway drives myelin sheath growth by regulating cap-dependent translation
Karlie N. Fedder-Semmes, Bruce Appel
Local autocrine signaling of IGF1 synthesized and released by CA1 pyramidal neurons regulates plasticity of dendritic spines
Xun Tu, Anant Jain, Helena Decker, Ryohei Yasuda
| Morphogenesis & mechanics
Optogenetic control of apical constriction induces synthetic morphogenesis in mammalian tissues
Guillermo Martínez-Ara, Núria Taberner, Mami Takayama, Elissavet Sandaltzopoulou, Casandra E. Villava, Nozomu Takata, Mototsugu Eiraku, Miki Ebisuya
Adhesion dynamics regulate cell intercalation behaviour in an active tissue
Alexander Nestor-Bergmann, Guy B. Blanchard, Nathan Hervieux, Alexander G. Fletcher, Jocelyn Étienne, Bénédicte Sanson
Tubulin Acetylation Promotes Penetrative Capacity of Cells Undergoing Radial Intercalation
Caitlin Collins, Sun K. Kim, Rosa Ventrella, Jen W. Mitchell, Brian Mitchell
Guidance by followers ensures long-range coordination of cell migration through α-Catenin mechanoperception
Arthur Boutillon, Diego Jahn, Sebastian Gonzalez-Tirado, Joern Starruss, Lutz Brusch, Nicolas B David
What basal membranes can tell us about viscous forces in Drosophila ventral furrow formation
Amanda Nicole Goldner, Konstantin Doubrovinski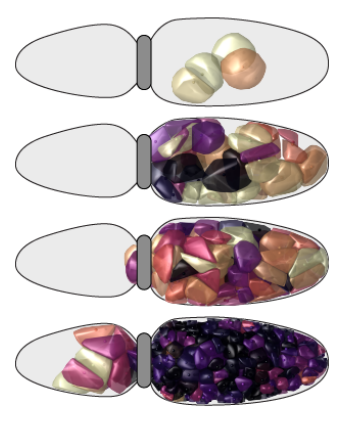 Local density determines nuclear movements during syncytial blastoderm formation in a cricket
Seth Donoughe, Jordan Hoffmann, Taro Nakamura, Chris H. Rycroft, Cassandra G. Extavour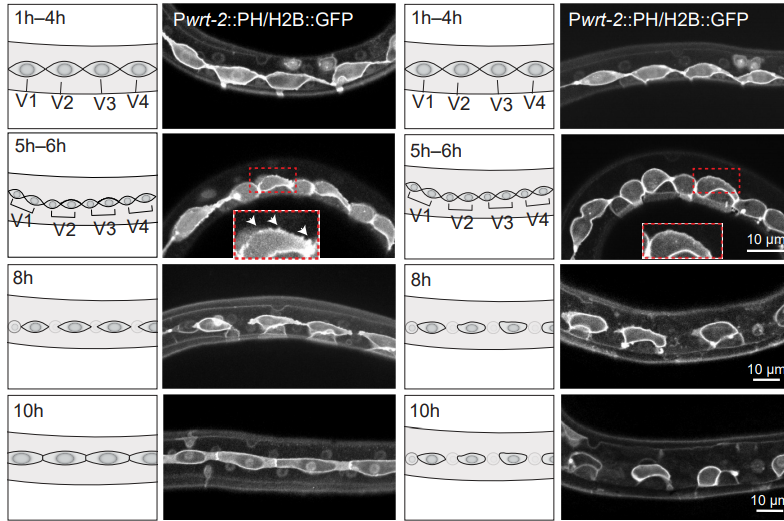 Caenorhabditis elegans LET-413 Scribble is essential in the epidermis for growth, viability, and directional outgrowth of epithelial seam cells
Amalia Riga, Janine Cravo, Ruben Schmidt, Helena R. Pires, Victoria G. Castiglioni, Sander van den Heuvel, Mike Boxem
Keratin dynamics govern the establishment of the maternal-fetal interface
Wallis Nahaboo, Sema Elif Eski, Marjorie Vermeersch, Bechara Saykali, Daniel Monteyne, Thomas M. Magin, Nicole Schwarz, An Zwijsen, David Perez-Morga, Sumeet Pal Singh, Isabelle Migeotte
Calcium waves facilitate and coordinate the contraction of endfeet actin stress fibers in Drosophila interommatidial cells
Donald F. Ready, Henry C. Chang
Pericyte-derived vitronectin regulates blood-CNS barrier function via integrin signaling
Swathi Ayloo, Christopher Gallego Lazo, Shenghuan Sun, Wei Zhang, Bianxiao Cui, Chenghua Gu
Fascin limits Myosin activity within Drosophila border cells to control substrate stiffness and promote migration
Maureen C. Lamb, Chathuri P. Kaluarachchi, Thiranjeewa I. Lansakara, Yiling Lan, Alexei V. Tivanski, Tina L. Tootle
SKAP2 as a new regulator of oligodendroglial migration and myelin sheath formation
J Ghelman, L Grewing, F Windener, S Albrecht, A Zarbock, T. Kuhlmann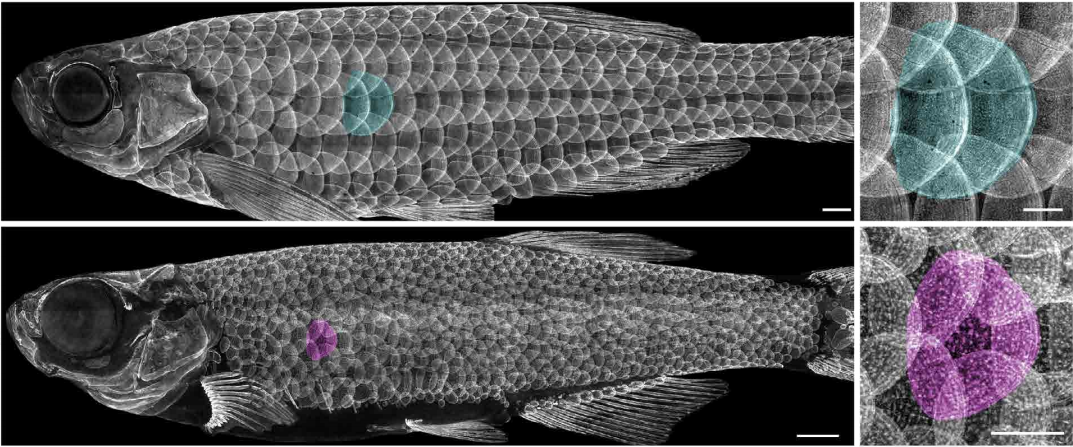 Thyroid hormone regulates abrupt skin morphogenesis during zebrafish postembryonic development
Andrew J. Aman, Margaret Kim, Lauren M. Saunders, David M. Parichy
Light-mediated planar polarization of cone photoreceptor cilia contributes to visual acuity in mammals
Michael Housset, Dominic Filion, Nelson Cortes, Hojatollah Vali, Craig Mandato, Christian Casanova, Michel Cayouette
The Drosophila anterior-posterior axis is polarized by asymmetric myosin activation
Hélène Doerflinger, Vitaly Zimyanin, Daniel St Johnston
A neural progenitor mitotic wave is required for asynchronous axon outgrowth and morphology
Jérôme Lacoste, Hédi Soula, Angélique Burg, Agnès Audibert, Pénélope Darnat, Michel Gho, Sophie Louvet-Vallée
Patterned endogenous activity controls migration, morphogenesis and survival of adult-born neurons in the mouse olfactory bulb
Kaizhen Li, Katherine Figarella, Xin Su, Yury Kovalchuk, Jessika Gorzolka, Jonas J. Neher, Nima Mojtahedi, Nicolas Casadei, Ulrike Hedrich-Klimosch, Olga Garaschuk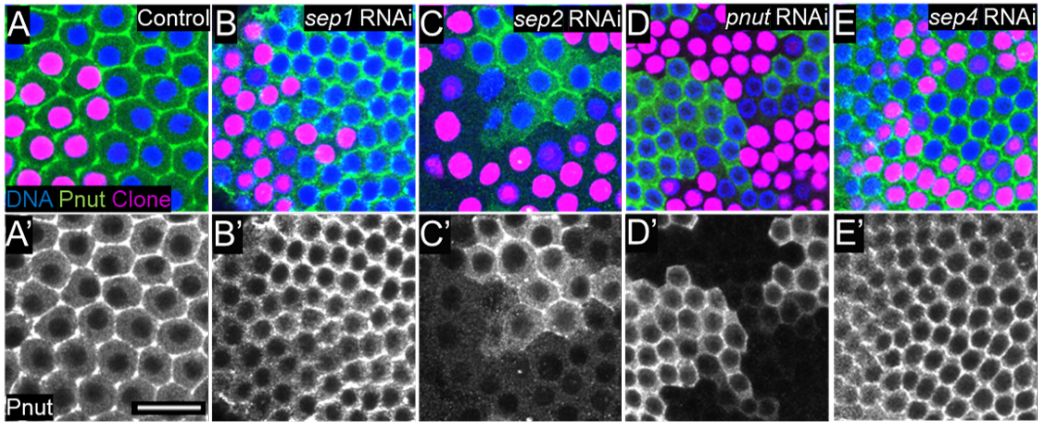 Septins are essential for protrusion and detachment in collective border cell migration
Allison M. Gabbert, James A. Mondo, Joseph P. Campanale, Denise J. Montell
Collective border cell migration requires the zinc transporter Catsup to limit endoplasmic reticulum stress
Xiaoran Guo, Wei Dai, Denise Montell
Prostacyclin as a Negative Regulator of Angiogenesis in the Neurovasculature
Tasha Womack, Jiabing Li, Pavel Govyadinov, David Mayerich, Jason Eriksen
Cell division in tissues enables macrophage infiltration
Maria Akhmanova, Attila Gyoergy, Mikhail Vlasov, Fedor Vlasov, Daniel Krueger, Andrei Akopian, Shamsi Emtenani, Aparna Ratheesh, Stefano De Renzis, Daria E. Siekhaus
Zebrafish heme oxygenase 1a is necessary for normal development and macrophage migration
Kaiming Luo, Masahito Ogawa, Anita Ayer, Warwick J Britton, Roland Stocker, Kazu Kikuchi, Stefan H Oehlers
Optogenetic control of receptors reveals distinct roles for actin- and Cdc42-dependent negative signals in chemotactic signal processing
George R. R. Bell, Esther Rincón, Emel Akdoğan, Sean R. Collins
Somite morphogenesis is required for axial blood vessel formation
Eric Paulissen, Joshua S. Waxman, Benjamin L. Martin
Modulation of endometrial E-Cadherin and N-Cadherin by ovarian steroids and embryonic stimuli
Abhishek Tiwari, Nancy Ashray, Neha Singh, Shipra Sharma, Deepak Modi
Evidence for a Nuclear Role for Drosophila Dlg as a Regulator of the NURF Complex
Katherine A. Sharp, Mark J. Khoury, Frederick Wirtz-Peitz, David Bilder
Visualizing the organization and differentiation of the male-specific nervous system of C. elegans
Tessa Tekieli, Eviatar Yemini, Amin Nejatbakhsh, Erdem Varol, Robert W. Fernandez, Neda Masoudi, Liam Paninski, Oliver Hobert
The extracellular matrix controls stem cell specification and tissue morphology in the developing and adult gut
R. Ramadan, S. van Neerven, VM. Wouters, T. Martins Garcia, V. Muncan, OD. Franklin, M. Battle, KS. Carlson, J. Leach, OJ. Sansom, L. Vermeulen, JP. Medema, DJ. Huels
What basal membranes can tell us about viscous forces in Drosophila ventral furrow formation
Amanda N. Goldner, Konstantin Doubrovinski
On the mechanical regulation of epithelial tissue homeostasis
Sara Kaliman, Maxime Hubert, Carina Wollnik, Lovro Nuić, Damir Vurnek, Simone Gehrer, Jakov Lovrić, Diana Dudziak, Florian Rehfeldt, Ana-Sunčana Smith
Self-organization of Tissue Growth by Interfacial Mechanical Interactions in Multi-layered Systems
Tailin Chen, Yan Zhao, Xinbin Zhao, Shukai Li, Jialing Cao, Jing Du, Yanping Cao, Yubo Fan
Pkd1 and Wnt5a genetically interact to control lymphatic vascular morphogenesis in mice
Tevin CY. Chau, Sungmin Baek, Baptiste Coxam, Renae Skoczylas, Maria Rondon-Galeano, Neil I. Bower, Elanor N. Wainwright, Steven SA. Stacker, Helen M. Cooper, Anne K. Lagendijk, Natasha L. Harvey, Mathias François, Benjamin M. Hogan
Physical constraints on growth dynamics guide C. elegans developmental trajectories and animal shape
Joy Nyaanga, Christina Goss, Gaotian Zhang, Hannah N. Ahmed, Elliot J. Andersen, Isabella R. Miller, Justine K. Rozenich, Iris L. Swarthout, Jordan A. Vaughn, Erik C. Andersen, Niall M. Mangan, Sasha Shirman
| Genes & genomes
Developmental stage- and site-specific transitions in lineage specification and gene regulatory networks in human hematopoietic stem and progenitor cells
Anindita Roy, Guanlin Wang, Deena Iskander, Sorcha O'Byrne, Natalina Elliott, Jennifer O'Sullivan, Gemma Buck, Elisabeth F. Heuston, Wei Xiong Wen, Alba Rodriguez Meira, Peng Hua, Anastasios Karadimitiris, Adam J Mead, David Bodine, Irene Roberts, Bethan Psaila, Supat Thongjuea
In vivo dissection of a clustered-CTCF domain boundary reveals developmental principles of regulatory insulation
Chiara Anania, Rafael D. Acemel, Johanna Jedamzick, Adriano Bolondi, Giulia Cova, Norbert Brieske, Ralf Kühn, Lars Wittler, Francisca M. Real, Darío G. Lupiáñez
Maternal and zygotic factors sequentially shape the tissue regionalization of chromatin landscapes in early vertebrate embryos
Kitt D. Paraiso, Ira L. Blitz, Ken W.Y. Cho
Redundant mechanisms driven independently by RUNX1 and GATA2 for hematopoietic development
Erica Bresciani, Blake Carrington, Kai Yu, Erika M. Kim, Tao Zhen, Victoria Sanchez Guzman, Elizabeth Broadbridge, Kevin Bishop, Martha Kirby, Ursula Harper, Stephen Wincovitch, Stefania Dell'Orso, Vittorio Sartorelli, Raman Sood, Paul Liu
Cells of the human intestinal tract mapped across space and time
R Elmentaite, N Kumasaka, HW King, K Roberts, M Dabrowska, S Pritchard, L Bolt, SF Vieira, L Mamanova, N Huang, I Goh Kai'En, E Stephenson, J Engelbert, RA Botting, A Fleming, E Dann, SN Lisgo, M Katan, S Leonard, TRW Oliver, CE Hook, K Nayak, F Perrone, LS Campos, C Dominguez-Conde, K Polanski, S Van Dongen, M Patel, MD Morgan, JC Marioni, OA Bayraktar, KB Meyer, M Zilbauer, H Uhlig, MR Clatworthy, KT Mahbubani, K Saeb Parsy, M Haniffa, KR James, SA Teichmann
Temporal single-cell transcriptomes of zebrafish spinal cord pMN progenitors reveal distinct neuronal and glial progenitor populations
Kayt Scott, Rebecca O'Rourke, Caitlin Winkler, Christina A Kearns, Bruce Appel
Dynamics of a hepatocyte-cholangiocyte decision-making gene regulatory network during liver development and regeneration
Sarthak Sahoo, Ashutosh Mishra, Anna Mae Diehl, Mohit Kumar Jolly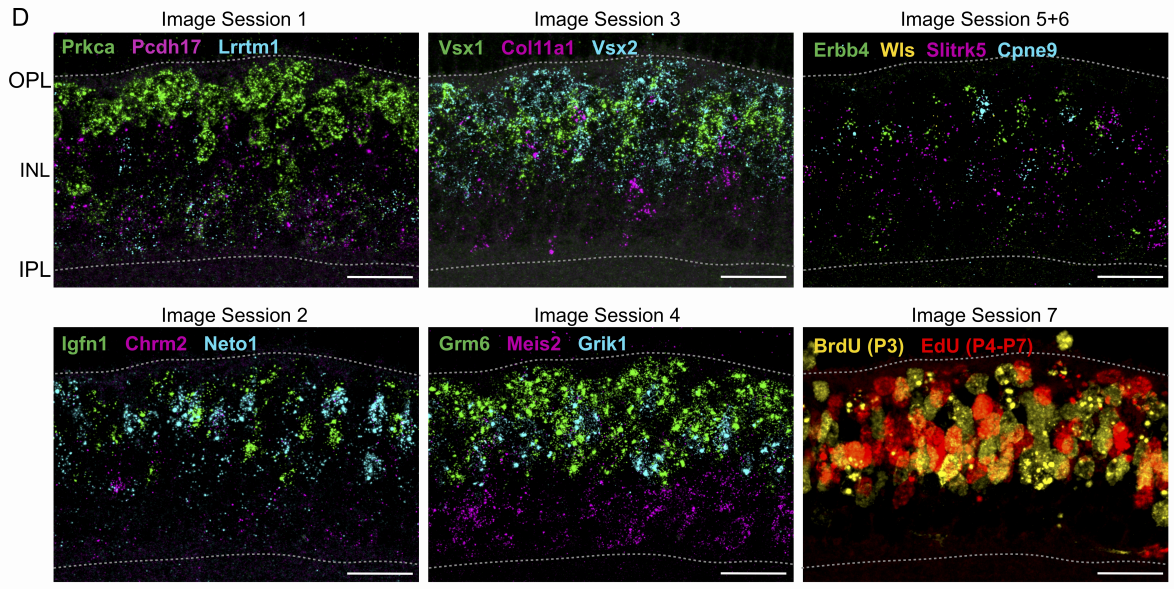 Spatiotemporal patterns of neuronal subtype genesis suggest hierarchical development of retinal diversity
Emma R. West, Sylvain W. Lapan, ChangHee Lee, Kathrin M. Kajderowicz, Xihao Li, Connie L. Cepko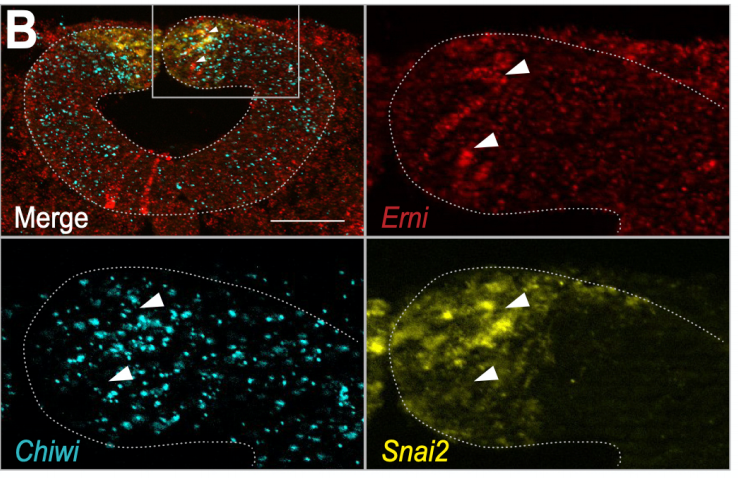 A somatic piRNA pathway regulates epithelial-to-mesenchymal transition of chick neural crest cells
Riley Galton, Katalin Fejes-Toth, Marianne E. Bronner
Hnrnpul1 controls transcription, splicing, and modulates skeletal and limb development in vivo
Danielle L Blackwell, Sherri D Fraser, Oana Caluseriu, Claudia Vivori, Amanda V Tyndall, Ryan E Lamont, Jillian S Parboosingh, A Micheil Innes, François P Bernier, Sarah J Childs
Embryo-to-embryo variability in RNAi knockdown efficiency of dKDM5/lid in Drosophila melanogaster
Ashley Albright, Michael Eisen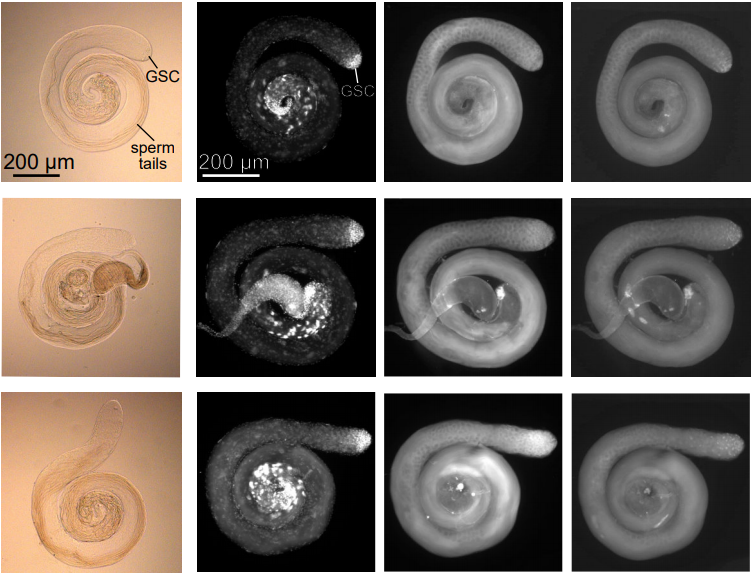 Maternal Piwi Regulates Primordial Germ Cell Development to Ensure the Fertility of Female Progeny in Drosophila
Lauren E Gonzalez, Xiongzhuo Tang, Haifan Lin
Hematopoietic differentiation is characterized by a transient peak of cell-to-cell gene expression variability in normal and pathological conditions
Charles Dussiau, Agathe Boussaroque, Mathilde Gaillard, Clotilde Bravetti, Laila Zaroili, Camille Knosp, Chloé Friedrich, Philippe Asquier, Lise Willems, Laurent Quint, Didier Bouscary, Michaela Fontenay, Thibault Espinasse, Adriana Plesa, Pierre Sujobert, Olivier Gandrillon, Olivier Kosmider
Blood vessels regulate primary motor neuronal pathfinding in zebrafish via exosome contained microRNA-22
Jiajing Sheng, Jie Gong, Yunwei Shi, Xin Wang, Dong Liu
Illuminati, a novel form of gene expression plasticity in Drosophila neural stem cells
Alix Goupil, Jan Peter Heinen, Fabrizio Rossi, Riham Salame, Carole Pennetier, Anthony Simon, Patricia Skorski, Anxela Lauzao Lauzao, Allison Bardin, Renata Basto, Cayetano Gonzalez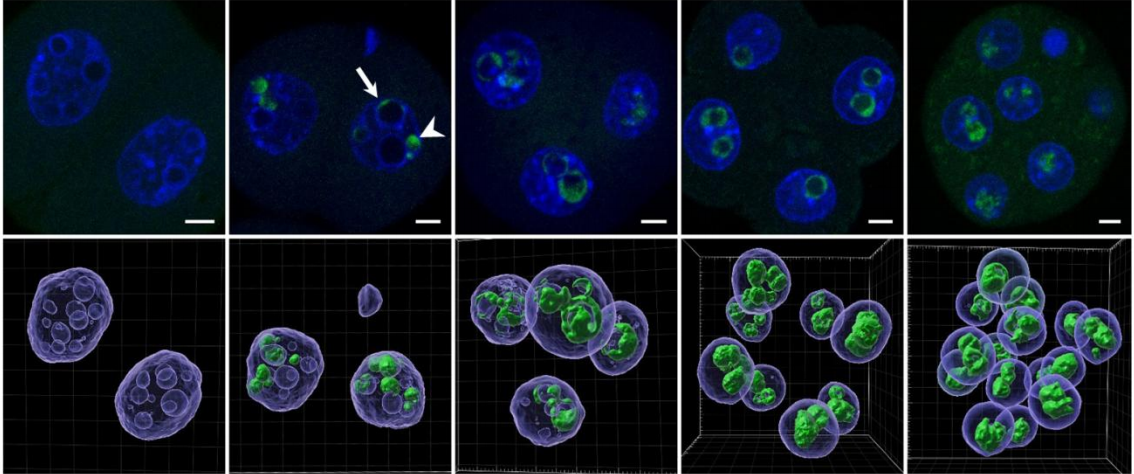 rDNA nascent transcripts promote a unique spatial organization during mouse early development
Martine Chebrout, Maimouna Coura Kone, Habib U. Jan, Marie Cournut, Martine Letheule, Renaud Fleurot, Tiphaine Aguirre-Lavin, Nathalie Peynot, Alice Jouneau, Nathalie Beaujean, Amélie Bonnet-Garnier
Distinct gene expression dynamics in germ line and somatic tissue during ovariole morphogenesis in Drosophila melanogaster
Shreeharsha G Tarikere, Guillem Ylla, Cassandra G. Extavour
delilah, prospero and D-Pax2 constitute a gene regulatory network essential for the development of functional proprioceptors
Adel Avetisyan, Yael Glatt, Maya Cohen, Yael Timerman, Nitay Aspis, Atalya Nachman, Naomi Halachmi, Ella Preger-Ben Noon, Adi Salzberg
Integrative multi-omics analysis reveals conserved hierarchical mechanisms of FOXO3 pioneer-factor activity
Abigail K. Brown, Sun Y. Maybury-Lewis, Ashley E. Webb
The testis-specific transcription factor TCFL5 responds to A-MYB to elaborate the male meiotic program in placental mammals
Deniz M. Özata, Tianxiong Yu, Katharine Cecchini, Haiwei Mou, Amena Arif, Cansu Colpan, Adriano Biasini, Ildar Gaitendinov, Dirk G. de Rooij, Zhiping Weng, Phillip D. Zamore
PRMT5 regulates ovarian follicle development by facilitating Wt1 translation
Min Chen, Fangfang Dong, Min Chen, Zhiming Shen, Haowei Wu, Changhuo Cen, Xiuhong Cui, Shilai Bao, Fei Gao
OTX2 homeoprotein functions in adult choroid plexus
Anabelle Planques, Vanessa Oliveira Moreira, David Benacom, Clémence Bernard, Laurent Jourdren, Corinne Blugeon, Florent Dingli, Vanessa Masson, Damarys Loew, Alain Prochiantz, Ariel A Di Nardo
mTOR driven gene transcription is required for cholesterol production in neurons of the developing cerebral cortex
Martin Schüle, Tamer Butto, Sri Dewi, Laura Schlichtholz, Susanne Strand, Susanne Gerber, Kristina Endres, Susann Schweiger, Jennifer Winter
Sobp modulates Six1 transcriptional activation and is required during craniofacial development
Andre L. P. Tavares, Karyn Jourdeuil, Karen M. Neilson, Himani D. Majumdar, Sally A. Moody
CA1 pyramidal cell diversity is rooted in the time of neurogenesis
Davide Cavalieri, Alexandra Angelova, Anas Islah, Catherine Lopez, Marco Bocchio, Agnès Baude, Rosa Cossart
The piRNA pathway sustains adult neurogenesis by reducing protein synthesis and cellular senescence
C. Gasperini, K. Tuntevski, R. Pelizzoli, A. Lo Van, D. Mangoni, R.M. Cossu, G. Pascarella, P. Bianchini, P. Bielefeld, M. Scarpato, M. Pons-Espinal, R. Sanges, A. Diaspro, C.P. Fitzsimons, P. Carninci, S. Gustincich, D De Pietri Tonelli
The SWI/SNF chromatin remodeling assemblies BAF and PBAF differentially regulate cell cycle exit and cellular invasion in vivo
Jayson J. Smith, Yutong Xiao, Nithin Parsan, Michael A. Q. Martinez, Frances E. Q. Moore, Nicholas J. Palmisano, Abraham Q. Kohrman, Mana Chandhok Delos Reyes, Rebecca C. Adikes, Taylor N. Medwig-Kinney, Simeiyun Liu, Sydney A. Bracht, Wan Zhang, Kailong Wen, Paschalis Kratsios, David Q. Matus
Spatial expression programs of the intestinal follicle-associated epithelium
Noam Cohen, Hassan Massalha, Shani Ben-Moshe, Adi Egozi, Milena Rozenberg, Keren Bahar Halpern, Shalev Itzkovitz
Joint actions of diverse transcription factor families ensure enhancer selectivity and robust neuron terminal differentiation
Angela Jimeno-Martín, Noemi Daroqui, Erick Sousa, Rebeca Brocal-Ruiz, Miren Maicas, Nuria Flames
Coronary blood vessels from distinct origins converge to equivalent states during mouse and human development
Ragini Phansalkar, Josephine Krieger, Mingming Zhao, Sai Saroja Kolluru, Robert C. Jones, Stephen R Quake, Irving Weissman, Daniel Bernstein, Virginia D. Winn, Gaetano D'Amato, Kristy Red-Horse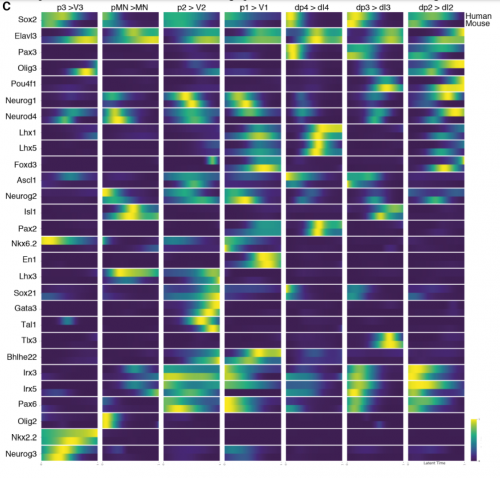 Single cell transcriptome profiling of the human developing spinal cord reveals a conserved genetic programme with human specific features
Teresa Rayon, Rory J. Maizels, Christopher Barrington, James Briscoe
Single-cell analysis of early chick hypothalamic development reveals that hypothalamic cells are induced from prethalamic-like progenitors
Dong Won Kim, Elsie Place, Kavitha Chinnaiya, Elizabeth Manning, Changyu Sun, Weina Dai, Kyoji Ohyama, Sarah Burbridge, Marysia Placzek, Seth Blackshaw
Progressive domain segregation in early embryonic development and underlying correlation to genetic and epigenetic changes
Hui Quan, Hao Tian, Sirui Liu, Yue Xue, Yu Zhang, Wei Xie, Yi Qin Gao
Drosophila primary microRNA-8 encodes a microRNA encoded peptide acting in parallel of miR-8
Audrey Montigny, Patrizia Tavormina, Carine Duboe, Hélène San Clémente, Marielle Aguilar, Philippe Valenti, Dominique Lauressergues, Jean-Philippe Combier, Serge Plaza
Parallel functional testing identifies enhancers active in early postnatal mouse brain
Jason T. Lambert, Linda Su-Feher, Karol Cichewicz, Tracy L. Warren, Iva Zdilar, Yurong Wang, Kenneth J. Lim, Jessica Haigh, Sarah J. Morse, Cesar P. Canales, Tyler W. Stradleigh, Erika Castillo, Viktoria Haghani, Spencer Moss, Hannah Parolini, Diana Quintero, Diwash Shrestha, Daniel Vogt, Leah C. Byrne, Alex S. Nord
Neurodevelopment vs. the immune system: complementary contributions of maternally-inherited gene transcripts and proteins to successful egg development in fish
Daniel Żarski, Aurelie Le Cam, Thomas Frohlich, Miwako Kösters, Christophe Klopp, Joanna Nynca, Sławomir Ciesielski, Beata Sarosiek, Katarzyna Dryl, Jerome Montfort, Jarosław Król, Pascal Fontaine, Andrzej Ciereszko, Julien Bobe
A single cell atlas reveals unanticipated cell type complexity in Drosophila ovaries
Maija Slaidina, Selena Gupta, Torsten Banisch, Ruth Lehmann
Chromatin remodeler Arid1a regulates subplate neuron identity and wiring of cortical connectivity
Daniel Z. Doyle, Mandy M. Lam, Adel Qalieh, Yaman Qalieh, Alice Sorel, Owen H. Funk, Kenneth Y. Kwan
The DNA-to-cytoplasm ratio broadly activates zygotic gene expression in Xenopus
David Jukam, Rishabh R Kapoor, Aaron F Straight, Jan M. Skotheim
A translation control module coordinates germline stem cell differentiation with ribosome biogenesis during Drosophila oogenesis
Elliot T. Martin, Patrick Blatt, Elaine Ngyuen, Roni Lahr, Sangeetha Selvam, Hyun Ah M. Yoon, Tyler Pocchiari, Shamsi Emtenani, Daria E. Siekhaus, Andrea Berman, Gabriele Fuchs, Prashanth Rangan
DNMT3A-dependent DNA methylation is required for spermatogonial stem cells to commit to spermatogenesis
Mathilde Dura, Aurélie Teissandier, Mélanie Armand, Joan Barau, Lorraine Bonneville, Michael Weber, Laura G. Baudrin, Sonia Lameiras, Deborah Bourc'his
A fast Myh super enhancer dictates adult muscle fiber phenotype through competitive interactions with the fast Myh genes
Matthieu Dos Santos, Stéphanie Backer, Frédéric Auradé, Matthew Wong, Maud Wurmser, Rémi Pierre, Francina Langa, Marcio Do Cruzeiro, Alain Schmitt, Jean-Paul Concordet, Athanassia Sotiropoulos, Jeffrey Dilworth, Daan Noordermeer, Frédéric Relaix, Iori Sakakibara, Pascal Maire
Topaz1, an essential gene for murine spermatogenesis, down-regulates the expression of numerous testis-specific long non-coding RNAs
Manon Chadourne, Elodie Poumerol, Luc Jouneau, Bruno Passet, Johan Castille, Eli Sellem, Eric Pailhoux, Béatrice Mandon-Pépin
The genetic architecture underlying body-size traits plasticity over different temperatures and developmental stages in Caenorhabditis elegans
Muhammad I. Maulana, Joost A.G. Riksen, Basten L. Snoek, Jan E. Kammenga, Mark G. Sterken
OCT4 interprets and enhances nucleosome flexibility
Caitlin M. MacCarthy, Jan Huertas, Claudia Ortmeier, Hermann vom Bruch, Deike Reinke, Astrid Sander, Tim Bergbrede, Hans R. Schöler, Vlad Cojocaru
Developmental regulation of neuronal gene expression by Elongator complex protein 1 dosage
Elisabetta Morini, Dadi Gao, Emily M. Logan, Monica Salani, Aram J. Krauson, Anil Chekuri, Yei-Tsung Chen, Ashok Ragavendran, Probir Chakravarty, Serkan Erdin, Alexei Stortchevoi, Jesper Q. Svejstrup, Michael E. Talkowski, Susan A. Slaugenhaupt
Drosophila fabp is a retinoid-inducible gene required for Rhodopsin-1 homeostasis and photoreceptor survival
Huai-Wei Huang, Hyung Don Ryoo
A complex CTCF binding code defines TAD boundary structure and function
Li-Hsin Chang, Sourav Ghosh, Andrea Papale, Mélanie Miranda, Vincent Piras, Jéril Degrouard, Mallory Poncelet, Nathan Lecouvreur, Sébastien Bloyer, Amélie Leforestier, David Holcman, Daan Noordermeer
TBX5 drives Aldh1a2 expression to regulate a RA-Hedgehog-Wnt gene regulatory network coordinating cardiopulmonary development
Scott A. Rankin, Jeffrey D. Steimle, Xinan H. Yang, Ariel B. Rydeen, Kunal Agarwal, Praneet Chaturvedi, Kohta Ikegami, Michael J. Herriges, Ivan P. Moskowitz, Aaron M. Zorn
Genomic organization of the autonomous regulatory domain of eyeless locus in Drosophila melanogaster
Shreekant Verma, Rashmi U Pathak, Rakesh K Mishra
| Stem cells, regeneration & disease modelling
Measurement of activity of developmental signal transduction pathways to quantify stem cell pluripotency and phenotypically characterize differentiated cells
Yvonne Wesseling-Rozendaal, Laurent Holtzer, Wim Verhaegh, Anja van de Stolpe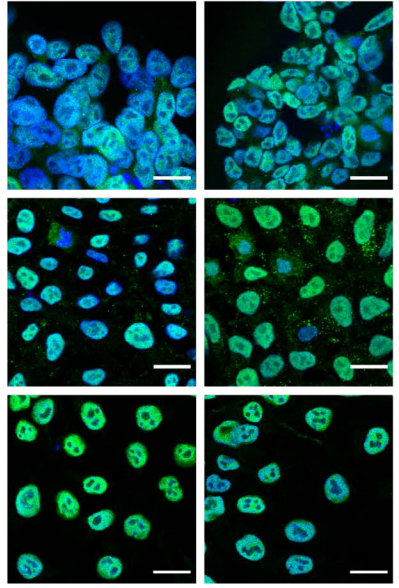 Translational specialization in pluripotency by RBPMS poises future lineage-decisions
Deniz Bartsch, Kaustubh Kalamkar, Gaurav Ahuja, Hisham Bazzi, Argyris Papantonis, Leo Kurian
Multipotent progenitors and hematopoietic stem cells arise independently during the endothelial to hematopoietic transition in the early mouse embryo
Tessa Dignum, Barbara Varnum-Finney, Sanjay Srivatsan, Stacey Dozono, Olivia Waltner, Adam Heck, Cynthia Nourigat-McKay, Dana L. Jackson, Shahin Rafii, Cole Trapnell, Irwin D. Bernstein, Brandon Hadland
Germline Sex Determination regulates sex-specific signaling between germline stem cells and their niche
Pradeep Kumar Bhaskar, Sheryl Southard, Kelly Baxter, Mark Van Doren
Adult Stem Cells and Niche Cells segregate gradually from common precursors that build the adult Drosophila ovary during pupal development
Amy Reilein, Helen V. Kogan, Rachel Misner, Karen Sophia Park, Daniel Kalderon
Clonal inactivation of telomerase promotes accelerated stem cell differentiation
Kazuteru Hasegawa, Yang Zhao, Alina Garbuzov, M. Ryan Corces, Lu Chen, Peggie Cheung, Yuning Wei, Howard Y. Chang, Steven E. Artandi
Comparative analyses of gene expression in common marmoset and human pluripotent stem cells (PSCs) identify factors enhancing homologous recombination efficiency in the HPRT locus of human PSCs
Sho Yoshimatsu, Mayutaka Nakajima, Tsukasa Sanosaka, Tsukika Sato, Hideyuki Okano
Mapping the biogenesis of forward programmed megakaryocytes from induced pluripotent stem cells
Moyra Lawrence, Arash Shahsavari, Susanne Bornelöv, Thomas Moreau, Katarzyna Kania, Maike Paramor, Rebecca McDonald, James Baye, Marion Perrin, Maike Steindel, Paula Jimenez-Gomez, Christopher Penfold, Irina Mohorianu, Cedric Ghevaert
me31B regulates stem cell homeostasis by preventing excess dedifferentiation in the Drosophila male germline
Lindy Jensen, Zsolt G. Venkei, George J. Watase, Bitarka Bisai, Scott Pletcher, Cheng-Yu Lee, Yukiko M. Yamashita
Cardiac Differentiation of Human Pluripotent Stem Cells Using Defined Extracellular Matrix Proteins Reveals Essential Role of Fibronectin
Jianhua Zhang, Ran Tao, Pratik A. Lalit, Juliana L. Carvalho, Yogananda Markandeya, Sean P. Palecek, Timothy J. Kamp
Surrogate production of genome edited sperm from a different subfamily by spermatogonial stem cell transplantation
Fenghua Zhang, Xianmei Li, Yongkang Hao, Yi Li, Ding Ye, Mudan He, Houpeng Wang, Zuoyan Zhu, Yonghua Sun
Single-Cell Multiomics Reveals Distinct Cell States at the Top of the Human Hematopoietic Hierarchy
Mikael N.E. Sommarin, Parashar Dhapola, Fatemeh Safi, Rebecca Warfvinge, Linda Geironson Ulfsson, Eva Erlandsson, Anna Konturek-Ciesla, Ram Krishna Thakur, Charlotta Böiers, David Bryder, Göran Karlsson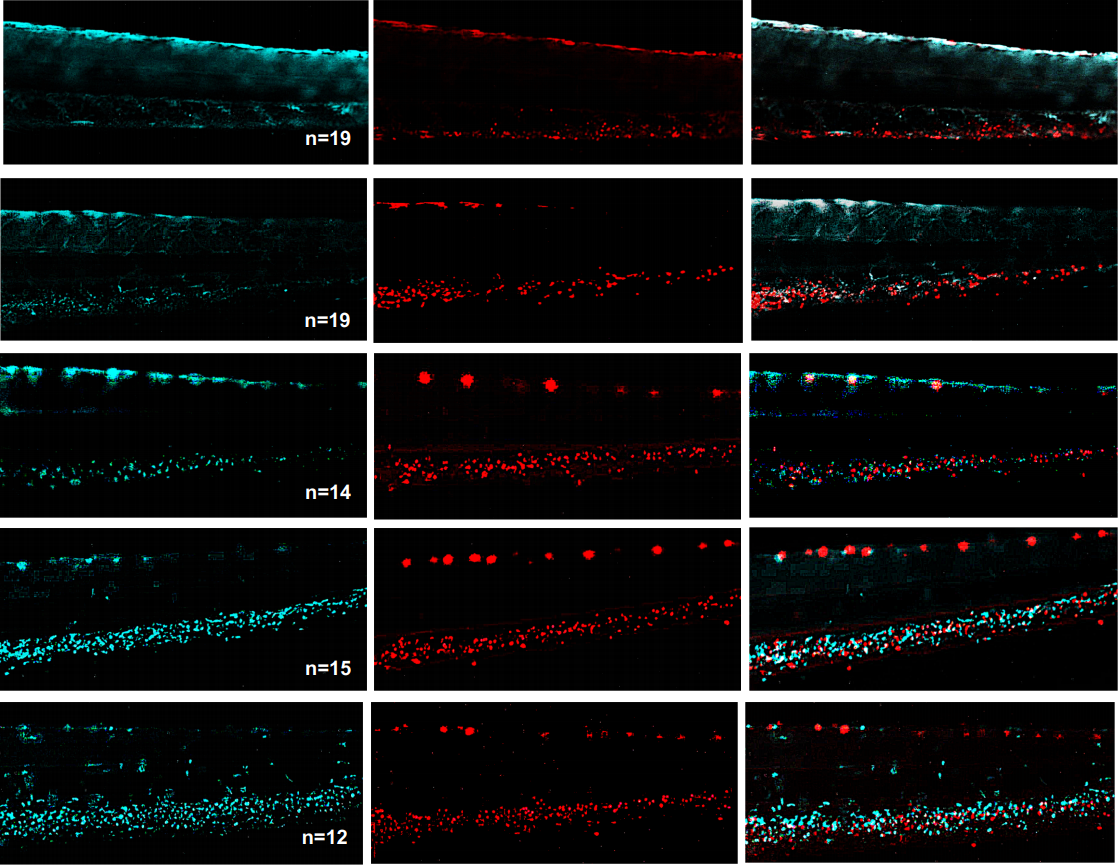 Myeloid and endothelial cells cooperate to promote hematopoietic stem cells expansion in the fetal niche
Pietro Cacialli, Marie-Pierre Mailhe, Rachel Golub, Julien Y. Bertrand
A secreted proteomic footprint for stem cell pluripotency
Philip Lewis, Edina Silajzick, Helen Smith, Nicola Bates, Christopher A Smith, David Knight, Chris Denning, Daniel R Brison, Susan J Kimber
Integrity of the short arm of nuclear pore Y-complex is required for mouse embryonic stem cell growth and differentiation
Alba Gonzalez-Estevez, Annalisa Verrico, Clarisse Orniacki, Bernardo Reina-San-Martin, Valérie Doye
tiRNA signaling via stress-regulated vesicle transfer in the hematopoietic niche
Youmna S. Kfoury, Fei Ji, Michael Mazzola, David B. Sykes, Allison K. Scherer, Anthony Anselmo, Yasutoshi Akiyama, Francois Mercier, Nicolas Severe, Konstantinos D. Kokkaliaris, Thomas Brouse, Borja Saez, Jefferson Seidl, Ani Papazian, Pavel Ivanov, Michael K. Mansour, Ruslan I. Sadreyev, David T. Scadden
Isolation of the side population from adult neurogenic niches enriches for endothelial cells
Alena Kalinina, Catherine Gnyra, Yingben Xue, Diane Lagace
The Expression of Angiopoietin-1 and −2 in the Osteogenesis of Mesenchymal Stem Cells
Jinwen Chen, Guangchan Yang, Jie Guo, Yuqin Liu, Jinchen Guo, Jiatao Suo, Hongyou Yu
PLURIPOTENT STEM CELL-DERIVED CARDIOVASCULAR PROGENITORS DIFFFERENTIATED ON LAMININ 221 REGENERATE AND IMPROVE FUNCTION OF INFARCTED SWINE HEARTS
Lynn Yap, Li Yen Chong, Clarissa Tan, Swarnaseetha Adusumalli, Millie Seow, Jing Guo, Zuhua Cai, Sze Jie Loo, Eric Lim, Narayan Lath, Lei Ye, Enrico G. Petretto, Karl Tryggvason
TAZ/TEAD complex regulates TGF-β1-mediated fibrosis in iPSC-derived renal organoids
Xiaoping Yang, Marco Delsante, Parnaz Daneshpajouhnejad, Paride Fenaroli, Kira Perzel Mandell, Xiaoxin Wang, Shogo Takahashi, Marc K. Halushka, Jeffrey B. Kopp, Moshe Levi, Avi Z. Rosenberg
A comprehensive transcriptome signature of murine hematopoietic stem cell aging
Arthur Flohr Svendsen, Daozheng Yang, KyungMok Kim, Seka Lazare, Natalia Skinder, Erik Zwart, Anna Mura-Meszaros, Albertina Ausema, Björn von Eyss, Gerald de Haan, Leonid Bystrykh
Epigenomic profiling of stem cells within the pilosebaceous unit identifies PRDM16 as a regulator of sebaceous gland homeostasis
Rizwan Rehimi, Giuliano Crispatzu, Carlos Andrés Chacón-Martínez, Tore Bleckwehl, Giada Mantellato, Gökcen Gözüm, Mathieu Clément-Ziza, Sara A. Wickström, Catherin Niemann, Carien Niessen, Alvaro Rada-Iglesias
Functional, metabolic and transcriptional maturation of stem cell derived beta cells
Diego Balboa, Tom Barsby, Väinö Lithovius, Jonna Saarimäki-Vire, Muhmmad Omar-Hmeadi, Oleg Dyachok, Hossam Montaser, Per-Eric Lund, Mingyu Yang, Hazem Ibrahim, Anna Näätänen, Vikash Chandra, Helena Vihinen, Eija Jokitalo, Jouni Kvist, Jarkko Ustinov, Anni I. Nieminen, Emilia Kuuluvainen, Ville Hietakangas, Pekka Katajisto, Joey Lau, Per-Ola Carlsson, Sebastian Barg, Anders Tengholm, Timo Otonkoski
Self-organized yolk sac-like organoids allow for scalable generation of multipotent hematopoietic progenitor cells from human induced pluripotent stem cells
Naritaka Tamaoki, Stefan Siebert, Takuya Maeda, Ngoc-Han Ha, Meghan L. Good, Yin Huang, Suman Kumar Vodnala, Juan J. Haro-Mora, Naoya Uchida, John F. Tisdale, Colin L. Sweeney, Uimook Choi, Julie Brault, Sherry Koontz, Harry L. Malech, Yasuhiro Yamazaki, Risa Isonaka, David S. Goldstein, Masaki Kimura, Takanori Takebe, Jizhong Zou, David F. Stroncek, Pamela G. Robey, Michael J. Kruhlak, Nicholas P. Restifo, Raul Vizcardo
A Single Cell Atlas of Spared Tissue Below a Spinal Cord Injury Reveals Cellular Mechanisms of Repair
Kaya JE Matson, Daniel E Russ, Claudia Kathe, Dragan Maric, Isabelle Hua, Jonathan Krynitsky, Randall Pursley, Anupama Sathyamurthy, Jordan W Squair, Gregoire Courtine, Ariel J Levine
Aerobic glycolysis is important for zebrafish larval wound closure and tail regeneration
Claire A. Scott, Tom J. Carney, Enrique Amaya
Single-cell resolution of MET and EMT programs during zebrafish fin regeneration
Weishene Joyce Tang, Claire Watson, Theresa A Olmstead, Christopher H Allan, Ronald Y Kwon
Plagl1 is part of the mammalian retinal injury response and a critical regulator of Müller glial cell quiescence
Yacine Touahri, Luke Ajay David, Yaroslav Ilnytskyy, Edwin van Oosten, Joseph Hanna, Nobuhiko Tachibana, Lata Adnani, Jiayi Zhao, Mary Hoffman, Rajiv Dixit, Laurent Journot, Yves Sauve, Igor Kovalchuk, Isabelle Aubert, Jeffrey Biernaskie, Carol Schuurmans
Co-targeting myelin inhibitors and CSPGs markedly enhances regeneration of GDNF-stimulated, but not conditioning-lesioned, sensory axons into the spinal cord
Jinbin Zhai, Hyukmin Kim, Seung Baek Han, Meredith Manire, Rachel Yoo, Shuhuan Pang, George M. Smith, Young-Jin Son
Regeneration in the adult Drosophila brain
Kassi L. Crocker, Khailee Marischuk, Stacey A. Rimkus, Hong Zhou, Jerry C.P. Yin, Grace Boekhoff-Falk
Necrosis-induced apoptosis promotes regeneration in Drosophila wing imaginal discs
Jacob Klemm, Michael J. Stinchfield, Robin E. Harris
Heterogeneous pdgfrβ+ cells regulate coronary vessel development and revascularization during heart regeneration
Subir Kapuria, Haipeng Bai, Juancarlos Fierros, Ying Huang, Feiyang Ma, Tyler Yoshida, Antonio Aguayo, Fatma Kok, Katie M. Wiens, Joycelyn K. Yip, Megan L. McCain, Matteo Pellegrini, Mikiko Nagashima, Peter F. Hitchcock, Nathan D. Lawson, Michael MR Harrison, Ching-Ling Lien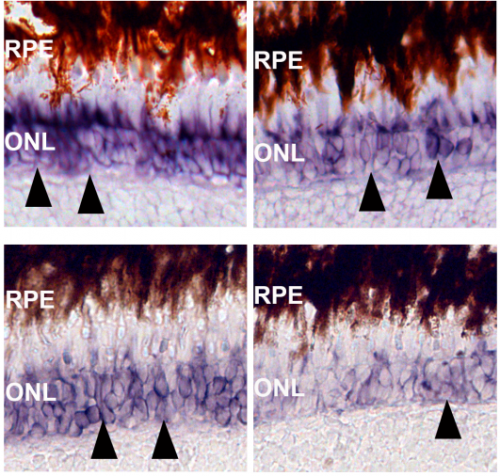 The microRNA miR-18a links proliferation and inflammation during photoreceptor regeneration in the injured zebrafish retina
Evin Magner, Pamela Sandoval-Sanchez, Peter F. Hitchcock, Scott M. Taylor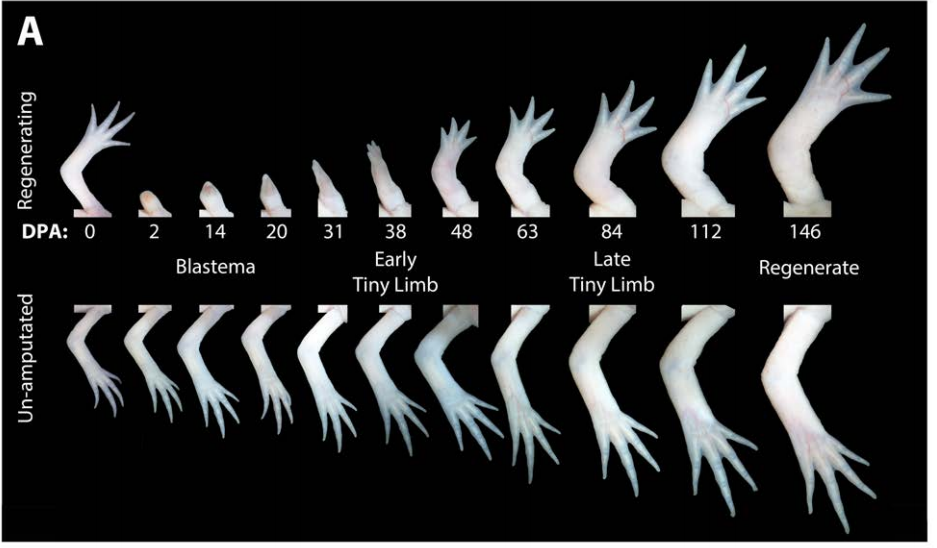 Neurotrophic control of size regulation during axolotl limb regeneration
Kaylee M. Wells-Enright, Kristina Kelley, Mary Baumel, Warren A. Vieira, Catherine D. McCusker
Urgent Brain Vascular Regeneration Occurs via Lymphatic Transdifferentiation
Jingying Chen, Xiuhua Li, Rui Ni, Qi Chen, Qifen Yang, Jianbo He, Lingfei Luo
Retinal ganglion cell survival after severe optic nerve injury is modulated by crosstalk between JAK/STAT signaling and innate immune responses in the zebrafish retina
Si Chen, Kira L. Lathrop, Takaaki Kuwajima, Jeffrey M. Gross
Alzheimer's disease-associated TM2D genes regulate Notch signaling and neuronal function in Drosophila
Jose L. Salazar, Sheng-An Yang, Yong Qi Lin, David Li-Kroeger, Paul C. Marcogliese, Samantha L. Deal, G. Gregory Neely, Shinya Yamamoto
AAV-delivery of diacylglycerol kinase kappa achieves long-term rescue of Fmr1-KO mouse model deficits of fragile X syndrome
Karima Habbas, Oktay Cakil, Boglarka Zambo, Ricardos Tabet, Fabrice Riet, Doulaye Dembele, Jean-Louis Mandel, Michaël Hocquemiller, Ralph Laufer, Françoise Piguet, Hervé Moine
Sequential defects in cardiac lineage commitment and maturation cause hypoplastic left heart syndrome
Markus Krane, Martina Dreßen, Gianluca Santamaria, Ilaria My, Christine M. Schneider, Tatjana Dorn, Svenja Laue, Elisa Mastantuono, Riccardo Berutti, Hilansi Rawat, Ralf Gilsbach, Pedro Schneider, Harald Lahm, Sascha Schwarz, Stefanie A. Doppler, Sharon Paige, Nazan Puluca, Sophia Doll, Irina Neb, Thomas Brade, Zhong Zhang, Claudia Abou-Ajram, Bernd Northoff, Lesca M. Holdt, Stefanie Sudhop, Makoto Sahara, Alexander Goedel, Andreas Dendorfer, Fleur V.Y. Tjong, Maria E. Rijlaarsdam, Julie Cleuziou, Nora Lang, Christian Kupatt, Connie Bezzina, Rüdiger Lange, Neil E. Bowles, Matthias Mann, Bruce Gelb, Lia Crotti, Lutz Hein, Thomas Meitinger, Sean Wu, Daniel Sinnecker, Peter J. Gruber, Karl-Ludwig Laugwitz, Alessandra Moretti
Developmental Alcohol Exposure in Drosophila: Effects on Adult Phenotypes and Gene Expression in the Brain
Sneha S. Mokashi, Vijay Shankar, Rebecca A. MacPherson, Rachel C. Hannah, Trudy F. C. Mackay, Robert R. H. Anholt

Developmental HCN channelopathy results in decreased neural progenitor proliferation and microcephaly in mice
Anna Katharina Schlusche, Sabine Ulrike Vay, Niklas Kleinenkuhnen, Steffi Sandke, Rafael Campos-Martin, Marta Florio, Wieland Huttner, Achim Tresch, Jochen Roeper, Maria Adele Rueger, Igor Jakovcevski, Malte Stockebrand, Dirk Isbrandt
fmr1 mutation interacts with sensory experience to alter the early development of behavior and sensory coding in zebrafish
Shuyu Zhu, Michael McCullough, Zac Pujic, Jordan Sibberas, Biao Sun, Bianca Bucknall, Lilach Avitan, Geoffrey J Goodhill
Using Human Induced Pluripotent Stem Cell Derived Organoids to Identify New Pathologies in Patients with PDX1 Mutations
Mansa Krishnamurthy, Daniel O Kechele, Taylor Broda, Xinghao Zhang, Jacob R Enriquez, Heather A McCauley, J Guillermo Sanchez, Joseph Palermo, Margaret Collins, Inas H Thomas, Haley C Neef, Amer Heider, Andrew Dauber, James M Wells
Neonatal neuronal WWOX gene therapy rescues Wwox null phenotypes
Srinivasarao Repudi, Irina Kustanovich, Sara Abu-Swai, Shani Stern, Rami I. Aqeilan
The role of Kabuki Syndrome genes KMT2D and KDM6A in development: Analysis in Human sequencing data and compared to mice and zebrafish
Rwik Sen, Ezra Lencer, Elizabeth A. Geiger, Kenneth Jones, Tamim H. Shaikh, Kristin Bruk Artinger
Mutations affecting the N-terminal domains of SHANK3 point to different pathomechanisms in neurodevelopmental disorders
Daniel Woike, Emily Wang, Debora Tibbe, Fatemeh Hassani Nia, Maria Kibæk, Martin J. Larsen, Christina R. Fagerberg, Igor Barsukov, Hans-Jürgen Kreienkamp
Autism risk gene POGZ promotes chromatin accessibility and expression of clustered synaptic genes
Eirene Markenscoff-Papadimitriou, Fadya Binyameen, Sean Whalen, James Price, Kenneth Lim, Rinaldo Catta-Preta, Emily Ling-Lin Pai, Xin Mu, Duan Xu, Katherine S. Pollard, Alex Nord, Matthew W. State, John L. Rubenstein
Novel zebrafish mutants reveal new roles for Apolipoprotein B during embryonic development and pathological conditions
Hanoch Templehof, Noga Moshe, Inbal Avraham-Davidi, Karina Yaniv
| Plant development
Nuclear retention of pre-mRNA involving Cajal bodies during meiotic prophase in plants
Magda Rudzka, Malwina Hyjek-Składanowska, Patrycja Wróblewska-Ankiewicz, Karolina Majewska, Marcin Gołębiewski, Marcin Sikora, Dariusz Jan Smoliński, Agnieszka Kołowerzo-Lubnau

Rapid auxin-mediated phosphorylation of Myosin regulates trafficking and polarity in Arabidopsis
Huibin Han, Inge Verstraeten, Mark Roosjen, Ewa Mazur, Nikola Rýdza, Jakub Hajný, Krisztina Ötvös, Dolf Weijers, Jiří Friml
CRISPR-Cas12a genome editing at the whole-plant level using two compatible RNA virus vectors
Mireia Uranga, Marta Vazquez-Vilar, Diego Orzáez, José-Antonio Daròs
The hexose transporter SWEET5 confers galactose sensitivity to Arabidopsis pollen via the galactokinase GALK
Jiang Wang, Ya-Chi Yu, Ye Li, Li-Qing Chen
NAC transcription factor RD26 is a regulator of root hair morphogenic plasticity
Iman Kamranfar, Salma Balazadeh, Bernd Mueller-Roeber
Locally restricted glucose availability in the embryonic hypocotyl determines seed germination under ABA treatment
Xueyi Xue, Ya-Chi Yu, Yue Wu, Huiling Xue, Li-Qing Chen
The ORGAN SIZE (ORG) locus contributes to isometric gigantism in domesticated tomato
Mateus Henrique Vicente, Kyle MacLeod, Cassia Regina Fernandes Figueiredo, Antonio Vargas de Oliveira Figueira, Fady Mohareb, Zoltán Kevei, Andrew J. Thompson, Agustin Zsögön, Lázaro Eustáquio Pereira Peres
Spatiotemporal cytokinin signaling imaging reveals IPT3 function in nodule development in Medicago truncatula
Paolo M. Triozzi, Thomas B. Irving, Henry W. Schmidt, Zachary P. Keyser, Sanhita Chakraborty, Kelly M. Balmant, Wendell J. Pereira, Christopher Dervinis, Kirankumar S. Mysore, Jiangqi Wen, Jean-Michel Ané, Matias Kirst, Daniel Conde
PSK signaling controls ABA homeostasis and signaling genes and maintains shoot growth under osmotic stress
Komathy Rajamanickam, Martina D. Schönhof, Bettina Hause, Margret Sauter
Abscisic acid modulates auxin-responsive hypocotyl elongation
Ryan J. Emenecker, Joseph Cammarata, Irene Yuan, Lucia C. Strader
The F-box protein AFF1 regulates ARF protein accumulation to regulate auxin response
Hongwei Jing, David A. Korasick, Ryan J. Emenecker, Nicholas Morffy, Edward G. Wilkinson, Samantha K. Powers, Lucia C. Strader
Transcriptional condensates formed by phase-separated ALOG family proteins control shoot meristem maturation for flowering
Xiaozhen Huang, Nan Xiao, Yue Xie, Lingli Tang, Yueqin Zhang, Yuan Yu, Cao Xu
Torsions-Driven Root Helical Growth, Waving And Skewing In Arabidopsis
Ke Zhou
Cyclic Nucleotide-Gated Ion Channel 2 modulates auxin homeostasis and signaling
Sonhita Chakraborty, Masatsugu Toyota, Wolfgang Moeder, Kimberley Chin, Alex Fortuna, Marc Champigny, Steffen Vanneste, Simon Gilroy, Tom Beeckman, Eiji Nambara, Keiko Yoshioka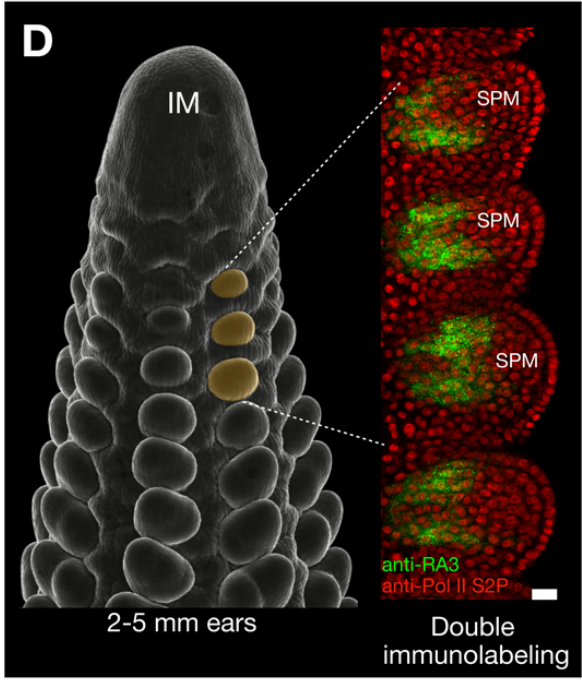 Maize RAMOSA3 accumulates in nuclear condensates enriched in RNA POLYMERASE II isoforms during the establishment of axillary meristem determinacy
Edgar Demesa-Arevalo, Maria Jazmin Abraham-Juarez, Xiaosa Xu, Madelaine Bartlett, David Jackson
Class II LBD genes ZmLBD5 and ZmLBD33 regulate gibberellin and abscisic acid biosynthesis
Jing Xiong, Xuanjun Feng, Weixiao Zhang, Xianqiu Wang, Yue Hu, Xuemei Zhang, Fengkai Wu, Wei Guo, Wubing Xie, Qingjun Wang, Jie Xu, Yanli Lu
FRUITFULL-like genes regulate flowering time and inflorescence architecture in tomato
Xiaobing Jiang, Greice Lubini, José Hernandes-Lopes, Kim Rijnsburger, Vera Veltkamp, Ruud A. de Maagd, Gerco C. Angenent, Marian Bemer
SAMBA controls the rate of cell division in maize development through APC/C interaction
Pan Gong, Michiel Bontinck, Kirin Demuynck, Jolien De Block, Kris Gevaert, Dominique Eeckhout, Geert Persiau, Stijn Aesaert, Griet Coussens, Mieke Van Lijsebettens, Laurens Pauwels, Geert De Jaeger, Dirk Inzé, Hilde Nelissen
H2A ubiquitination is essential for Polycomb Repressive Complex 1-mediated gene regulation in Marchantia polymorpha
Shujing Liu, Minerva S. Trejo-Arellano, Yichun Qiu, D. Magnus Eklund, Claudia Köhler, Lars Hennig
Sugar Signaling Induces Dynamic Changes during Meristem Development in Arabidopsis
Magdalena Musialak-Lange, Katharina Fiddeke, Annika Franke, Friedrich Kragler, Christin Abel, Vanessa Wahl
A heterochromatic knob reducing the flowering time in maize
Renata Flávia Carvalho, Margarida Lopes Rodrigues Aguiar-Perecin, Wellington Ronildo Clarindo, Roberto Fristche-Neto, Mateus Mondin
The barley mutant multiflorus2.b reveals quantitative genetic variation for new spikelet architecture
Ravi Koppolu, Guojing Jiang, Sara G Milner, Quddoos H Muqaddasi, Twan Rutten, Axel Himmelbach, Nils Stein, Martin Mascher, Thorsten Schnurbusch
A CENH3 mutation promotes meiotic exit and restores fertility in SMG7-deficient Arabidopsis
Claudio Capitao, Sorin Tanasa, Jaroslav Fulnecek, Vivek K. Raxwal, Svetlana Akimcheva, Petra Bulankova, Pavlina Mikulkova, Inna Lermontova, Ortrun Mittelsten Scheid, Karel Riha
Root meristem shaping via brassinosteroid-controlled cell geometry
Y. Fridman, S. Strauss, G. Horev, M. Ackerman-Lavert, A Reiner Benaim, B Lane, R.S. Smith, S. Savaldi-Goldstein
Altered metal distribution in the sr45-1 Arabidopsis mutant causes developmental defects
Steven Fanara, Marie Schloesser, Marc Hanikenne, Patrick Motte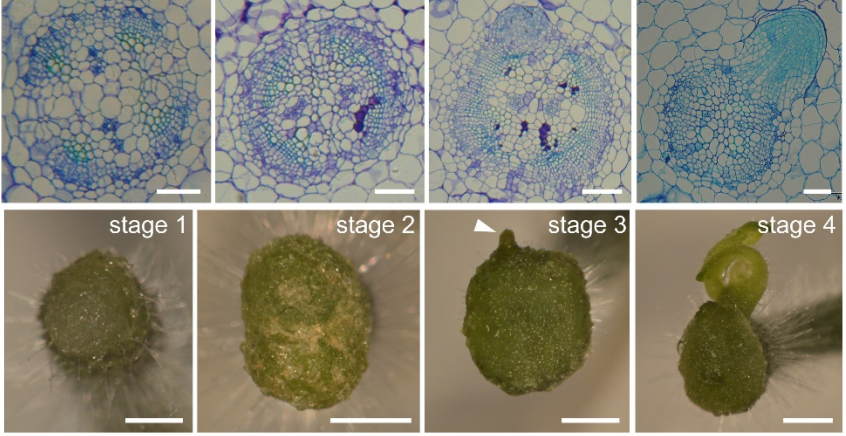 Tissue-specific metabolic reprogramming during wound induced de novo organ formation in tomato hypocotyl explants
Eduardo Larriba, Ana Belen Sanchez-Garcia, Cristina Martinez-Andujar, Alfonso Albacete, Jose Manuel Perez-Perez Sr.
Jasmonate inhibits adventitious root initiation through transcriptional repression of CKX1 and activation of RAP2.6L transcription factor in Arabidopsis
Asma Dob, Abdellah Lakehal, Ondrej Novak, Catherine Bellini
Generation of guard cell RNA-seq transcriptomes during progressive drought and recovery using an adapted INTACT protocol for Arabidopsis thaliana shoot tissue
Anna van Weringh, Asher Pasha, Eddi Esteban, Paul J. Gamueda, Nicholas J. Provart
Transcriptomic analysis of temporal shifts in berry development between two grapevine cultivars of the Pinot family reveals potential ripening-regulative genes
Jens Theine, Daniela Holtgräwe, Katja Herzog, Florian Schwander, Anna Kicherer, Ludger Hausmann, Prisca Viehöver, Reinhard Töpfer, Bernd Weisshaar
DNA methylation affects pre-mRNA transcriptional initiation and processing in Arabidopsis
Qiuhui Li, Shengjie Chen, Amy Wing-Sze Leung, Yaqin Liu, Yan Xin, Li Zhang, Hon-Ming Lam, Ruibang Luo, Shoudong Zhang
Light-triggered and phosphorylation-dependent 14-3-3 association with NONPHOTOTROPIC HYPOCOTYL 3 is required for hypocotyl phototropism
Lea Reuter, Tanja Schmidt, Prabha Manishankar, Christian Throm, Jutta Keicher, Andrea Bock, Claudia Oecking

Metaphloem development in the Arabidopsis root tip
Moritz Graeff, Christian S. Hardtke
Integration of embryo-endosperm interaction into a holistic and dynamic picture of seed development using a rice mutant with notched-belly grains
Yang Tao, Lu An, Feng Xiao, Ganghua Li, Yanfeng Ding, Matthew J. Paul, Zhenghui Liu
Cell layer-specific expression of the B-class MADS-box gene PhDEF drives petal tube or limb development in petunia flowers
M. Chopy, Q. Cavallini-Speisser, P. Chambrier, P. Morel, J. Just, V. Hugouvieux, S. Rodrigues Bento, C. Zubieta, M. Vandenbussche, M. Monniaux
Repression of CHROMOMETHYLASE 3 Prevents Epigenetic Collateral Damage in Arabidopsis
Ranjith K. Papareddy, Katalin Páldi, Anna D. Smolka, Patrick Hüther, Claude Becker, Michael D. Nodine
Integration of computational modeling and quantitative cell physiology reveals central parameters for the brassinosteroid-regulated elongation growth along the axis of the Arabidopsis root tip
Ruth Großeholz, Friederike Wanke, Nina Glöckner, Leander Rohr, Stefan Scholl, Karin Schumacher, Ursula Kummer, Klaus Harter
The Boundary-Expressed EPIDERMAL PATTERNING FACTOR-LIKE2 Gene Encoding a Signaling Peptide Promotes Cotyledon Growth during Arabidopsis thaliana Embryogenesis
Rina Fujihara, Naoyuki Uchida, Toshiaki Tameshige, Nozomi Kawamoto, Yugo Hotokezaka, Takumi Higaki, Ruediger Simon, Keiko U Torii, Masao Tasaka, Mitsuhiro Aida
O-glycosylation regulates plant developmental transitions downstream of miR156
Krishna Vasant Mutanwad, Alexandra Baekelandt, Nicole Neumayer, Claudia Freitag, Isabella Zangl, Dirk Inzé, Doris Lucyshyn
A cis-regulatory atlas in maize at single-cell resolution
Alexandre P. Marand, Zongliang Chen, Andrea Gallavotti, Robert J. Schmitz
| Evo-devo
Axis formation in annual killifish: Nodal coordinates morphogenesis in absence of Huluwa prepatterning
Philip B. Abitua, Deniz C. Aksel, Alexander F. Schier
Insm1-expressing neurons and secretory cells develop from a common pool of progenitors in the sea anemone Nematostella vectensis
Océane Tournière, Henriette Busengdal, James M. Gahan, Fabian Rentzsch
The neuroblast timer gene nubbin exhibits functional redundancy with gap genes to regulate segment identity in Tribolium
Olivia RA Tidswell, Matthew A Benton, Michael E Akam
Eye morphogenesis in the blind Mexican cavefish
Lucie Devos, François Agnès, Joanne Edouard, Victor Simon, Laurent Legendre, Naima El Khallouki, Sosthène Barbachou, Frédéric Sohm, Sylvie Rétaux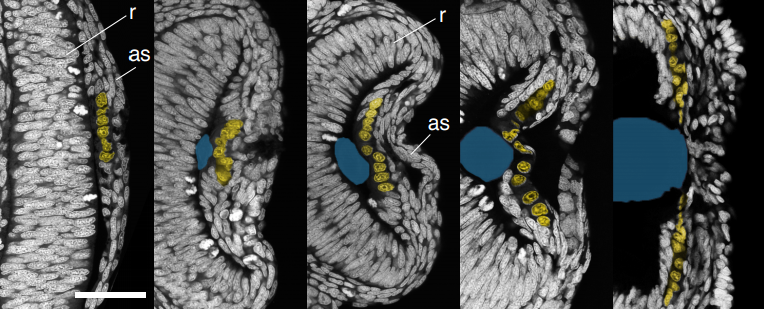 Co-option of the Limb Patterning Program in Cephalopod Lens Development
Stephanie Neal, Kyle J. McCulloch, Francesca Napoli, Christina M. Daly, James H. Coleman, Kristen M. Koenig
Molluscan dorsal-ventral patterning relying on bmp2/4 and chordin provides insights into spiralian development and bilaterian evolution
Sujian Tan, Pin Huan, Baozhong Liu
Evolution of a cytoplasmic determinant: evidence for the biochemical basis of functional evolution of a novel germ line regulator
Leo Blondel, Savandara Besse, Cassandra G. Extavour
Evolutionary dynamics of sex-biased genes expressed in cricket brains and gonads
Carrie A. Whittle, Arpita Kulkarni, Cassandra G. Extavour
Segment number threshold determines juvenile onset of germline cluster proliferation in Platynereis dumerilii
Emily Kuehn, David S. Clausen, Ryan W. Null, Bria M. Metzger, Amy D. Willis, B. Duygu Özpolat
Resolving Between Novelty and Homology in the Rapidly Evolving Phallus of Drosophila
Gavin R. Rice, Jean R. David, Nicolas Gompel, Amir Yassin, Mark Rebeiz
Activation of EGFR signaling by Tc-Vein and Tc-Spitz regulates the metamorphic transition in the red flour beetle Tribolium castaneum
Sílvia Chafino, David Martín, Xavier Franch-Marro
The unique neuronal structure and neuropeptide repertoire in the ctenophore Mnemiopsis leidyi shed light on the evolution of animal nervous systems
Maria Y Sachkova, Eva-Lena Nordmann, Joan J Soto-Àngel, Yasmin Meeda, Bartłomiej Górski, Benjamin Naumann, Daniel Dondorp, Marios Chatzigeorgiou, Maike Kittelmann, Pawel Burkhardt
Developmental series of gene expression clarifies maternal mRNA provisioning and maternal-to-zygotic transition in the reef-building coral Montipora capitata
E Chille, E Strand, M Neder, V Schmidt, M Sherman, T Mass, HM Putnam
Tempo and mode of gene expression evolution in the brain across Primates
Amy L. Bauernfeind, Trisha M. Zintel, Jason Pizzollo, John J. Ely, Mary Ann Raghanti, William D. Hopkins, Patrick R. Hof, Chet C. Sherwood, Courtney C. Babbitt
A muscle-related contractile tissue specified by MRTF-activity in Porifera
J. Colgren, S.A. Nichols
Novel neuroanatomical integration and scaling define avian brain shape evolution and development
Akinobu Watanabe, Amy M. Balanoff, Paul M. Gignac, M. Eugenia Gold, Mark A. Norell
Rapid mosaic brain evolution under artificial selection for relative telencephalon size in the guppy (Poecilia reticulata)
Stephanie Fong, Björn Rogell, Mirjam Amcoff, Alexander Kotrschal, Wouter van der Bijl, Séverine D. Buechel, Niclas Kolm
Sexual Reproduction in Bdelloid Rotifers
Veronika N. Laine, Timothy Sackton, Matthew Meselson
Evolution of multicellularity and unicellularity in yeast S. cerevisiae to study reversibility of evolutionary trajectories
Phaniendra Alugoju, Anjali Mahilkar, Supreet Saini
Human-derived alleles in SOST and RUNX2 3′UTRs cause differential regulation in a bone cell-line model
Juan Moriano, Núria Martínez-Gil, Alejandro Andirkó, Susana Balcells, Daniel Grinberg, Cedric Boeckx
Functional characterization of a "plant-like" HYL1 homolog in the cnidarian Nematostella vectensis indicates a conserved involvement in microRNA biogenesis
Abhinandan Mani Tripathi, Arie Fridrich, Magda Lewandowska, Yehu Moran
Lower promoter activity of the ST8SIA2 gene has been favored in evolving human collective brains
Toshiyuki Hayakawa, Masahiro Terahara, Naoko T. Fujito, Takumi Matsunaga, Kosuke Teshima, Masaya Hane, Ken Kitajima, Chihiro Sato, Naoyuki Takahata, Yoko Satta
Widespread retention of ohnologs in key developmental gene families following whole genome duplication in arachnopulmonates
Amber Harper, Luis Baudouin Gonzalez, Anna Schönauer, Ralf Janssen, Michael Seiter, Michaela Holzem, Saad Arif, Alistair P. McGregor, Lauren Sumner-Rooney
Development of larvae of the Australian blowfly, Calliphora augur (Diptera: Calliphoridae), at constant temperatures
Donnah M. Day, Nathan J. Butterworth, Anirudh Tagat, Gregory Markowsky, James F. Wallman
Phylotranscriptomics points to multiple independent origins of multicellularity and cellular differentiation in the volvocine algae
Charles Ross Lindsey, Frank Rosenzweig, Matthew D Herron
Why is the expression of so many genes rhythmic? Energetic cost explains protein rhythmicity and expression noise control explains mRNA rhythmicity
David Laloum, Marc Robinson-Rechavi
The hourglass model of evolutionary conservation during embryogenesis extends to developmental enhancers with signatures of positive selection
Jialin Liu, Rebecca R. Viales, Pierre Khoueiry, James P. Reddington, Charles Girardot, Eileen E. M. Furlong, Marc Robinson-Rechavi
Cell Biology
Glycogen-dependent demixing of frog egg cytoplasm at increased crowding
James F. Pelletier, Christine M. Field, Margaret Coughlin, Lillia Ryazanova, Matthew Sonnett, Martin Wühr, Timothy J. Mitchison
Tau, XMAP215/Msps and Eb1 co-operate interdependently to regulate microtubule polymerisation and bundle formation in axons
Ines Hahn, Andre Voelzmann, Jill Parkin, Judith Fuelle, Paula G Slater, Laura A Lowery, Natalia Sanchez-Soriano, Andreas Prokop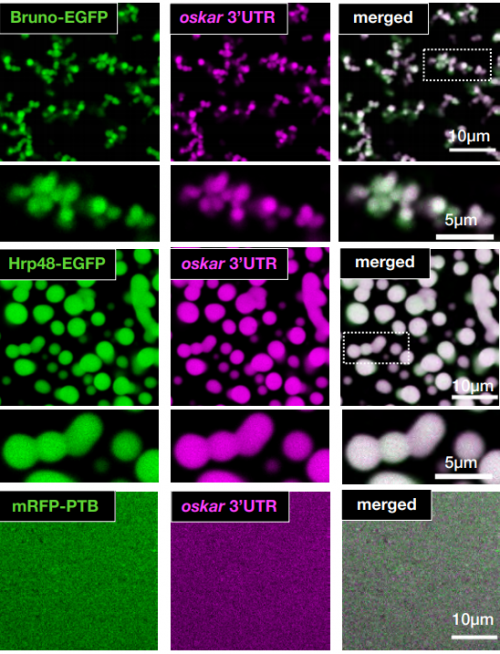 Liquid-to-solid phase transition of oskar RNP granules is essential for their function in the Drosophila germline
Mainak Bose, Julia Mahamid, Anne Ephrussi
Actin polymerization and crosslinking drive left-right asymmetry in single cell and cell collectives
Y. H. Tee, W. J. Goh, X. Yong, H. T. Ong, J. Hu, I. Y. Y. Tay, S. Shi, S. Jalal, S. F. H. Barnett, P. Kanchanawong, W. Huang, J. Yan, V. Thiagarajan, A. D. Bershadsky
Enhanced RhoA signaling stabilizes E-cadherin in migrating epithelial monolayers
Shafali Gupta, Kinga Duszyc, Suzie Verma, Srikanth Budnar, Xuan Liang, Guillermo A. Gomez, Philippe Marcq, Ivar Noordstra, Alpha S. Yap
Nuclei are mobile processors enabling specialization in a gigantic single-celled syncytium
Tobias Gerber, Cristina Loureiro, Nico Schramma, Siyu Chen, Akanksha Jain, Anne Weber, Anne Weigert, Malgorzata Santel, Karen Alim, Barbara Treutlein, J. Gray Camp
Alternative splicing of pericentrin contributes to cell cycle control in cardiomyocytes
Jakob Steinfeldt, Robert Becker, Silvia Vergarajauregui, Felix B. Engel
The Hippo pathway regulates density-dependent proliferation of iPSC-derived cardiac myocytes
Abigail C. Neininger, Xiaozhaun Dai, Qi Liu, Dylan T. Burnette
Phosphoproteomics of ATR Signaling in Prophase I of Mouse Meiosis
Jennie R. Sims, Vitor M. Faça, Catalina Pereira, Gerardo A. Arroyo-Martinez, Raimundo Freire, Paula E. Cohen, Robert S. Weiss, Marcus B. Smolka
Egalitarian feeds forward to Staufen to inhibit Dynein during mRNP transport
Imre Gáspár, Ly Jane Phea, Anne Ephrussi
Cytoskeletal vimentin regulates cell size and autophagy through mTORC1 signaling
Ponnuswamy Mohanasundaram, Leila S Coelho Rato, Mayank Modi, Marta Urbanska, Franziska Lautenschläger, Fang Cheng, John E Eriksson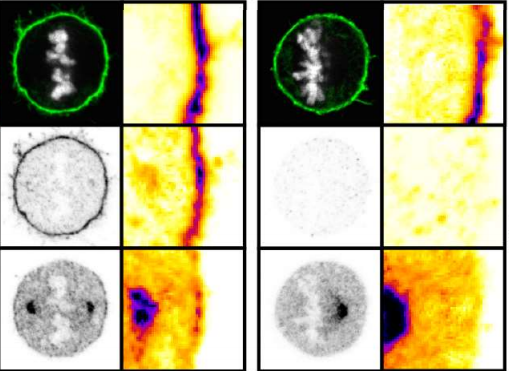 A Scribble-E-cadherin complex controls daughter cell patterning by multiple mechanisms
Anchi S. Chann, Ye Chen, Tanja Kinwel, Patrick O. Humbert, Sarah M. Russell
A gene duplication of a septin provides a developmentally-regulated filament length control mechanism
Kevin S. Cannon, Jose M. Vargas-Muniz, Neil Billington, Ian Seim, Joanne Ekena, James Sellers, Peter Philippsen, Amy. S. Gladfelter
Cytoplasmic pressure maintains epithelial integrity and inhibits cell motility
Pragati Chengappa, Tia M. Jones, James M. Cowan, Devneet Kainth, Ryan J. Petrie
Temporal resolution of melanogenesis determine fatty acid metabolism as key skin pigment regulator
Farina Sultan, Reelina Basu, Divya Murthy, Manisha Kochar, Kuldeep S. Attri, Ayush Aggrawal, Pooja Kumari, Pooja Dnyane, Archana Singh, Chetan Gadgil, Neel S. Bhavesh, Pankaj K. Singh, Vivek T. Natarajan, Rajesh S. Gokhale
Endothelial metastasis-associated protein 1 (MTA1) is an essential molecule for angiogenesis
Mizuho Ishikawa, Mitsuhiko Osaki, Narumi Uno, Takahito Ohira, Hiroyuki Kugoh, Futoshi Okada
Rho and F-actin self-organize within an artificial cell cortex
Jennifer Landino, Marcin Leda, Ani Michaud, Zachary T. Swider, Mariah Prom, Christine M. Field, William M. Bement, Anthony G. Vecchiarelli, Andrew B. Goryachev, Ann L. Miller
aPC/PAR1 confers endothelial anti-apoptotic activity via a discrete β-arrestin-2 mediated SphK1-S1PR1-Akt signaling axis
Olivia Molinar-Inglis, Cierra A. Birch, Dequina Nicholas, Metztli Cisneros-Aguirre, Anand Patwardhan, Buxin Chen, Neil J. Grimsey, Patrick K. Gomez Menzies, Huilan Lin, Luisa J. Coronel, Mark A. Lawson, Hemal. H. Patel, JoAnn Trejo
Multiple 9-1-1 complexes promote homolog synapsis, DSB repair, and ATR signaling during mammalian meiosis
Catalina Pereira, Gerardo A. Arroyo-Martinez, Matthew Z. Guo, Michael S. Downey, Emma R. Kelly, Kathryn J. Grive, Shantha K. Mahadevaiah, Jennie Sims, Vitor Marcel Faça, Charlton Tsai, Carl J. Schiltz, Niek Wit, Heinz Jacobs, Nathan L. Clark, Raimundo Freire, James M. A. Turner, Amy M. Lyndaker, Miguel A. Brieño-Enríquez, Paula E. Cohen, Marcus B. Smolka, Robert S. Weiss
Rab40/Cullin5 complex regulates EPLIN and actin cytoskeleton dynamics during cell migration and invasion
Erik S Linklater, Emily D Duncan, Ke-Jun Han, Algirdas Kaupinis, Mindaugas Valius, Traci R Lyons, Rytis Prekeris
Modelling
Cellular tango: How extracellular matrix adhesion choreographs Rac-Rho signaling and cell movement
Elisabeth G. Rens, Leah Edelstein-Keshet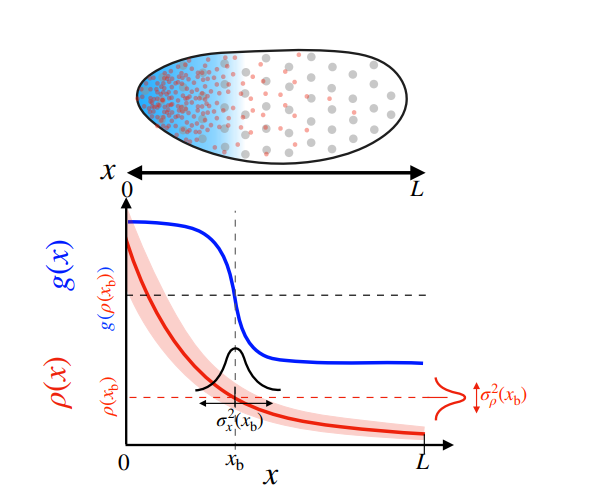 Cost-precision trade-off relation determines the optimal morphogen gradient for accurate biological pattern formation
Yonghyun Song, Changbong Hyeon
Improving the understanding of cytoneme-mediated morphogen gradients by in silico modeling
Adrián Aguirre-Tamaral, Isabel Guerrero
Effect of cellular rearrangement time delays on the rheology of vertex models for confluent tissues
Gonca Erdemci-Tandogan, M. Lisa Manning
Multiple morphogens and rapid elongation promote segmental patterning during development
Yuchi Qiu, Lianna Fung, Thomas F. Schilling, Qing Nie
The need for high-quality oocyte mitochondria at extreme ploidy dictates germline development
Marco Colnaghi, Andrew Pomiankowski, Nick Lane
HYBRID REACTION-DIFFUSION AND CLOCK-AND-WAVEFRONT MODEL FOR THE ARREST OF OSCILLATIONS IN THE SOMITOGENESIS SEGMENTATION CLOCK
Jesús Pantoja-Hernández, Víctor F. Breña-Medina, Moisés Santillán
Oscillations and Bifurcation Structure of Reaction-Diffusion Model for Cell Polarity Formation
Masataka Kuwamura, Hirofumi Izuhara, Shin-ichiro Ei
Polarized interfacial tension induces collective migration of cells, as a cluster, in a three-dimensional tissue
Satoru Okuda, Katsuhiko Sato
Reviews
Tissue hydraulics: physics of lumen formation and interaction
Alejandro Torres-Sánchez, Max Kerr Winter, Guillaume Salbreux
Tools & Resources
Optogenetic relaxation of actomyosin contractility uncovers mechanistic roles of cortical tension during cytokinesis
Kei Yamamoto, Haruko Miura, Motohiko Ishida, Satoshi Sawai, Yohei Kondo, Kazuhiro Aoki
High-Resolution, Large Imaging Volume, and Multi-View Single Objective Light-Sheet Microscopy
Bin Yang, Merlin Lange, Alfred Millett-Sikking, Ahmet Can Solak, Shruthi Vijay Kumar, Wanpeng Wang, Hirofumi Kobayashi, Matthew N. McCarroll, Lachlan W. Whitehead, Reto P. Fiolka, Thomas B. Kornberg, Andrew G. York, Loic A. Royer
ZAF — An Open Source Fully Automated Feeder for Aquatic Facilities
Merlin Lange, Ahmet Can Solak, Shruthi VijayKumar, Hirofumi Kobayashi, Bin Yang, Loic Alain Royer
Capturing Membrane Trafficking Events During 3D Angiogenic Development in Vitro
Caitlin R. Francis, Erich J. Kushner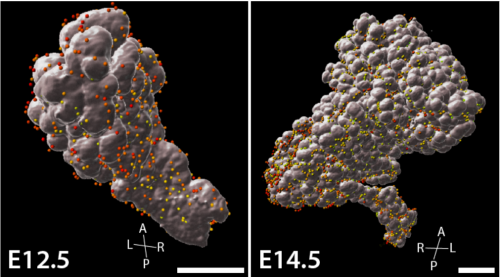 Development of a 3D atlas of the embryonic pancreas for topological and quantitative analysis of heterologous cell interactions
Laura Glorieux, Aleksandra Sapala, David Willnow, Manon Moulis, Shlomit Edri, Jean-Francois Darrigrand, Anat Schonblum, Lina Sakhneny, Laura Schaumann, Harold F Gomez, Christine Lang, Lisa Conrad, Fabien Guillemot, Shulamit Levenberg, Limor Landsman, Dagmar Iber, Christophe Pierreux, Francesca M Spagnoli
A Cre-dependent CRISPR/dCas9 system for gene expression regulation in neurons
Nancy V. N. Carullo, Jenna E. Hinds, Jasmin S. Revanna, Jennifer J. Tuscher, Allison J. Bauman, Jeremy J. Day
Computational anatomy and geometric shape analysis enables analysis of complex craniofacial phenotypes in zebrafish
Kelly M. Diamond, Sara M. Rolfe, Ronald Y. Kwon, A. Murat Maga
Multiview tiling light sheet microscopy for 3D high resolution live imaging
Mostafa Aakhte, H.-Arno J. Müller
Single-Molecule Tracking of Chromatin-Associated Proteins in the C. elegans Gonad
Lexy von Diezmann, Ofer Rog
Microfluidic-based imaging of complete C. elegans larval development
Simon Berger, Silvan Spiri, Andrew deMello, Alex Hajnal
CRISPR Knock-in Designer: automatic oligonucleotide design software to introduce point mutations using CRISPR/Cas9
Sergey V. Prykhozhij, Vinothkumar Rajan, Kevin Ban, Jason N. Berman
Measuring nonapoptotic caspase activity with a transgenic reporter in mice
P. J. Nicholls, Thomas F. Pack, Nikhil M. Urs, Sunil Kumar, Yang Zhou, Gabor Turu, Evan Calabrese, Wendy L. Roberts, Ping Fan, Valeriy G. Ostapchenko, Monica S. Guzman, Flavio Beraldo, Vania F. Prado, Marco A. M. Prado, Ivan Spasojevic, Joshua C. Snyder, Kafui Dzirasa, G. Allan Johnson, Marc G. Caron
Multiphoton imaging of neural structure and activity in Drosophila through the intact cuticle
Max Jameson Aragon, Mengran Wang, Aaron T. Mok, Jamien Shea, Haein Kim, Nathan Barkdull, Chris Xu, Nilay Yapici
Protein visualization and manipulation in Drosophila through the use of epitope tags recognized by nanobodies
Jun Xu, Ah-Ram Kim, Ross W. Cheloha, Fabian A. Fischer, Joshua Shing Shun Li, Yuan Feng, Emily Stoneburner, Richard Binari, Stephanie E. Mohr, Jonathan Zirin, Hidde Ploegh, Norbert Perrimon
Technical advances in the development of zonation liver in vitro systems that incorporate localized Wnt activating signals
Eider Valle-Encinas, Michael Dawes, Carmen Velasco Martinez, Kate McSweeney, Miryam Müller, Tom Bird, Trevor Dale
Photoswitchable epothilone-based microtubule stabilisers allow GFP-imaging-compatible, optical control over the microtubule cytoskeleton
Li Gao, Joyce C. M. Meiring, Constanze Heise, Ankit Rai, Adrian Müller-Deku, Anna Akhmanova, Julia Thorn-Seshold, Oliver Thorn-Seshold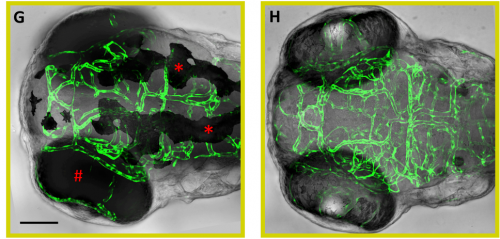 Rapid generation of pigment free, immobile zebrafish embryos and larvae in any genetic background using CRISPR-Cas9 dgRNPs
Andrew E. Davis, Daniel Castranova, Brant M. Weinstein
A comprehensive analysis of gene expression changes in a high replicate and open-source dataset of differentiating hiPSC-derived cardiomyocytes
Tanya Grancharova, Kaytlyn A. Gerbin, Alexander B. Rosenberg, Charles M. Roco, Joy Arakaki, Colette DeLizzo, Stephanie Q. Dinh, Rory Donovan-Maiye, Matthew Hirano, Angelique Nelson, Joyce Tang, Julie A. Theriot, Calysta Yan, Vilas Menon, Sean P. Palecek, Georg Seelig, Ruwanthi N. Gunawardane
Oligopaint DNA FISH as a tool for investigating meiotic chromosome dynamics in the silkworm, Bombyx mori
Leah F. Rosin, Jose Gil Jr., Ines A. Drinnenberg, Elissa P. Lei
A Focal Adhesion Filament Cross-correlation Kit for fast, automated segmentation and correlation of focal adhesions and actin stress fibers in cells
Lara Hauke, Shwetha Narasimhan, Andreas Primeßnig, Irina Kaverina, Florian Rehfeldt
tdLanYFP, a yellow, bright, photostable and pH insensitive fluorescent protein for live cell imaging and FRET-based sensing strategies
Y. Bousmah, H. Valenta, G. Bertolin, U. Singh, V. Nicolas, H. Pasquier, M. Tramier, F. Merola, M. Erard
A new method for obtaining bankable and expandable adult-like microglial cells
Min-Jung You, Chan Rim, Youn-Jung Kang, Min-Soo Kwon
Standardized quality control workflow to evaluate the reproducibility and differentiation potential of human iPSCs into neurons
Carol X.-Q. Chen, Narges Abdian, Gilles Maussion, Rhalena A. Thomas, Iveta Demirova, Eddie Cai, Mahdieh Tabatabaei, Lenore K. Beitel, Jason Karamchandani, Edward A. Fon, Thomas M. Durcan
Marker-assisted mapping enables effective forward genetic analysis in the arboviral vector Aedes aegypti, a species with vast recombination deserts
Chujia Chen, Austin Compton, Katerina Nikolouli, Aihua Wang, Azadeh Aryan, Atashi Sharma, Yumin Qi, Camden Delinger, Melanie Hempel, Antonios Augustinos, David W. Severson, Kostas Bourtzis, Zhijian Tu
Single-shot phase contrast microscopy using polarisation-resolved differential phase contrast
R. Kalita, W. Flanagan, J. Lightley, S. Kumar, Y. Alexandrov, E. Garcia, M. Hintze, M Barkoulas, C. Dunsby, P.M.W. French
A Dual-Color Tyr-FISH Method for Visualizing Genes/Markers on Plant Chromosomes to Create Integrated Genetic and Cytogenetic Maps
Natalya Kudryavtseva, Aleksey Ermolaev , Gennady Karlov , Ilya Kirov , Masayoshi Shigyo, Shusei Sato , Ludmila Khrustaleva
An ELISA-based method for rapid genetic screens in Drosophila
Taylor R Jay, Yunsik Kang, Amanda Jefferson, Marc R Freeman
Evidence provided by high-impact cell culture studies does not support authors' claims
Ali Burak Özkaya, Caner Geyik
Multi-color fluorescence fluctuation spectroscopy in living cells via spectral detection
Valentin Dunsing, Annett Petrich, Salvatore Chiantia
Research practice & education
A field guide to cultivating computational biology
Anne E Carpenter, Casey S Greene, Piero Carnici, Benilton S Carvalho, Michiel de Hoon, Stacey Finley, Kim-Anh Le Cao, Jerry SH Lee, Luigi Marchionni, Suzanne Sindi, Fabian J Theis, Gregory P Way, Jean YH Yang, Elana J Fertig
A tool for assessing alignment of biomedical data repositories with open, FAIR, citation and trustworthy principles
Fiona Murphy, Michael Bar-Sinai, Maryann E. Martone
How faculty define quality, prestige, and impact in research
Esteban Morales, Erin McKiernan, Meredith T. Niles, Lesley Schimanski, Juan Pablo Alperin
Preprints in motion: tracking changes between posting and journal publication
Jessica K Polka, Gautam Dey, Máté Pálfy, Federico Nanni, Liam Brierley, Nicholas Fraser, Jonathon Alexis Coates
Using Stakeholder Insights to Enhance Engagement in PhD Professional Development
Deepti Ramadoss, Amanda F. Bolgioni, Rebekah L. Layton, Janet L. Alder, Natalie Lundsteen, C. Abigail Stayart, Jodi B. Yellin, Conrad L. Smart, Susi S. Varvayanis