Welcome to our monthly trawl for developmental and stem cell biology (and related) preprints.
The preprints this month are hosted on bioRxiv – use these links below to get to the section you want:
Developmental biology
| Patterning & signalling
The cell adhesion molecule Echinoid promotes tissue survival and separately restricts tissue overgrowth in Drosophila imaginal discs
Danielle C. Spitzer, William Y. Sun, Anthony Rodríguez-Vargas, Iswar K. Hariharan
Disruption of Fuz in mouse embryos generates hypoplastic hindbrain development and reduced cranial nerve ganglia
Carlo Donato Caiaffa, Yogeshwari S. Ambekar, Manmohan Singh, Ying Linda Lin, Bogdan Wlodarczyk, Salavat R. Aglyamov, Giuliano Scarcelli, Kirill V. Larin, Richard Finnell
Scaling between cell cycle duration and wing growth is regulated by Fat-Dachsous signaling in Drosophila
Andrew Liu, Jessica O'Connell, Farley Wall, Richard W. Carthew

Canonical Wnt transcriptional complexes are essential for induction of nephrogenesis but not maintenance or proliferation of nephron progenitors
Helena Bugacov, Andrew McMahon, Balint Der, Sunghyun Kim, Nils Olof Lindstrom
Fgf signalling is required for gill slit formation in the skate, Leucoraja erinacea
Jenaid M Rees, Michael A Palmer, J. Andrew Gillis
Tgfbr1 regulates lateral plate mesoderm and endoderm reorganization during the trunk to tail transition
Anastasiia Lozovska, Ana N&oacutevoa, Ying-Yi Kuo, Arnon Dias Jurberg, Gabriel G Martins, Anna-Katerina Hadjantonakis, Moises Mallo
Angpt1 binding to Tie1 regulates the signaling required for lymphatic vessel development in zebrafish
Nanami Morooka, Ning Gui, Koji Ando, Keisuke Sako, Moe Fukumoto, Melina Hußmann, Stefan Schulte-Merker, Naoki Mochizuki, Hiroyuki Nakajima
Specification and survival of post-metamorphic branchiomeric neurons in the hindbrain of a non-vertebrate chordate
Eduardo D. Gigante, Katarzyna M. Piekarz, Alexandra Gurgis, Leslie Cohen, Florian Razy-Krajka, Sydney Popsuj, Hussan S. Ali, Shruthi Mohana Sundaram, Alberto Stolfi

Hedgehog signaling is required for the maintenance of mesenchymal nephron progenitors
Eunah Chung, Patrick Deacon, Yueh-Chiang Hu, Hee-Woong Lim, Joo-Seop Park
Modular control of time and space during vertebrate axis segmentation
Ali Seleit, Ian Brettell, Tomas W Fitzgerald, Carina Vibe, Felix Loosli, Joachim Wittbrodt, Kiyoshi Naruse, Ewan Birney, Alexander Aulehla
Prickle and Ror modulate Dishevelled-Vangl interaction to regulate non-canonical Wnt signaling during convergent extension
Jianbo Wang, Chenbei Chang, Hwa-seon Seo, Deli Yu, Ivan Popov, Jiahui Tao, Allyson Angermeier, Bingdong Sha, Jeffery Axelrod
Epigenetic heterogeneity of the Notch signaling components in the developing human retina
Takahiro Nakayama, Masaharu Yoshihara, Satoru Takahashi
Zn2+ is Essential for Ca2+ Oscillations in Mouse Eggs
Hiroki Akizawa, Emily M Lopes, Rafael A Fissore
Cadherin Adhesion Complexes Direct Cell Aggregation in the Epithelial Transition of Wnt-Induced Nephron Progenitor Cells
Balint Der, Helena Bugacov, Bohdana-Myroslava Briantseva, Andrew P. McMahon
Spatial patterning regulates neuron numbers in the Drosophila visual system
Jennifer Malin, Yen-Chung Chen, Félix Simon, Evelyn Keefer, Claude Desplan
β1 integrins regulate cellular behaviors and cardiomyocyte organization during ventricular wall formation
Lianjie Miao, Micah Castillo, Yangyang Lu, Yongqi Xiao, Yu Liu, Alan R Burns, Ashok Kumar, Preethi Gunaratne, C. Michael DiPersio, Mingfu Wu
Spatiotemporal dynamics of cytokines expression dictate fetal liver hematopoiesis
Marcia Mesquita Peixoto, Francisca Soares-da-Silva, Valentin Bonnet, Gustave Ronteix, Rita Faria Santos, Marie-Pierre Mailhe, Xing Feng, João Pedro Pereira, Emanuele Azzoni, Giorgio Anselmi, Marella de Bruijn, Charles N. Baroud, Perpétua Pinto-do-Ó, Ana Cumano
Differential regulation of the proteome and phosphosproteome along the dorso-ventral axis of the early Drosophila embryo
Juan Manuel Gomez, Hendrik Nolte, Elisabeth Vogelsang, Bipasha Dey, Michiko Takeda, Girolamo Giudice, Miriam Faxel, Alina Cepraga, Robert Patrick Zinzen, Marcus Krüger, Evangelia Petsalaki, Yu-Chiun Wang, Maria Leptin
Wnt signaling regulates ion channel expression to promote smooth muscle and cartilage formation in developing mouse trachea
Nicholas X. Russell, Kaulini Burra, Ronak Shah, Natalia Bottasso-Arias, Megha Mohanakrishnan, John Snowball, Harshavardhana H. Ediga, Satish K Madala, Debora Sinner
| Morphogenesis & mechanics
Hierarchical Morphogenesis of Swallowtail Butterfly Wing Scale Nanostructures
Kwi Shan Seah, Vinodkumar Saranathan
Two distinct mechanisms of Plexin A function in Drosophila optic lobe lamination and morphogenesis
Maria E Bustillo, Jessica Douthit, Sergio Astigarraga, Jessica E Treisman
Periods of environmental sensitivity couple larval behavior and development
Denis F. Faerberg, Erin Z. Aprison, Ilya Ruvinsky
Aberrant tissue stiffness impairs neural tube development in Mthfd1l mutant mouse embryos
Yogeshwari S. Ambekar, Carlo Donato Caiaffa, Bogdan Wlodarczyk, Manmohan Singh, Alexander W. Schill, John Steele, Salavat R. Aglyamov, Giuliano Scarcelli, Richard H. Finnell, Kirill V. Larin
Thymus formation in uncharted embryonic territoriesv
Isabel Alcobia, Margarida Gama-Carvalho, Leonor Magalhães, Vitor Proa, Domingos Henrique, Hélia Neves
Identification of Core Yeast Species and Microbe-Microbe Interactions Impacting Larval Growth of Drosophila in the Wild
Ayumi Mure, Yuki Sugiura, Rae Maeda, Kohei Honda, Nozomu Sakurai, Yuuki Takahashi, Masayoshi Watada, Toshihiko Katoh, Aina Gotoh, Yasuhiro Gotoh, Itsuki Taniguchi, Keiji Nakamura, Tetsuya Hayashi, Takane Katayama, Tadashi Uemura, Yukako Hattori
Morphodynamics of human early brain organoid development
Akanksha Jain, Gilles Gut, Fátima Sanchís Calleja, Ryoko Okamoto, Simon Streib, Zhisong He, Fides Zenk, Malgorzata Santel, Makiko Seimiya, René Holtackers, Sophie Martina Johanna Jansen, J. Gray Camp, Barbara Treutlein

Lineage-based scaling of germline intercellular bridges during oogenesis
Umayr Shaikh, Kathleen Sherlock, Julia Wilson, William Gilliland, Lindsay Lewellyn
An atypical basement membrane forms a midline barrier in left-right asymmetric gut development
Cora Demler, John Coates Lawlor, Ronit Yelin, Dhana Llivichuzcha-Loja, Lihi Shaulov, David Kim, Megan Stewart, Frank Lee, Thomas Schultheiss, Natasza Kurpios
Lymphatic vessel development in human embryos
Shoichiro Yamaguchi, Natsuki Minamide, Hiroshi Imai, Tomoaki Ikeda, Masatoshi Watanabe, Kyoko Imanaka-Yoshida, Kazuaki Maruyama
Alternating polarity integrates chemical and mechanical cues to drive tissue morphogenesis
Miriam Osterfield
A mechanically regulated liquid-liquid phase separation of the transcriptional regulator Tono instructs muscle development
Xu Zhang, Jerome Avellaneda, Maria Lynn Spletter, Sandra B Lemke, Pierre Mangeol, Bianca H Habermann, Frank Schnorrer
Stabilization of epithelial β-catenin compromises mammary cell fate acquisition and branching morphogenesis
Jyoti Prabha Satta, Qiang Lan, Makoto Mark Taketo, Marja Liisa Mikkola
Cylicins are a structural component of the sperm calyx being indispensable for male fertility in mice and human
Simon Schneider, Andjela Kovacevic, Michelle Mayer, Ann-Kristin Dicke, Lena Arévalo, Sophie A. Koser, Jan N. Hansen, Samuel Young, Christoph Brenker, Sabine Kliesch, Dagmar Wachten, Gregor Kirfel, Timo Strünker, Frank Tüttelmann, Hubert Schorle
The differentiation and integration of the hippocampal dorsoventral axis are controlled by two nuclear receptor genes
Xiong Yang, Rong Wan, Zhiwen Liu, Su Feng, Jiaxin Yang, Naihe Jing, Ke Tang
Primate-expressed EPIREGULIN promotes basal progenitor proliferation in the developing neocortex
Paula Cubillos, Nora Ditzer, Annika Kolodziejczyk, Gustav Schwenk, Janine Hoffmann, Theresa M. Schütze, Razvan P. Derihaci, Cahit Birdir, Johannes E. M. Köllner, Andreas Petzold, Mihail Sarov, Ulrich Martin, Katherine R. Long, Pauline Wimberger, Mareike Albert
| Genes & genomes
Single-cell transcriptome landscape of developing fetal gonads defines somatic cell lineage specification in humans
A. Lardenois, A. Suglia, CL. Moore, B. Evrard, L. Noël, P. Rivaud, A. Besson, M. Toupin, S. Léonard, L. Lesné, I. Coiffec, S. Nef, V. Lavoué, O. Collin, A. Chédotal, S. Mazaud-Guittot, F. Chalmel, AD. Rolland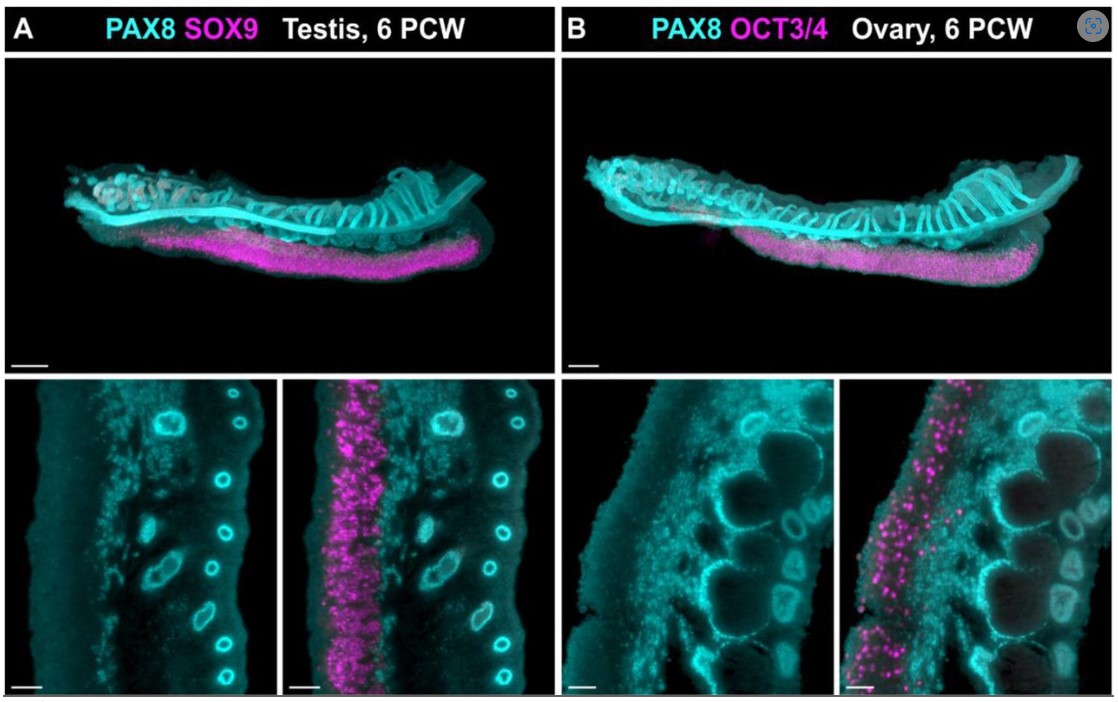 The TOP-2-condensin II axis silences transcription during germline specification in C. elegans
Mezmur D. Belew, Emilie Chien, Matthew Wong, W. Matthew Michael
Transcriptional control of compartmental boundary positioning during Drosophila wing development
Gustavo Aguilar, Michèle Sickmann, Dimitri Bieli, Gordian Born, Markus Affolter, Martin Müller
Using human genetics to develop strategies to increase erythropoietic output from genome-edited hematopoietic stem and progenitor cells
Joab Camarena, Sofia E. Luna, Jessica P. Hampton, Kiran R. Majeti, Carsten T. Charlesworth, Eric Soupene, Vivien A. Sheehan, M. Kyle Cromer, Matthew H. Porteus
Defining the cellular complexity of the zebrafish bipotential gonad
Michelle E. Kossack, Lucy Tian, Kealyn Bowie, Jessica S. Plavicki
Polyadenylation of mRNAs encoding secreted proteins by TENT5 family of enzymes is essential for gametogenesis in mice
Michał Brouze, Agnieszka Czarnocka-Cieciura, Olga Gewartowska, Monika Kusio-Kobiałka, Kamil Jachacy, Marcin Szpila, Bartosz Tarkowski, Jakub Gruchota, Paweł Krawczyk, Seweryn Mroczek, Ewa Borsuk, Andrzej Dziembowski
A dynamic in vitro model of Down Syndrome neurogenesis with Trisomy 21 gene dosage correction
Prakhar Bansal, Erin C Banda, Heather R Glatt-Deeley, Christopher Stoddard, Jeremy W Linsley, Neha Arora, Darcy T Ahern, Yuvabharath Kondaveeti, Michael Nicouleau, Miguel Sabariego-Navarro, Mara Dierssen, Steve Finkbeiner, Stefan F Pinter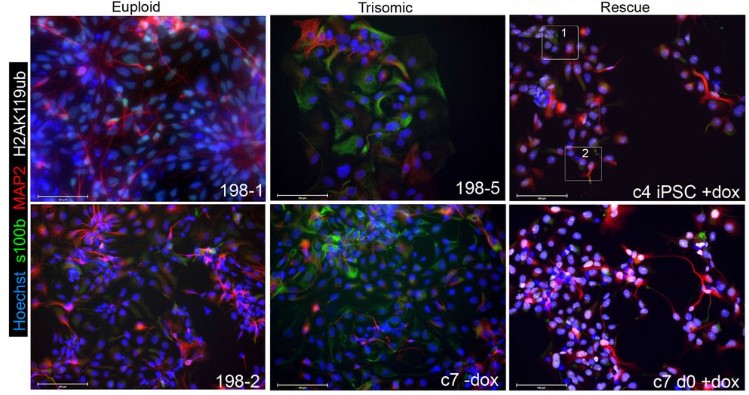 Dynamics of chromatin accessibility during human first-trimester neurodevelopment
Camiel C.A. Mannens, Lijuan Hu, Peter Lonnerberg, Marijn Schipper, Caleb Reagor, Xiaofei Li, Xiaoling He, Roger A. Barker, Erik Sundstrom, Danielle Posthuma, Sten Linnarsson
Multi-omics analyses identify transcription factor interplay in corneal epithelial fate determination and disease
Jos Smits, Dulce Lima Cunha, Jieqiong Qu, Nicholas Owen, Lorenz Latta, Nora Szentmary, Berthold Seitz, Lauriane N. Roux, Mariya Moosajee, Daniel Aberdam, Simon J. van Heeringen, Huiqing Zhou
PRDM16 co-operates with LHX2 to shape the human brain
Varun Suresh, Bidisha Bhattacharya, Rami Yair Tshuva, Miri Danan Gotthold, Tsviya Olender, Mahima Bose, Saurabh J. Pradhan, Bruria Ben Zeev, Richard Scott Smith, Shubha Tole, Sanjeev Galande, Corey Harwell, José-Manuel Baizabal, Orly Reiner
COUP-TFII regulates early bipotential gonad signaling and commitment to ovarian progenitors
Lucas G. A. Ferreira, Marina M. L. Kizys, Gabriel A. C. Gama, Svenja Pachernegg, Gorjana Robevska, Andrew H. Sinclair, Katie L. Ayers, Magnus R. Dias da Silva
Sphingolipid metabolism is spatially regulated in the developing embryo by SOXE genes
Michael L. Piacentino, Aria J. Fasse, Alexis Camacho-Avila, Ilya Grabylnikov, Marianne E. Bronner
Temperature variation drives coordinated scaling of temporal and dynamic features of transcription in embryonic development
Gabriella Martini, Hernan Garcia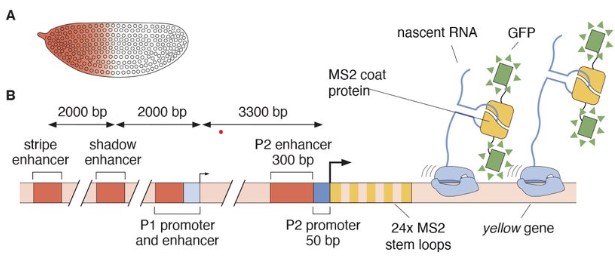 Epigenetic Regulation of Endothelial Extracellular Matrix Components is Critical for Murine Lung Development
Meng-Ling Wu, Kate Wheeler, Robert Silasi-Mansat, Florea Lupu, Courtney T. Griffin
Female germline expression of OVO transcription factor bridges Drosophila generations
Leif Benner, Savannah Muron, Brian Oliver
The molecular basis of macrochaete diversification highlighted by a single-cell atlas of Bicyclus anynana butterfly pupal forewings
Anupama Prakash, Emilie Dion, Antónia Monteiro
FOXL2 interaction with different binding partners regulates the dynamics of ovarian development
Roberta Migale, Michelle Neumann, Richard Mitter, Mahmoud-Reza Rafiee, Sophie Wood, Jessica Olsen, Robin Lovell-Badge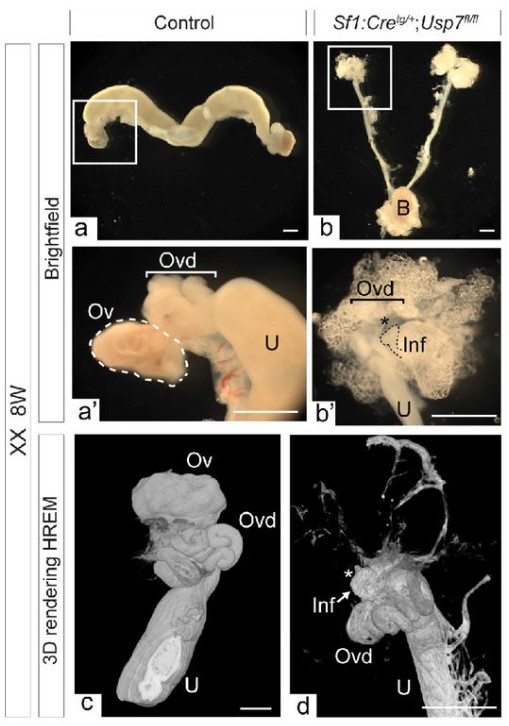 | Stem cells, regeneration & disease modelling
A dynamic in vitro model of Down Syndrome neurogenesis with Trisomy 21 gene dosage correction
Prakhar Bansal, Erin C Banda, Heather R Glatt-Deeley, Christopher Stoddard, Jeremy W Linsley, Neha Arora, Darcy T Ahern, Yuvabharath Kondaveeti, Michael Nicouleau, Miguel Sabariego-Navarro, Mara Dierssen, Steve Finkbeiner, Stefan F Pinter
Defined human PSC culture conditions robustly maintain human PSC pluripotency through Ca2+ signaling.
Ilse Eidhof, Malin Kele, Mansoureh Shahsavani, Benjamin Ulfenborg, Dania Winn, Per Uhlen, Anna Falk
The combination of CD49b and CD229 reveals a subset of multipotent progenitors with short-term activity within the hematopoietic stem cell compartment
Ece Somuncular, Tsu-Yi Su, Ozge Dumral, Anne-Sofie Johansson, Sidinh Luc
3D model of mouse embryonic pancreas and endocrine compartment using stem cell-derived mesoderm and pancreatic progenitors
Shlomit Edri, Vardit Rosenthal, Or Ginsburg, Abigail Newman Frisch, Christophe E. Pierreux, Nadav Sharon, Shulamit Levenberg
ECM degradation in the stump region induced by Fgf during functional joint regeneration in frogs
Haruka Matsubara, Takeshi Inoue, Kiyokazu Agata
Improved rescue of immature oocytes obtained from conventional gonadotropin stimulation cycles via human induced pluripotent stem cell-derived ovarian support cell co-culture
Alexa Giovannini, Sabrina Piechota, Maria Marchante, Kathryn S Potts, Graham Rockwell, Bruna Paulsen, Alexander D Noblett, Samantha L Estevez, Alexandra B Figueroa, Caroline Aschenberger, Dawn A Kelk, Marcy Forti, Shelby Marcinyshyn, Ferran Barrachina, Klaus Wiemer, Marta Sanchez, Pedro Belchin, Merrick Pierson Smela, Patrick R.J. Fortuna, Pranam Chatterjee, David H McCulloh, Alan Copperman, Daniel Ordonez-Perez, Joshua U Klein, Christian C Kramme
Loss of PAX6 alters the excitatory/inhibitory neuronal ratio in human cerebral organoids
Wai Kit Chan, Danilo Negro, Victoria M Munro, Helen Marshall, Zrinko Kozić, Megan Brown, Mariana Beltran, Neil C Henderson, David J Price, John O Mason
The Interferon γ Pathway Enhances Pluripotency and X-Chromosome Reactivation in iPSC reprogramming
Mercedes Barrero, Anna V. López-Rubio, Aleksey Lazarenkov, Enrique Blanco, Moritz Bauer, Luis G. Palma, Anna Bigas, Luciano Di Croce, José Luis Sardina, Bernhard Payer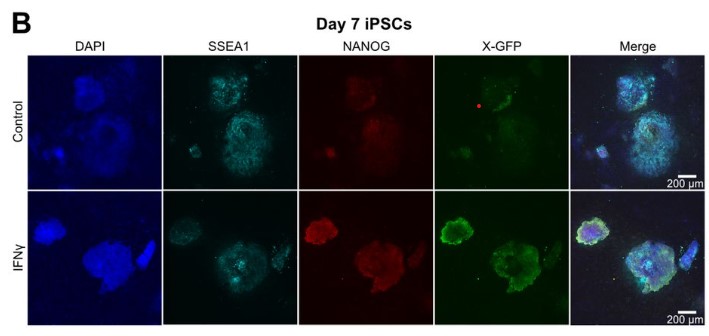 Myogenetic Oligodeoxynucleotide Induces Myocardial Differentiation of Murine Pluripotent Stem Cells
Mina Ishioka, Yuma Nihashi, Yoichi Sunagawa, Koji Umezawa, Takeshi Shimosato, Hiroshi Kagami, Tatsuya Morimoto, Tomohide Takaya
Chromatin and gene expression changes during female Drosophila germline stem cell development illuminate the biology of highly potent stem cells
Liang-Yu Pang, Steven DeLuca, Haolong Zhu, John M. Urban, Allan C. Spradling
Sclerotome-derived vascular smooth muscle progenitors contribute to the haematopoietic stem cell specification niche
Clair M. Kelley, Nicole O. Glenn, Dafne Gays, Massimo M. Santoro, Wilson K. Clements
A distinct class of hematopoietic stem cells develop from the human yellow bone marrow
Tammy T Nguyen, Zinger Yang Loureiro, Anand Desai, Tiffany DeSouza, Shannon Joyce, Lyne Khair, Amruta Samant, Haley Cirka, Javier Solivan-Rivera, Rachel Ziegler, Michael Brehm, Louis M Messina, Silvia Corvera
Generation of isogenic models of Angelman syndrome and Prader-Willi syndrome in CRISPR/Cas9-engineered human embryonic stem cells
Rachel B Gilmore, Dea Gorka, Christopher Stoddard, Justin Cotney, Stormy Chamberlain
Functional characterization of gene regulatory elements and neuropsychiatric disease-associated risk loci in iPSCs and iPSC-derived neurons
Xiaoyu Yang, Ian R. Jones, Poshen B. Chen, Han Yang, Xingjie Ren, Lina Zheng, Bin Li, Yang E. Li, Quan Sun, Jia Wen, Cooper Beaman, Xiekui Cui, Yun Li, Wei Wang, Ming Hu, Bing Ren, Yin Shen
Self-assembly vascularized human cardiac organoids model cardiac diseases in petri dishes and in mice
Qixing Zhong, Yao He, Li Teng, Yinqian Zhang, Ting Zhang, Yinbing Zhang, Qinxi Li, Bangcheng Zhao, Daojun Chen, Zhihui Zhong
Connexin 41.8 mediates the correct temporal induction of haematopoietic stem and progenitor cells
Tim Petzold, Masakatsu Watanabe, Julien Y. Bertrand
Investigating the developmental onset of regenerative potential in the annelid Capitella teleta
Alicia A. Boyd, Elaine C. Seaver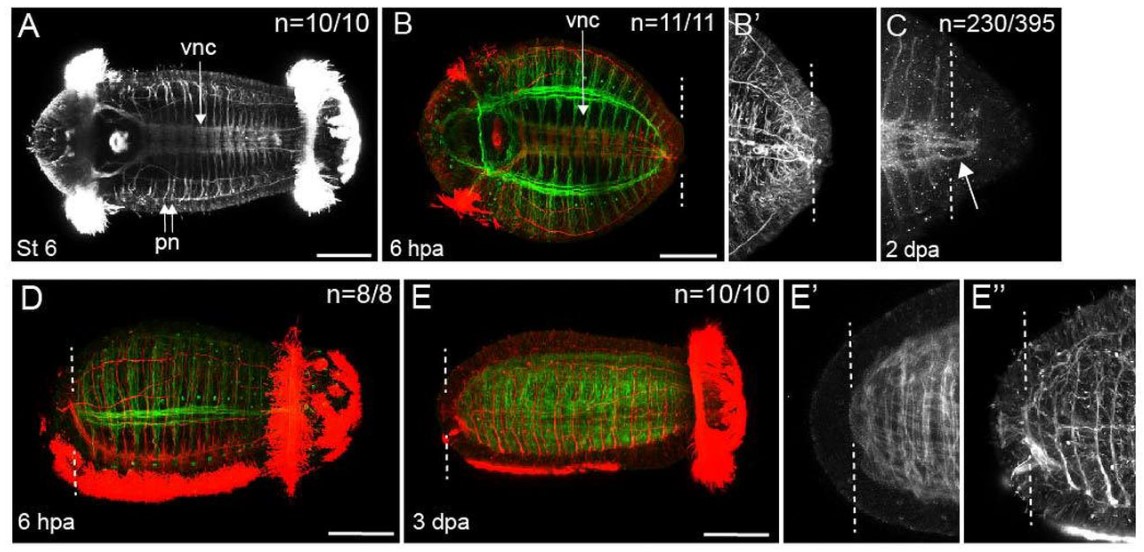 Orchestration of pluripotent stem cell genome reactivation during mitotic exit
Silja Placzek, Ludovica Vanzan, David M. Suter
| Plant development
Nutrient levels control root growth responses to high ambient temperature in plants
Sanghwa Lee, Julia Showalter, Ling Zhang, Gaëlle Cassin-Ross, Hatem Rouached, Wolfgang Busch
Does late water deficit induce root growth or senescence in wheat?
Kanwal Shazadi, John T. Christopher, Karine Chenu
NAC1 directs CEP1-CEP3 peptidase expression and modulates root hair growth in Arabidopsis
Diana R. Rodríguez-García, Yossmayer del Carmen Rondón Guerrero, Lucía Ferrero, Andrés Hugo Rossi, Esteban A. Miglietta, Ariel A. Aptekmann, Eliana Marzol, Javier Martínez Pacheco, Mariana Carignani, Victoria Berdion Gabarain, Leonel E. Lopez, Gabriela Díaz Dominguez, Cecilia Borassi, José Juan Sánchez-Serrano, Lin Xu, Alejandro D. Nadra, Enrique Rojo, Federico Ariel, José M. Estevez
BrrRCO, encoding a homeobox protein, is involved in leaf lobe development in Brassica rapa
Pan Li, Tongbing Su, Yudi Wu, Hui Li, Limin Wang, Fenglan Zhang, Shuancang Yu, Zheng Wang
ZmPILS6 is an auxin efflux carrier required for maize root morphogenesis
Craig L. Cowling, Arielle L. Homayouni, Jodi B. Callwood, Maxwell R. McReynolds, Jasper Khor, Haiyan Ke, Melissa A. Draves, Katayoon Dehesh, Justin W. Walley, Lucia C. Strader, Dior R. Kelley
Melatonin induces endoreduplication through oxidative DNA-damage triggering lateral root formation in onions
Sukhendu Maity, Rajkumar Guchhait, Kousik Pramanick
Spatiotemporally distinct responses to mechanical forces shape the developing seed of Arabidopsis
Amelie Bauer, Camille Bied, Adrien Delattre, Gwyneth Ingram, John F Golz, Benoit Landrein
Chitosan stimulates root hair callose deposition and inhibits root hair growth
Matēj Drs, Samuel Haluška, Eliška Škrabálková, Pavel Krupař, Andrea Potocká, Lucie Brejšková, Karel Muller, Natalia Serrano, Aline Voxeur, Samantha Vernhettes, Jitka Ortmannová, George Caldarescu, Matyas Fendrych, Martin Potocký, Viktor Žárský, Tamara Pečenková
A pectin-binding peptide with a structural and signaling role in the assembly of the plant cell wall
Sebastjen Schoenaers, Hyun Kyung Lee, Martine Gonneau, Elvina Faucher, Thomas Levasseur, Elodie Akary, Naomi Claeijs, Steven Moussu, Caroline Broyart, Daria Balcerowicz, Hamada AbdElgawad, Andrea Bassi, Daniel Santa Cruz Damineli, Alex Costa, Jose A Feijo, Celine Moreau, Estelle Bonnin, Bernard Cathala, Julia Santiago, Herman Hofte, Kris Vissenberg
Calcium regulation of the Arabidopsis Na+/K+ transporter HKT1;1 improves seed germination under salt stress
Ancy E.J. Chandran, Aliza Finkler, Tom Aharon Hait, Yvonne Kiere, Sivan David, Metsada Pasmanik-Chor, Doron Shkolnik
An ancient role for the CYP73 gene family in t-cinnamic acid 4-hydroxylation, phenylpropanoid biosynthesis and embryophyte development
Samuel Knosp, Lucie Kriegshauser, Kanade Tatsumi, Ludivine Malherbe, Gertrud Wiedemann, Bénédicte Bakan, Takayuki Kohchi, Ralf Reski, Hugues Renault

Distinct clades of TELOMERE REPEAT BINDING transcriptional regulators interplay to regulate plant development
Simon Amiard, Léa Feit, Lauriane Simon, Samuel Le Goff, Loriane Loizeau, Léa Wolff, Falk Butter, Clara Bourbousse, Fredy Barneche, Christophe Tatout, Aline. V. Probst
The Auxin Response Factor ARF27 is required for maize root morphogenesis
Linkan Dash, Maxwell R. McReynolds, Melissa A. Draves, Rajdeep S. Khangura, Rebekah L. Muench, Jasper Khor, Jodi B. Callwood, Craig L. Cowling, Ludvin Mejia, Michelle G. Lang, Brian P. Dilkes, Justin W. Walley, Dior R. Kelley
Overexpression of tomato SlBBX16 and SlBBX17 impacts fruit development and GA biosynthesis
Valentina Dusi, Federica Pennisi, Daniela Fortini, Alejandro Atarès, Stephan Wenkel, Barbara Molesini, Tiziana Pandolfini
Growth directions and stiffness across cell layers determine whether tissues stay smooth or buckle
Avilash S. Yadav, Lilan Hong, Patrick M. Klees, Annamaria Kiss, Xi He, Iselle M. Barrios, Michelle Heeney, Anabella Maria D. Galang, Richard S. Smith, Arezki Boudaoud, Adrienne H.K. Roeder
Water fluxes contribute to growth patterning in shoot meristems
Juan Alonso-Serra, Ibrahim Cheddadi, Annamaria Kiss, Guillaume Cerutti, Claire Lionnet, Christophe Godin, Olivier Hamant
A low-cost and open-source imaging platform reveals spatiotemporal insight into Arabidopsis leaf elongation and movement
Lisa Oskam, Basten L. Snoek, Chrysoula K. Pantazopoulou, Hans van Veen, Sanne E. A. Matton, Rens Dijkhuizen, Ronald Pierik
Cell Fate Programming by Transcription Factors and Epigenetic Machinery in Stomatal Development
Ao, Andrea Mair, Juliana L. Matos, Macy Vollbrecht, Shou-Ling Xu, Dominique C. Bergmann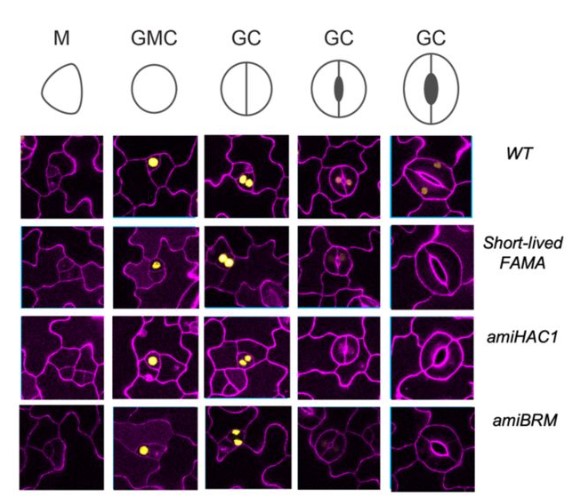 | Evo-devo
Craniofacial diversity across Danionins and the effects of TH status on craniofacial morphology of two Danio species
Stacy V Nguyen, Rachel S Lee, Emma Mohlmann, Gabriella Petrullo, John Blythe, Isabella Ranieri, Sarah McMenamin
Comparative genomics of two closely related coral species with different spawning seasons reveals genomic regions possibly associated with gametogenesis
Shiho Takahashi-Kariyazono, Akira Iguchi, Yohey Terai
Clearwing butterflies challenge the thermal melanism hypothesis
Violaine Ossola, Fabien Pottier, Charline Pinna, Katia Bougiouri, Aurélie Tournié, Anne Michelin, Christine Andraud, Doris Gomez, Marianne Elias
A mathematical framework for evo-devo dynamics
Mauricio González-Forero
Conserved switch genes regulate a novel cannibalistic morph after whole genome duplication
Sara Wighard, Ralf J. Sommer, Hanh Witte
The role of heterochronic gene expression and regulatory architecture in early developmental divergence
Nathan D. Harry, Christina Zakas
Sox21b underlies the rapid diversification of a novel male genital structure between Drosophila species
Amber M. Ridgway, Emily Hood, Javier Figueras Jimenez, Maria D. S. Nunes, Alistair P. McGregor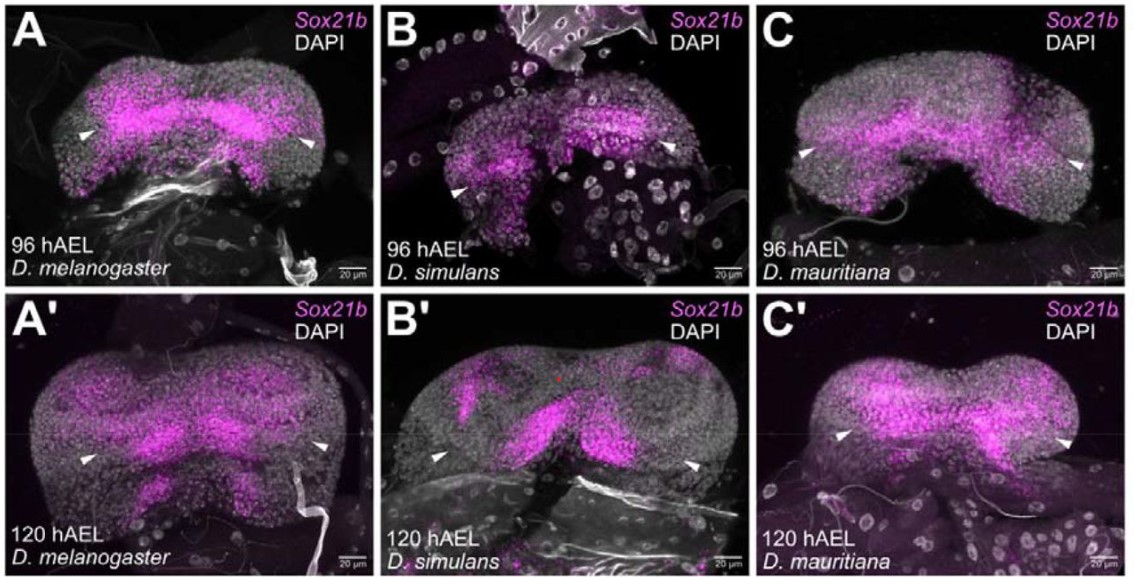 Evo-devo dynamics of hominin brain size
Mauricio González-Forero
Evolution of parent-of-origin effects on placental gene expression in house mice
Fernando Rodriguez-Caro, Emily C. Moore, Jeffrey M. Good
Cell Biology
Vertical transmission of maternal DNA through extracellular vesicles modulates embryo bioenergetics during the periconceptional period
David Bolumar, Javier Moncayo-Arlandi, Javier Gonzalez-Fernandez, Ana Ochando, Inmaculada Moreno, Ana Monteagudo-Sanchez, Carlos Marin, Antonio Diez, Paula Fabra, Miguel Ángel Checa, Juan José Espinos, David K. Gardner, Carlos Simon, Felipe Vilella
Robo1 loss has pleiotropic effects on postnatal development and survival
Nicole A. Kirk, Ye Eun Hwang, Seul Gi Lee, Kee-Beom Kim, Kwon-Sik Park
Actomyosin-mediated apical constriction promotes physiological germ cell death in C. elegans
Tea Kohlbrenner, Simon Berger, Tinri Aegerter-Wilmsen, Ana Laranjeira, Andrew deMello, Alex Hajnal
Fatty acid amide hydrolase drives adult mammary gland development by promoting luminal cell differentiation
Isabel Tundidor, Marta Seijo-Vila, Sandra Blasco-Benito, María Rubert-Hernández, Gema Moreno-Bueno, Laura Bindila, Rubén Fernández de la Rosa, Manuel Guzmán, Cristina Sánchez, Eduardo Pérez-Gómez
Purine biosynthesis pathways are required for myogenesis in Xenopus laevis
Maëlle Duperray, Elodie Henriet, Christelle Saint-Marc, Eric Boué-Grabot, Bertrand Daignan-Fornier, Karine Massé, Benoît Pinson
Cyclin B3 is a dominant fast-acting cyclin that drives rapid early embryonic mitoses
Pablo Lara-Gonzalez, Smriti Variyar, Jacqueline Budrewicz, Aleesa Schlientz, Neha Varshney, Andrew Bellaart, Shabnam Moghareh, Anh Cao Ngoc Nguyen, Karen Oegema, Arshad Desai
Neuronal IL-17 controls C. elegans developmental diapause through CEP-1/p53
Abhishiktha Godthi, Sehee Min, Das Srijit, Johnny Cruz-Corchado, Andrew Deonarine, Kara Misel-Wuchter, Priya D. Issuree, Veena Prahlad
Reorganization of Septin structures regulates early myogenesis
Vladimir Ugorets, Paul-Lennard Mendez, Dmitrii Zagrebin, Giulia Russo, Yannic Kerkhoff, Tim Herpelinck, Georgios Kotsaris, Jerome Jatzlau, Sigmar Stricker, Petra Knaus
Modelling
A model-based assessment of adaptation in embryonic life histories of annual killifish
Tom JM Van Dooren
How a reaction-diffusion signal can control spinal cord regeneration in axolotls: A modelling study
Valeria Caliaro, Diane Peurichard, Osvaldo Chara
Spectral decomposition unlocks ascidian morphogenesis
Joel Dokmegang, Emmanuel Faure, Patrick Lemaire, Edwin Munro, Madhav Mani
Intra-leaf modeling of Cannabis leaflet shape produces synthetic leaves that predict genetic and developmental identities
Manica Balant, Teresa Garnatje, Daniel Vitales, Oriane Hidalgo, Daniel H. Chitwood
Causal models of human growth and their estimation using temporally-sparse data
John A. Bunce, Catalina I. Fernández, Caissa Revilla-Minaya
Morphogen gradients can convey position and time in growing tissues
Roman Vetter, Dagmar Iber
And Growth on Form? How tissue expansion generates novel shapes, colours and enhance biological functions of Turing colour patterns of Eukaryotes
Pierre Galipot
Tools & Resources
The Mediterranean mussel, Mytilus galloprovincialis, a novel model for developmental studies of mollusks
Angelica Miglioli, Marion Tredez, Manon Boosten, Camille Sant, Joao E. Carvalho, Philippe Dru, Laura Canesi, Michael Schubert, Remi Dumollard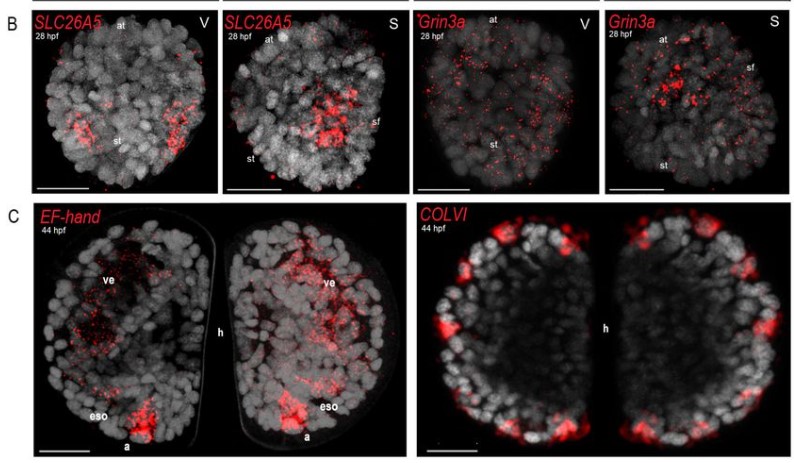 An Atlas of the Developing Drosophila Visual System Glia and Subcellular mRNA Localization of Transcripts in Single Cells
Amanda A. G. Ferreira, Claude Desplan
CONDITIONALLY MUTANT ANIMAL MODEL FOR INVESTIGATING THE INVASIVE TROPHOBLAST CELL LINEAGE
Khursheed Iqbal, Brandon Nixon, Benjamin Crnkovich, Esteban M. Dominguez, Ayelen Moreno-Irusta, Regan L. Scott, Ha T.H. Vu, Geetu Tuteja, Jay L. Vivian, Michael J. Soares
Screening for variable drug responses using human iPSC cohorts
Melpomeni Platani, Hao Jiang, Lindsay Davidson, Santosh Hariharan, Regis Doyonnas, Angus I. Lamond, Jason R. Swedlow
Volumetric trans-scale imaging of massive quantity of heterogeneous cell populations in centimeter-wide tissue and embryo
Taro Ichimura, Taishi Kakizuka, YuKi Sato, Keiko Itano, Kaoru Seiriki, Hitoshi Hashimoto, Hiroya Itoga, Shuichi Onami, Takeharu Nagai
Clonal and Scalable Endothelial Progenitor Cell Lines from Human Pluripotent Stem Cells
Jieun Lee, Hal Sternberg, Paola A. Bignone, James Murai, Nafees N. Malik, Michael D. West, Dana Larocca
Early spiral arteriole remodeling in the uterine-placental interface: a rat model
Sarah J. Bacon, Yuxi Zhu, Priyanjali Ghosh
Automated staging of zebrafish embryos with deep learning
Rebecca A. Jones, Matthew J. Renshaw, Danelle Devenport, David J. Barry
A simplified and rapid in situ hybridization protocol for planarians
Andrew J. Gaetano, Ryan S. King
Data-Driven 3D Shape Analysis Reveals Cell Shape-Fate Relationships in Zebrafish Lateral Line Neuromasts
Madeleine N. Hewitt, Iván A. Cruz, David W. Raible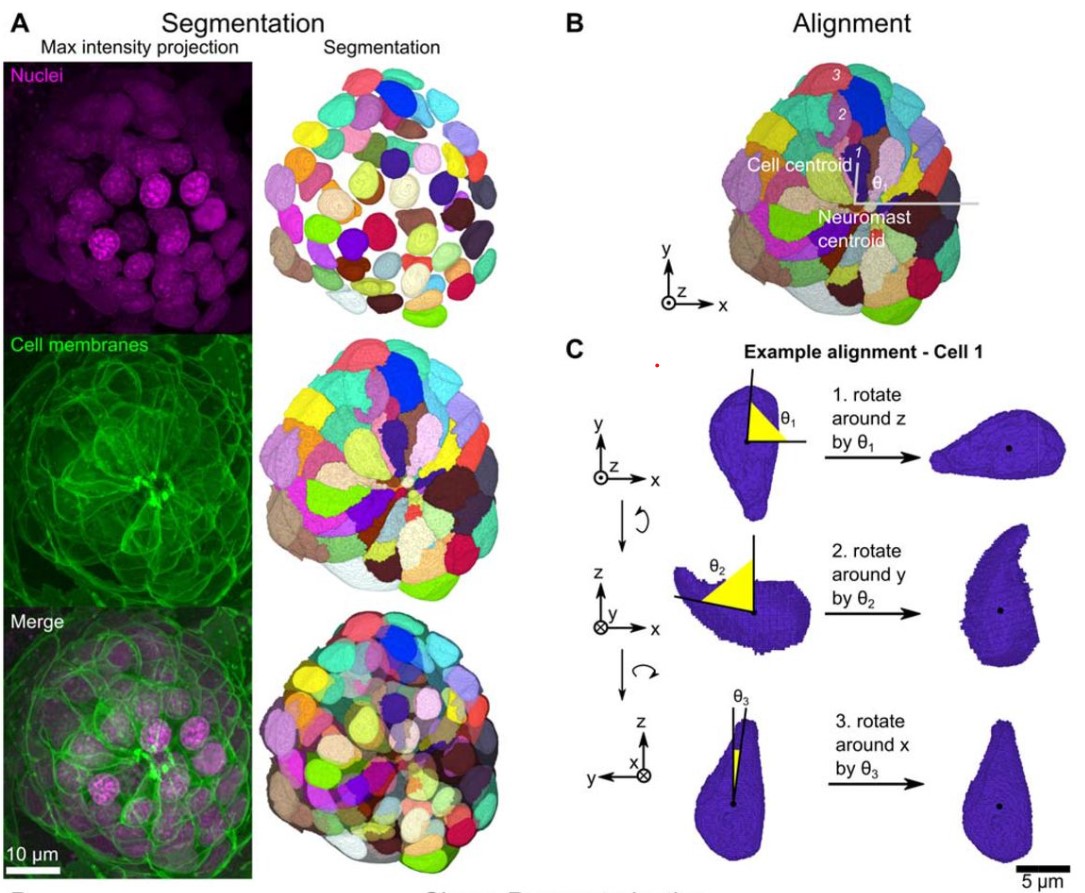 CartoCell, a high-content pipeline for 3D image analysis, unveils cell morphology patterns in epithelia.
Jesús A. Andrés-San Román, Carmen Gordillo-Vázquez, Daniel Franco-Barranco, Laura Morato, Cecilia H. Fernández-Espartero, Gabriel Baonza, Antonio Tagua, Pablo Vicente-Munuera, Ana M. Palacios, Maria P. Gavilan, Fernando Martín-Belmonte, Valentina Annese, Pedro Gómez-Gálvez, Ignacio Arganda-Carreras, Luis M. Escudero
Research practice & education
Is N-Hacking Ever OK? A simulation-based inquiry
Pamela Reinagel
ChatGPT applications in Academic Research: A Review of Benefits, Concerns, and Recommendations
Adhari AlZaabi, Amira ALAmri, Halima Albalushi, Ruqaya Aljabri, AbdulRahman AalAbdulsalam
Gender differences in submission behavior exacerbate publication disparities in elite journals
Isabel Basson, Chaoqun Ni, Giovanna Badia, Nathalie Tufenkji, Cassidy R. Sugimoto, Vincent Larivière
ChatGPT identifies gender disparities in scientific peer review
Jeroen P. H. Verharen
Analytical code sharing practices in biomedical research
Nitesh Kumar Sharma, Ram Ayyala, Dhrithi Deshpande, Yesha M Patel, Viorel Munteanu, Dumitru Ciorba, Andrada Fiscutean, Mohammad Vahed, Aditya Sarkar, Ruiwei Guo, Andrew Moore, Nicholas Darci-Maher, Nicole A Nogoy, Malak S. Abedalthagafi, Serghei Mangul
"Important enough to show the world": Using Authentic Research Opportunities and Micropublications to Build Students' Science Identities
Lisa DaVia Rubenstein, Kelsey A. Woodruff, April M. Taylor, James B. Olesen, Philip J. Smaldino, Eric M. Rubenstein
The faculty-to-faculty mentorship experience: a survey on challenges and recommendations for improvements
Sarvenaz Sarabipour, Steven J Burgess, Natalie M Niemi, Christopher T Smith, Alexandre W Bisson Filho, Ahmed Ibrahim, Kelly Clark
Graduate student mentorship as a target for diversifying the biological sciences
Reena Debray, Emily Dewald-Wang, Katherine Ennis
A framework for decolonising and diversifying biomedical sciences curricula: rediscovery, representation and readiness
Tianqi Lu, Zafar I. Bashir, Alessia Dalceggio, Caroline M. McKinnon, Lydia Miles, Amy Mosley, Bronwen R. Burton, Alice Robson