Established by the British Society for Developmental Biology in 2014, The Gurdon/The Company of Biologists Summer Studentship scheme provides financial support to allow highly motivated undergraduate students an opportunity to engage in practical research during their summer vacation. Each year, ten successful applicants spend eight weeks in the research laboratories of their choices, and the feedback we receive is outstanding. You can read accounts from previous years here. If you're interested in applying or hosting a student in 2020, applications need to be in by the end of March.
Our seventh report from the class of 2019 comes from Nivetha Manobharath (UCL) who studied macrophages during kidney development in David Long's lab at UCL Great Ormond Street Institute of Child Health.
My interest in research and the lack of lab experience I had increased my thirst for a laboratory based summer studentship. Successfully this summer, I was awarded the BSDB Gurdon Studentship to work in Dr David Long's lab at UCL Great Ormond Street Institute of Child Health. As I truly believe that research and medicine go hand-in-hand, I saw this as a first step towards a career as a clinician-scientist.
As an undergraduate medical student, I had zero lab experience and everything I learnt was new to me. Day to day, I was supervised in the lab by an MB/PhD student and previous Gurdon Studentship awardee, Daniyal Jafree. I was surprised that from the very first day, I started getting my hands on. It took me a good 30 seconds to pipette up 1 ml of liquid; I became quicker as weeks went by. It was even a struggle at the beginning to get my brain thinking of volume in terms of microlitres, rather than millilitres!
I had the privilege to work on a topic that has only received attention in recent years; understanding the role of macrophages during kidney development. For a very long time macrophages were only thought of as part of the immune system and that they all originated from monocytes. But this is not the complete story because the macrophage subpopulation is heterogeneous (they don't just originate from monocytes) and very little is known about the different populations and their functions.
Of all the techniques I learnt in the lab, one of my favourite techniques turned out to be the most challenging. I learnt how to dissect mouse embryonic kidneys under a microscope. I started by trying every tool imaginable, ranging from syringe needles to scalpels to sharp or blunt forceps and scissors. After a few unsuccessful attempts (mistaking the stomach for the kidney!) I learnt how to spot the kidney and eventually became proficient enough to help the research team in other dissections for some big experiments. I also tried my hand at flow cytometry to discriminate different macrophage populations within the developing kidney; another technique which I became independent with.
Perhaps the coolest of the techniques I got to try was imaging. By treating mouse embryonic kidneys with a cocktail of chemicals, adding specific and optically clearing the kidneys (making them transparent!) I could take three-dimensional pictures of entire mouse embryonic kidneys using confocal imaging. Each experiment took up to a week, and it was occasionally frustrating as things didn't always go to plan. For example, after a big experiment that I was really excited to see the images for, I was heartbroken to look under the microscope and see a big bubble in the middle of the kidney, making it almost impossible to get any useful images. This experience taught me that sometimes lab research can be frustrating and unpredictable. However, sometimes the imaging came out quite well, and I captured some really detailed pictures of the blood vasculature in developing mouse kidneys (Picture 1). Using this technique, I found a really unexpected phenotype in one of the lab's mouse models, something that is apparently still puzzling the lab to this day! Apart from learning laboratory techniques and analysis, I also had the opportunity to present at one of Dr Long's bimonthly lab meetings. Scary at first, but looking back, it was an invaluable experience. I got really useful feedback that I look forward to trying out in my future presentations.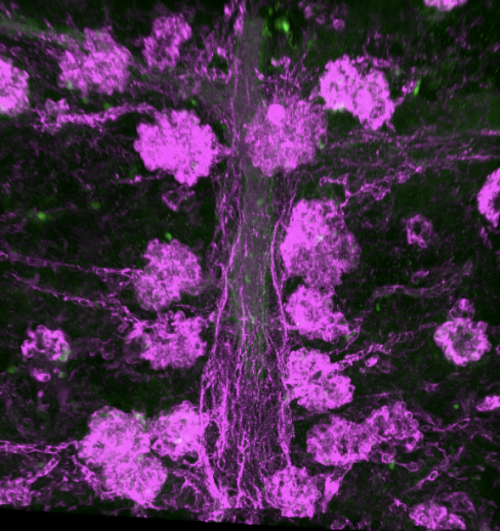 I was very lucky to have worked in Dr Long's lab. Dr Long always found the time in between his busy schedule to check up on my progress, and to answer any questions that I had. I don't think I have ever experienced eight weeks fly by that fast, and this is largely thanks to Daniyal and everyone in the lab, all who created such friendly and supportive environment. Towards the end of my placement, we even paid a trip to the bowling lanes! (Picture 2). Overall, this BSDB studentship has given me an insight into what working in a scientific laboratory is really like, and a taster of what to expect in the career of a research scientist. I highly recommend any undergraduate student, especially those with little or no lab experience, to take up this fantastic opportunity.