Development is pleased to welcome submissions for an upcoming special issue on 'Development at the single cell level'. This special issue aims to showcase the best research in stem cell and developmental biology, building on the rapidly evolving tools of single cell analysis. The issue will be guest-edited by Allon Klein and Barbara Treutlein, working alongside our team of academic editors.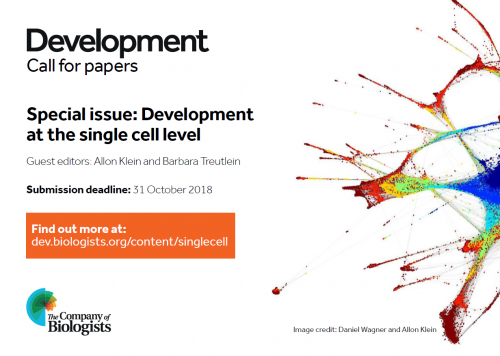 Embryonic development and stem cell differentiation are inherently multicellular phenomena, and every cell can have an important story to tell. The analysis of developmental and stem cell biology at single cell resolution has a long and distinguished history, for example in tracing the lineage of tissues, defining concepts such as commitment, and revealing the existence of adult stem cells. More recently, innovations in single cell transcriptomic, genomic, live imaging and quantitative approaches have opened up new questions about the nature of developmental and stem cell hierarchies, the repertoire of differentiating cell types in tissues and the functional and mechanistic basis of cell types. These new analytical tools are rapidly evolving. They include not just descriptive methods but also fate-tracing and perturbative approaches. They hold promise not just in providing a deeper understanding of cell fate specification and commitment in a native context, but also for understanding and controlling differentiation, de-differentiation and trans-differentiation in vitro and in disease contexts.
Development is the natural home for papers applying single cell analytical and perturbative methods to gain insights into developmental biology and stem cells. We invite you to showcase your breakthrough research that has either been driven by the creative application of single cell approaches; or has created a novel single cell methodology for developmental and stem cell systems.
We also welcome proposals for review-type articles for this special issue. Please send us a short synopsis detailing the scope and structure of the proposed article, and including key references. The deadline for submission of proposals is August 15th and reviews must be submitted by October 31st.
The issue will be published in mid-2019 (note that, in our new 'continuous publication' model, we will be able to publish your article as soon as it is accepted; you will not have to wait for the rest of the issue to be ready) and the deadline for submission of articles is October 31st*. This special issue will be widely promoted online and at key global conferences – guaranteeing maximum exposure for your work. Please refer to our author guidelines for information on preparing your manuscript for Development, and submit via our online submission system. Please highlight in your cover letter that the submission is to be considered for this special issue. Prospective authors are welcome to send presubmission enquiries, or direct any queries, to dev.specialissue@biologists.com
*Please note that not all articles accepted for publication will be included in the special issue; they may instead by published in earlier or later issues of the journal.
Why choose Development? 
Submissions handled by expert academic Editors
Competitive decision speeds and rapid publication
Format-free submission
Strong commitment at first decision – over 95% of invited revisions accepted
Free to publish – no page or colour charges, no hidden fees
Easy one-click transfer option to Biology Open
Not-for-profit publisher