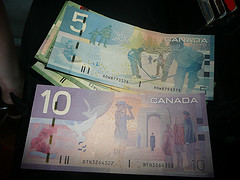 Some Canadian postdocs are awaiting the next academic year with bated breath: will they earn less than they did during their PhD, or twice as much as their colleagues?
Canada's 2010 research budget, announced this past spring, was full of surprises for the thousands of postdoctoral researchers in the country. To promote top-level talent, the government put aside $45 million for the next five years to award a select group of postdocs with $70,000 per year. These Banting post-doctoral fellowships are almost twice as much as the average Canadian postdoc salary of approximately $35,000-$40,000. Applications for the prestigious awards have opened on August 10, and are being accepted until November 3, 2010. But the lucky few who get the top awards will also receive another, slightly less pleasant, surprise: postdoctoral fellowships in Canada are no longer tax exempt. Even postdocs who previously paid no taxes on the funding they received, will be charged next year. Until now, postdoctoral stipends often fell under the same – tax-free – umbrella as student scholarships. Surprisingly, this now means that a fully-funded PhD student can end up with more money than they will receive as a postdoc paying taxes on a basic postdoc fellowship!
With such mixed funding news, reactions from young Canadian researchers have been all across the board. What do you think: is the $45 million well spent on the new competitive awards (boosting the international prestige of these researchers, and perhaps being a way out of the previously discussed issue of "too many postdocs"), or would you rather have seen a continuation of the tax exemption for postdoc stipends? The Banting fellowships are open to international applicants, too: would knowing that there was a very small chance of a competitive postdoc salary lure foreign researchers to Canada, or would it succeed in keeping Canadian graduates from seeking top funding elsewhere in the world?
(image by lsiegert on Flickr)