We have a winner! This colourful image quickly took the lead, and stayed there. It will appear on the cover of Development soon.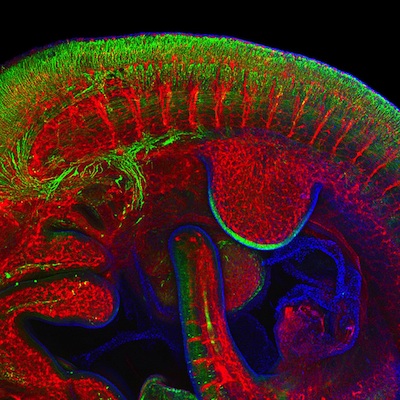 This confocal image (extended focus Z stack) of an E10.5 day mouse embryo was taken by Joyce Pieretti (University of Chicago), Manuela Truebano (Plymouth University), Saori Tani (Kobe University) and Daniela Di Bella (Fundacion Instituto Leloir) Congratulations!
The runners-up were an image of a chick ectopic limb, taken by Elsie Place (MRC National Institute of Medical Research); a widefield microscopy image of a mouse embryo by Eduardo Zattara (University of Maryland, College Park)
and an image of Xenopus embryo epidermis by Andrew Mathewson (Fred Hutchinson Cancer Research Center).
We have some other exciting image news coming up. Stay tuned!