Our latest monthly trawl for developmental biology (and other cool) preprints. Let us know if we missed anything.
---
In their end of year round up, Science magazine picked 'Biology preprints take off' as a runner up 2018 Breakthrough of the Year, and ran a quote from Ron Vale –
"It's a major cultural change in communication."
In compiling this list over 2017 (which month by month gets longer and longer), it's been exciting to witness the buzz around preprints grow and watch this cultural change take place. 
As for December, two organs seem to predominate – brains and kidneys! Also plenty of beautiful evo-devo and cell biology work, a good chunk of modelling, and the Drosophilists dream – a machine that collects your virgins for you!
The preprints were hosted on bioRxiv, PeerJ, and arXiv. Use these links to get to the section you want:
| Stem cells, regeneration & disease modelling
Developmental biology
| Patterning & signalling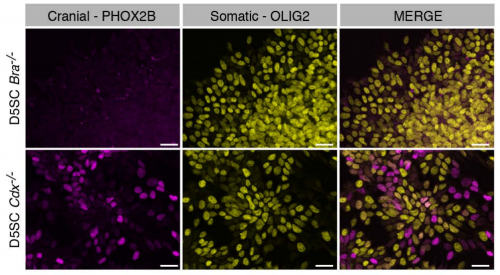 Regionalization of the nervous system requires axial allocation prior to neural lineage commitment. Vicki Metzis, Sebastian Steinhauser, Edvinas Pakanavicius, Mina Gouti, Despina Stamataki, Robin Lovell-Badge, Nicholas M Luscombe, James Briscoe
Cdx4 regulates the onset of spinal cord neurogenesis. Piyush Joshi, Andrew J. Darr, Isaac Skromne
FGFs are orchestra conductors of Shh-dependent oligodendroglial fate specification in the ventral spinal cord. Marie-Amelie Farreny, Eric Agius, Sophie Bel-Vialar, Nathalie Escalas, Nagham Khouri-Farah, Chadi Soukkarieh, Fabienne Pituello, Philippe Cochard, Cathy Soula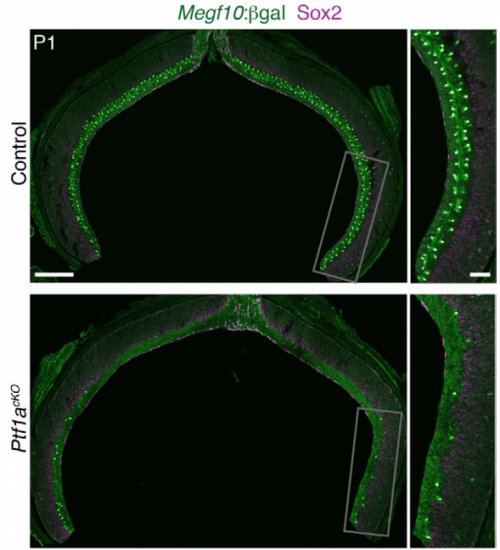 Formation of retinal direction-selective circuitry initiated by starburst amacrine cell homotypic contact. Thomas A Ray, Suva Roy, Christopher Kozlowski, Jingjing Wang, Jon Cafaro, Samuel Hulbert, Christopher V E Wright, Greg D Field, Jeremy N Kay
In vivo clonal analysis reveals spatiotemporal regulation of thalamic nucleogenesis. Samuel Wong, Earl Parker Scott, Ella Borgenheimer, Madeline Freeman, Guo-li Ming, Qing-Feng Wu, Hongjun Song, Yasushi Nakagawa
Correct laminar positioning in the neocortex influences proper dendritic and synaptic development. Fanny Sandrine Martineau, Surajit Sahu, Vanessa Plantier, Emmanuelle Buhler, Fabienne Schaller, Lauriane Fournier, Genevieve Chazal, Hiroshi Kawasaki, Alfonso Represa, Francoise Watrin, Jean-Bernard Manent
Foxd1 is required for terminal differentiation of anterior hypothalamic neuronal subtypes. Elizabeth A Newman, Jun Wan, Jie Wang, Jiang Qian, Seth Blackshaw
The RacGAP βChimaerin is essential for cerebellar granule cell migration. Jason A. Estep, Wenny Wong, Yiu-Cheung E. Wong, Brian M. Loui, Martin M. Riccomagno
Rap2 and TNIK control Plexin-dependent synaptic tiling in C. elegans. Xi Chen, Akihiro CE Shibata, Nicholas L Weilinger, Ardalan Hendi, Mizuki Kurashina, Ethan Fortes, Brian MacVicar, Hideji Murakoshi, Kota Mizumoto

Individual connectomes are unique and stable in the developing brain from adolescence to young adulthood. Corey Horien, Xilin Shen, Dustin Scheinost, R. Todd Constable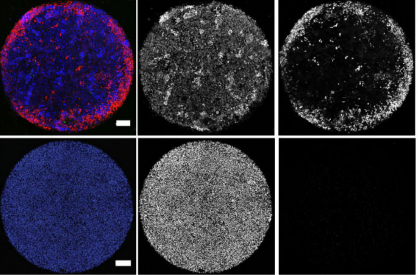 Micropattern differentiation of mouse pluripotent stem cells recapitulates embryo regionalized fates and patterning. Anna-Katerina Hadjantonakis, Sophie Morgani, Eric D Siggia, Jakob J Metzger, Jenny Nichols
Self-organization of a functional human organizer by combined WNT and NODAL signalling. Iain Martyn, Tatiane Kanno, Albert Ruzo, Eric Siggia, Ali Brivanlou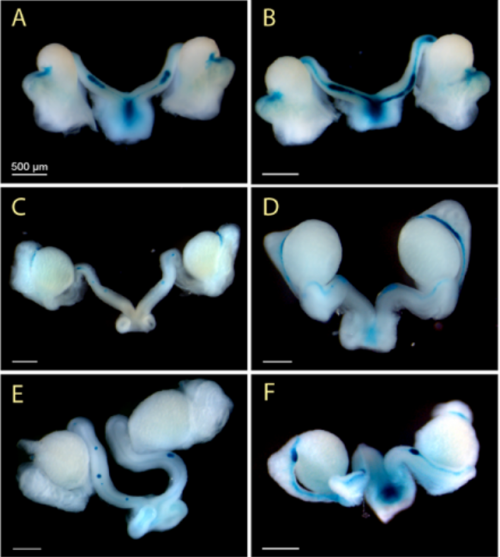 Osterix functions downstream of anti-Mullerian hormone signaling to regulate Mullerian duct regression. Rachel Mullen, Ying Wang, Bin Liu, Emma L Moore, Richard R Behringer
Cardiac directed differentiation using small molecule Wnt modulation at single-cell resolution. Clayton Friedman, Quan Nguyen, Samuel Lukowski, Abbigail Helfer, Han Chiu, Holly Voges, Shengbao Suo, Jing-Dong Han, Pierre Osteil, Guangdun Peng, Naihe Jing, Greg Ballie, Anne Senabouth, Angelika Christ, Timothy Bruxner, Charles Murry, Emily Wong, Jun Ding, Yuliang Wang, James Hudson, Ziv Bar-Joseph, Patrick Tam, Joseph Powell, Nathan Palpant
Growth control through regulation of insulin-signaling by nutrition-activated steroid hormone. Kurt Buhler, Jason Clements, Mattias Winant, Veerle Vulsteke, Patrick Callaerts
Neurohormonal signalling controls insulin sensitivity and specificity in C. elegans. Nicholas Burton, Vivek Dwivedi, Kirk Burkhart, Rebecca Kaplan, Ryan Baugh, H. Robert Horvitz
Information Flow in Planar Polarity. Katherine H. Fisher, Alexander George Fletcher, David I. Strutt
Autophagy-dependent gut-to-yolk biomass conversion generates visceral polymorbidity in aging C. elegans. Marina Ezcurra, Alexandre Benedetto, Thanet Sornda, Ann Gilliat, Catherine Au, Qifeng Zhang, Sophie van Schelt, Alexandra L Petrache, Yila de la Guardia, Shoshana Bar-Nun, Eleonor Tyler, Michael J Wakelam, David Gems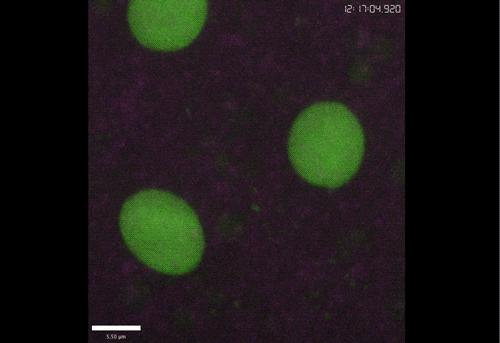 Rif1 prolongs the embryonic S phase at the Drosophila mid-blastula transition. Charlers A Seller, Patrick H O'Farrell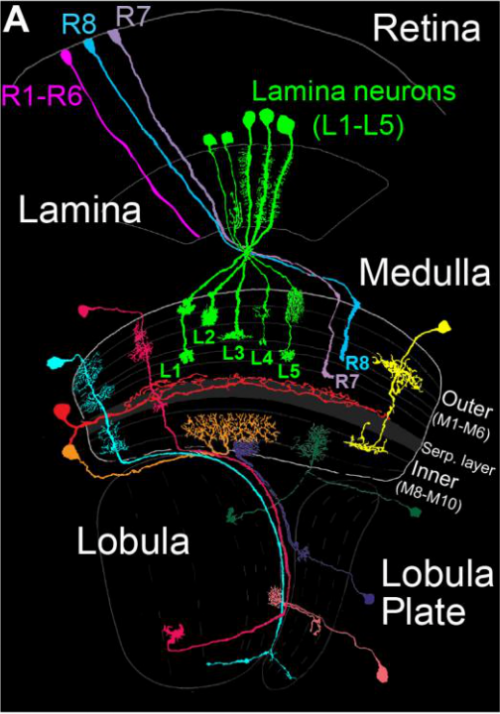 Drosophila Fezf coordinates laminar-specific connectivity through cell-intrinsic and cell-extrinsic mechanisms. Matthew Pecot, Ivan Santiago, Jing Peng, Curie Ahn, Burak Gur, Chundi Xu, Aziz Karakhanyan, Marion Silies
An eye-targeted double-RNAi screen reveals negative roles for the Archipelago ubiquitin ligase and CtBP in Drosophila Dpp BMP2/4 signaling. Nadia Eusebio, Paulo S Pereira
Cytokine receptor-Eb1 interaction couples cell polarity and fate during asymmetric cell division. Yukiko M Yamashita, Cuie Chen, Aghapi Mordovanakis, Alan J Hunt, Michael Mayer, Ryan Cummings, David Sept
A role for the Tgf-β/Bmp co-receptor Endoglin in the molecular oscillator that regulates the hair follicle cycle. Maria Inmaculada Calvo Sanchez, Elisa Carrasco, Sandra Fernandez-Martos, Gema Moreno-Bueno, Carmelo Bernabeu, Miguel Quintanilla, Jesus Espada
Mir-132 controls beta cell proliferation and survival in mouse model through the PTEN/AKT/FOXO3 signaling. HASSAN MZIAUT, Georg Henniger, Katharina Ganss, Sebastian Hempel, Steffen Wolk, Johanna McChord, Kamal Chowdhury Chowdhury, Klaus Peter Knoch, Jurgen Weitz, Michele Solimena, Stephan Kersting
mTORC1 activates PASK-Wdr5 signaling to epigenetically connect the nutrient status with myogenesis. Chintan Kikani, Xiaoying Wu, Sarah Fogarty, Seong Anthony Woo Kang, Noah Dephoure, Steve Gygi, David Sabatini, Jared Rutter
Shared Genetic Requirements for Atf5 Translation in the Vomeronasal Organ and Main Olfactory Epithelium. Ryan P Dalton
Expression pattern of Wif 1 during development of anorectum in fetal rats with anorectal malformations. Xiao Bing Tang, Huan Li, Jin Zhang, Wei Lin Wang, Zheng Wei Yuan, Yu Zuo Bai
Synthetic hormone-responsive transcription factors can monitor and re-program plant development. Arjun Khakhar, Alexander Leydon, Andrew Lemmex, Eric Klavins, Jennifer Nemhauser

Auxin regulates endosperm cellularization in Arabidopsis. Duarte D. Figueiredo, Rita A. Batista, Claudia Kohler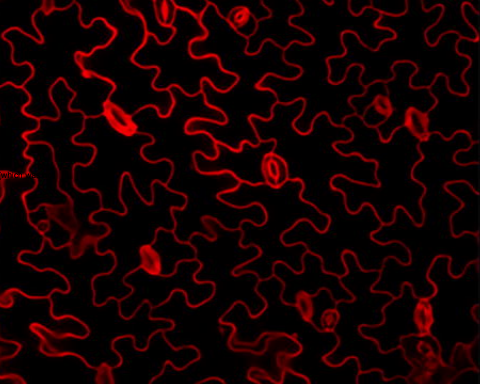 A Genetic Pathway Composed of EDT1/HDG11, ERECTA, and E2Fa Loci Regulates Water Use Efficiency by Modulating Stomatal Density. Chengbin Xiang, Xiao-Yu Guo, Yao Wang, Ping Xu, Guo-Hua Yu, Li-Yong Zhang, Yan Xiong
Gene networks underlying faster flowering induction in response to far-red light. Maria Pazos Navarro, Federico M Ribalta, Bhavna Hurgobin, Janine S Croser, Parwinder Kaur
Human-specific NOTCH-like genes in a region linked to neurodevelopmental disorders affect cortical neurogenesis. Ian T Fiddes, Gerrald A Lodewijk, Meghan M Mooring, Colleen M Bosworth, Adam D Ewing, Gary L Mantalas, Adam M Novak, Anouk van den Bout, Alex Bishara, Jimi L Rosenkrantz, Ryan Lorig-Roach, Andrew R Field, Maximillian Haeussler, Lotte Russo, Aparna Bhaduri, Tomasz J Nowakowski, Alex A Pollen, Max L Dougherty, Xander Nuttle, Marie-Claude Addor, Simon Zwolinski, Sol Katzman, Arnold Kreigstein, Evan E Eichler, Sofie R Salama, Frank MJ Jacobs, David Haussler
High JNK following Ras/Rpr/Tak1 over-expression in eye discs of Drosophila reduces post-pupariation ecdysone via Dilp8 causing early pupal death. Mukulika Ray, Subhash C. Lakhotia
Non-cell autonomous Otx2 homeoprotein regulates visual cortex plasticity through Gadd45b. Jessica Apulei, Namsuk Kim, Damien Testa, Jérôme Ribot, David Morizet, Clémence Bernard, Laurent Jourdren, Corinne Blugeon, Ariel A. Di Nardo, Alain Prochiantz
Lhx2 regulates temporal changes in chromatin accessibility and transcription factor binding in retinal progenitor cells. Cristina Zibetti, Sheng Liu, Jun Wan, Jiang Qian, Seth Blackshaw
sFlt-1 (sVEGFR1) induces placental endoplasmic reticulum stress in trophoblast cell: implications for the complications in preeclampsia – an in vitro study. Sankat Mochan, Manoj Kumar Dhingra, Betsy Varghese, Sunil Kumar Gupta, Shobhit saxena, Pallavi Arora, Neerja Rani, Arundhati Sharma, Kalpana Luthra, Sadanand Dwivedi, Neerja Bhatla, Rani Kumar, Renu Dhingra
Combination of mitochondrial tRNA and OXPHOS mutation reduces lifespan and physical condition in aged mice. Gesine Reichart, Johannes Mayer, Tursonjan Tokay, Falko Lange, Cindy Johne, Simone Baltrusch, Markus Tiedge, Georg Fuellen, Saleh Ibrahim, Rudiger Kohling
Estrogen receptor inhibition enhances cold-induced adipocyte beiging and glucose sensitivity. Kfir Lapid, Ajin Lim, Eric D. Berglund, Jonathan M. Graff
| Morphogenesis & mechanics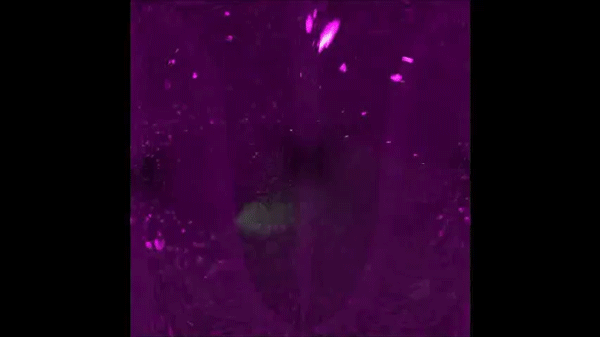 Continuous addition of progenitors forms the cardiac ventricle in zebrafish. Anastasia Felker, Karin D. Prummel, Anne M. Merks, Michaela Mickoleit, Eline C. Brombacher, Jan Huisken, Daniela Panakova, Christian Mosimann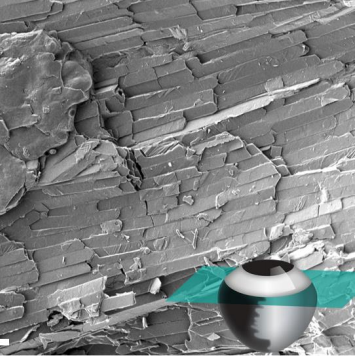 Development of High-Order Organization of Guanine-Based Reflectors Underlies the Dual Functionality of the Zebrafish Iris. Dvir Gur, Jan-David Nicolas, Vlad Brumfeld, Omri Bar-Elli, Dan Oron, Gil Levkowitz
Polarization of Myosin II refines tissue material properties to buffer mechanical stress. Maria Duda, Nargess Khalilgharibi, Nicolas Carpi, Anna Bove, Matthieu Piel, Guillaume Charras, Buzz Baum, Yanlan Mao
Engineering Human CNS Morphogenesis: Controlled Induction of Singular Neural Rosette Emergence. Gavin T Knight, Brady F Lundin, Nisha Iyer, Lydia MT Ashton, William A Sethares, Rebecca L Willett, Randolph Ashton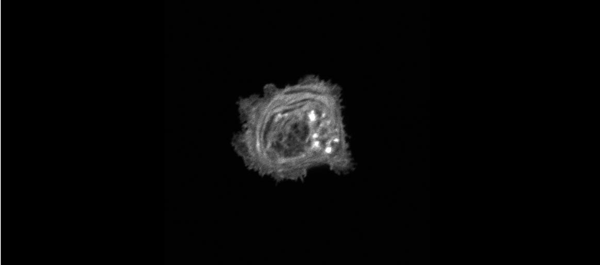 Muscle specific stress fibers give rise to sarcomeres and are mechanistically distinct from stress fibers in non-muscle cells. Aidan M Feinx, NIlay Taneja, Abigail C Neininger, Mike R Visetsouk, Benjamin R Nixon, Annabelle E Manalo, Jason R Becker, Scott W Crawley, David M Bader, Matthew J Tyska, Jennifer H Gutzman, Dylan T Burnette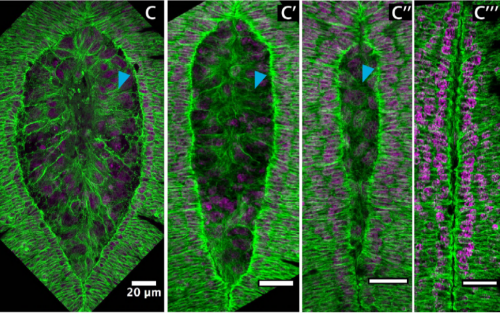 Two consecutive microtubule-based epithelial seaming events mediate dorsal closure in the scuttle fly Megaselia abdita. Juan Jose Fraire-Zamora, Johannes Jaeger, Jerome Solon
Nestin in immature embryonic neurons regulates axon growth cone morphology and Sema3a sensitivity. Christopher J Bott, Colin G Johnson, Chan Choo Yap, Noelle D Dwyer, Karen Newell-Litwa, Bettina Winckler
Cell-nonautonomous local and systemic responses to cell arrest enable long-bone catch-up growth. Alberto Rosello-Diez, Linda Madisen, Sebastien Bastide, Hongkui Zeng, Alexandra L Joyner
Quantitative morphological variation in the developing Drosophila wing. Alexis Matamoro-Vidal, Yunxian Huang, Isaac Salazar-Ciudad, Osamu Shimmi, David Houle
Dual spindle formation in zygotes keeps parental genomes apart in early mammalian embryos. Judith Reichmann, Bianca Nijmeijer, M. Julius Hossain, Manuel Eguren, Isabell Schneider, Antonio Z. Politi, M. Julia Roberti, Lars Hufnagel, Takashi Hiiragi, Jan Ellenberg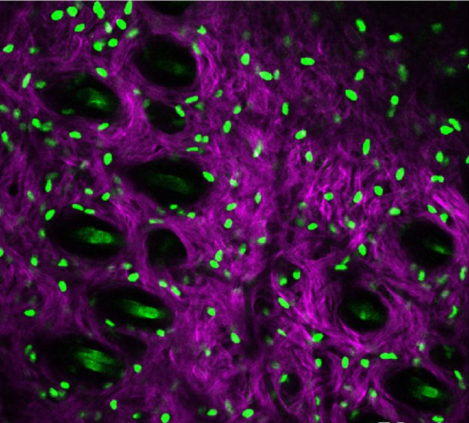 Fibroblast state switching orchestrates dermal maturation and wound healing. Emanuel Rognoni, Angela Oliveira Pisco, Toru Hiratsuka, Kalle Sipila, Julio Belmonte, Atefeh Mobasseri, Rui Dilao, Fiona Watt
Collective cell migration without proliferation: density determines cell velocity and wave velocity. Sham Tlili, Estelle Gauquelin, Brigitte Li, Olivier Cardoso, Benoit Ladoux, Helene Delanoe-Ayari, Francois Graner
Collective cell behaviour in mechanosensing of substrate thickness. Camelia G Tusan, Yu Hin Man, Hoda Zarkoob, David A Johnson, Orestis G Andriotis, Philipp J Thurner, Shoufeng Yang, Edward A Sander, Eileen Gentleman, Bram Sengers, Nicholas Evans
LRX- and FER-dependent extracellular sensing coordinates vacuolar size for cytosol homeostasis. Kai Dunser, Shibu Gupta, Christoph Ringli, Jurgen Kleine-Vehn
Decoupling cellular response to topography and stiffness in three dimensions. Colin D. Paul, Alex Hruska, Jack R. Staunton, Hannah A. Burr, Jiyun Kim, Nancy Jiang, Kandice Tanner
| Genes & genomes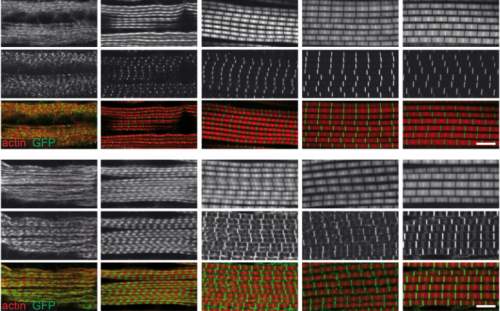 Systematic transcriptomics reveals a biphasic mode of sarcomere morphogenesis in flight muscles regulated by Spalt. Maria L Spletter, Christiane Barz, Assa Yeroslaviz, Xu Zhang, Sandra B Lemke, Erich Brunner, Giovanni Cardone, Konrad Basler, Bianca H Habermann, Frank Schnorrer
Transcriptional profiling reveals extraordinary diversity among skeletal muscle tissues. Erin E. Terry, Xiping Zhang, Christy Hoffmann, Laura D. Hughes, Scott A. Lewis, Jiajia Li, Lance Riley, Nicholas F. Lahens, Ming Gong, Francisco Andrade, Karyn A. Esser, Michael E. Hughes
Shared and distinct transcriptomic cell types across neocortical areas. Bosiljka Tasic, Zizhen Yao, Kimberly A Smith, Lucas Graybuck, Thuc Nghi Nguyen, Darren Bertagnolli, Jeff Goldy, Emma Garren, Michael N Economo, Sarada Viswanathan, Osnat Penn, Trygve Bakken, Vilas Menon, Jeremy A Miller, Olivia Fong, Karla E Hirokawa, Kanan Lathia, Christine Rimorin, Michael Tieu, Rachael Larsen, Tamara Casper, Eliza Barkan, Matthew Kroll, Seana Parry, Nadiya V Shapovalova, Daniel Hirchstein, Julie Pendergraft, Tae Kyung Kim, Aaron Szafer, Nick Dee, Peter Groblewski, Ian Wickersham, Ali Cetin, Julie A Harris, Boaz P Levi, Susan M Sunkin, Linda Madisen, Tanya L Daigle, Loren Looger, Amy Bernard, John Phillips, Ed Lein, Michael Hawrylycz, Karel Svoboda, Allan R Jones, Christof Koch, Hongkui Zeng
Transcriptomic characterization of 20 organs and tissues from mouse at single cell resolution creates a Tabula Muris. The Tabula Muris Consortium, Stephen R. Quake, Tony Wyss-Coray, Spyros Darmanis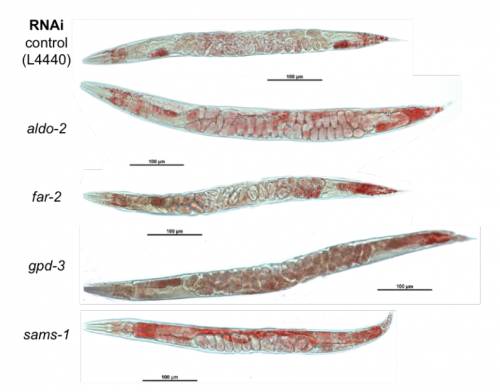 Transcriptome Analysis of Adult C. elegans Cells Reveals Tissue-specific Gene and Isoform Expression. Rachel Kaletsky, Vicky Yao, April Williams, Alexi M Runnels, Sean B King, Alicja Tadych, Shiyi Zhou, Olga G Troyanskaya, Coleen T. Murphy
A single-cell catalogue of regulatory states in the ageing Drosophila brain. Kristofer Davie, Jasper Janssens, Duygu Koldere, Uli Pech, Sara Aibar, Maxime De Waegeneer, Samira Makhzami, Valerie Christiaens, Carmen Bravo Gonzalez-Blas, Gert Hulselmans, Katina Spanier, Thomas Moerman, Bram Vanspauwen, Jeroen Lammertyn, Bernard Thienpont, Sha Liu, Patrik Verstreken, Stein Aerts
Cellular diversity in the Drosophila midbrain revealed by single-cell transcriptomics. Vincent Croset, Christoph D Treiber, Scott Waddell
Epigenomic and genomic landscape of Drosophila melanogaster heterochromatic genes. Parna Saha, Divya Tej Sowpati, Rakesh Kumar Mishra
A topographic axis of transcriptional identity in thalamus. James W Phillips, Anton Schulmann, Erina Hara, Chenghao Liu, Brenda Shields, Wyatt Korff, Andrew Lemire, Joshua Dudman, Sacha B Nelson, Adam Hantman
Developmental effects of maternal smoking during pregnancy on the human frontal cortex transcriptome. Stephen A Semick, Leonardo Collado-Torres, Christina A Markunas, Joo Heon Shin, Amy Deep-Soboslay, Ran Tao, Laura J Bierut, Brion S Maher, Eric O Johnson, Thomas M Hyde, Daniel R Weinberger, Dana B Hancock, Joel E Kleinman, Andrew Jaffe
Transcription establishes microenvironments that organize euchromatin. Lennart Hilbert, Yuko Sato, Hiroshi Kimura, Frank Jülicher, Alf Honigmann, Vasily Zaburdaev, Nadine Vastenhouw
Genome Architecture Leads a Bifurcation in Cell Identity. Sijia Liu, Haiming Chen, Scott Ronquist, Laura Seaman, Nicholas Ceglia, Walter Meixner, Lindsey A. Muir, Pin-Yu Chen, Gerald Higgins, Pierre Baldi, Steve Smale, Alfred Hero, Indika Rajapakse
Analysis of RDR1/RDR2/RDR6-independent small RNAs in Arabidopsis thaliana improves MIRNA annotations and reveals novel siRNA loci. Seth Polydore, Michael Axtell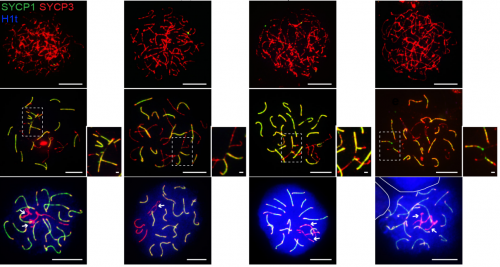 Shu complex SWS1-SWSAP1 is required for mouse meiotic recombination in concert with the BRCA2 C terminus. Carla M. Abreu, Rohit Prakash, Peter J. Romanienko, Ignasi Roig, Scott Keeney, Maria Jasin
ketu mutant mice uncover an essential meiotic function for the ancient RNA helicase YTHDC2. Devanshi Jain, M. Rhyan Puno, Cem Meydan, Nathalie Lailler, Christopher E. Mason, Christopher D Lima, Kathryn V. Anderson, Scott Keeney
Redesigning chromosomes for optimized Hi-C assay provides insights on loop formation and homologs pairing during meiosis. Heloise Muller, Vittore Scolari, Guillaume Mercy, Luciana Lazar-Stefanita, Aurele Piazza, Nicolas Agier, Stephane Descorps-Declere, Olivier Espeli, Bertrand Llorente, Gilles Fischer, Julien Mozziconacci, Romain Koszul
Extensive sex differences at the initiation of genetic recombination. Kevin Brick, Sarah Thibault-Sennett, Fatima Smagulova, Kwan Wood Lam, Yongmei Pu, Florencia Pratto, Rafael Daniel Camerini-Otero, Galina V Petukhova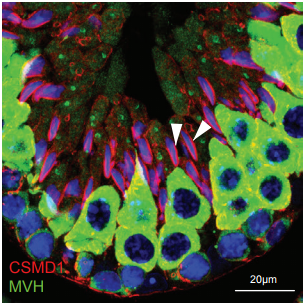 The complement system supports normal postnatal development and gonadal function in both sexes. Arthur Lee, Jannette Rusch, Abul Usmani, Ana Lima, Wendy Wong, Ni Huang, Maarja Lepamets, Katinka Vigh-Conrad, Ronald Worthington, Reedik Magi, John Niederhuber, Xiaobo Wu, John Atkinson, Rex Hess, Donald Conrad
Sexual dimorphism of complement-dependent microglial synaptic pruning and other immune pathways in the developing brain. Daria Prilutsky, Alvin T. Kho, Ariel Feiglin, Timothy Hammond, Beth Stevens, Isaac S. Kohane
The Class I E3 Ubiquitin Ligase TRIM67 Modulates Brain Development and Behavior. Nicholas P Boyer, Caroline Monkiewicz, Sheryl S Moy, Stephanie Gupton
Increasing Eukaryotic Initiation Factor 6 (eIF6) Gene Dosage Stimulates Global Translation and Induces a Transcriptional and Metabolic Rewiring that Blocks Programmed Cell Death. Arianna Russo, Guido Gatti, Roberta Alfieri, Elisa Pesce, Kelly Soanes, Sara Ricciardi, Cristina Cheroni, Thomas Vaccari, Stefano Biffo, Piera Calamita
H2AFX AND MDC1 PROTECT GENOMIC INTEGRITY IN MALE GERM CELLS BY PROMOTING RECOMBINATION AND ACTIVATION OF THE RECOMBINATION-DEPENDENT CHECKPOINT. Erika Testa, Daniela Nardozi, Cristina Antinozzi, Monica Faieta, Stefano Di Cecca, Cinzia Caggiano, Tomoyuki Fukuda, Elena Bonanno, Lou Zenkun, Andros Maldonado, Ignasi Roig, Monica Di Giacomo, Marco Barchi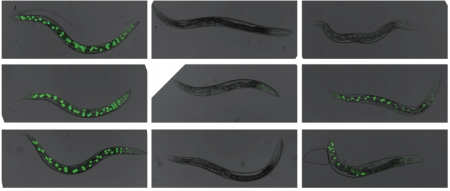 A cytoplasmic Argonaute protein promotes the inheritance of RNAi. Fei Xu, Xuezhu Feng, Xiangyang Chen, Chenchun Weng, Qi Yan, Ting Xu, Minjie Hong, Shouhong Guang
Structurally conserved primate lncRNAs are transiently expressed during human cortical differentiation and influence cell type specific genes. Andrew R. Field, Frank M.J. Jacobs, Ian T. Fiddes, Alex P.R. Phillips, Andrea M. Reyes-Ortiz, Erin LaMontagne, Lila Whitehead, Vincent Meng, Jimi L. Rosenkrantz, Maximillian Haeussler, Sol Katzman, Sofie R. Salama, David Haussler
Orientation-dependent Dxz4 contacts shape the 3D structure of the inactive X chromosome. Giancarlo Bonora, Xinxian Deng, He Fang, Vijay Ramani, Ruolan Qui, Joel Berletch, Gala N Filippova, Zhijun Duan, Jay Schendure, William S Noble, Christine M Disteche
A tissue-specific self-interacting chromatin domain forms independently of enhancer-promoter interactions. Jill M Brown, Nigel A Roberts, Bryony Graham, Dominic Waithe, Christoffer Lagerholm, Jelena M Telenius, Sara De Ornellas, Marieke Oudelaar, Izabela Szczerbal, Christian Babbs, Mira T Kassouf, Jim R Hughes, Douglas R Higgs, Veronica J Buckle
Structural disruption of genomic regions containing ultraconserved elements is associated with neurodevelopmental phenotypes. Ruth B. McCole, Wren Saylor, Claire Redin, Chamith Y. Fonseka, Harrison Brand, Jelena Erceg, Michael E. Talkowski, C.-ting Wu
Ultraconserved elements occupy specific arenas of three-dimensional mammalian genome organization. Ruth McCole, Jelena Erceg, Wren Saylor, C.-ting Wu
Transcription start site analysis reveals widespread divergent transcription in D. melanogaster and core promoter-encoded enhancer activities. Sarah Rennie, Maria Dalby, Marta Lloret-Llinares, Stylianos Bakoulis, Christian Dalager Vaagenso, Torben Heick Jensen, Robin Andersson
KDM2B is a histone H3K79 demethylase and induces transcriptional repression via SIRT1-mediated chromatin silencing. Sang Beom Seo, Joo-Young Kang, Ji-Young Kim, Kee-Beom Kim, Jin Woo Park, Hanna Cho, Ja Young Hahm, Yun-Cheol Chae, Daehwan Kim, Hyun Kook, Sangmyung Rhee, Nam-Chul Ha
Adult-specific trimethylation of histone H3 lysine 4 is prone to dynamic changes with aging in C. elegans somatic cells. Mintie Pu, Minghui Wang, Wenke Wang, Satheeja Santhi Velayudhan, Siu Sylvia Lee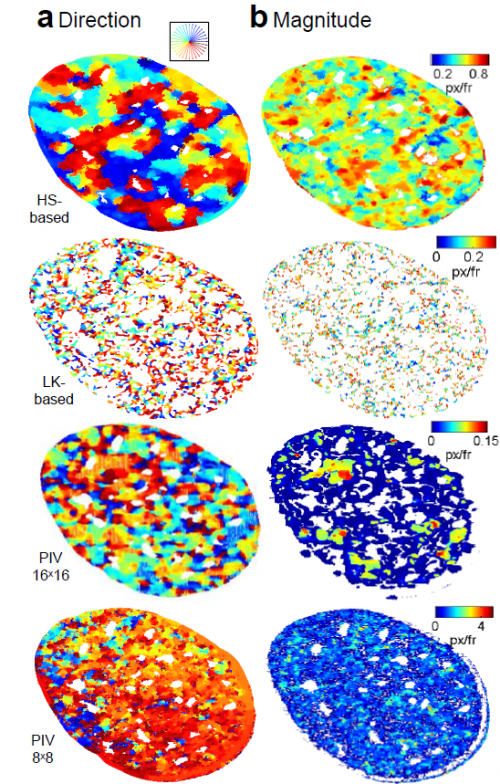 Formation of correlated chromatin domains at nanoscale dynamic resolution during transcription. Haitham Ahmed Shaban, Roman Barth, Kerstin Bystricky
Strong binding activity of few transcription factors is a major determinant of open chromatin. Bei Wei, Arttu Jolma, Biswajyoti Sahu, Lukas M. Orre, Fan Zhong, Fangjie Zhu, Teemu Kivioja, Inderpreet Kaur Sur, Janne Lehtio, Minna Taipale, Jussi Taipale
Predicting CTCF-mediated chromatin interactions by integrating genomic and epigenomic features. Yan Kai, Jaclyn Andricovich, Zhouhao Zeng, Jun Zhu, Alexandros Tzatsos, Weiqun Peng
| Stem cells, regeneration & disease modelling
Modeling mammalian gastrulation with embryonic stem cells. Eric D. Siggia, Aryeh Warmflash

Distinct SoxB1 networks are required for naïve and primed pluripotency. Andrea Corsinotti, Frederick CK Wong, Tulin Tatar, Iwona Szczerbinska, Florian Halbritter, Douglas Colby, Sabine Gogolok, Raphael Pantier, Kirsten Liggat, Elham S Mirfazeli, Elisa Hall-Ponsele, Nicholas Mullin, Valerie Wilson, Ian Chambers
Functional Compensation Between Hematopoietic Stem Cells In Vivo. Lisa Nguyen, Zheng Wang, Elizabeth Chu, Jiya Eerdeng, Adnan Chowdhury, Rong Lu
Crosstalk between one carbon metabolism and eph signaling promotes neural stem cells differentiation through epigenetic remodeling. Mohamad-Ali Fawal, Thomas Jungas, Anthony Kischel, Christophe Audouard, Jason S Iacovoni, Alice Davy
Comparing the differentiation potential of Brachyury+ mesodermal cells generated from 3-D and 2-D culture systems. Jing Zhou, Antonius Plagge, Patricia Murray
Whole Genomes Define Concordance of Matched Primary, Xenograft, and Organoid Models of Pancreas Cancer. Deena M.A. Gendoo, Robert E. Denroche, Amy Zhang, Nikolina Radulovich, Gun Ho Jang, Mathieu Lemire, Sandra Fischer, Dianne Chadwick, Ilinca M. Lungu, Emin Ibrahimov, Ping-Jiang Cao, Lincoln D. Stein, Julie M. Wilson, John M.S. Bartlett, Ming-Sound Tsao, Neesha Dhani, David Hedley, Steven Gallinger, Benjamin Haibe-Kains
Human iPSC-derived RPE and retinal organoids reveal impaired alternative splicing of genes involved in pre-mRNA splicing in PRPF31 autosomal dominant retinitis pigmentosa. Adriana Buskin, Lili Zhu, Valeria Chichagova, Basudha Basu, Sina Mozaffari-Jovin, David Dolan, Alastair Droop, Joseph Collin, Revital Bronstein, Sudeep Mehrotra, Michael Farkas, Gerrit Hilgen, Kathryn White, Dean Hallam, Katarzyna Bialas, Git Chung, Carla Mellough, Yuchun Ding, Natalio Krasnogor, Stefan Przyborski, Jumana Al-Aama, Sameer Alharthi, Yaobo Xu, Gabrielle Wheway, Katarzyna Szymanska, Martin McKibbin, Chris F Inglehearn, David J Elliott, Susan Lindsay, Robin R Ali, David H Steel, Lyle Armstrong, Evelyne Sernagor, Eric Pierce, Reinhard Luehrmann, Sushma-Nagaraja Grellscheid, Colin A Johnson, Majlinda Lako
Transcriptional evaluation of the developmental accuracy, reproducibility and robustness of kidney organoids derived from human pluripotent stem cells. Belinda Phipson, Pei Xuan Er, Lorna Hale, David Yen, Kynan Lawlor, Minoru Takasato, Jane Sun, Ernst Wolvetang, Alicia Oshlack, Melissa Little

High throughput single cell RNA-seq of developing mouse kidney and human kidney organoids reveals a roadmap for recreating the kidney. Alexander N Combes, Belinda Phipson, Luke Zappia, Kynan Lawlor, Pei Xuan Er, Alicia Oshlack, Melissa Little
A simple bioreactor-based method to generate kidney organoids from pluripotent stem cells. Aneta Przepiorski, Veronika Sander, Tracy Tran, Jennifer Hollywood, Brie Sorrenson, Jen-Hsing Shih, Ernst J Wolvetang, Andrew P McMahon, Teresa M Holm, Alan J Davidson
Comparative analysis of kidney organoid and adult human kidney single cell and single nucleus transcriptomes. Haojia Wu, Kohei Uchimura, Erinn Donnelly, Yuhei Kirita, Samantha A Morris, Benjamin D Humphreys
Ex vivo live cell tracking in kidney organoids using light sheet fluorescence microscopy. Marie Held, Ilaria Santeramo, Bettina Wilm, Patricia Murray, Raphaël Lévy
Robust direct differentiation and maturation of human pluripotent stem cells to hepatocyte-like cells. Ken-ichiro Kamei, Momoko Yoshioka, Shiho Terada, Yumie Tokunaga, Yong Chen
Determining cell fate specification and genetic contribution to cardiac disease risk in hiPSC-derived cardiomyocytes at single cell resolution. Quan Nguyen, Samuel Lukowski, Han Chiu, Clayton Friedman, Anne Senabouth, Liam Crowhurst, Timothy Bruxmer, Angelika Christ, Nathan Palpant, Joseph Powell
Decoding the regulatory logic of the Drosophila male stem cell system. Fani Papagiannouli, Srividya Tamirisa, Eugen Rempel, Olga Ermakova, Nils Trost, Jun Zhou, Juliane Mundorf, Samantha Brunel, Naima Ruhland, Michael Boutros, Jan U Lohmann, Ingrid Lohmann
Single-cell RNA-Seq Resolves Cellular Heterogeneity and Transcriptional Dynamics during Spermatogonia Stem Cells Establishment and Differentiation. Jinyue Liao, Shuk Han Ng, Jiajie Tu, Alfred Chun Shui Luk, Yan Qian, Nelson Leung Sang Tang, Bo Feng, Wai-Yee Chan, Pierre Fouchet, Tin-Lap Lee
Miniring approach for high-throughput drug screenings in 3D tumor models. Nhan Phan, Bobby Tofig, Jin Huang, Sanaz Memarzadeh, Robert Damoiseaux, Alice Soragni
The mechanical microenvironment regulates ovarian cancer cell morphology, migration, and spheroid disaggregation. Andrew J McKenzie, Stephanie R Hicks, Kathryn V Svec, Hannah Naughton, Zoe L Edmunds, Alan K Howe
MYC-driven epigenetic reprogramming favors the onset of tumorigensis by inducing a stem cell-like state. Vittoria Poli, Luca Fagnocchi, Alessandra Fasciani, Alessandro Cherubini, Stefania Mazzoleni, Sara Ferrillo, Annarita Miluzio, Gabriella Gaudioso, Valentina Vaira, Alice Turdo, Miriam Giaggianesi, Aurora Chinnici, Elisa Lipari, Silvio Bicciato, Silvano Bosari, Matilde Todaro, Alessio Zippo
HNF1A is a Novel Oncogene and Central Regulator of Pancreatic Cancer Stem Cells. Ethan Abel, Masashi Goto, Brian Magnuson, Saji Abraham, Nikita Ramanathan, Emily Hotaling, Anthony A. Alaniz, Chandan Kumar-Sinha, Michele L. Dziubinski, Sumithra Urs, Lidong Wang, Jiaqi Shi, Meghna Waghray, Mats Ljungman, Howard C Crawford, Diane M. Simeone
Murine pluripotent stem cells that escape differentiation inside teratomas maintain pluripotency. Yangli Pei, Liang Yue​, Wei Zhang, Jinzhu Xiang, Zhu Ma, Jianyong Han
Interleukin-4 restores neurogenic plasticity of the primary human neural stem cells through suppression of Kynurenic acid production upon Amyloid-β42 toxicity. Christos Papadimitriou, Hilal Celikkaya, Mehmet Ilyas I Cosacak, Violeta Mashkaryan, Prabesh Bhattarai, Weilin Lin, Alvin Thomas, Yixin Zhang, Uwe Freudenberg, Carsten Werner, Caghan Kizil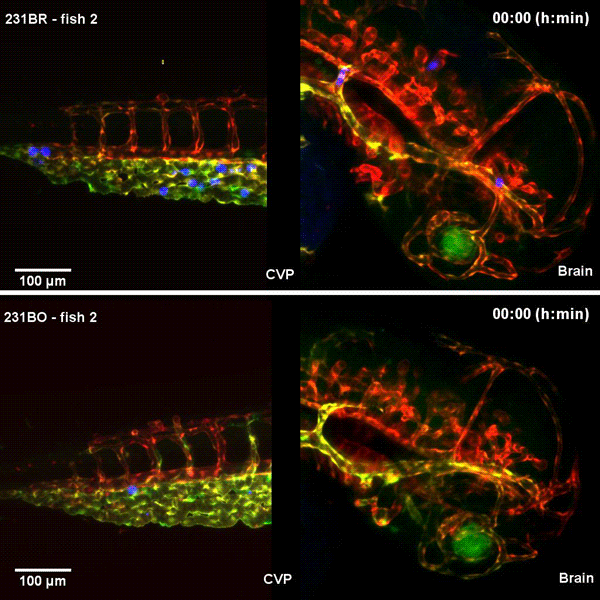 Tissue architectural cues drive the emergence of non-random trafficking of human tumor cells in the larval zebrafish. Colin D. Paul, Kevin Bishop, Alexus Devine, William J. Wulftange, Elliott L. Paine, Jack R. Staunton, Steven Shema, Val Bliskovsky, Lisa M. Miller Jenkins, Nicole Y. Morgan, Raman Sood, Kandice Tanner
Systematic genetic interaction studies identify histone demethylase Utx as potential target for ameliorating Huntington's disease. Wan Song, Nora Zsindely, Aniko Farago, J. Lawrence Marsh, Laszlo Bodai
AP-4 mediated ATG9A sorting underlies axonal and autophagosome biogenesis defects in a mouse model of AP-4 deficiency syndrome. Davor Ivankovic, Guillermo López-Doménech, James Drew, Sharon A Tooze, Josef T Kittler
Rotary jet-spun porous microfibers as scaffolds for stem cells delivery to central nervous system injury. Laura N Zamproni, Marco AVM Grinet, Mayara TVV Mundim, Marcella BC Reis, Layla T Galindo, Fernanda R Marciano, Anderson O Lobo, Marimelia Porcionatto
Polypyrrole increases branching and neurite extension by Neuro2A cells on PBAT ultrathin fibers. Alessandro E.C. Granato, Andre C. Ribeiro, Fernanda R. Marciano, Bruno V. M. Rodrigues, Anderson O. Lobo, Marimelia Porcionatto
Evo-devo & evo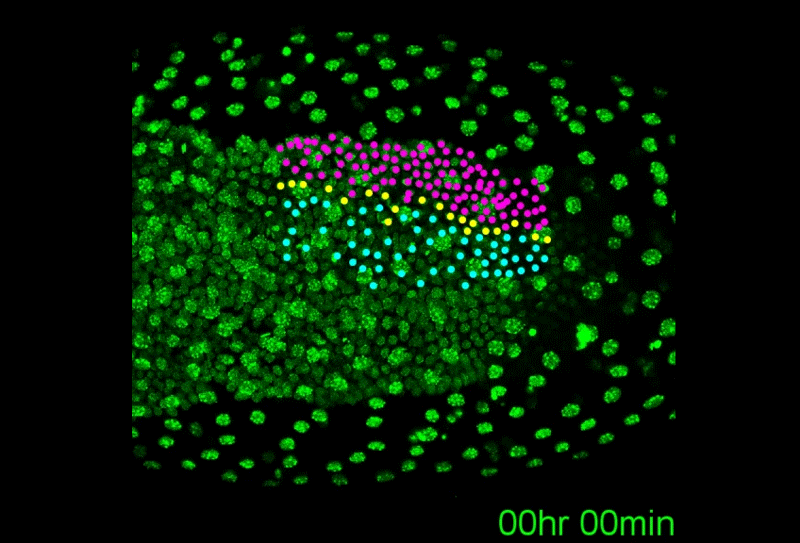 A revised understanding of Tribolium morphogenesis further reconciles short and long germ development. Matthew Alan Benton
In toto live imaging in scuttle fly Megaselia abdita reveals transitions towards a novel extraembryonic architecture. Francesca Caroti, Everado González Avalos, Paula González Avalos, Dimitri Kromm, Viola Noeske, Maike Wosch, Lucas Schütz, Lars Hufnagel, Steffen Lemke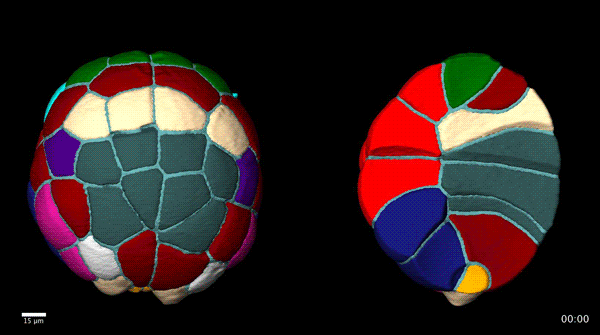 Contact-dependent cell communications drive morphological invariance during ascidian embryogenesis. Leo Guignard, Ulla-Maj Fiuza, Bruno Leggio, Emmanuel Faure, Julien Laussu, Lars Hufnagel, Gregoire Malandain, Christophe Godin, Patrick Lemaire
Evidence against tetrapod-wide digit identities and for a limited frame shift in bird wings. Thomas A Stewart, Cong Liang, Justin Cotney, James P Noonan, Thomas Sanger, Gunter Wagner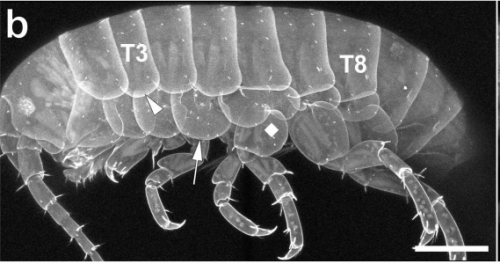 Two sets of wing homologs in the crustacean, Parhyale hawaiensis. Courtney M Clark-Hachtel, Yoshinori Tomoyasu
Frequent Non-random Shifts in the Temporal Sequence of Developmental Landmark Events during Fish Evolutionary Diversification. Fumihiro Ito, Tomotaka Matsumoto, Tatsumi Hirata
CHARACTERIZATION OF THE bHLH FAMILY OF TRANSCRIPTIONAL REGULATORS IN THE ACOEL S. roscoffensis AND THEIR PUTATIVE ROLE IN NEUROGENESIS. Elena Perea-Atienza, Simon G. Sprecher, Pedro Martinez
Evolutionary Origin of the Mammalian Hematopoietic System Found in a Colonial Chordate. Benyamin Rosental, Mark A. Kowarsky, Jun Seita, Daniel M. Corey, Katherine J. Ishizuka, Karla J. Palmeri, Shih-Yu Chen, Rahul Sinha, Jennifer Okamoto, Gary Mantalas, Lucia Manni, Tal Raveh, D. Nathaniel Clarke, Aaron M. Newman, Norma F. Neff, Garry P. Nolan, Stephen R. Quake, Irving L. Weissman, Ayelet Voskoboynik
Germ layer specific regulation of cell polarity and adhesion: insight into the evolution of mesoderm. Miguel Salinas-Saavedra, Amber Q. Rock, Mark Q. Martindale
Identification of jellyfish neuropeptides that act directly as oocyte maturation inducing hormones. Noriyo Takeda, Yota Kon, Gonzalo Quiroga Artigas, Pascal Lapébie, Carine Barreau, Osamu Koizumi, Takeo Kishimoto, Kazunori Tachibana, Evelyn Houliston, Ryusaku Deguchi
A gonad-expressed opsin mediates light-induced spawning in the jellyfish Clytia. Gonzalo Quiroga Artigas, Pascal Lapébie, Lucas Leclère, Noriyo Takeda, Ryusaku Deguchi, Gáspár Jékely, Tsuyoshi Momose, Evelyn Houliston
Changes in levels of major yolk protein in the coelomic fluid and gonad during the reproductive cycle in wild sea urchins, Mesocentrotus nudus. Kazuhiro Ura, Narumi Takei, Ichiro Higuchi, Tomoharu Yuhi, Osamu Nishimiya, Yasuaki Takagi
Melanin pathway genes regulate color and morphology of butterfly wing scales. Yuji Matsuoka, Antonia Monteiro
apterous A Specifies Dorsal Wing Patterns And Sexual Traits In Butterflies. Anupama Prakash, Antonia Monteiro
The ancestral animal genetic toolkit revealed by diverse choanoflagellate transcriptomes. Daniel Richter, Parinaz Fozouni, Michael Eisen, Nicole King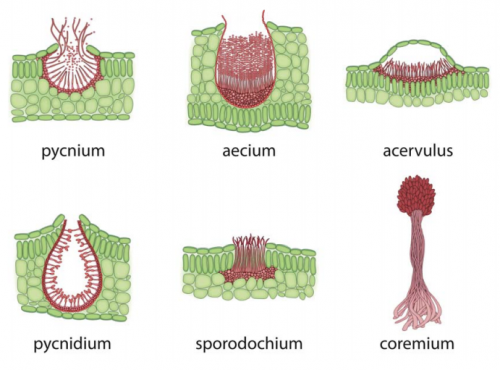 Complex multicellularity in fungi: evolutionary convergence, single origin, or both? Laszlo Nagy, Krisztina Krizsan
Genetic knockdown and knockout approaches in Hydra. Mark Lommel, Anja Tursch, Laura Rustarazo-Calvo, Benjamin Trageser, Thomas W Holstein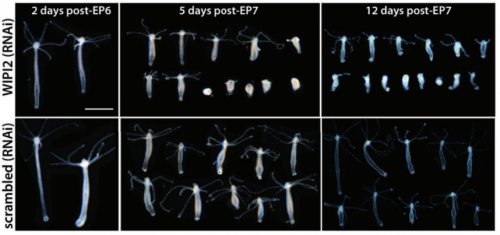 Deficient autophagy drives aging in Hydra. Szymon TOMCZYK, Quentin SCHENKELAARS, Nenad SUKNOVIC, Yvan WENGER, Kazadi EKUNDAYO, Wanda BUZGARIU, Christoph BAUER, Kathleen E FISCHER, Steven AUSTAD, Brigitte GALLIOT
Conserved microRNA targeting reveals preexisting gene dosage sensitivities that shaped amniote sex chromosome evolution. Sahin Naqvi, Daniel W Bellott, Kathy S Lin, David C Page
Genomic imprinting mediates dosage compensation in a young plant XY system. Aline Muyle, Niklaus Zemp, Cecile Fruchard, Radim Cegan, Jan Vrana, Clothilde Deschamps, Raquel Tavares, Franck Picard, Roman Hobza, Alex Widmer, Gabriel Marais
Modulation of Prdm9-controlled meiotic chromosome asynapsis overrides hybrid sterility in mice. Sona Gregorova, Vaclav Gergelits, Irena Chvatalova, Tanmoy Bhattacharyya, Barbora Valiskova, Vladana Fotopulosova, Petr Jansa, Diana Wiatrowska, Jiri Forejt
Phylogenomics offers resolution of major tunicate relationships. Kevin M. Kocot, Michael G. Tassia, Kenneth M. Halanych, Billie J. Swalla
A phylogenomic framework and timescale for comparative genomics and evolutionary developmental biology of tunicates. Frederic Delsuc, Herve Philippe, Georgia Tsagkogeorga, Paul Simion, Marie-Ka Tilak, Xavier Turon, Susanna Lopez-Legentil, Jacques Piette, Patrick Lemaire, Emmanuel J. P. Douzery
Molecular data from Orthonectid worms show they are highly degenerate members of phylum Annelida not phylum Mesozoa. Philipp Schiffer, Helen Robertson, Maximilian J Telford
Revelation of the Genetic Basis for Convergent Innovative Anal Fin Pigmentation Patterns in Cichlid Fishes. Langyu Gu, Canwei Xia
Whole Genome Sequences Of Malawi Cichlids Reveal Multiple Radiations Interconnected By Gene Flow. Milan Malinsky, Hannes Svardal, Alexandra M. Tyers, Eric A. Miska, Martin J. Genner, George F. Turner, Richard Durbin
Firefly genomes illuminate the origin and evolution of bioluminescence. Timothy R Fallon, Sarah E Lower, Ching-Ho Chang, Manabu Bessho-Uehara, Gavin J Martin, Adam J Bewick, Megan Behringer, Humberto J Debat, Isaac Wong, John C Day, Anton Suvorov, Christian J Silva, David W Hall, Robert J. Schmitz, David R Nelson, Sara Lewis, Shuji Shigenobu, Seth M Bybee, Amanda M Larracuente, Yuichi Oba, Jing-Ke Weng
Improved Aedes aegypti mosquito reference genome assembly enables biological discovery and vector control. Benjamin J Matthews, Olga Dudchenko, Sarah Kingan, Sergey Koren, Igor Antoshechkin, Jacob E Crawford, William J Glassford, Margaret Herre, Seth N Redmond, Noah H Rose, Gareth D Weedall, Yang Wu, Sanjit S Batra, Carlos A Brito-Sierra, Steven D Buckingham, Corey L Campbell, Saki Chan, Eric Cox, Benjamin R Evans, Thanyalak Fansiri, Igor Filipovic, Albin Fontaine, Andrea Gloria-Soria, Richard Hall, Vinita S Joardar, Andrew K Jones, Raissa G G Kay, Vamsi Kodali, Joyce Lee, Gareth J Lycett, Sara N Mitchell, Jill Muehling, Michael R Murphy, Arina Omer, Frederick A Partridge, Paul Peluso, Aviva Presser Aiden, Vidya Ramasamy, Gordana Rasic, Sourav Roy, Karla Saavedra-Rodriguez, Shruti Sharan, Atashi Sharma, Melissa Smith, Joe Turner, Allison M Weakley, Zhilei Zhao, Omar S Akbari, William C Black IV, Han Cao, Alistair C Darby, Catherine Hill, J. Spencer Johnston, Terence D Murphy, Alexander S Raikhel, David B Sattelle, Igor V Sharakhov, Bradley J White, Li Zhao, Erez Lieberman Aiden, Richard S Mann, Louis Lambrechts, Jeffrey R Powell, Maria V Sharakhova, Zhijian Tu, Hugh M Robertson, Carolyn S McBride, Alex R Hastie, Jonas Korlach, Daniel E Neafsey, Adam M Phillippy, Leslie B Vosshall
A butterfly chromonome reveals selection dynamics during extensive and cryptic chromosomal reshuffling. Jason A Hill, Ramprasad Neethiraj, Pasi Rastas, Nathan Clark, Nathan Morehouse, Maria Celorio, Jofre Carnicer Cols, Heinrich Dircksen, Camille Meslin, Kristin Sikkink, Maria Vives, Heiko Vogel, Christer Wiklund, Joel Kingsolver, Carol Boggs, Soren Nylin, Christopher Wheat
The fruitENCODE project sheds light on the genetic and epigenetic basis of convergent evolution of climacteric fruit ripening. Peitao Lv, Sheng Yu, Ning Zhu, Yun-Ru Chen, Biyan Zhou, Yu Pan, David Tzeng, Joao Paulo Fabi, Jordi Garcia-Mas, Nenghui Ye, Jianhua Zhang, Donald Grierson, Zhangjun Fei, Jim Giovannoni, Silin Zhong
Medaka population genome structure and demographic history unveiled via Genotyping-by-Sequencing. Takafumi Katsumura, Shoji Oda, Hiroshi Mitani, Hiroki Oota
Horizontally transferred genes in the ctenophore Mnemiopsis leidyi encode enzymes and are expressed during early development. Alexandra M Hernandez, Joseph F Ryan
Large scale gene duplication affected the European eel (Anguilla anguilla) after the 3R teleost duplication. Christoffer Rozenfeld, Jose Blanca, Victor Gallego Albiach, Víctor García-Carpintero, Juan G Herranz-Jusdado, Luz Perez, Juan F Asturiano, Joaquín Cañizares, David S Peñaranda
Comparative genomics of bdelloid rotifers: evaluating the effects of asexuality and desiccation tolerance on genome evolution. Reuben W Nowell, Pedro Almeida, Christopher G Wilson, Thomas P Smith, Diego Fontaneto, Alastair Crisp, Gos Micklem, Alan Tunnacliffe, Chiara Boschetti, Timothy G Barraclough
The grayling genome reveals selection on gene expression regulation after whole genome duplication. Srinidhi Varadharajan, Simen R. Sandve, Gareth Gillard, Ole K. Tørresen, Teshome Mulugeta, Torgeir R. Hvidsten, Sigbjørn Lien, Leif Asbjørn Vollestad, Sissel Jentoft, Alexander J. Nederbragt, Kjetill S. Jakobsen
Neural Changes Underlying Rapid Fly Song Evolution. Yun Ding, Joshua L Lillvis, Jessica Cande, Gordon J Berman, Benjamin J Arthur, Min Xu, Barry J Dickson, David L Stern
Effects of acclimation time and epigenetic mechanisms on growth of Neurospora in fluctuating environments. Ilkka Kronholm, Tarmo Ketola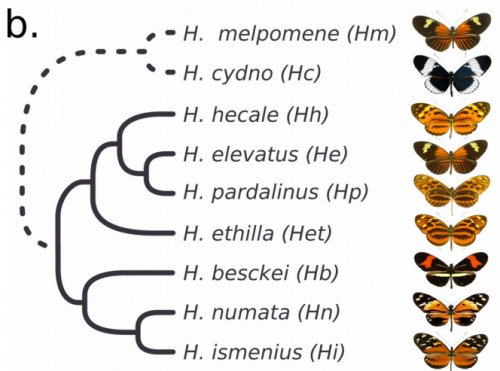 Supergene evolution triggered by the introgression of a chromosomal inversion. Paul Jay, Annabel Whibley, Lise Frezal, Angeles de Cara, Reuben W. Nowell, James Mallet, Kanchon K. Dasmahapatra, Mathieu Joron
Phenotype loss is associated with widespread divergence of the gene regulatory landscape in evolution. Juliana Gusson Roscito, Katrin Sameith, Genis Parra, Bjorn Langer, Andreas Petzold, Miguel Trefaut Rodrigues, Michael Hiller
Evolutionary stability of topologically associating domains is associated with conserved gene regulation. Jan Krefting, Miguel A. Andrade-Navarro, Jonas Ibn-Salem
Are Nonsense Alleles of Drosophila melanogaster Genes under Any Selection? Nadezhda Potapova, Maria Andrianova, Georgii Bazykin, Alexey Kondrashov
NEW GENOMIC DATA AND ANALYSES CHALLENGE THE TRADITIONAL VISION OF ANIMAL EPITHELIUM EVOLUTION. Hassiba Belahbib, Emmanuelle Renard, Sebastien Santini, Cyril Jourda, Jean-Michel Claverie, Carole Borchiellini, Andre Le Bivic
Insights into platypus population structure and history from whole-genome sequencing. Hilary C Martin, Elizabeth M Batty, Julie Hussin, Portia Westall, Tasman Daish, Stephen Kolomyjec, Paolo Piazza, Rory Bowden, Margaret Hawkins, Tom Grant, Craig Moritz, Frank Grutzner, Jaime Gongora, Peter Donnelly
Cell biology
Tension-dependent regulation of mammalian Hippo signaling through LIMD1. Consuelo Ibar, Elmira Kirichenko, Ben Keepers, Ed Enners, Katelyn Fleisch, Kenneth Irvine

RAB-35 and ARF-6 GTPases Mediate Engulfment and Clearance Following Linker Cell-Type Death. Lena M Kutscher, Wolfgang Keil, Shai Shaham
mTORC1 controls phase-separation and the biophysical properties of the cytoplasm by tuning crowding. Morgan Delarue, Gregory P Brittingham, Stefan Pfeffer, Ivan Surovtsev, Kristopher John Kennedy, Sudarshan Pinglay, J Ignacio Gutierrez, Miroslava Schaffer, Jean K Chung, Jurgen Plitzko, Jay T Groves, Christine Jacobs-Wagner, Ben David Engel, Liam Joseph Holt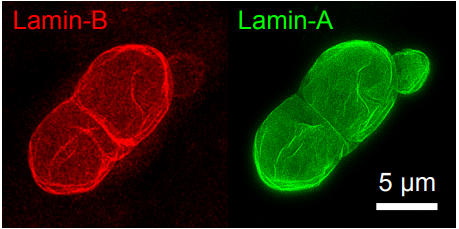 Cell cycle repression and DNA repair defects follow constricted migration. Charlotte R Pfeifer, Yuntao Xia, Kuangzheng Zhu, Dazhen Liu, Jerome Irianto, Shane M Harding, Roger A Greenberg, Dennis E Discher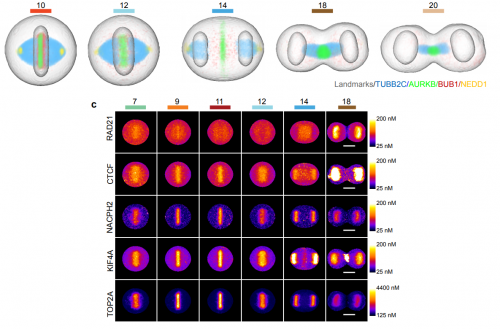 An experimental and computational framework to build a dynamic protein atlas of human cell division. Yin Cai, M. Julius Hossain, Jean-Karim Heriche, Antonio Z. Politi, Nike Walther, Birgit Koch, Malte Wachsmuth, Bianca Nijmeijer, Moritz Kueblbeck, Marina Martinic, Rene Ladurner, Jan-Michael Peters, Jan Ellenberg
The Cell Cycle Browser: an interactive tool for visualizing, simulating, and perturbing cell cycle progression. David Borland, Hong Yi, Gavin D Grant, Kasia M Kedziora, Hui Xiao Chao, Rachel A Haggerty, Jayashree Kumar, Samuel C Wolff, Jeanette G Cook, Jeremy E Purvis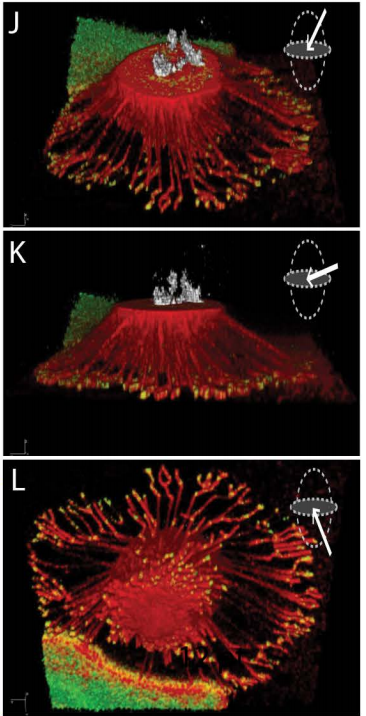 Reticular adhesions: A new class of adhesion complex that mediates cell-matrix attachment during mitosis. John G Lock, Matthew C Jones, Janet A Askari, Xiaowei Gong, Anna Oddone, Helene Olofsson, Sara Goransson, Melike Lakadamyali, Martin J Humphries, Staffan Stromblad
mRNA structure determines specificity of a polyQ-driven phase separation. Erin M Langdon, Peggy Billingsly, Amirhossein Ghanbari Niaki, Grace McLaughlin, Chase Weidmann, Therese Gerbich, Christina M Termini, Kevin M Weeks, Sua Myong, Amy Gladfelter
Intraflagellar transport proteins undergo nonaxonemal staged hindrance between the recruiting distal appendages and the cilium. Tony Yang, Minh Nguyet Thi Tran, Weng Man Chong, Chia-En Huang, Jung-Chi Liao
BBSome trains remove activated GPCRs from cilia by enabling passage through the transition zone. Fan Ye, Andrew R. Nager, Maxence V. Nachury
Diverse functions of closely homologous actin isoforms are defined by their nucleotide, rather than their amino acid sequence. Pavan Vedula,  Satoshi Kurosaka, Nicolae Leu, Yuri Wolf, Svetlana Shabalina, Junling Wang, Stephanie Sterling, Dawei Dong, Anna Kashina
Modulation of formin processivity by profilin and mechanical tension. Mikael Kerleau, Luyan Cao, Emiko Suzuki, Hugo Wioland, Sandy Jouet, Berengere Guichard, Martin Lenz, Guillaume Romet-Lemonne, Antoine Jegou
Force-Dependent Binding Of Vinculin To α-catenin Regulates Cell-Cell Contacts Stability And Collective Cell Behavior. Rima Seddiki, Gautham Hari Narayana Sankara Narayana, Pierre-Olivier Strale, Hayri Emrah Balcioglu, Gregoire Peyret, Mingxi Yao, Anh Phuong Le, Lim Chwee Teck, Jie Yan, Benoit Ladoux, Rene-Marc Mege
The Transcriptional Program of Regeneration in the Giant Single Cell, Stentor coeruleus. Pranidhi Sood, Rebecca McGillivary, Wallace F Marshall
The physiological regulation of macropinocytosis during Dictyostelium growth and development. Thomas Williams, Robert R Kay
The cooperation of the haves and the have-nots. Eberhard Bodenschatz, Albert J Bae, Kaumudi H Prabhakara
Acto-myosin driven functional nanoclusters of GPI-anchored proteins are generated by integrin receptor signaling. Joseph Mathew Kalappurakkal, Anupama Ambika Anilkumar, Chandrima Patra, Thomas S van Zanten, Michael Sheetz, Satyajit Mayor
ZMYND10 functions in a chaperone relay during axonemal dynein assembly. Girish R Mali, Patricia Yeyati, Seiya Mizuno, Margaret A Keighren, Petra zur Lage, Amaya Garcia-Munoz, Atsuko Shimada, Hiroyuki Takeda, Frank Edlich, Satoru Takahashi, Alex von Kriegsheim, Andrew Jarman, Pleasantine Mill
C-type lectin-like receptor 2 (CLEC-2)-dependent DC migration is controlled by tetraspanin CD37. Charlotte M de Winde, Alexandra L Matthews, Sjoerd van Deventer, Alie van der Schaaf, Neil D Tomlinson, Erik Jansen, Johannes A Eble, Bernhard Nieswandt, Helen M McGettrick, Carl G Figdor, Sophie E Acton, Michael G Tomlinson, Annemiek B van Spriel
An ordered pattern of Ana2 phosphorylation by Plk4 is required for centriole assembly. Tiffany A McLamarrah, Daniel W Buster, Brian J Galletta, Cody J Boese, John M Ryniawec, Natalie A Hollingsworth, Amy E Byrnes, Christopher W Brownlee, Kevin C Slep, Nasser M Rusan, Gregory C Rogers
ECM cross-linking regulates invadopodia dynamics. Kamyar Esmaeili Pourfarhangi, Aviv Bergman, Bojana Gligorijevic
GORAB, a Golgi protein required for centriole structure and duplication. Levente Kovacs, Jennifer Chao-Chu, Sandra Schneider, Marco Gottardo, George Tzolovsky, Nikola S Dzhindzhev, Maria Giovanna Riparbelli, Giuliano Callaini, David M Glover
Connexin 43 K63-polyubiquitination on lysines 264 and 303 regulates gap junction internalization. Rachael M Kells-Andrews, Rachel A Margraf, Charles G Fisher, Matthias M Falk
Ultrastructural analysis of intracellular membrane and microtubule behavior during mitosis of Drosophila S2 cells. Anton Strunov, Lidiya V. Boldyreva, Evgeniya N. Andreyeva, Gera A. Pavlova, Julia V. Popova, Alena V. Razuvaeva, Alina F. Anders, Fioranna Renda, Alexey V. Pindyurin, Maurizio Gatti, Elena Kiseleva
Cytoskeletal mechanisms of axonal contractility. Sampada P Mutalik, Joby Joseph, Pramod A Pullarkat, Aurnab Ghose
Active nano-mechanical stimulation of single cells for mechanobiology. M. Monticelli, D. S. Jokhun, D. Petti, G. V. Shivashankar, R. Bertacco
In situ architecture of the algal nuclear pore complex. Shyamal Mosalaganti, Jan Kosinski, Sahradha Albert, Miroslava Schaffer, Juergen M Plitzko, Wolfgang Baumeister, Benjamin D Engel, Martin Beck
Cell size-dependent regulation of Wee1 localization by Cdr2 cortical nodes. Corey A. H. Allard, Hannah E. Opalko, Ko-Wei Liu, Uche Medoh, James B. Moseley
Cell size regulation through tunable geometric localization of the bacterial actin cytoskeleton. Alexandre Colavin, Handuo Shi, Kerwyn Casey Huang
The tumor suppressor APC is an attenuator of spindle-pulling forces during C. elegans asymmetric cell division. Kenji Sugioka, Lars-Eric Fielmich, Kota Mizumoto, Bruce Bowerman, Sander van den Heuvel, Akatsuki Kimura, Hitoshi Sawa
Modelling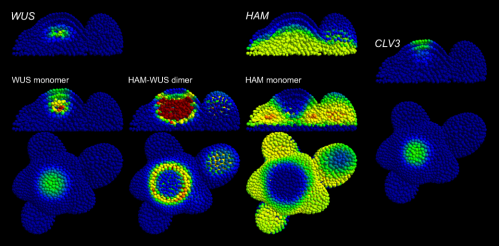 A model of protein interactions for regulating plant stem cells. Jérémy Gruel, Julia Deichmann, Benoit Landrein, Thomas Hitchcock, Henrik Jönsson
Extended logistic growth model for heterogeneous populations. Wang Jin, Scott McCue, Matthew Simpson
Mathematical models for cell migration with real-time cell cycle dynamics. Sean T Vittadello, Scott McCue, Gency Gunasingh, Nikolas Haass, Matthew Simpson
Anomalous Diffusion as a Descriptive Model of Cell Migration. Igor D Luzhanskey, John P MacMunn, Joshua D Cohen, Lauren E Barney, Lauren E Jansen, Alyssa D Schwartz, Shelly Peyton
A minimal "push-pull" bistability model explains oscillations between quiescent and proliferative cell states. Sandeep Krishna, Sunil Laxman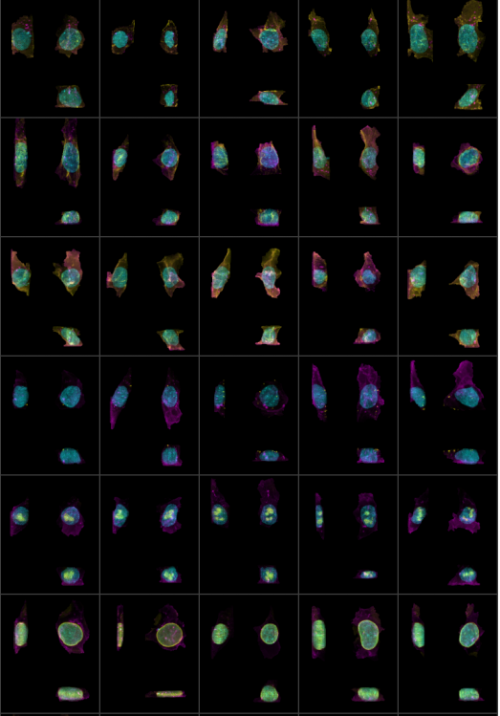 Building a 3D Integrated Cell. Gregory R. Johnson, Rory M. Donovan-Maiye, Mary M. Maleckar
PhysiCell: an Open Source Physics-Based Cell Simulator for 3-D Multicellular Systems. Ahmadreza Ghaffarizadeh, Randy Heiland, Samuel H. Friedman, Shannon M. Mumenthaler, Paul Macklin
CytoGAN: Generative Modeling of Cell Images. Peter Goldsborough, Nick Pawlowski, Juan C Caicedo, Shantanu Singh, Anne Carpenter
Haematopietic stem cells — entropic landscapes of differentiation. K. Wiesner, J. Teles, M. Hartnor, C. Peterson
Dynamics of a Mathematical Hematopoietic Stem-Cell Population Model. Daniel Camara De Souza, Antony R. Humphries
Heterogeneous cross-linked polymers to reconstruct chromatin reorganization during cell differentiation. Ofir Shukron, David Holcman
Analysis and calibration of a linear model for structured cell populations with unidirectional motion : Application to the morphogenesis of ovarian follicles. Frédérique Clément, Frédérique Robin, Romain Yvinec
Actomyosin contraction induces droplet motility. Thomas Le Goff, Benno Liebchen, Davide Marenduzzo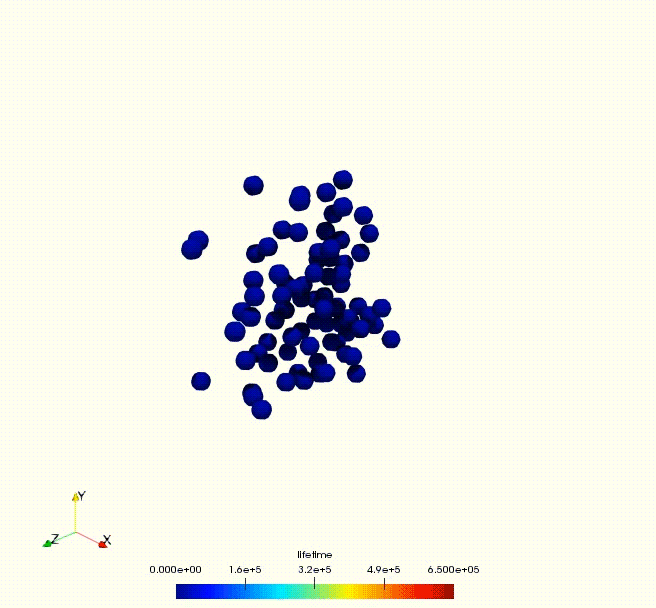 Cell growth rate dictates the onset of glass to fluid-like transition and long time super-diffusion in an evolving cell colony. Abdul N. Malmi-Kakkada, Xin Li, Himadri S. Samanta, Sumit Sinha, D. Thirumalai
Interdependence Theory of Tissue Failure: Bulk and Boundary Effects. Daniel Suma, Aylin Acun, Pinar Zorlutuna, Dervis Vural
Statistical mechanics of cell decision-making: the cell migration force distribution. Haralampos Hatzikirou
Aging in a relativistic biological space-time. Davide Maestrini, Daniel Abler, Vikram Adhikarla, Saro Armenian, Sergio Branciamore, Nadia Carlesso, Guido Marcucci, Ya-Huei Kuo, Prativa Sahoo, Russell Rockne
A quantitative model for characterizing the evolutionary history of mammalian gene expression. Jenny Chen, Ross Swofford, Jeremy Johnson, Beryl B Cummings, Noga Rogel, Kerstin Lindblad-Toh, Wilfried Haerty, Federica di Palma, Aviv Regev
Tools & resources
| Imaging etc.
Imaging planaria with CARE – video from  Weigert, et al.'s preprint
Content-Aware Image Restoration: Pushing the Limits of Fluorescence Microscopy. Martin Weigert, Uwe Schmidt, Tobias Boothe, Andreas Müller, Alexandr Dibrov, Akanksha Jain, Benjamin Wilhelm, Deborah Schmidt, Coleman Broaddus, Siân Culley, Maurício Rocha-Martins, Fabián Segovia-Miranda, Caren Norden, Ricardo Henriques, Marino Zerial, Michele Solimena, Jochen Rink, Pavel Tomancak, Loic Royer, Florian Jug, Eugene W. Myers
Sequential Super-Resolution Imaging using DNA Strand Displacement. Diane S. Lidke, Cheyenne Martin, Farzin Farzam, Jeremy S. Edwards, Sandeep Pallikkuth, Matthew R. Lakin, Keith A. Lidke
Multiplexed imaging of high density libraries of RNAs with MERFISH and expansion microscopy. Guiping Wang, Jeffrey R Moffitt, Xiaowei Zhuang
PolNet Analysis: a software tool for the quantification of network-level endothelial cell polarity and blood flow during vascular remodelling. Miguel O. Bernabeu, Martin L. Jones, Rupert W. Nash, Anna Pezzarossa, Peter V. Coveney, Holger Gerhardt, Claudio A. Franco
Unraveling mitotic protein networks by 3D multiplexed epitope drug screening. Lorenz Maier, Stefan Kallenberger, Katharina Jechow, Marcel Waschow, Roland Eils, Christian Conrad
Quantitative Imaging of Receptor-Ligand Engagement in Intact Live Animals. Alena Rudkouskaya, Nattawut Sinsuebphon, Jamie Ward, Kate Tubbesing, Xavier Intes, Margarida Barroso
RANbodies: reporter-nanobody fusions as versatile, small, sensitive immunohistochemical reagents. Joshua Sanes, Masahito Yamagata
Quantitative mass imaging of single molecules in solution. Gavin Young, Nikolas Hundt, Daniel Cole, Adam Fineberg, Joanna Andrecka, Andrew Tyler, Anna Olerinyova, Ayla Ansari, Erik G Marklund, Miranda P Collier, Shane A Chandler, Olga Tkachenko, Joel Allen, Max Crispin, Neil Billington, Yasuharu Takagi, James R Sellers, Cedric Eichmann, Philip Selenko, Lukas Frey, Roland Riek, Martin R Galpin, Weston B Struwe, Justin L P Benesch, Philipp Kukura
Single-cell quantification of the concentration and dissociation constant of endogenous proteins. Akira T Komatsubara, Michiyuki Matsuda, Kazuhiro Aoki
Complementary studies of lipid membrane dynamics using iSCAT and STED microscopy. Francesco Reina, Silvia Galiani, Dilip Shrestha, Erdinc Sezgin, Gabrielle de Wit, Daniel Cole, B. Christoffer Lagerholm, Philipp Kukura, Christian Eggeling
Real-time halo correction in phase contrast imaging. Mikhail Eugene Kandel, Michael Fanous, Catherine Best-Popescu, Gabriel Popescu
50 Hz volumetric functional imaging with continuously adjustable depth of focus. Rongwen Lu, Masashi Taminoto, Minoru Koyama, Na Ji
Three-photon fluorescence microscopy with an axially elongated Bessel focus. Cristina Rodriguez, Yajie Liang, Rongwen Lu, Na Ji
Neural network control of focal position during time-lapse microscopy of cells. Ling Wei, Elijah Roberts
Three dimensional cross-modal image inference: label-free methods for subcellular structure prediction. Chek Ounkomol, Daniel A. Fernandes, Sharmishtaa Seshamani, Mary M. Maleckar, Forrest Collman, Gregory R. Johnson
Neuronal tracing and analysis by multispectral tracing in densely labeled mouse brain. Douglas H Roossien, John M Webb, Benjamin V Sadis, Yan Yan, Lia Y Min, Aslan S Dizaji, Luke J Bogart, Cristina Mazuski, Robert S Huth, Johanna S Stecher, Jeff W Lichtman, Takao K Hensch, Erik D Herzog, Dawen Cai

The Brain/MINDS 3D digital marmoset brain atlas. Alexander Woodward, Tsutomu Hashikawa, Masahide Maeda, Takaaki Kaneko, Keigo Hikishima, Atsushi Iriki, Hideyuki Okano, Yoko Yamaguchi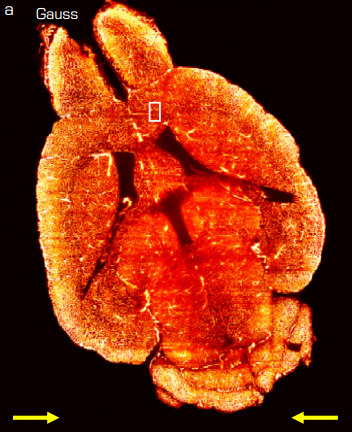 Increasing sensitivity and accuracy of brain-wide quantitative studies in light-sheet microscopy. Caroline Müllenbroich, Ludovico Silvestri, Lapo Turrini, Tommaso Alterini, Antonino Paolo Di Giovanna, Irene Costantini, Ali Gheisari, Francesco Vanzi, Leonardo Sacconi, Francesco Saverio Pavone
BrainImageR: Spatiotemporal gene set analysis referencing the human brain. Sara Linker, Jonathan Y Hsu, Adela Pfaff, Debha Amatya, Shu-Meng Ko, Sarah Voter, Quinn Wong, Fred H Gage
Application of the fluctuation theorem for non-invasive force measurement in living neuronal axons. Kumiko Hayashi, Yuta Tsuchizawa, Mitsuhiro Iwaki, Yasushi Okada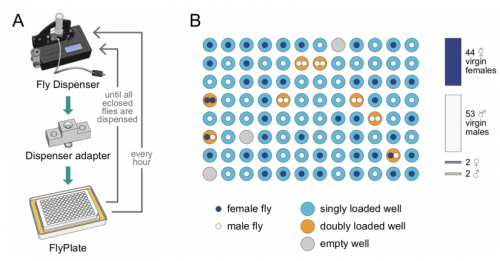 MAPLE: a Modular Automated Platform for Large-scale Experiments, a low-cost robot for integrated animal-handling and phenotyping.Tom Alisch, James D Crall, Dave Zucker, Benjamin L de Bivort
Show me your neighbours, and I'll tell you what you are – cellular microenvironment matters. Timea Toth, Tamas Balassa, Norbert Bara, Ferenc Kovacs, Andras Kriston, Csaba Molnar, Lajos Haracska, Farkas Sukosd, Peter Horvath
Resolution limit of image analysis algorithms. Edward A K Cohen, Anish V Abraham, Raimund J Ober
| Genome tools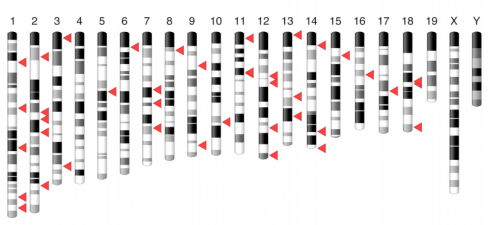 Large-scale discovery of mouse transgenic integration sites reveals frequent structural variation and insertional mutagenesis. Leslie O. Goodwin, Erik Splinter, Tiffany L. Davis, Rachel Urban, Hao He, Robert E. Braun, Elissa J. Chesler, Vivek Kumar, Max van Min, Juliet Ndukum, Vivek M. Philip, Laura G. Reinholdt, Karen Svenson, Jacqueline K. White, Michael Sasner, Cathleen Lutz, Stephen A. Murray
Equivalent high-resolution identification of neuronal cell types with single-nucleus and single-cell RNA-sequencing. Trygve E Bakken, Rebecca D Hodge, Jeremy M Miller, Zizhen Yao, Thuc N Nguyen, Brian Aevermann, Eliza Barkan, Darren Bertagnolli, Tamara Casper, Nick Dee, Emma Garren, Jeff Goldy, Lucas T Gray, Matthew Kroll, Roger S Lasken, Kanan Lathia, Sheana Parry, Christine Rimorin, Richard H Scheuermann, Nicholas J Schork, Soraya I Shehata, Michael Tieu, Kimberly A Smith, Hongkui Zeng, Ed S Lein, Bosiljka Tasic
SLAM-ITseq: Sequencing cell type-specific transcriptomes without cell sorting. Wayo Matsushima, Veronika A Herzog, Tobias Neumann, Katharina Gapp, Johannes Zuber, Stefan L Ameres, Eric A Miska
Cell "hashing" with barcoded antibodies enables multiplexing and doublet detection for single cell genomics. Marlon Stoeckius, Shiwei Zheng, Brian Houck-Loomis, Stephanie Hao, Bertrand Yeung, Peter Smibert, Rahul Satija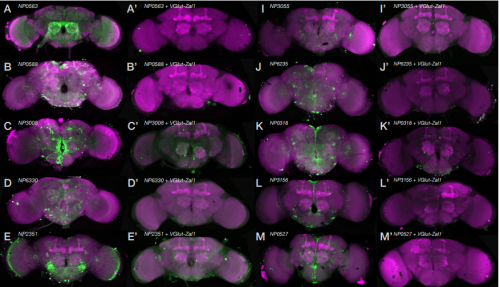 A zinc-finger fusion protein refines Gal4-defined neural circuits. Shamprasad Varija Raghu, Farhan Mohammad, Jia Yi Chua, Claudia Barros, Joanne Lam, Mavis Loberas, Sadhna Sahani, Adam Claridge-Chang
Targeted RNA knockdown by crRNA guided Csm in zebrafish. Thomas Fricke, Gintautas Tamulaitis, Dalia Smalakyte, Michal Pastor, Agnieszka Kolano, Virginijus Siksnys, Matthias Bochtler
Combined aptamer and transcriptome sequencing of single cells. Cyrille L Delley, Leqian Liu, Maen F Sarhan, Adam R Abate
Increasing Cas9-mediated homology-directed repair efficiency through covalent tethering of DNA repair template. Eric J Aird, Klaus N Lovendahl, Amber St. Martin, Reuben S Harris, Wendy R Gordon
Directed evolution of CRISPR-Cas9 to increase its specificity. Jungjoon K Lee, Euihwan Jeong, Joonsun Lee, Minhee Jung, Eunji Shin, Young-hoon Kim, Kangin Lee, Daesik Kim, Jin-Soo Kim, Seokjoong Kim
Unsupervised correction of gene-independent cell responses to CRISPR-Cas9 targeting. Francesco Iorio, Fiona M Behan, Emanuel Goncalves, Charlotte Beaver, Rizwan Ansari, Rachel Pooley, Piers Wilkinson, Sarah Harper, Euan Stronach, Julio Saez-Rodriguez, Kosuke Yusa, Mathew J Garnett
Simplifying the combined use of CRISPR-Cas9 and Cre-loxP technologies for the efficient generation of targeted conditional gene knockouts in mammalian cells. Tzahi Noiman, Chaim Kahana
Enhancing Cas9 Activity in Heterochromatin. René Daer, Cassandra Barrett, Karmella Haynes
Gene editing of the multi-copy H2A.B gene family by a single pair of TALENS. Nur Diana Anuar, Matt Field, Sebastian Kurscheid, Lei Zhang, Edward Rebar, Philip Gregory, Josephine Bowles, Peter Koopman, David Tremethick, Tatiana Soboleva
An optimized strategy for cloning-based locus-specific bisulfite sequencing PCR. Mario Van Poucke, Xanthippe Boulougouris, Bart De Spiegeleer, Christian Burvenich, Luc Duchateau, Luc Peelman
Resolving the Full Spectrum of Human Genome Variation using Linked-Reads. Patrick Marks, Sarah Garcia, Alvaro Martinez Barrio, Kamila Belhocine, Jorge Bernate, Rajiv Bharadwaj, Keith Bjornson, Claudia Catalanotti, Josh Delaney, Adrian Fehr, Brendan Galvin, Haynes Heaton, Jill Herschleb, Christopher Hindson, Esty Holt, Cassandra B. Jabara, Susanna Jett, Nikka Keivanfar, Sofia Kyriazopoulou-Panagiotopoulou, Monkol Lek, Bill Lin, Adam Lowe, Shazia Mahamdallie, Shamoni Maheshwari, Tony Makarewicz, Jamie Marshall, Francesca Meschi, Chris O'keefe, Heather Ordonez, Pranav Patel, Andrew Price, Ariel Royall, Elise Ruark, Sheila Seal, Michael Schnall-Levin, Preyas Shah, Stephen Williams, Indira Wu, Andrew Wei Xu, Nazneen Rahman, Daniel MacArthur, Deanna M. Church
Expressed Exome Capture Sequencing (EecSeq): a method for cost-effective exome sequencing for all organisms with or without genomic resources. Jonathan B Puritz, Kathleen E Lotterhos
Chromatin interaction data visualization in the WashU Epigenome Browser. Daofeng Li, Silas Hsu, Deepak Purushotham, Ting Wang
Differential Proportionality – A Normalization-Free Approach To Differential Gene Expression. Ionas Erb, Thomas Quinn, David Lovell, Cedric Notredame
Sequence variation aware genome references and read mapping with the variation graph toolkit. Erik Garrison, Jouni Sirén, Adam M Novak, Glenn Hickey, Jordan M Eizenga, Eric T Dawson, William Jones, Michael F Lin, Benedict Paten, Richard Durbin
Identification of Gene Regulation Models from Single-Cell Data. Lisa Weber, William Raymond, Brian Munsky
Learning from mistakes: Accurate prediction of cell type-specific transcription factor binding. Jens Keilwagen, Stefan Posch, Jan Grau
Gene Expression Distribution Deconvolution in Single Cell RNA Sequencing. Jingshu Wang, Mo Huang, Eduardo Torre, Hannah Dueck, Sydney Shaffer, John Murray, Arjun Raj, Mingyao Li, Nancy R Zhang
Three-way clustering of multi-tissue multi-individual gene expression data using constrained tensor decomposition. Miaoyan Wang, Jonathan Fischer, Yun S. Song
Unsupervised clustering and epigenetic classification of single cells. Mahdi Zamanighomi, Zhixiang Lin, Timothy Daley, Xi Chen, Zhana Duren, Alicia Schep, William James Greenleaf, Wing Hung Wong
Hi-TOM: a platform for high-throughput tracking of mutations induced by CRISPR/Cas systems. Qing Liu, Chun Wang, Xiaozhen Jiao, Huawei Zhang, Lili Song, Yanxin Li, Caixia Gao, Kejian Wang
BioMM: Biologically-informed Multi-stage Machine learning for identification of epigenetic fingerprints. Junfang Chen, Emanuel Schwarz
AFCMHeatMap: A shiny web tool for heatmap generation of genetic expression datasets using R packages. Mohammad Tarek​, Ayman S Shafei, Mahmoud A Ali
pcr: an R package for quality assessment, analysis and testing of qPCR data. Mahmoud Ahmed, Deok Ryong Kim
gapFinisher: a reliable gap filling pipeline for SSPACE-LongRead scaffolder output. Juhana I Kammonen​, Olli-Pekka Smolander, Lars Paulin, Pedro AB Pereira, Pia Laine, Patrik Koskinen, Jukka Jernvall, Petri Auvinen
NanoPack: visualizing and processing long read sequencing data. Wouter De Coster, Svenn D'Hert, Darrin T. Schultz, Marc Cruts, Christine Van Broeckhoven
netSmooth: Network-smoothing based imputation for single cell RNA-seq. Jonathan Ronen, Altuna Akalin
CLAN: the CrossLinked reads ANalysis tool. Cuncong Zhong, Shaojie Zhang
GrandPrix: Scaling up the Bayesian GPLVM for single-cell data. Sumon Ahmed, Magnus Rattray, Alexis Boukouvalas
GEMBS — high through-put processing for DNA methylation data from Whole Genome Bisulfite Sequencing (WGBS). Angelika Merkel, Marcos Fernandez-Callejo, Eloi Casals, Santiago Marco-Sola, Ronald Schuyler, Ivo G. Gut, Simon C. Heath
Necklace: combining reference and assembled transcriptomes for more comprehensive RNA-Seq analysis. Nadia M Davidson, Alicia Oshlack
Visualizing genome synteny with xmatchview. Rene L Warren
Quartz-Seq2: a high-throughput single-cell RNA-sequencing method that effectively uses limited sequence reads. Yohei Sasagawa, Hiroki Danno, Hitomi Takada, Masashi Ebisawa, Kaori Tanaka, Tetsutaro Hayashi, Akira Kurisaki, Itoshi Nikaido
Research practice & education
Assessing the Landscape of U.S. Postdoctoral Salaries. Rodoniki Athanasiadou, Adriana Bankston, McKenzie Carlisle, Carrie Niziolek, Gary Steven McDowell
Female grant applicants are equally successful when peer reviewers assess the science, but not when they assess the scientist. Holly O Witteman, Michael Hendricks, Sharon Straus, Cara Tannenbaum
Disequilibrium in Gender Ratios among Authors who Contributed Equally. Nichole A Broderick, Arturo Casadevall
A design framework and exemplar metrics for FAIRness. Mark D Wilkinson, Susanna-Assunta Sansone, Erik Schultes, Peter Doorn, Luiz Olavo Bonino da Silva Santos, Michel Dumontier
Fallibility in science: Responding to errors in the work of oneself and others. Dorothy V Bishop
Twenty steps towards an adequate inferential interpretation of p-values. Norbert Hirschauer​, Oliver Mußhoff, Claudia Becker, Sven Grüner
Evaluating the complementarity of communication tools for learning platforms. Leonardo Carvalho, Eduardo Bezerra, Gustavo Guedes, Laura Assis, Leonardo Lima, Artur Ziviani, Fabio Porto, Rafael Barbastefano, Eduardo Ogasawara
Biotea, semantics for Pubmed Central. Alexander Garcia​, Federico Lopez, Leyla Garcia, Olga Giraldo, Victor Bucheli, Michel Dumontier
Optimizing colormaps with consideration for color vision deficiency to enable accurate interpretation of scientific data. Jamie R. Nuñez, Christopher R. Anderton, Ryan S. Renslow
Teaching data science fundamentals through realistic synthetic clinical cardiovascular data. Ted Laderas, Nicole Vasilevsky, Bjorn Pederson, Melissa Haendel, Shannon McWeeney, David Dorr.
Personal genomics: new concepts for future community data banks. Guy Dodin
Reproducible Bioinformatics Project: A community for reproducible bioinformatics analysis pipelines. Neha Kulkarni, Luca Alessandri, Riccardo Panero, Maddalena Arigoni, Martina Olivero, Francesca Cordero, Marco Beccuti,  Raffaele A Calogero
Why not…
Accelerated decline in javelin throwing performance in master athletes 70 years and older – does change in technique play a role? Bergita Ganse​, Hans Degens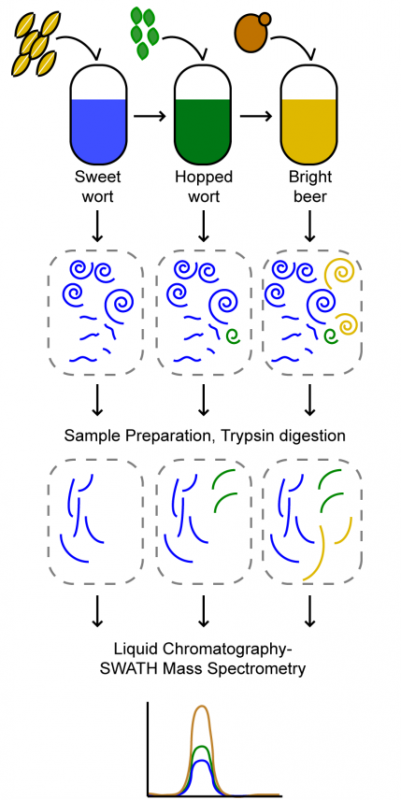 Process proteomics of beer reveals a dynamic proteome with extensive modifications. Benjamin L Schulz, Toan K Phung, Michele Bruschi, Agnieszka Janusz, Jeff Stewart, John Mehan, Peter Healy, Amanda S Nouwens, Glen P Fox, Claudia E Vickers