Welcome to our light-hearted look at the goings on in the world of developmental biology in the last two weeks (or so).
Call to action
NIH funding for maintaining the model organism databases (MODs) we know and love is under threat.
Make sure your opinion is heard by this Friday 15 October: https://www.surveymonkey.com/r/5NGLNNJ
For more background: https://journals.biologists.com/dev/article/148/19/dev200193/272305/Model-organism-databases-are-in-jeopardy
Development presents…
A webinar celebrating Development's Special Issue on Imaging Development, Stem Cells and Regeneration on Wednesday 13 Oct at 15:00 BST
Register here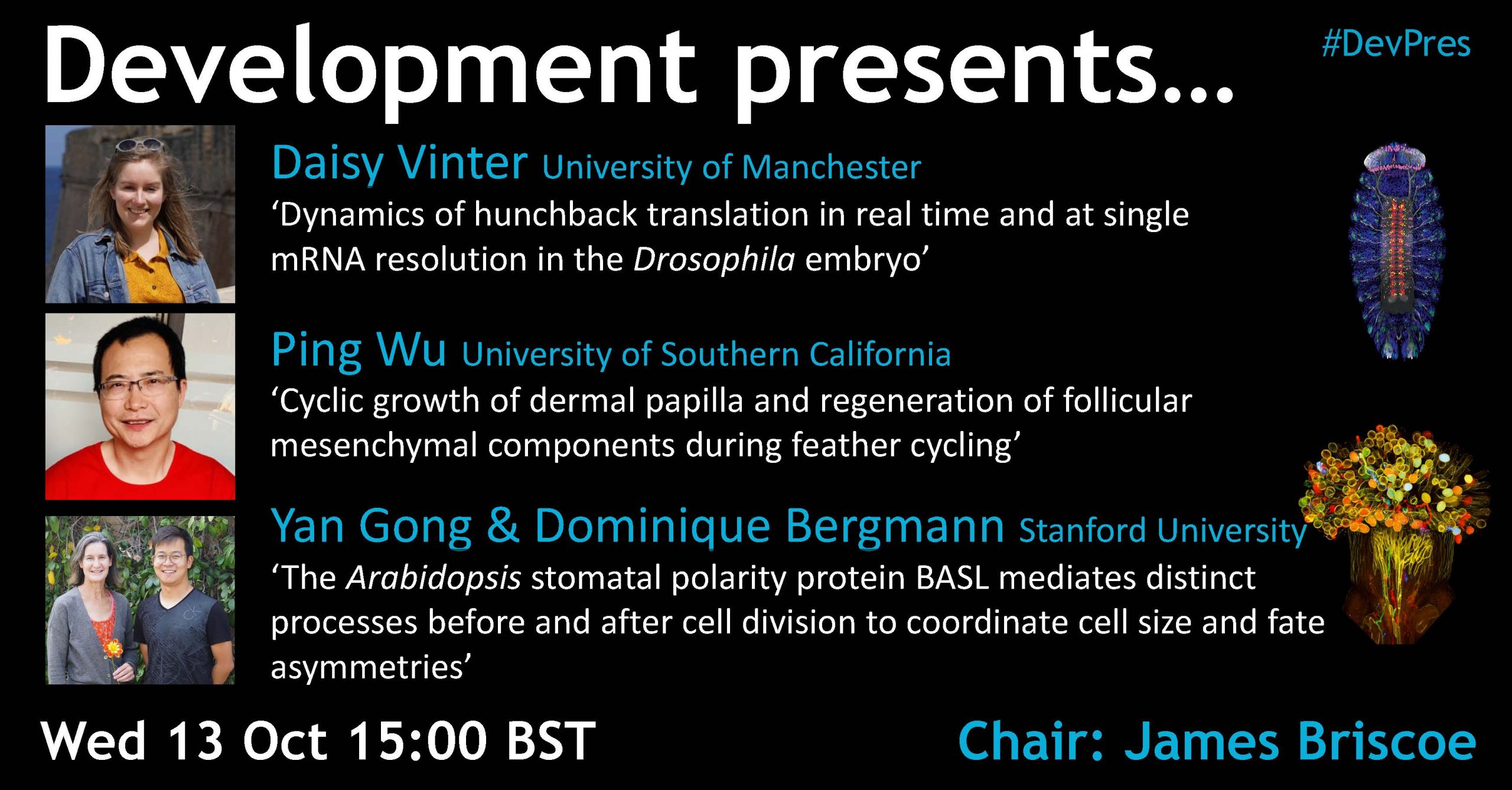 Talking points on Twitter
True or False? Is working in academia just like any other job?
Lack of funding leads to insufficient controls
The cold call you want to pick up
Exclamation marks in science writing!?
Our Production Editors at Development have responded that they are happy to accept exclamation marks in the text, but only if they follow the instructions below: Authors must indicate their level of excitement/surprise using a scheme similar to the use of asterisks for significance level: !, interesting finding; !!, surprised by this result; !!!, gobsmacked/couldn't believe it; !!!!, that can't be right, we should repeat that experiment
Science in the News
The ethics of research on human embryos
https://www.nature.com/articles/d41586-021-02625-0
Racism in Science
https://www.bbc.co.uk/news/science-environment-58795079
Nobel prize quotas
https://www.theguardian.com/science/2021/oct/12/nobel-prize-will-have-no-gender-or-ethnicity-quotas-academy-head-says
#devbio in preLights
Go big or Go-nad: building a single-cell transcriptomic atlas of the developing mouse gonads.
Integrating hormone- and mechanosignaling pathways: A breakthrough in how lateral roots break through
A versatile experimental model based on pluripotent stem cell micropatterning recapitulates organ morphogenesis with high fidelity and reproducibility.
Mouse vs human embryo development – Mouse embryos ace the race! Investigation of metabolic regulation of developmental speed.
With or and without you: insights on how GATA6 and NANOG regulate ICM differentiation towards epiblast or primitive endoderm
Thanks to the #DevBio community for sharing their thoughts, especially on twitter. If you have some news that you think we should share on our blog, please get in touch at thenode@biologists.com. If you are interested in getting involved with writing preLights you can find out more here.